Whoever fused the words banana and toffee would surely have loved my banoffee cupcakes recipe.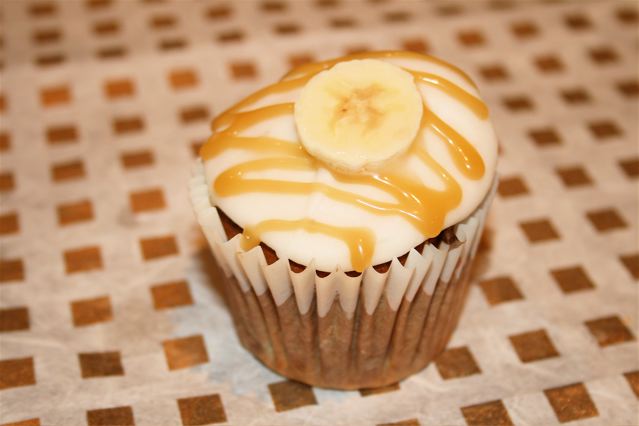 Banoffee cupcakes are the perfect recipe to use up bananas
During last week when my husband and I had flu, we didn't eat a great deal and I found myself faced with a fruit bowl full of spotty bananas.  I have always intended to make banoffee cupcakes and decided to use them up developing this sticky banoffee cupcakes recipe. I nearly called them 'sticky banoffee cheesecake cupcakes'. Sticky because they're sticky (obvious really), banoffee because they're banana sponge bases and icing with a toffee sauce and cheesecake because I made the icing with cream cheese – only with a twist. But this is a bit of a mouthful – I'd rather have my mouth full of banoffee cupcakes than words after all.
Make soya cream cheese icing
Following disappointment with the Hummingbird Bakery cream cheese frosting which uses butter and goes ridiculously sloppy, I tried using Tofutti soya cream cheese that you find in the chiller cabinet of health food stores. If you've not tried Tofutti cream cheese then you should – it's as good as dairy cream cheese – especially the versions with garlic or herbs, though you won't be using those here.
Of course if you cannot find soya cream cheese go ahead and use dairy version but don't add butter, it doesn't need it.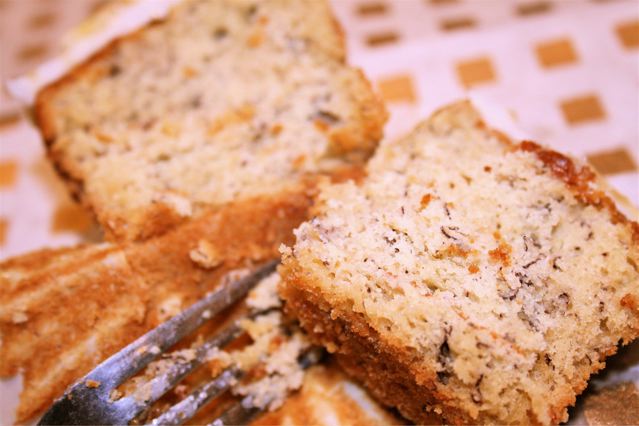 Crumb texture of banoffee cupcakes
I was especially pleased with the crumb texture of these banoffee cupcakes.  The ripe bananas left pleasing little threads making a pretty speckled sponge.
One future addition I'd like to try would be to incorporate some toffee chunks into the banoffee cupcakes recipe mix.
You will have left overs of both cream cheese icing and toffee sauce.  Both had their original recipes halved in quantity there's still ample. You could halve the quantities again but this may leave you with such small amounts to work with they may be difficult to mix. You will only have a cupful of the toffee sauce as it is but I admit there will still be a lot of banana cream cheese icing. Fortunately both should easily keep for up to a week if kept covered up.  Take them out of the fridge several hours before use though as they will solidify when chilled.
A few ways to use up banana cream cheese icing
My banana cream cheese icing mountain has been the source of much amusement on Twitter this week.  I received the following suggestions what to do with it:
Eat banana cream cheese icing for breakfast, lunch and dinner – Merlotti, Direbonappetit
Banana cream cheese icing face mask – Lynn, Bakelady59
Ebay it – Camreuk
Donate banana cream cheese icing to "me" – Stella Creasy
Banana cream cheese icing omelette – Yogalili (What are you a freak?!)
Further suggestions welcome!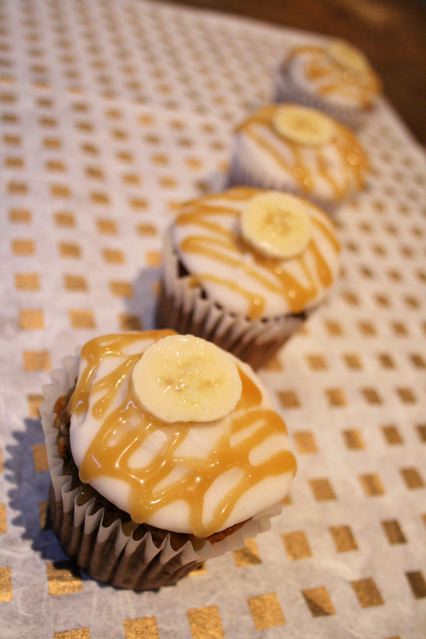 Banoffee cupcakes recipe with cream cheese icing
Author:
Prep time:
Cook time:
Total time:
Ingredients
(for the cupcake bases)
300g self raising flour
pinch of salt
1 tsp bicarbonate of soda
75g baking margarine
100g caster sugar
3 large eggs
3 medium ripe bananas (or 4 small ones)
1 tbsp lemon juice
(for the banana cream cheese icing)
500g icing sugar
125g soya cream cheese (or dairy if you prefer)
1 ripe banana
1 tsp lemon juice
1 tbsp milk
(for the toffee sauce)
25g butter
40g soft brown sugar
25g caster sugar
75g golden syrup
75ml reduced fat double cream
1/2 tsp vanilla extract
(for the decoration)
Thin slices of banana or dried banana chips
2 tbsp lemon or lime juice to soak
You will need a 12 hole muffin tin
Instructions
Line your tin with large cupcake cases (or muffin cases). Set the oven to 190c / 375f / Gas mark 5.
Sift the flour, salt and bicarbonate of soda together.
Cream the baking margarine and sugar in a bowl. Beat in the eggs.
Mash the bananas for the cupcake mix in a small bowl until mushy. Add the lemon juice. Stir this banana mixture into the creamed fat and sugar. Work in the dry ingredients.
Spoon the mixture evenly into the 12 paper cases. You should have enough mix for a generous dozen.
Bake for 16-20 minutes, depending on your oven. I tend to do mine for 12-14 minutes then turn them around 180 degrees so they brown evenly. Allow to cool in the tray for ten minutes then transfer to a wire rack to cool fully.
For the cream cheese icing, give the banana, lemon juice, milk and soya cream cheese icing a quick whoosh in the hand blender so it is fully broken up but not totally liquid. Transfer the gloop to a medium size mixing bowl and sift in the icing sugar 100g at a time. You want the icing to leave a trail on the surface when you drizzle with a spoon so by all means add 100g more than I've said if you think it's still too runny. Pipe the icing onto the cool cupcakes using a disposable bag with about 1.5cm snipped off the end. I did my icing in a circle so that you could still see cake around the edge but it's up to you really. You could paste it on with a small palette knife if you don't want to fiddle with piping bags.
For the toffee sauce, place the butter, sugars and golden syrup in a small saucepan and allow everything to dissolve over a low heat. Let it cook for 5 mins. I brought mine gently up to the boil and let it cool back down at bit. Pour in the cream and vanilla extract and stir in until the colour is even. Allow to cool in a mug – you should have around 300mls of sauce.
When the toffee sauce is cool, spoon it into a disposable piping bag with a scant 1/2cm snipped off and drizzle it backwards and forwards across the banana cheesecake icing. If you are not eating them straightaway and presentation is important, I recommend you leave the iced cupcakes on the worktop (not in a tin) for 24 hours to allow the icing to set. If the icing still looks wet, your trails of toffee will merge slightly into the icing.
For the decoration, soak thin slices of banana in lemon or lime juice to stop them going brown. Turn them over. Transfer to the centre of each cupcake using a pointy knife and you're done!
Notes
You will need a 12 hole muffin tin.