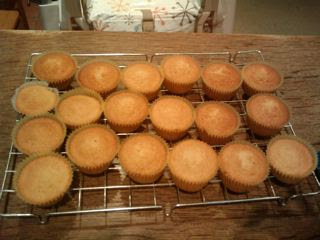 Our street will be hosting a
Big Lunch
on 19th July.  I am in charge of communicating with everyone in the street and publishing an online list of who is bringing what to the food table.  I have put myself down for cupcakes so I have an excuse to make batch after batch of cupcakes and practise decorating them.
My first batch, using Nigella Lawson's How to Be a Domestic Goddess fairy cake recipe pictured above.  (Actually this picture is of the second batch now I come to think about it).
The mix is:
5oz self raising flour
5oz sugar
5oz butter
2 large eggs
2 tablespoons milk
You blitz everything together in the food processor except the milk and then drizzle that in last through the funnel.  Then spoon into cases and bake for around 15-16 minutes.
She says this is enough for 12 fairy cakes but as you can see I've ended up with 19 of them.  With the first batch I made I crammed the mixture into the prescribed 12 cases and it rose way too high to put fondant topping on them and the centres "erupted" like little volcanoes.
So I made another batch but spread them out thinner, they are still a little bit too high as I want flat tops and I'll end up lopping off too much cake unless just the middles are peeping over the edge of the cases.
I have been stocking up on all sorts of things for decorating my cakes; chocolate chips, sweets, chocolate beans, sprinkles etc.  I've been disappointed by the range available in supermarkets, I imagine I will find an Aladdin's cave somewhere online before long.