Brandy snaps are caramelised biscuits. The brandy reference comes from the addition of brandy into the cream traditionally used to fill the brandy snaps.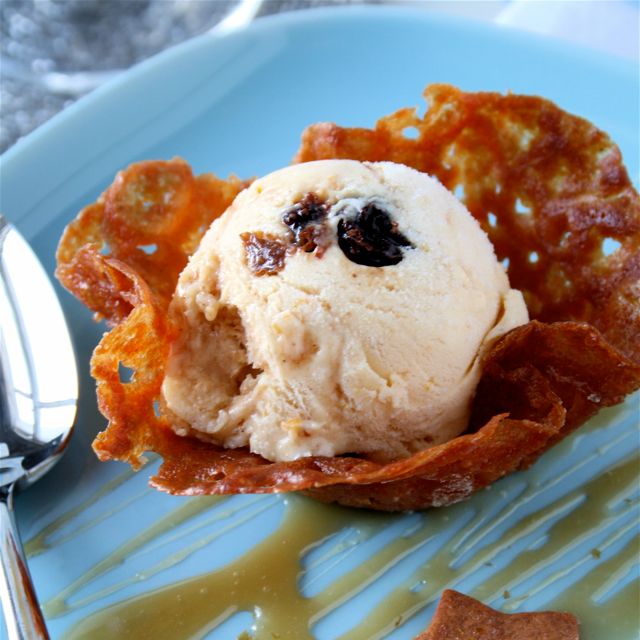 One of the earliest things I remember making as a teenager was brandy snaps. I don't know where I'd previously seen them but I was fascinated by the lacy effect they made upon baking and the process of rolling them up quickly before they went hard. I remember the book talking about using wooden spoons with butter on them but I rolled my brandy snaps without this.
In the mid eighties my mother didn't have any baking parchment paper and I remember the prolonged ordeal of getting the foil off my brandy snaps. It was almost as bad as delivering toffee from a loaf tin but that's another story.  Given my propensity for mishaps with rock hard sugar, it's surprising my mother allowed me in her kitchen at all really.
Brandy snaps were the kind of thing my grandma would serve although I definitely don't remember her making them. Like Viennese fingers, I seemed to grow up with an awareness of brandy snaps and many traditional bakes even though hardly any were made at home . Until I started to try things out myself.
Brandy snaps baskets
Brandy snap baskets are easy to form, simply mould the flat brandy snap around the base of a buttered muffin tin. They make an edible receptacle for ice cream – the ones in the picture are shown with my mince pie ice cream recipe.
Like many caramel items, although initially hard the brandy snap baskets will soften with time. On the day of baking they'll snap and stick your teeth together. A couple of days later and the brandy snap baskets will soften and become more fudgey – albeit less suitable to serve desserts in. So bear this in mind if you plan to make brandy snap baskets ahead.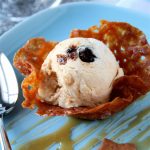 Print Recipe
Brandy snaps recipe for brandy snap baskets
There's no brandy in these brandy snap biscuits but they're often served rolled up and filled with brandy infused whipped cream.
Ingredients
50

g

butter

50

g

granulated sugar

65

g

golden syrup

50

g

plain flour

1

level tsp ground ginger

2

tsp

lemon juice
Instructions
Put the butter, sugar and syrup into a small saucepan and melt over low heat.

Sift the flour and ginger together. Add to the melted mixture with the lemon juice.

Drop 4 teaspoons of the mixture onto a baking tray lined with parchment paper, spaced well apart to allow for them spreading in the oven.

Bake in centre of oven at 160c / 325f / gas mark 3 for 8 minutes.

Butter a 12 hole bun case generously.

Leave on the tray for 1 minute. Lift up with palette knife and position gently into a hole on the bun case. Gently push and shape the brandy snap into a basket shape within the hole. It might tear a bit but so long as you have a cavity for your ice cream, this doesn't matter too much. Watch that the folds of the brandy snap do not fold inwards too much, try to pull the edges apart so you have nice round shape.

Allow to cool and serve.
Notes
They will keep for 1-2 weeks in an airtight tin. I find they go less brittle with time and I prefer them like that!
Although you can have a tray of brandy snaps within 20 minutes, you will find them easier to roll up or form baskets if you work with a few at a time.