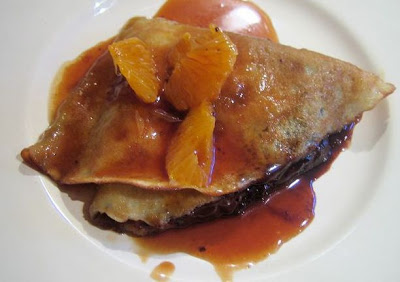 "Oh how we laughed… on the way to the burns unit," was a favourite witticism of a former colleague whenever someone did something stupid that nearly went horribly wrong.
I almost set fire to my hair making these Crepes Suzette.  It wasn't my day, having already dropped the digital SLR camera on the floor, which is why the final shots of the finished dish are not up to the usual standard – I had to make do with my Canon Ixus point and shoot instead.
As a child, the only flambe that took place at our table was the annual incineration of the Christmas pudding. My grandparents made quite a performance out of it, getting out the same ceremonial candle stick, large flat dented silver spoon with ornate handle and having a repeated debate about whether particular spirits burned better than others. I forget what they recommended to use but since I'm not much of a drinker, the most suitable thing I had in the house instead of the traditional liquor for Crepes Suzette, Grand Marnier, was amaretto and thus this was my fuel of choice.
First time round it didn't burn. Still panicked from broken camera and time pressures to finish the pictures in time to submit to Morrisons Pancake Seasonal Challenge, I simmered up more amaretto, poured it onto my now swimmingly good pancakes and lit the match.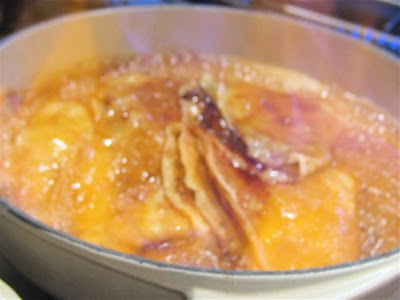 There was an impressive flame around 9″ high.I hadn't bargained for that and got a nice warm face. By the time I'd grabbed my camera (which refused to focus on anything because the flames were moving), the flames had died down. Fortunately my camera was not permanently injured either and my husband sorted out the kinked zoom mechanism so that it no longer pointed 10 degrees to the right.  That's a relief, I was nearly in the doghouse there…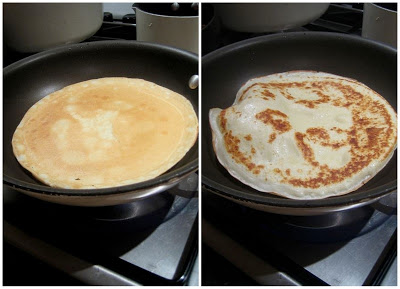 For a reminder how to make your pancakes check out my earlier post here.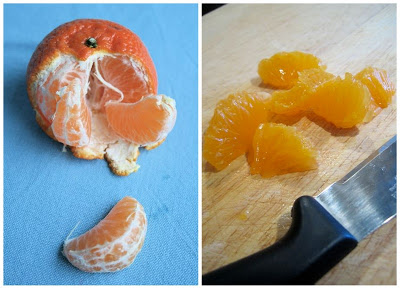 Crepes Suzette is a traditional dessert in which pancakes are soaked in orange sauce and flambéd in alcohol. I will forever associate them with Patsy Kensit who played the role of Crepe Suzette in the 1986 film Absolute Beginners. She was my idol around that time, I took an article from the first ever issue of The Clothes Show Magazine to the hairdressers from which they copied her haircut for me.  Of course these days, when I try to describe said bob with graduated fringe, "Patsy Kensit used to have her hair like it, around that time she did that great album with The Pet Shop Boys", the twenty year old looks at me blankly wondering why I'm talking about some woman out of Holby City old enough to be her mother.
This version of Crepes Suzette adds an extra dimension with a dark chocolate and orange filling and being topped with fresh clementines. Like with the pink grapefruit recipe, removing the skins, pith and any pips from each Clementine segment may be a little fiddly but it will infinitely improve your enjoyment of the dish.
There is no requirement for chocolate in Crepes Suzette either but since I was creating this for Morrison's and I noticed one of their own brand products was Dark Chocolate with Italian Orange Peel, I thought it would add a chocolate dimension to a traditional pancake favourite. And who doesn't love an added chocolate dimension?
If you are unable to track down a branch of Morrison's you could substitute with some Terry's Dark Chocolate Orange segments.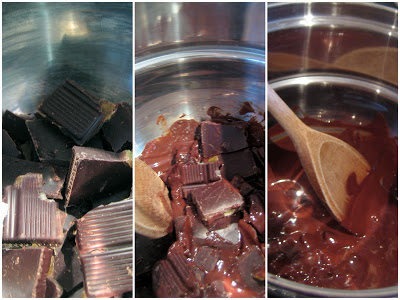 Chocolate Clementine and Amaretto Suzette
100g Morrison's "The Best" Dark Chocolate with Italian Orange Peel
100ml orange juice or juice of two oranges
6-8 crepe style pancakes (see recipe above)
The segments of 3-4 clementines, skins, any pips and pith removed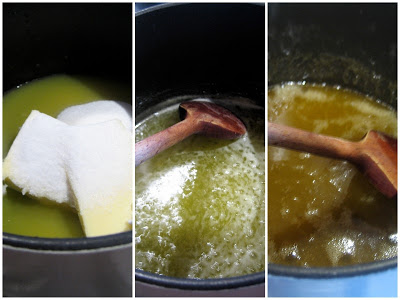 1. Melt the chocolate in a double boiler with a knob of the butter. If you don't have a double boiler you can use the microwave but take care only heating the chocolate for 40 seconds and then 10 seconds at a time  so that you don't burn it. Or you can use a heat proof bowl over a saucepan of water. The orange peel pieces will remain as little lumps in the melted chocolate.
2. In a small saucepan, melt the rest of the butter with the orange juice and sugar.  Bring to the boil before turning down to a low heat and cook for a further 10 minutes until the sauce goes syrupy and clear.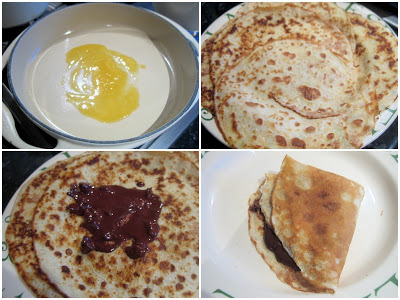 3. Make your crepe style pancakes if you haven't already done so.
4. Heat a couple of tablespoons of your  orange syrup on a low heat in a flameproof dish such as a tarte tatin dish or a large frying pan. 
5. Spoon melted chocolate over one quarter of each crepe folding into quarters and laying in the tarte tatin dish slightly overlapping.  Pour over the remaining orange syrup and sprinkle over your Clementine segments.  Allow the crepes in orange syrup to warm for 3-4 minutes.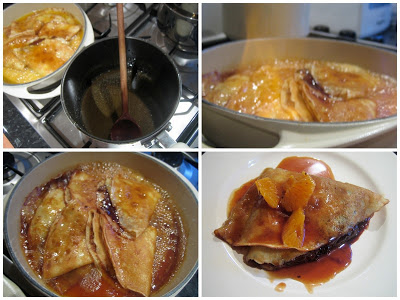 6. Warm the Amaretto in the empty orange syrup saucepan. When the crepes have heated through, pour the Amaretto over and immediately light a match to flambé them.  Serve immediately spooning sauce over each of the crepes on the plate.  Allow 1-2 crepes per person depending on what you ate for dinner!