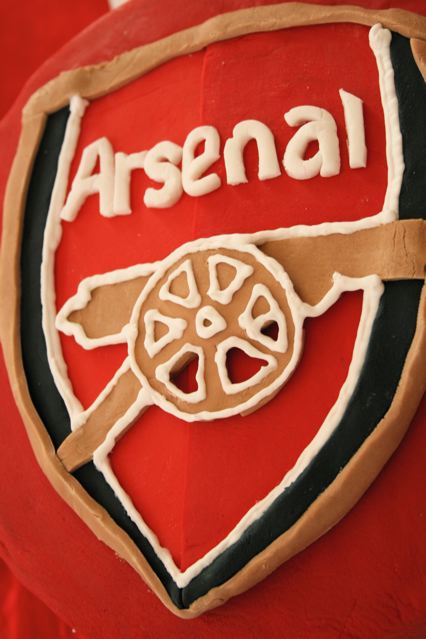 Today I had been intending to post pictures of chocolate brioche for the Monthly Mingle organised by Meeta, What's For Lunch Honey? and hosted this month by my friend Jamie at Life's A Feast.


The ingredients for said chocolate brioche have been taunting me in the kitchen all last week whilst I was busy making my cupcakes for three Cake A Difference charity cupcake sales.


This week, all those late nights spent frosting and decorating have been catching up with me and furthermore Ted has been on half term from pre-school meaning less time to cook and blog.  I finally managed to make my brioche dough two days ago but was not very pleased with the results.  More about that in a moment.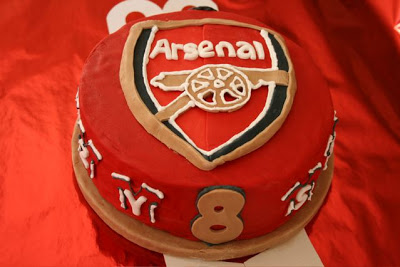 But first let me take this opportunity to show you a birthday cake that I made for an 8 year old Arsenal fan at the end of January – a girl too!
This time I had none of the food colouring problems that beset The Very Hungry Caterpillar cake, I was using my new Wilton gel food colouring pots and although I had to use quite a lot to get the colour this intense, gel food colouring doesn't seem to create the same bitter taste that haunts icing made with large quantities of liquid colouring.  I also managed to mix convincing shades of "gold" and navy for the Arsenal crest.
When I first looked at the Arsenal logo, I thought it would be quite easy to reproduce. My husband (a graphic designer) commented that I was lucky to be doing a cake for a club with a modern logo that was clean and simple. What I hadn't taken into account was that when recreating a sugarpaste version of a corporate logo, is that there is no room for artistic license, it has to look exactly the same or else people will not realise what it is.  I think I managed a respectable job considering this is only my second time covering a cake with fondant sugarpaste but I found it more difficult than I expected. It was a larger cake than the caterpillar's head and I don't think I managed as smooth a coverage as on that occasion. I think I could have done with around 10-15% more sugarpaste so that it would have been thicker. The top was fine but it was too thin and untidy around the edges. I suppose I could do with making six of these back to back to get lots of practice but I might drive myself mad in the process!
The cake was a 9″ chocolate victoria sandwich from Mary Berry's Baking Bible.  I laid it on a 10″ board  covered in sugarpaste.  I also had problems with the board that the paste dried out too much and went crumbly in a couple of places.
This time I covered the cake with chocolate ganache from Planet Cake rather than two layers of fondant. It was also my first time piping with royal icing. This was nerve wracking but I think I did a better job of it than the fondant work.  For the football shirts around the edge I used a mini cookie cutter for a baby-grow with the bottom trimmed off.  I used my Nigella Lawson A-Z cookie cutters for the lettering.  For the Arsenal lettering which was in lower case I manipulated different letters to stay faithful to the typography.  If I was making the crest again, I would allow wider pieces of the fudge colour to go around the edge because I hadn't accounted for what it would look like sideways on. I got around this by inserting more panels of the same colour but it would have looked neated if one single piece of sugarpaste had been tucked under. 
Mum was pleased with her daughter's cake. I am due to be making something very pink and girly for her little sister in a couple of weeks' time.
Chocolate Brioche Disaster
Now I suppose I should explain more about the hideous brioche disaster. I studied three different brioche recipes and opted for the one in my usually reliable The Dairy Book of Home Cookery by Sonia Allison, a vintage book which my mother used when I was a child. The only tweak I made to the recipe was to substitute 25g flour for cocoa powder to make them chocolate flavour.
I found that the prescribed 15g yeast combined with 60ml warm water produced a horrid pale marmite like paste.  All of the brioche recipes I've looked at have this same ratio of yeast/water and some even have great quantities of flour.  The dough was heavy, it did expand but not as much as I would expect and there was not enough for 12 rolls as expected. The results you can see above. Had I wanted to invent a recipe for edible comedy turds, I don't think I could have done better.
If anyone has a fool proof chocolate brioche recipe I would be delighted to hear about it!