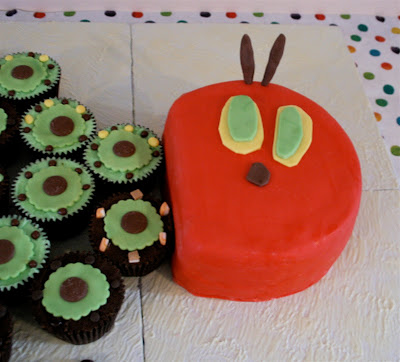 Sharing how to make a hungry caterpillar cake has been a few weeks coming but I hope you'll agree it's worth the wait.
This Very Hungry Caterpillar cake was my first creation for a stranger. Someone emailed a picture making a very hungry caterpillar cake showing a large cake for the caterpillar's head and a trail of cupcakes making up the hungry caterpillar body and asked if I could do something similar. I only had a few days to plan and decide how to make a very hungry caterpillar cake and initially planned to cover the bigger cake with buttercream to a) save time b) because I'd never covered a cake with fondant before.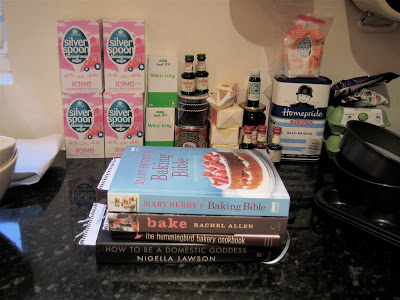 Here's all my stuff laid out ready on the counter top. Far more icing sugar than I would need but I know this stuff doesn't go as far as you think if you accidentally add too much liquid and I didn't want any last minute panics. Heh heh! Famous last words!
I'd made a detailed list of everything I'd need, decided which recipes to base various bits on, the sponge, the cupcakes, two types of icing.  I calculated how much of everything would be needed in total although admittedly I allowed a lot of extra icing sugar just in case I didn't get consistency right first time.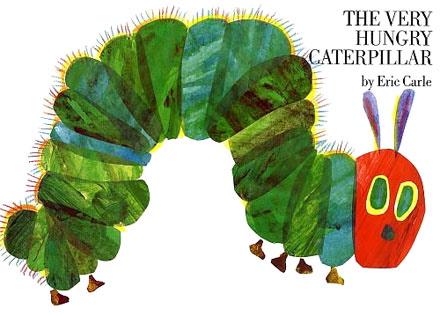 Very Hungry Caterpillar cakes for children's birthday parties are very popular nowadays. The Very Hungry Caterpillar is a children's book by Eric Carle that celebrated it's 40th anniversary in 2009.  There has therefore been lots of very hungry caterpillar merchandise around including very hungry caterpillar party plates and stuff. The little girl in question was having a Very Hungry Caterpillar themed 4th birthday party with matching tablecloth, napkins etc and of course cake.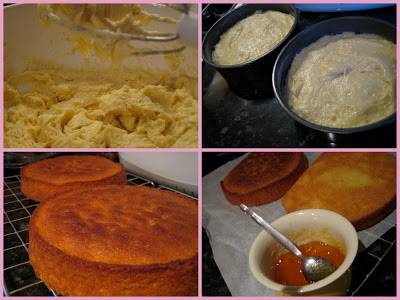 To make sure the cake was as fresh as possible meant starting as late as feasible.  I knew the sponge had to be totally cool before icing it so I made this on Thursday afternoon.  On Friday I sliced a segment off each piece to make it more like the caterpillar's head shape, wrapped them in baking parchment and plastic and would put them in the freezer for 30 minutes before covering with buttercream.  This would stop the surface crumbling as the icing was spread over the surface.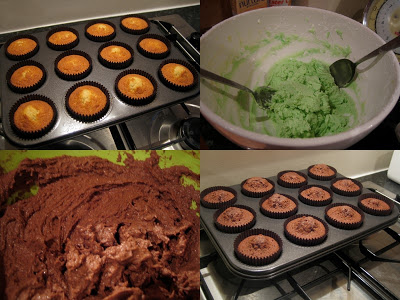 All good so far. Also on Friday I made two types of cupcake, vanilla and chocolate.  Then I started making buttercream icing and things started to pan out different to what I'd planned…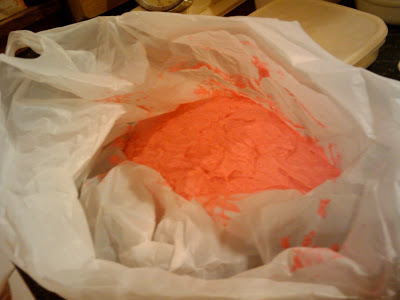 What's this? Urrrgh!
You'll see above that the green icing does not look as deep green as The Caterpillar.  The "red" icing refused to go any shade deeper than disgusting bubble gum pink and I'd added so much food colouring it  tasted bitter. It was worthy only of the bin. The problem, I discovered after consulting The Twittersphere was that I was using liquid food colouring in the little bottles from the supermarket which does not contain as much pigment as powder or gel food colourings that are available from specialist suppliers.
5.30pm on Friday. I have all the actual cake finished but none of the decorating because I can't make my icing the right colour.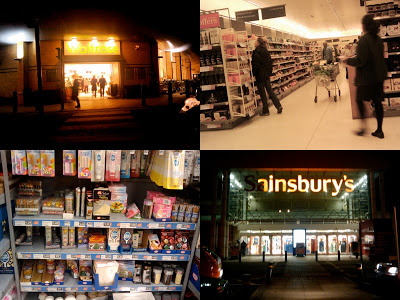 I whizz Benny Hill style around Waitrose in South Woodford and then the big Sainsburys at Chingford because Waitrose was hopeless.  I phone the wonderful Claire from
Things We Make
whilst in the shop.  She suggests I use fondant icing which takes liquid food colouring far better than buttercream or find some ready coloured red fondant by Dr Oetker.
My husband has been set to work with a Stanley knife to make cupcake trays.  This way I can transport my cupcakes without rattling them about (remember I've had no time to order stuff like this).
Dr Oetker to the rescue. I have four kits of pre-coloured  ready to roll icing each containing 125g of red, black, yellow and green fondant.  I used most of the red fondant and over half of the yellow, about a quarter of the green but only a little bit of black.  The sponge cake was filled with buttercream and raspberry jam.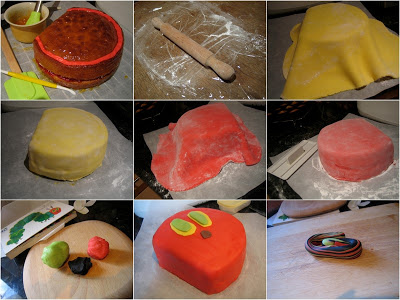 My first time covering a sponge cake with ready to roll fondant icing. It was easier than I expected and although not 100% satisfied with the smoothness of the finish I felt I'd done a good job for a newbie. I did one layer of yellow fondant first to give a smoother finish on top.  I had my Grandma Kitty's icing scraper to help too! (middle row, right).
Fortunately, this Dr Oetker kit gave me pretty much the exact colours I needed.  I would have liked the green to be a little deeper but with time running short did not want to risk fiddling about with more food colouring.  I followed the instructions on the pack to mix different quantities of green, black and red to create brown for the nose, antennae and feet.  I made paper templates to get the shapes/sizes of the eyes and nose right.
I decided to cover the vanilla cupcakes with the green buttercream I had coloured already but topped it with circles of the Dr Oetker green fondant cut out with a crinkly cutter.  I decorated the green cupcakes with a chocolate button each and some bobbles of brown fondant.  I also put some yellow bobbles on some of the green cupcakes to position on the top of the caterpillar body like the real one.
The chocolate cupcakes were covered in cocoa frosting and decorated with more of the green fondant circles, chocolate buttons and chopped up dolly mixtures.  Both types of cupcake were in brown muffin cases from Asda.  I'd looked for green foil ones which I'd expected to find easily in the supermarket at Christmas but actually these brown ones looked better.
I'd started decorating the cupcakes before I went to bed but finished them in the morning.
The Caterpillar was to be arranged on a series of six silver cake boards that had been painted with white and dark chocolate.  I didn't have time to acquire anything larger.
A close up of the finished green (vanilla) cupcakes
A close up of the caterpillar's head.
The Caterpillar head was sitting on baking parchment so I could lift it in and out of it's cake box easily.  My husband and Ted were packed off to a local art shop in the morning to buy a scalpel so that I could cut the parchment away when it was arranged on the boards with the cupcakes.
All packed up and ready to go.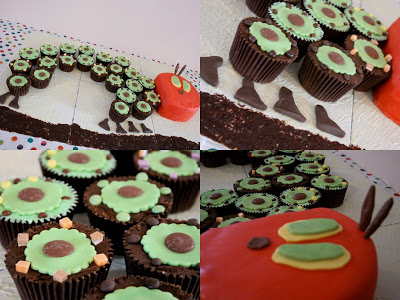 All that remained was to pack everything in the car, deliver the cakes and set them all up on the boards at the table.  The Caterpillar antennae you can see close up above were just brown fondant wrapped around cocktail sticks.  In retrospect I think these were a little small and I wish I'd done bigger antennae using cut down wooden skewers.
Recipes used were: