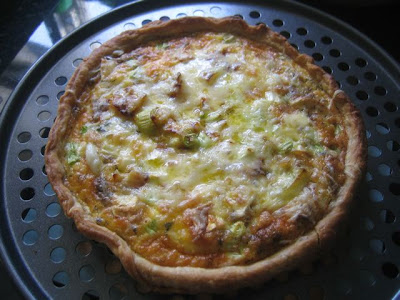 Crazy as it sounds, I found myself twiddling my thumbs in the kitchen on Christmas Day.  Yes really. It was about 12.30 and I knew the turkey needed at least another hour, my husband was chattering on the phone to his folks and my dad had taken Ted to church.  All the vegetables were chopped, my white sauce finished, cranberry sauce out of a bottle this year and so I was left with nothing to do.  I decided to make a batch of pastry.
I didn't get as far as rolling it out to make these quiches (that would be insane on Christmas Day, I concede) but when a plan was hatched the following day to visit my pregnant sister in law who has just moved house and hadn't bargained for guests yet, I already had the pastry waiting to make these two tarts or quiches as I prefer to call them.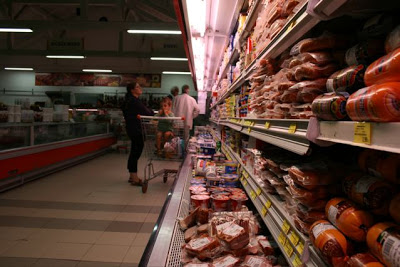 "Panto" in Montenegro, 2009 – but looks like Nuneaton Co-op 1985.
Staring at wall of cooked meat with Ted in trolley.
I am fond of the word "quiche" as my Grandma Kitty used to remind me of an occasion when I embarassed her in Nuneaton's Attleborough Co-op in around 1985:
Grandma at deli counter: "I'll have some of that quit-chee please"
My 11 year old self: "Grandma! It's
keeeesch
!"
Well, red faced and corrected she never forgot how to say quiche after that.  I never managed to set her straight on broccoli which was forever "brockle-aye".  Hmm I will have to do a broccoli quiche but called it Brockle-aye Quit-chee, that almost sounds Gaelic.
The recipe was based on Delia Smith's Leek and Goat's Cheese Tart from the How To Cook series and can found at 
Delia Online
.
I actually made more pastry than she says, 4oz of fat to 8 oz of flour but omitted the cheese from the  pastry. I had enough pastry and filling to do two 7″ tart cases.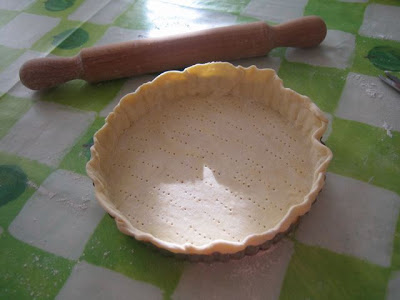 I have been behaving myself with pastry lately. Instead of rushing to roll it out and wondering why it stays all tough sticking to the table I have allowed it to rest in the fridge, I rolled it out carefully, pricked the case with a fork to stop it shrinking and pre-cooked the case before pouring in the filling.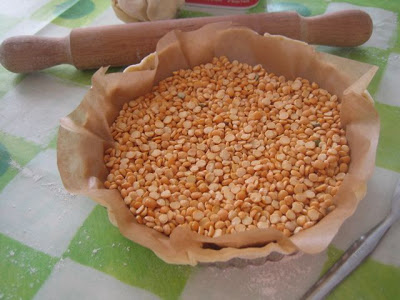 Here is the case loaded with beans (split yellow peas actually) and baking parchment.   I had meant to photograph it again with the raw filling but being in a hurry I forgot.
Delia Smith's Leek and Goat's Cheese Tart recipe at: Delia Online