Today's post is one of my regular series of Saturday non-recipe mini posts, "Postcard from…"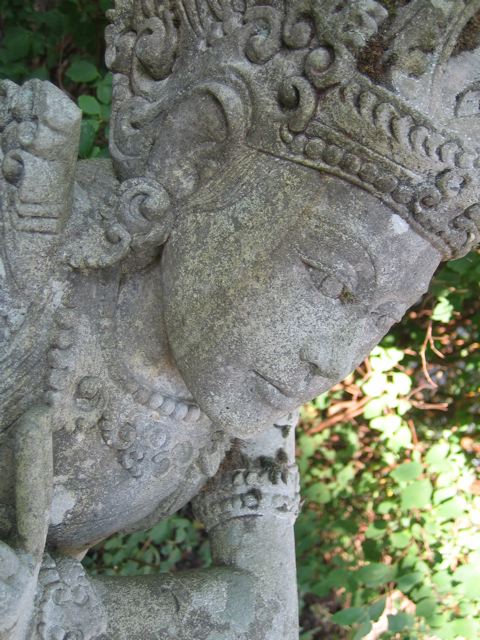 Last week I shared pictures of the parade in Vannes, Brittany.  Today I am in the mood for something a little "zen" so here are a couple of shots from the hotel garden where we stayed on the same holiday.
Villa Kerasy is an Asian themed 14 roomed 4 star spa hotel taking it's influence from Brittany being on the route for bringing tea back from the Far East.  The garden you see here is a stroke of feng shui genius for they made the most of a small space and concealed the car park at the same time.
Normally hotels situated close to railway stations are ones you would avoid but our stay at Villa Kerasy with it's tastefully decorated air conditioned rooms was pure tranquility during our stay in the midst of a July heatwave.  If you were travelling to Vannes by TGV, you would only need to wheel your suitcase over the road to get here.
As is often the case when I'm raiding my old photos for "Postcards from…" they do not convey what I would want to show as a blogger. The spacious room with it's wooden oriental furniture, the fish in the garden pond, different varieties of tea in muslin bags, breakfast orange juice served against purple linen tablecloths. The staff left a little scroll with a Brittany fairy legend, weather report and a chocolate on the bed at night! My husband has childlike delight in this kind of thing and says "You could do this at home."
I don't. But occasionally I ought to.
Finally, I am delighted to have received the Happy 101 award from Mamatkamal at Morrocan Cuisine Marocaine and also from Alessio at Recipe Taster. Mamatkamal has done a brilliant castle shaped cake with ice cream cones for turrets (fabulous idea I must copy some day) and Alessio peppers his post with enlightening nuggets of science behind what makes your recipes work.  I think his explanation about how macarons get feet (sadly I cannot remember whether I read this on Twitter or his blog so cannot give link) was directly influential in my managing to get them again.
I recently received Happy 101 from Nora the Kitchen Splorer so I won't repeat my ten things that make me happy and give ten new bloggers today, you can check out what I said then by reading here.