"Postcard from" is my regular series of non recipe Saturday mini blog posts.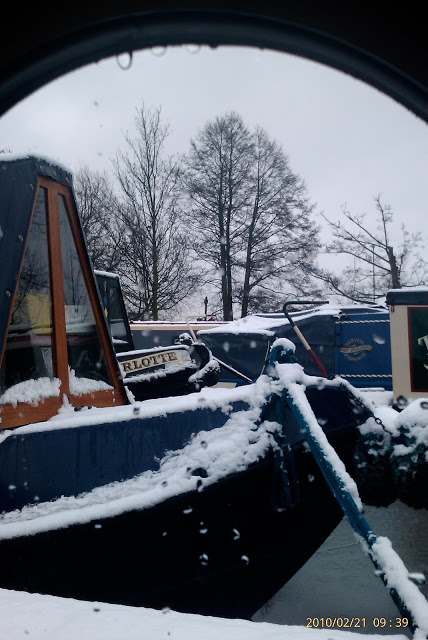 "Really?" people tend to say when I tell them my mother lives on a narrow boat, "What? All the time? Isn't it cold?"
Yes, I reply. All the time for over ten years. And no it isn't cold because she has central heating and since it's a small space it heats up quite easily. She also has broadband, electricity, a tumble dryer, everything you'd expect in a flat.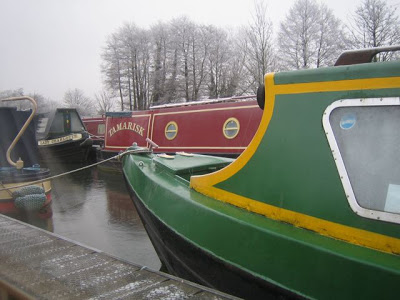 It's not a life for everyone, least of all me. I can never remember how the toilet works which has to be hilariously explained to me each time I visit. I have too much clutter too, I would need another boat trailing behind us full of cookery books and kitchenware.
It always seems to be icy when I visit and I dread walking down the jetty covered in chicken wire incase my heels get stuck in it.  In summer, there is no ice but it is more likely that lots of boats will be out meaning you walk treacherously down the gang plank to where she is moored at the very end with nothing either side to grab onto if you lose your balance.
But once you get inside it's very cosy. The kitchen is actually bigger than you'd get in many flats (always a consideration for a food blogger).  The picture below is of her old boat which was previously owned by a youth group and decked out inside with over a dozen bunk beds. The more practical layout you see here is a living area, kitchen, bedroom followed by bathroom and engine area.  Her new boat is more modern meaning stuff like the electricity and water heating works better when they're on the move.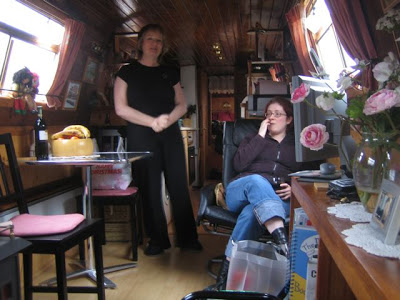 Hmm looks like I was picking my nose but I promise I wasn't.
Come holiday time I receive postcards from destinations like Coventry and Wolverhampton. I've tried persuading her to come down to London in it but it would take the best part of a month to travel here and back so unless she took a sabbatical, it's sadly not going to happen yet.
One of the big advantages of taking a holiday in your narrow boat is that you don't need to pack. Just fill up on supplies from the supermarket and off you go, like a snail in it's shell.  That really appeals to me.
In the mornings, ducks peck the side of the boat and wake everyone up. Imagine having an alarm clock like that!
What would you like most about living on a boat?