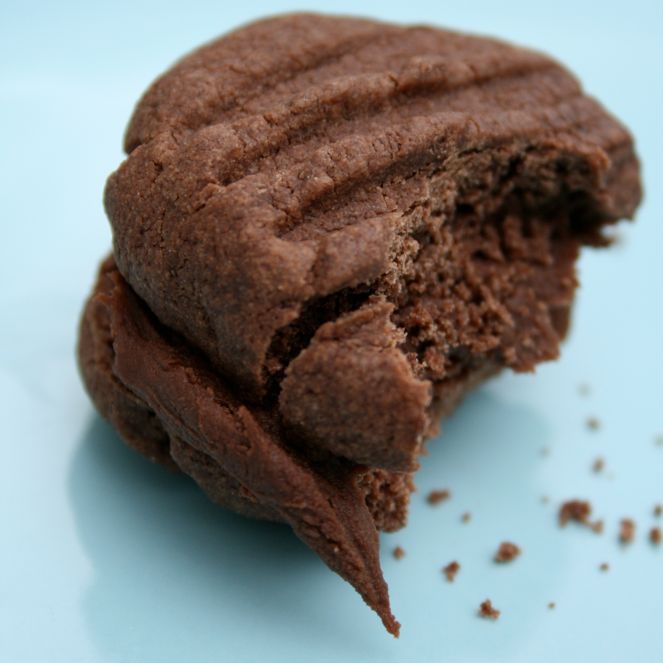 Melting Moments were frequently on the menu amongst my school dinner puddings. Back in the days before contracted firms had started dishing up the kind of junk that works Jamie Oliver into a frenzy.
The rot set into our school dinner hall the year I was in the sixth form. Dinner ladies were switched from contracts employed by the council to a new firm who had tendered to feed us instead. Overnight we were subjected to MacDonalds-isation. Our wooden trays and crockery plates were replaced with prison style moulded plastic trays with divided sections for your main meal, pudding, cutlery and cup.
The cups were a sore point. Until that point we'd been drinking water out of tough plastic beakers that had probably been in use since the school had opened in the early 70s. As with the moulded trays, to save on washing up (and washer up-ers) the new firm replaced them with vending machine standard disposable plastic cups.
Gung-ho children, fired up by geography and science classes educating them about the damage being done to the environment by – new buzz word – CFC gases, were horrified. They boisterously picketed the dinner hall with petitions calling for the return of the old beakers which were sat redundantly on a shelf still in full view ironically above the bin where the new cups were thrown after each use.
Who fired up the children and started the petition? Er… that would be me. It should have been obvious at that moment I would wind up working in a trade union for 10 years.
Meanwhile the frenzied management of the new school meals realised that there was a group of children, excuse me, customers, who had thus far been impervious to their changes. The packed lunch bringers. Not content with selling spam fritters to kids on dinners, the firm removed two rows of dining tables and replaced them with a stand up "Snack Bar" selling sandwiches in plastic bags and soup in – you guessed it – disposable plastic cups. My campaign stalled and school dinners were never the same again.
Melting moments, as served by my school in the halycon pre-contract days, bore little resemblance to these ones but the name is something I forever associate with that time. The only thing they ever have in common is that they were served in pairs. Ours were oaty, not chocolatey with custard not butter cream or spread and had a nasty half glace cherry on top. One day I will invent them once more.
Rachel Allen describes these melting moments as "intensely chocolately and utterly moreish". I was sceptical, afterall there was only 1oz of cocoa in the recipe. She's not wrong though. I had to restrain myself for several days waiting for an opportunity to spread them with their hazelnut filling and take photographs. By the time I did the pictures I only had 8 biscuits left to make 4 pairs! I think Rachel has been a little on the stingy side with her Nutella though. No way is 2 tablespoons enough to spread on 12 pairs of biscuits!
So tell me, did you love or loathe school dinners? If you have school age kids, how did they compare to today?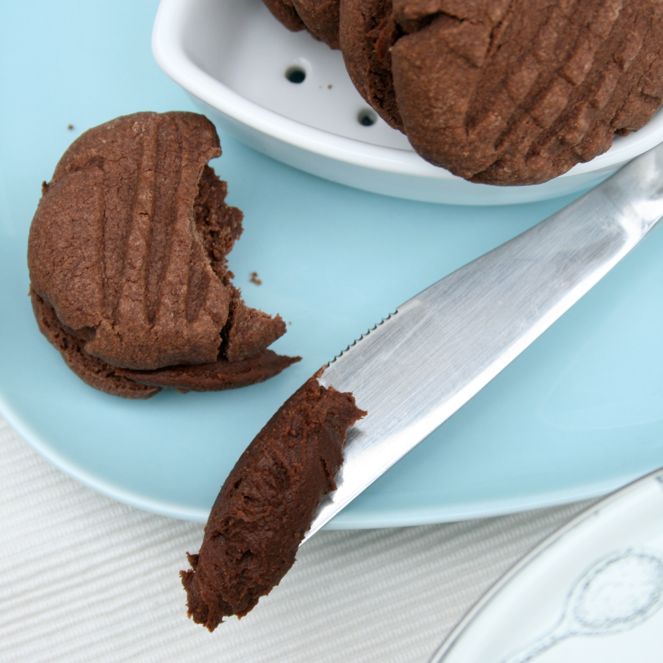 Chocolate Melting Moments
From Rachel Allen "Home Cooking"
Makes 24 biscuits

Ingredients
125g (4.5oz) butter, softened
50g (2oz) icing sugar
50g (2oz) cornflour
25g (1oz) cocoa powder
100g (3.5oz) plain flour
About 2 tbsp chocolate hazelnut spread

Should you be better at restraining yourself than I was, they will keep in an airtight tin for 10 days.

Find out how I got on making other Rachel Allen recipes or check out Rachel Allen books on Amazon.