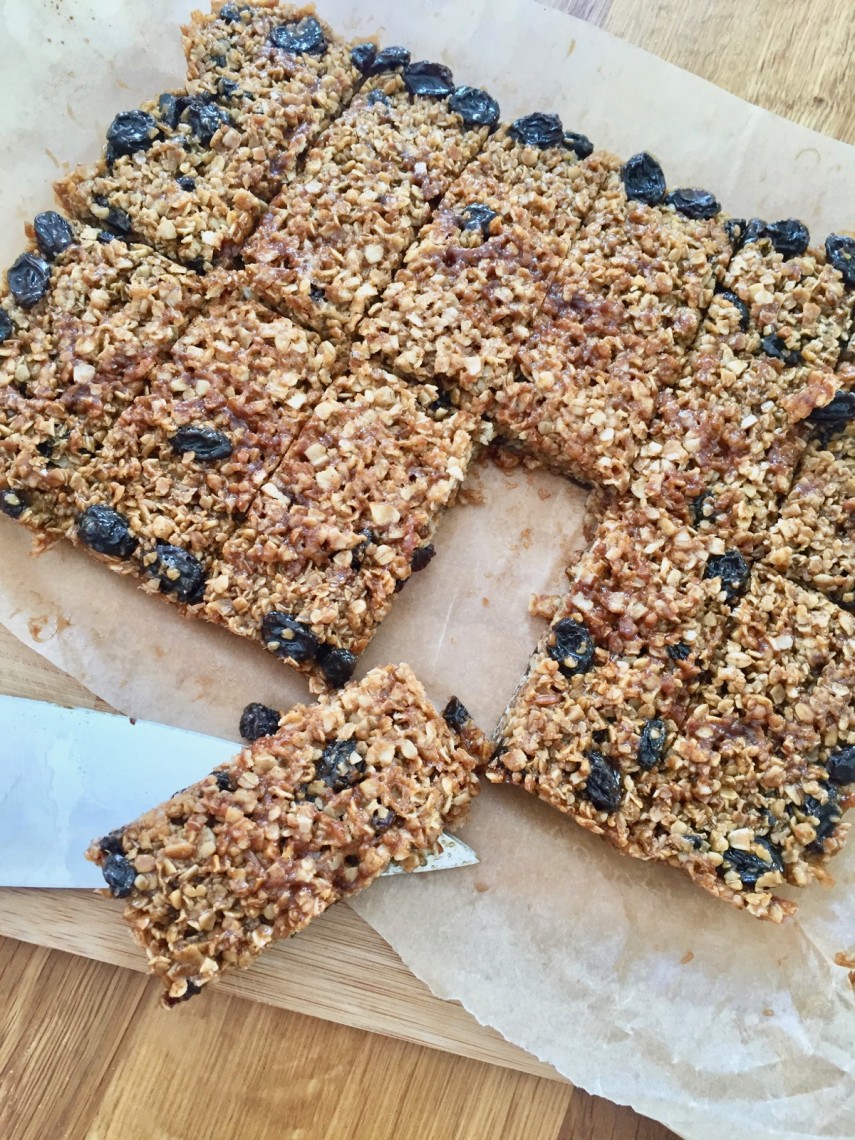 Cinnamon and Raison Flapjacks
Makes 12 flapjacks
You will need a lined baking tray approximately 9"x12"
Ingredients
225g unsalted butter
225g demerara sugar
75g golden syrup
275g porridge oats
100g raisins
2 tsp powdered cinnamon
Method
Preheat the oven to 180c/Gas Mark 4.
Melt the butter, sugar and golden syrup in a saucepan on a low to medium heat.
Mix the dry ingredients in a large mixing bowl.
Pour the melted mixture onto the dry ingredients and stir until well incorporated.
Pour the batter into your tin. Spread to the edges and pack the mix flat with the back of a wooden spoon to compress it a little. This prevents crumbling.
Bake for 25-30 minutes in the middle of the oven.
Allow to cool completely in the tin before cutting into rectangles.
The nature of flapjacks can vary, you get the crumbly ones in cafes or the plastic wrapped manufactured wodges sold in newsagents. My personal preference is somewhere in the middle having distinguishable pieces of oat and not falling apart as you eat them.
Given I once introduced myself to 100 bloggers with a bag of flapjacks in five flavours I thought it was fitting to feature them as my first actual recipe after the lengthy hiatus. Ted has made flapjacks at school and assisted here; he was amused to re-watch a flapjack making video of him as a toddler whilst I made the original mummy blogging conference batch.
I'm not promising these are perfect (the raisins travelled mostly to the far edge), but we enjoyed them as a sticky post-lunch treat over the past few days. I managed not to burn them in my temperamental oven which counts as success right now. And it's the closest I've come to achieving my lockdown aspiration to supply treats with home made items rather than randomly flavoured KitKats ordered in bulk from Amazon.
Ovens vary a lot – in my case every damn time I use it – so check your flapjacks every five minutes after twenty minutes until you are happy with the colour. They will be very soft when hot so don't try to move them until they're completely cooled down.
The flapjacks will keep for one week in an airtight tin.I would suggest lining the tin with the same baking paper as they can get a bit messy (at least they do in the current heatwave).
I hope those of you reading in the UK have been enjoying the balmy weather and have a wonderful week.
Thanks for reading!
Sarah