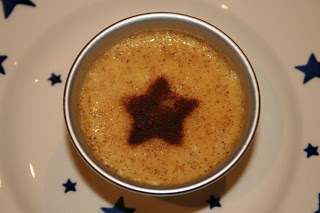 I am a little late posting about these.  I actually made them just before my recent weekend away in Provence (to be blogged shortly).
My monthly Bake Five challenge using Donna Hay's Modern Classics: Book 2 has not been going very well.  Of the five recipes I have now completed, this is the only one I can describe as a success. (I am not including my crushed raspberry cream cupcakes as I only used her recipe for inspiration and followed Nigella fairy cake recipe for bases).  I will cover the debacles of #3,4,5 in a single post but at least here I ended up with something that resembled what it was supposed to be!
I love egg custards so I was very pleased to see how simple these were.  I used up my egg yolks left over from the Pecan Pie Macarons  It was also my first time baking using a bain marie.
A summary of Donna's recipes is as follows:
Ingredients:
8fl oz milk
8fl oz single or pouring cream
2 eggs
2 egg yolks
1/2 cup caster sugar
1.5 tsp vanilla extract
Freshly grated nutmeg (but I used dried and this was fine)
1.  Preheat oven to 150c.  Place the milk and cream in a saucepan over medium heat and heat until hot but not boiling.
2.  Place eggs, egg yolks, sugar and vanilla in bowl.  Whisk until well combined.  Slowly pour over the hot milk mixture, whisking well to combine.
3.  Grease 4 6fl oz ovenproof dishes (I used little pudding basins).  Pour the mixture through a strainer and sprinkle with nutmeg (I stirred my nutmeg into the mixture to give speckled effect throughout instead).  Place in a deep baking tray and pour enough hot water to come halfway up the sides of the dishes.  Bake for 35 minutes or until just set.  Serve warm or cold.
I decorated my custard with cinnamon using one of my cookie stencils. The plate you can see is Emma Bridgewater "Starry Skies".