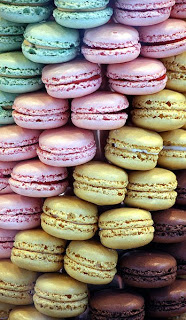 Cupcakes are top of the pops at the moment – we even have a National Cupcake Week – but there is also a bubbling under trend for macaroons – or macarons to give them their French spelling.


I have seen macarons (like these ones above) in pictures over the past year but had not seen them on sale anywhere. Then recently in Selfridges food hall, I bought myself three different flavours and was hooked, determined to make them at home but without a clue how.


Macaroons, from my childhood had been a dessicated coconut pyramid affair, usually with a glacé cherry coloured like a half sucked boiled sweet on top. Alternatively they would appear as round amaretti shaped bricks with a dried up almond pressed into their cracked surface.  Both types were cooked on edible rice paper.  They were always yellow.


These French macarons are dressed up in different flavours and colours oozing with filling.  If the other macaroons were Bridget Jones' pants then these French ones are Agent Provocateur in a box tied up with ribbon.


I found a recipe for macarons without the coconut in Nigella Lawson's How to Eat.  They were a disaster.  Flat, spreading thinly across the baking tray and ridiculously chewy.


Then last week, several food bloggers on Twitter started talking about making macarons or "macs". We arranged to bake our "#sundaymacs" at 4pm GMT, which was 10am on the East Coast Stateside.


Some recipes call for meringue powder as a substitute for raw egg white.  I then saw Hélène "Tartelette"'s mac recipes where macarons are made without it and chose Pecan Pie Macarons. 


Preparation started the day before.  The egg whites need to "rest" for 24 hours.  

Tartelette has a coffee grinder that she only uses for spices and seeds.  By merry coincidence, so do I.  Although the recipe said to put the nuts in the food processor, I decided to grind them in the coffee grinder.  It was quite a laborious process but worth it.  The pecans were moist when ground – not dry like ground almonds in bags.
With some intrepidation I whisked my egg whites, terrified I would over do them or squash all the air out of them when adding the dry ingredients (nuts and icing sugar).  I obediently left my piped circles of batter to stand for 30 minutes whilst taking the opportunity to deliver some of the crushed raspberry cream cupcakes I had made earlier that afternoon to my neighbours.


With despondency I placed the first tray into the oven.  They looked so flat that I was convinced they would be a disaster like my previous Nigella batch.  Furthermore I was reading tweets about other mac-makers who were having problems that day even if they'd had success before.


But to my surprise, when I looked through the oven door, my macarons were starting to rise!  They had visible "feet", which are the crinkly bit around the bottom.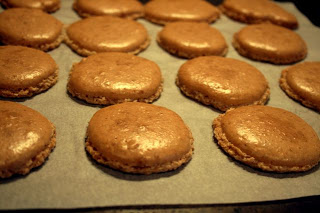 Tartelette's recipe fills the shells with pecan brittle and the salted caramel sauce. I made these the next day. This is where I had problems.  My sauce was fine, although I would preferred it darker.  The pecan brittle would not behave at all.  My first batch was a lump of frothed up sugar refusing to pour. I either used too little water or heated the caramel too long. My second attempt followed Donna Hay's peanut brittle from Modern Classics: Book 2 from which I am baking at least five items this month (see my Bake Five posts).  Umm, well I don't know what the hell is up with Donna Hay but not only was the creme patissiere the other week too liquidy but this brittle would not set at all.  Stranger still, I'd only added two thirds of the amount of water she'd specified.


Never mind.  I decided to abandon pecan brittle for now and filled my macarons with lovely salted caramel sauce.  As a first attempt, I am delighted with them.  They are delicate, just chewy enough and not overly sweet.  I am very pleased and filled with confidence to make #sundaymacs again soon.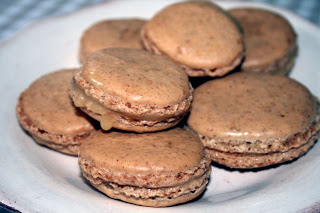 My first Pecan Pie Macarons.  The finished result.