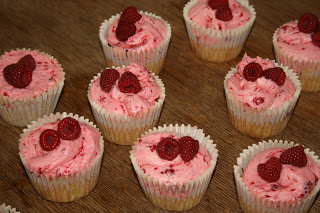 I should come clean.  It's now the fifteenth of the month I have not yet posted one recipe yet from my monthly Bake Five challenge.  This month I am cooking from Donna Hay's "Modern Classics: Book 2 " subtitled "Cookies, Biscuits, Slices, Small Cakes, Cakes, Desserts, Hot Puddings, Pies and Tarts" but I have not posted about anything yet.
The truth is, whereas 4 out of 5 of last month's Rachel Allen recipes were a rip roaring success, I've followed a couple of Donna recipes now but neither of them have worked.  Donna's book features a chapter each on the aforementioned list of treats above and at the end of each chapter there is a section called "short order" which gives recipes for classic components that are used in a variety of other recipes – such as different sauces, pastries etc.  So far I have attempted créme patissière and peanut brittle (although using pecans) and both have refused to solidify.  I am hoping to crack the créme patissière in a further attempt and I will write about the pecan brittle in my forthcoming post on macaroons.
It's high time I attempt one of the cake recipes then. It's also several weeks since I posted about any cupcakes. I chose Cupcakes with Crushed Raspberry Cream made with some fabulous smelling Essex Tiptree raspberries (they who make Tiptree jam). These raspberries, grown under 30 miles away, even qualified as local produce in my nearest Waitrose.
Well I really am cheating now, I must confess that being disillusioned with my experience using this book so far I have only used Donna's recipe as a suggestion and gone my own way. For this reason I am not posting the recipe today. I used my tried and trusted fairy cake recipe from Nigella Lawson's How to Be a Domestic Goddess and made up my own topping.  Instead of lopping of the tops and sandwiching them back on the cakes with real cream and raspberries in the style of a cream tea, I have whipped up some pink buttercream with the crushed fruit.  Also I dropped some white chocolate chunks into the cake mix.
I thought I had nailed the reason that some fairy cakes erupt in the oven like little volcanoes – I thought this was only happening when I used real butter and that baking margarine never did it.  This batch were made with baking margarine but still erupted a bit.  Nor did they rise as much as previous batches but I am not sure why.  Maybe it was the white chocolate?  The chunks appeared to have sunk mostly to the bottom so next time I would try melting the chocolate and stirring it into the batter before putting in the oven – although perhaps that would make them even less likely to rise.  Suggestions on a postcard please!
These are my favourite cupcakes so far.  Dare I say it, they look better than the ones in Donna's book.  They look as good as anything I've bought from cupcake bakeries, the buttercream tasted entirely of raspberry without any additional flavouring and my sponge was certainly not dry like some of them.  I would be confident of selling cupcakes as good as this. I intend to try a blue batch using blueberries or blackberries soon.