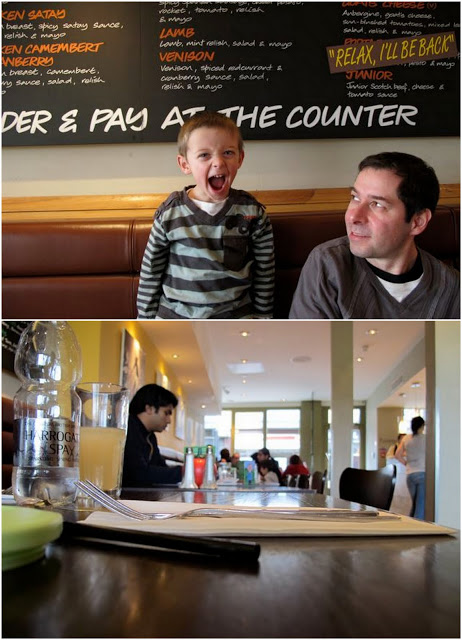 Today's post is the first of a new occasional series, Dinner with Crayons, in which I will review kid friendly lunches out. Venues will range from the more obvious family chains to independent cafes and, if we don't get thrown out, more exciting places.
The financial pages are not my usual reading material but I take my gauge about the success of a business by the desperation of their discounts. Gourmet Burger Kitchen have been dependable during the recession to run 2 for 1 and discounted set meal offers on a virtually continuous basis and more unusually, many offers valid on Fridays and Saturdays when most deals elsewhere were not.  For that reason, rather than the menu they offer, my experience eating in GBK is broad.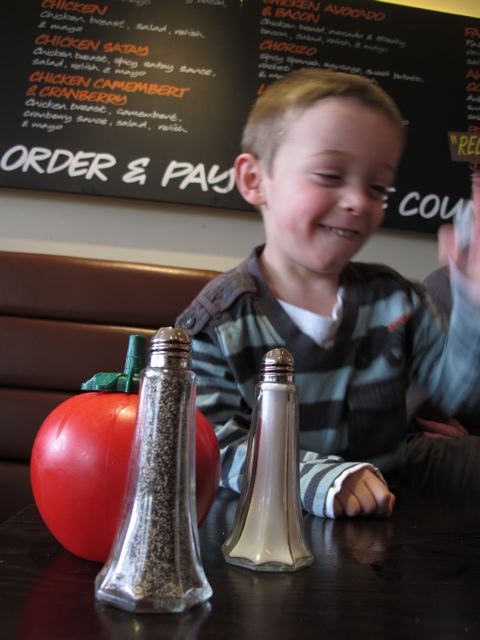 When first I ate in one of GBK's first branches in Chiswick in the mid noughties, I was impressed by their burgers and liked the concept of an upmarket burger bar that wasn't Ed's Diner. Since their vast expansion, I have eaten in many branches but I am increasingly apathetic about trying new ones unless desperate.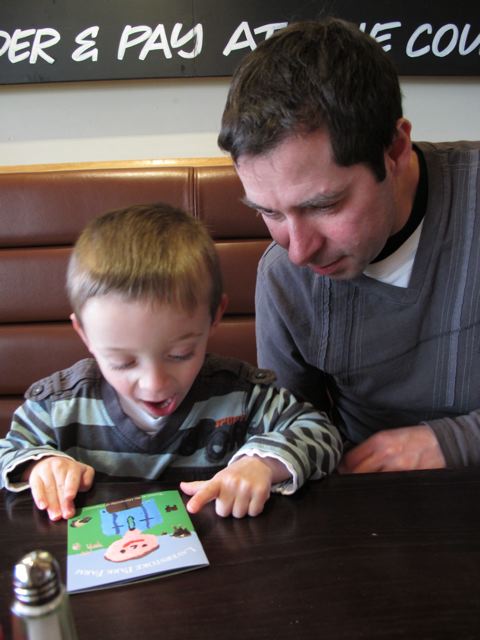 No crayons. Entertaining Ted with a Laverstoke Farm leaflet.


An attraction of eating in GBK if you have young children is that you order your food at the counter and tend to be served quickly.  Some branches (such as Lakeside) give out crayons and pictures to colour but generally the kids menu package here is sloppy compared to other chains. There are no free packs of pencils or activity packs here.


Some branches, like Cambridge or St Pauls in the City of London, do give out proper kids' menus. Others, like Canary Wharf deny the existence of a kids menu across the whole chain.  If you are offered the kids' menu, the deal is £4.95 for a small burger, lentil burger or chicken goujons with small portion of chips, a drink and a Fab ice lolly. The portions are generous and I never order my own chips as I know I can have some of Ted's instead.


However, GBK have a bizarre practice of offering the kids' menu yet from my experience (at least six occasions over 2 years), NEVER having any of the Fab lollies available. They seem to hope you will leave without asking for the lolly but if ask for it they apologise it's not avaiable that day and produce sloppy "ice cream" which is actually from their milk shakes or on one surreal occasion, some polo mints.  I take issue that they are offer a set menu yet don't have all items available. This has happened to me so many times I don't believe they ever stock the lollies. Goodness knows where the polo mints came from.
The menu is less varied than Tootsies (sadly defunct chain previously owned by the same parent company) used to be. Apart from a couple of bulgar salads and felafel, there are only burgers to choose from although these do range from various combos of beef, chicken, lentil and lamb to more expensive wild boar and buffalo from the organic Laverstoke Farm.


If it's a branch that skips the kids' menu, you can order one of several burgers that comes in a smaller size but you won't get the small portion of chips and it will work out more expensive even for the small burger and drink alone.


Before Ted would chew meat, I used to order him the spicy lentil burger (available in the smaller size). It's not that spicy and we both liked it a lot. He also likes the retro ketchup bottles found on each table.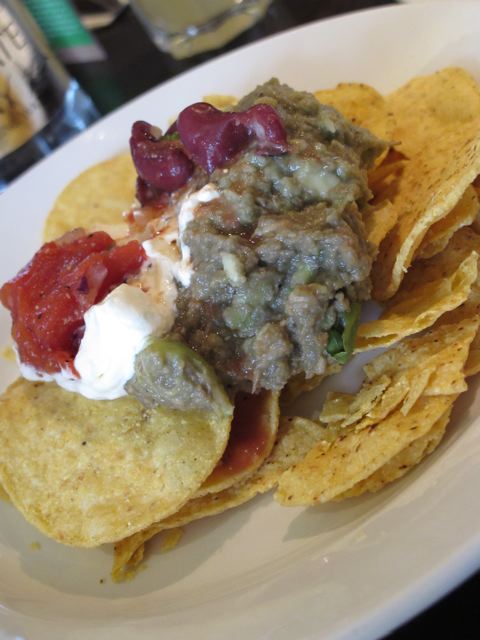 Horrid looking guacamole with nachos.
Food today in Cambridge was pretty poor. The guacamole was grey, the burger buns dry and yes we were fiddled out of our Fab lolly yet again. My mummy brain was pretty fried at time so I didn't think much of it but looking now at the pictures I wish I'd complained about that guacamole. Admittedly the main thing that puts me off complaining in most places is the poor communication skills of the staff. It's more trouble than it's worth (although I can boast a free meal in Ask Pizza so you see I do pipe up sometimes).
We'd got a £10 offer from www.moneysavingexpert.com which offered two burgers and a plate of nachos with guacamole, sour cream and salsa. Considering that the average cost of a non-organic burger (which were excluded from the deal) is around £7-8 and the nachos are around £4 and that the deal was valid on Easter Sunday, it would have been a decent offer if the food had been better.  Ted's meal was £4.95 and we planned to steal some of his chips so the full bill with drinks was under £20.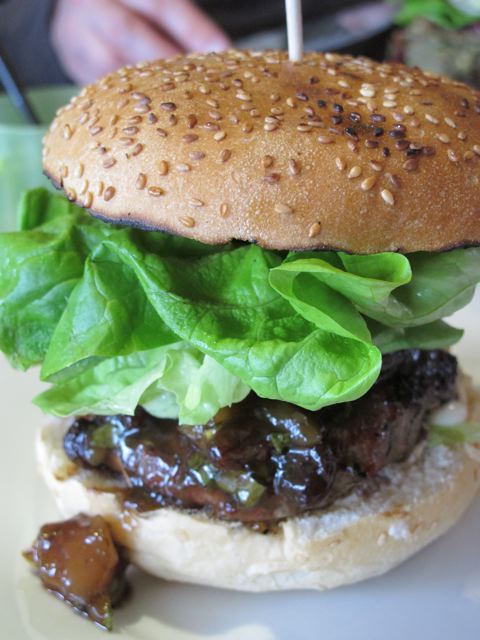 Minted lamb burger. Okaaaay.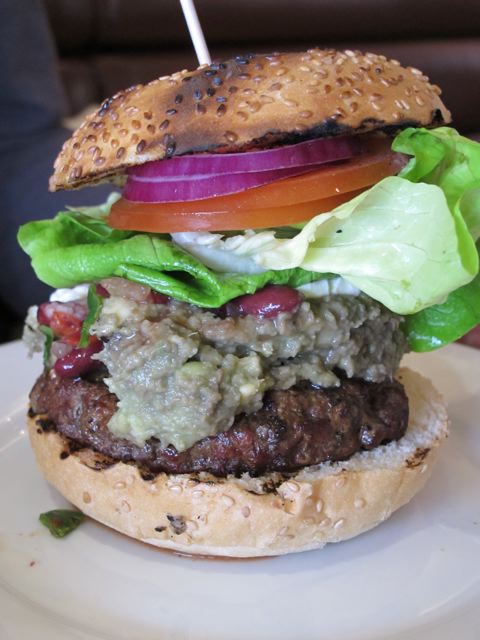 "Mexican" burger with more of the hideous guacamole.
My husband said he had messed up as he didn't realise we got nachos and guacamole anyway. Poor thing got a DOUBLE DOSE of the damn stuff.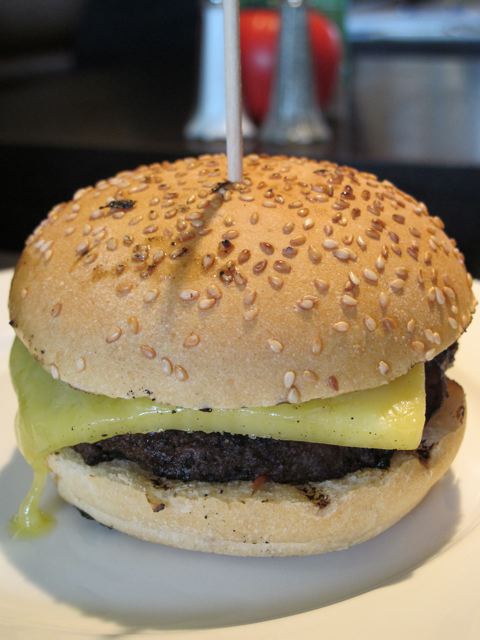 Ted's mini beef burger. Dry bun and burger not fantastic. Generous cheese though.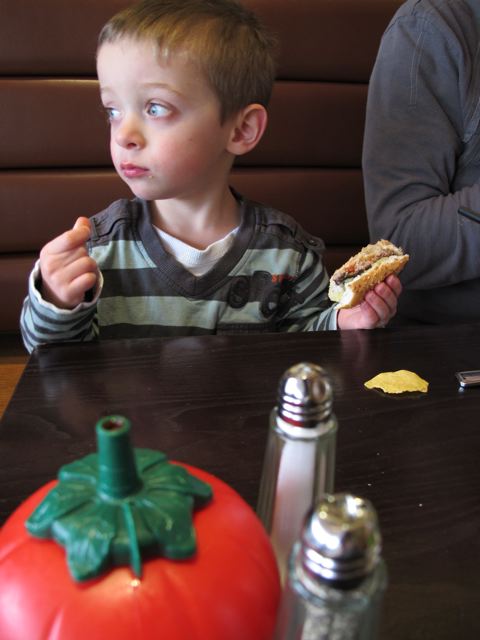 It seemed to go down ok though.


Another bone of contention for me with GBK is that unless you count milkshake they don't really do desserts.  Some branches have had small tubs of ice cream in the past (Ben and Jerry's even) but this practice seems to have been phased out.


So apart from my reasonable lamb burger, today's offering at GBK was disappointing. As I'm casting my mind back to previous visits, I'm starting to notice a bit of a pattern of mediochre burgers salvaged only by the fact I'm paying half price for them with vouchers. One meal I have enjoyed at GBK was the bulgar salad with chicken and coleslaw on the side but given the hit and miss nature of their branches I am left wondering whether it would be as good if I ordered it elsewhere.


Cambridge is the smallest GBK I've ever been in.  It is a little like eating in a corridor but if you are sat at the right end, there are lovely views of Parker's Piece.  There is a disabled toilet smack bang in the middle of this restaurant, The baby changing table is positioned lengthways (i.e. someone who has never changed a baby put it up) and quite awkward to use.  For bigger children, the cubicles upstairs are spacious and you get the added a amusement of a large vintage photograph of a curly haired Alan Sugar beaming at you at the top of the stairs.
Verdict? GBK have slid down in my opinion from an upmarket burger chain to somewhere I only go if there's no better choice. Hmm…. that's starting to sound like somewhere else…!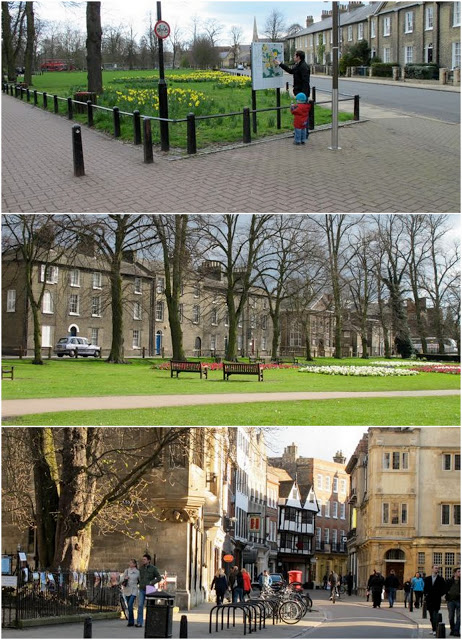 A very quiet Easter Sunday in Cambridge.