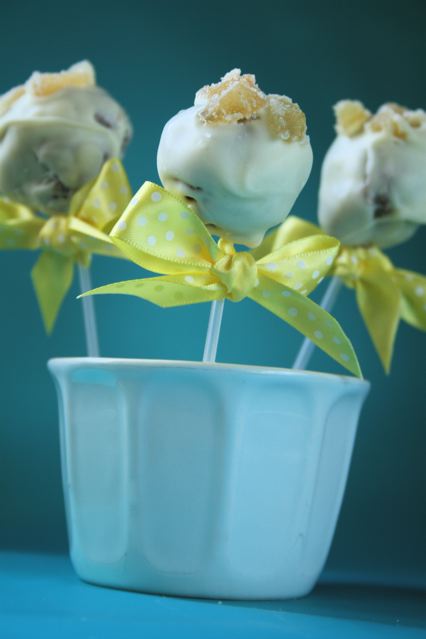 Giggly schoolgirls. They saunter towards me cackling in crushed together cliques, not drunk (well I presume not) but barely able to walk in a straight line. They annoy the hell out of me but at the same time I look back in fond memory that I once was one. At school I was one of a threesome, myself, Beccy, Janice. More often than not, we had ribs that ached, bodies bent double at desks trembling with disapproved of laughter.
Something daft would set one of us off. We'd been smirking at the history teacher's shoes that day or the names of steam engines from the Industrial Revolution were suddenly hilarious. "Be quiet," we were told. One of us would be sat at a desk immediately in front of the other two desperately trying not to laugh again. Janice, the tallest, would reach forwards and jab a sharp finger into each side of her victim making them crack and get told off again. More giggles. It's a miracle any of us passed.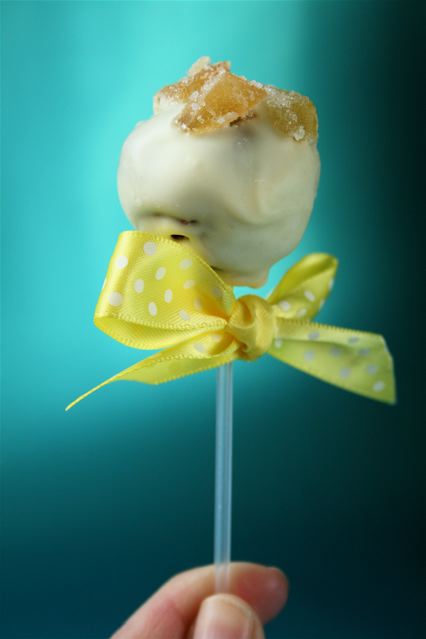 Cake pops will not behave either. They slide about cheekily, keep still for a moment and then cave over slowly in comic fashion. Not good for photos. Appearances are deceptive.  Catch one on its own and it's smartly dressed with its bow, pinned down by fingers. Try standing three of them in a row, even with sticks pressed into some sugar paste and first one goes belly up and then they all do.  I had a terrible time this afternoon trying to get these cake pops to stand still and cooperate.
I have a large box stuffed full of letters that my school friends and I wrote to each other over one summer holiday. It was a church school pulling pupils from a wide area so we didn't live near each other. They were not just letters, they were complete projects, pictures torn out of magazines with captions, stories and skits written to entertain each other until we were back together in September. I look at them now in amazement, firstly that we wrote them at all and secondly at the sheer amount of effort that went into them. I remember the excitement of getting a letter during the holidays and the joy that it was as good as being in a history lesson having your ribs jabbed.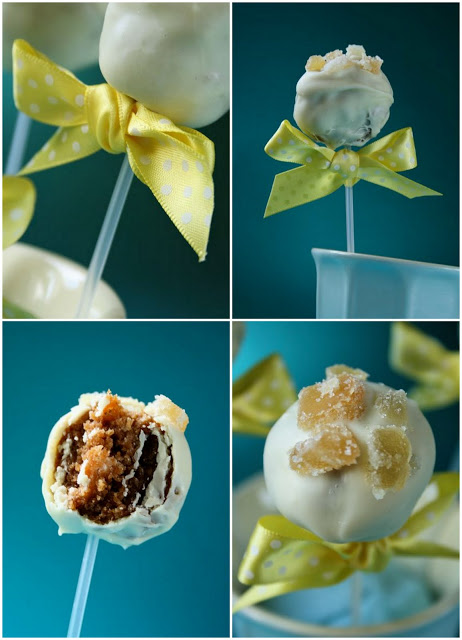 Now and again my husband and I will get a fit of the giggles over something (usually something my dad has done) but nothing comes close to that breathless schoolgirl side splitting laughter.
Today I am still best friends with Beccy and like during those school holidays we are separated. Separated by distance (she moved to Australia shortly after Ted arrived), separated by life, we don't have the time to write little magazines for each other now, that's not what grown ups do. (But what are blogs if not magazines…?) Mercifully phone calls are cheaper than back in 1989 and so we spend an hour at a time chatting every month or two. And of course she reads this blog.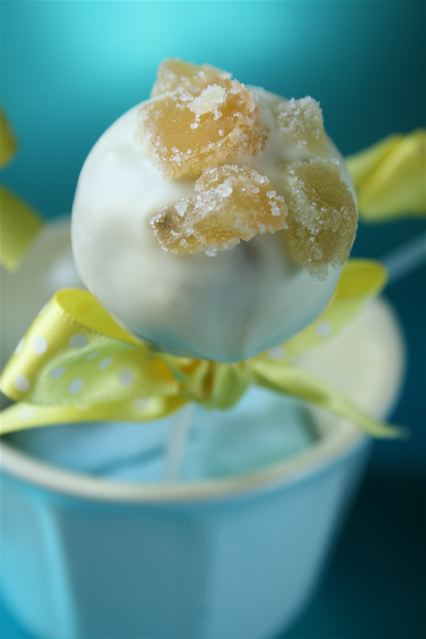 After admiring cake pops for months on Bakerella, it was a recent post by Claire at Things We Make that spurred me on to make some of my own. I am using again the background paper which Claire had admired here prompting her to find some in the same colour.
Claire's admission that she'd used shop bought cake was the main thing that propelled me into making these. After all why would I massacre a cake I'd just spent hours making? I had some left over ginger buttercream in the fridge and decided to do ginger cake pops. One day I will get around to writing a "Guilty Pleasures" food post with my top ten slightly (or highly) trashy foods that I enjoy. McVitie's Jamaica Ginger Cake may well be one of them. They're also cheap enough to have no qualms about blitzing them into oblivion.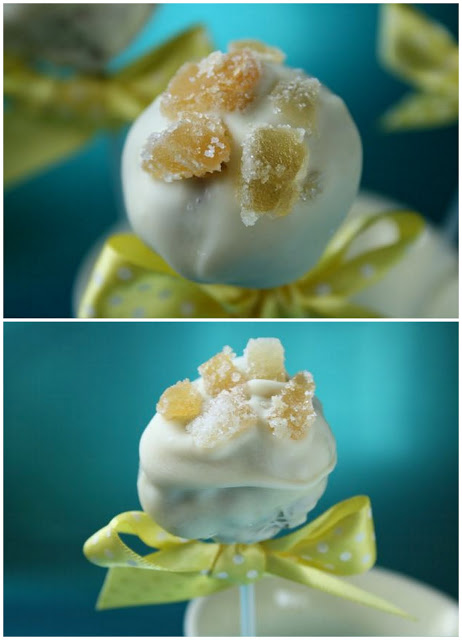 I made the pops to take to a dinner party held in honour of a friend's birthday. When asked what they were I said "cake on a stick" although "truffle on a stick" might be more accurate.
The buttercream and crumb mix mutates back into thick cake mix with a similar texture to marzipan.  As an alternative to almonds, I've heard marzipan can be made with cake crumbs so I expect this comes close to that.
Cake pops are ridiculously easy to make. The hardest bit was finding something suitable to stand them in so they don't fall over and smudge.  Next time I will use Claire at Things We Make's suggestion of wooden stirrers from coffee chains. The cake pops "spin" a bit on the round plastic sticks whereas the wooden ones would grip them better – the length would also make them easier to photograph.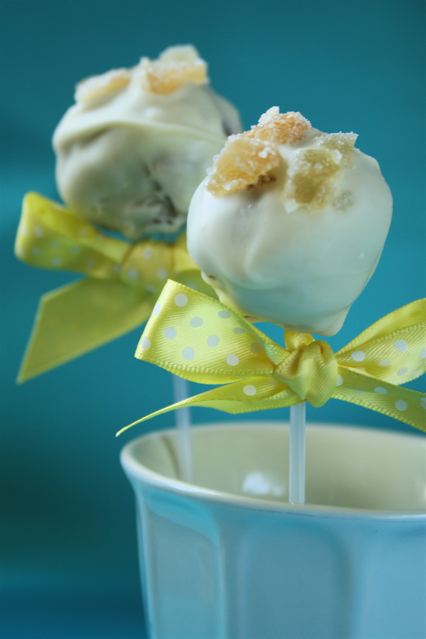 White Chocolate Jamaica Ginger Cake Pops
Makes 12-14 cake pops
Ingredients:
1 bought McVities Jamaica Ginger Cake or 250g of fruitless ginger cake
3-4 tbsp ginger and cinnamon buttercream – see this post
(alternatively you could use Philadelphia cream cheese but it won't be so gingery which you may prefer anyway)
200g white chocolate
crystalised ginger to decorate
12-14 sticks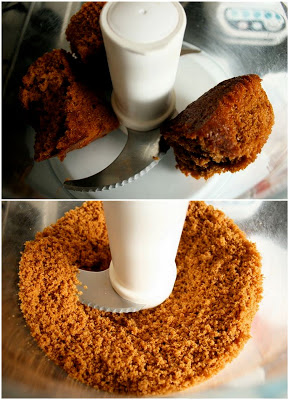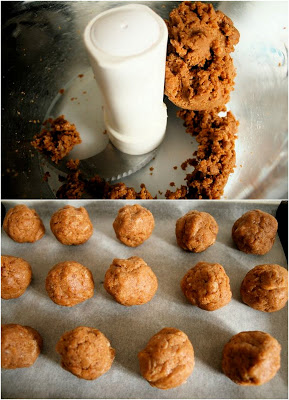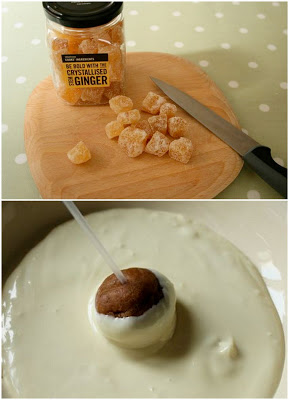 Method:
1. Pulse the cake in the food processor a few times until you have crumbs.
2. Drop in 3-4 tablespoons of ginger butter cream or cream cheese. Pulse again until you get a ball of dough. Don't over pulse otherwise the blade chops it up again.
3. Roll golf ball sized blobs of dough with your fingers. Place on a baking tray lined with parchment paper. Put in the fridge for 2 hours or overnight or cover with cling film and put in the freezer for 30 minutes.
4. Break the chocolate into squares and melt either in a double boiler or the microwave.
5. When the chocolate is melted, roll the balls in it and spear with one of the sticks to remove. Use a teaspoon to drip chocolate all around the ball and let the excess drip from it.
6. Stud pieces of crystalised ginger onto the white chocolate before it starts to set. Finally, stand the cake pop in a cup just the right height to support it but not to smudge the chocolate. Allow to set before serving. Chill if desired but this is not essential.