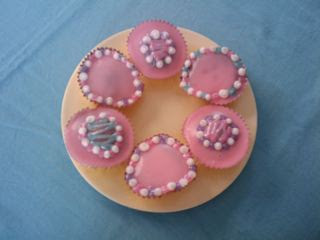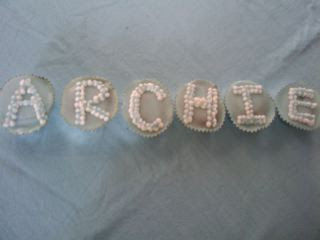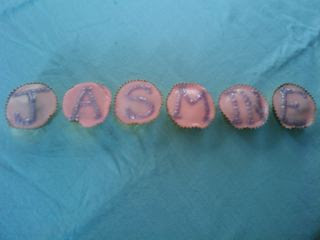 I have had my first culinary disaster. They don't look that bad I hear you say? Well let me explain…
My intention had been to make chocolate and blueberry flavour cupcakes with my friend's son's name on them which I would take to her tea party this week. Also I was using them as a practise run for some blue cupcakes I want to make to celebrate my other friend's new baby.
I made chocolate mixture for the base and threw a handful of blueberries in.  So far so good.  As it was 48 hours before I attended the party I put them all in an airtight tin.  Two days ago I made fondant icing in two colours; blue for boy cakes and pink for girl cakes.  I split one batch of white icing into two bowls and then had a similar experience with the food colouring to last month's big lunch cupcakes.  Namely, that with blue food colouring you keep putting loads in and it's still quite pale but that the pink food colouring goes "Yippee! I'm here and I'm very PINK!" when you add just a teensy drop.  Weirder still, the blue icing goes paler and paler as you add more sugar and I hoped this would solve my pink problem.  But no.  The pink icing stays bright pink when you add more sugar and now I just have twice as much of it. Barbie would be delirious.
Now with fondant icing you want a consistency where it will spread across the cake by itself forming a flat layer on top but that it will dry fairly quickly and go hard. But you don't want it to set so fast that it has dried before you get all your sprinkles on and they roll away because the icing isn't wet anymore (you see why I have gotten on well with chocolate recently).
I thought I had the icing at the optimum thickness but when I started drizzling it into the cases it became apparent that some of my nicely moist cupcakes no longer wished to stay attached to their cases.  As I drizzled icing to the edge it carried on flowing away from the centre of the cake and the cases got wider and wider. And what's with the bubbles?! Air bubbles are popping up like a mud geyser faster than I can burst them with a cocktail stick.  This may cause problems when I put them in their little plastic box I thought to myself….
The pink behaved in a similar fashion.  I obviously didn't put enough sugar in the mix today.  Or rather I chickened out and added a bit more water when I needn't have done.
Yesterday morning and the icing has sort of set but cracks if you pick the cakes up. Not a great look.  Nevertheless I pursue with icing the names – something that I am even less confident at.
They are decorated with a combination of Dr Oetker Ready Made Barbie (thought I'd better include her now!) Glitter Gel icing which comes in four colours; white, blue, pink and lilac.  Also I have used ready made Dr Oetker white icing which comes in the big fat toothpaste style tube with a selection of nozzles.  This time I decided to use the simplest nozzle and just do little blobs in straight lines to form letters.  On the pink cakes I used the gel icing on it's own. The icing is a bit jammy and the blobs run into each other when there's nothing in between them. So I also tried combining both icings together in alternate blobs which actually gave quite a good effect.  Visually I felt I'd made the best of a bad job.  The ones on the cream plate at the top are even photogenic enough.
So not a complete disaster then?  Today I am trying to box them up and as suspected they will not fit in their box and I do not have anything else suitable to put them in.  But thank goodness I decided to taste one before persevering with my search for a container.  The excess liquid from the icing has seeped into already moist cupcake and they have gone SOGGY.  Yak.  Even a sugar crazed six year old would reject these.
I have confessed to my friends with a photo.  They are amused and asked whether I was going to throw them in the bin.  Oh no, I replied…. I will feed them to my husband.
UPDATE: Husband who usually isn't fussy says he doesn't like them.  The bin awaits.