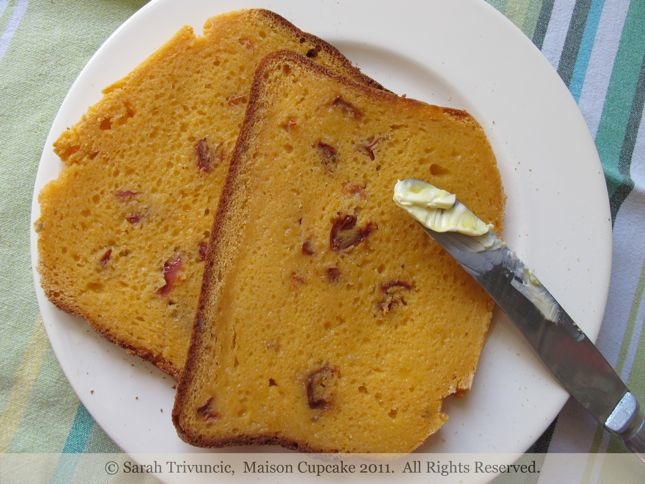 Consider today a precursor to my long promised Morphy Richards' bread maker review to be published tomorrow.
I've missed many of my favourite blog events lately. To my joy, this month's Fresh From the Oven hosted by Michelle at Utterly Scrummy Food for Families was for a favourite savoury bread and I already had the required loaf sitting in front of me!
For some reason, gluten free bread is invisible to my husband and Ted. Happily meaning I get to eat all of it by myself.
It keeps for up to a week in the fridge and tastes fantastic refreshed in the toaster then slathered with butter.
Here follows, therefore, a bread maker recipe. I've no idea how this would work without said bread maker or in other models so you'll have to experiment and let me know!
Sun-dried tomato antipasti is required although I soaked 50g dried ones in olive oil for 6 hours which worked fine.
Gluten free sun-dried tomato loaf

Makes 1.5lb loaf

Ingredients
3 eggs
284ml buttermilk (standard carton size in UK)
5 tbsp milk
2 tsp lemon juice
1.5 tbsp honey
50g antipasti sun-dried tomatoes
1 tbsp oil from the antipasti
1 tsp salt
3 and 1/4 cups gluten free flour blend (I used Dove's Farm)
1 tbsp yeast

Method
This method is based on the Morphy Richards' premium bread maker, quantities of ingredients and order of mixing may vary for other manufacturers.

Add all the ingredients to the baking tin in the order shown. Select gluten free programme, select size of loaf, select "toastedness" level for crust, select advance cooking time if desired, select "start" and wait however long – 2hrs 35 mins in this case. Bingo!