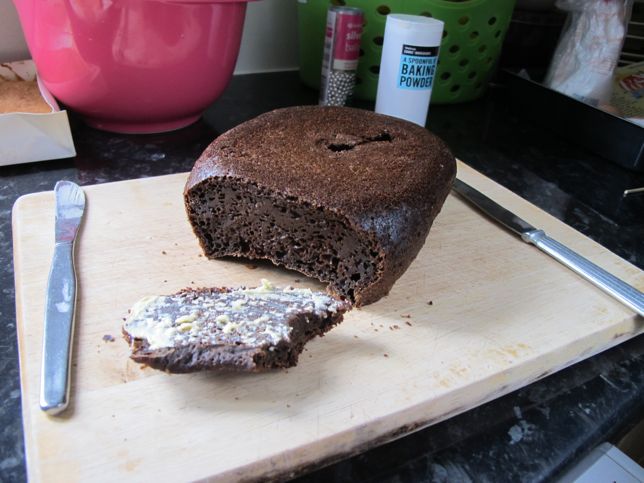 Ugh. What was I thinking of? The more I think about it, this recipe, whilst it might have tasted good, never had the pedigree to be a good looking blog post from the start.
From now on I vow only to decide to bake things that at least stand a fighting chance of being pretty.
Normally I would bin stuff that turns out like this but a) it's my Fresh From The Oven entry and my good friend Helly at Fuss Free Flavours is hosting this month so I didn't want to miss and b) I never claim to be any kind of "expert" so here is the proof.
Helly gave us free rein to make any kind of (hideous, disastrous) bread this month but stipulated that we should be able to trace exactly where our flour came from. This malt loaf flour has stamped on the pack that is a blend from three different mills in Oxfordshire. I would trek downstairs to check but since it's nearly midnight I'll assume it's enough detail to say it's from Lewknor.
At the Masterchef Live show back in November, I came across the Wessex Mill flours stand who were selling malt loaf bread flour. Nostalgic for Soreen and keen to buy things that I don't normally see in the shops, I pocketed a bag and looked forward to making my own home made malt loaf that would eclipse the sticky wodges from the supermarket.
Only like Monster Munch and Oreos, somethings are pointless to make yourself when they taste better out the packet and aren't expensive anyway. Malt loaf would appear to stand in this category.
I wish I could tell you it tastes good but I reckon it needs loads more sugar and also dried fruit (oddly absent from the ingredients list).
You may laugh louder when I tell you that this is the malt loaf upside down. It looked even worse the right way up. I hate cookery errors. I'm too busy for them.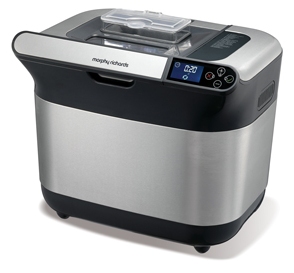 I have been testing out a Morphy Richards bread maker which I was sent to review. Today is not the review. I have had two pretty disappointing experiences with the bread maker so far but I will put these down to arrogantly trying to run before I can walk and persist in making some more straight forward loaves before I cast final judgement.
The recipe on the flour bag did warn that less water may be required for bread makers but advised trial and error with your own machine.
My first attempt using the bread maker had occurred when the whole family were ill. I know I keep banging on about the whole family being ill, it's kind of had an impact on life round here. Thankfully I am better. The boys are still lurching from post viral hangovers into the next bug appearing without any gap in between. We're not normally like this.
Anyway, whilst we were running on empty and were too dead on our feet to make it to the convenience store, I decided to use the new bread maker only to realise that it required skimmed milk powder for all the bread recipes. The only thing I could make from the instruction manual without dragging myself to Spar to buy Marvel was the gluten free fruit cake you see above. It was pretty funny looking but we ate it anyway. I guess if you had serious medical grounds to go gluten free you'd be glad of a cake like this but I found it a bit grim. I'm also disturbed by the mark left in everything by the dough hook, it's like a scar.
I'm not writing the bread maker off yet by any means, enough people I know swear by them so you will hear more about this soon.
No recipe today. I'm assuming noone out there is masochistic enough to make this.
In the meantime, what are you views on bread makers? Do you have any tips or stories for me?
And while we're at it, should I hide my disasters? Or do you prefer to see them? Even if I am growing alarmed at their frequency lately…