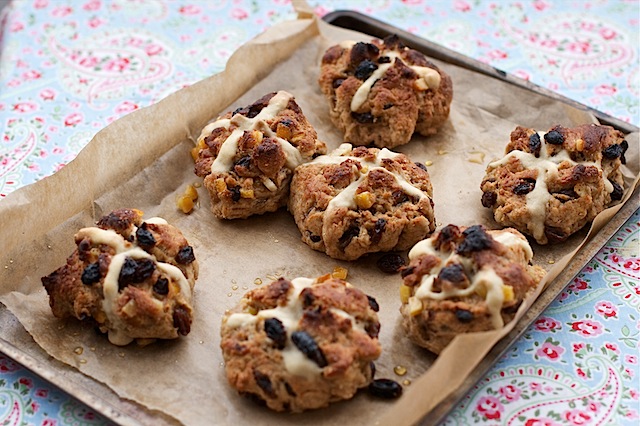 Well well well. Bread you actually knead with your own hands rather than the bread maker or at a push the dough hook is a novelty to me. I really don't like getting my hands doughy and my wrists are quite weak and pathetic.
But I threw myself into making hot cross buns for Fresh From the Oven as part of my month determined to do take part in more blog events after a prolonged "holiday" from them.
After investing in new tubs of candied peel and new bags of sultana I went and messed them up by forgetting to add the egg.
Not to worry, I thought, real bread doesn't have egg in it so surely they'll still work.
Despite increasing in size on proving, my buns were a bit harder than I'd like (now there's a phrase I never thought I'd be using).
My dad declared them "substantial" however he admitted he'd not eaten a real hot cross bun for about 30 years (he exists on a diet of mostly porridge, watercress, sardines and roast dinners).
They weren't inedible by any means, I ate one toasted for breakfast three days on the trot but they weren't as soft as I'd assumed they'd be. Maybe i'm getting them mixed up with toasted tea cakes? I followed the recipe to a tee (apart from mislaid egg – no pun intended) but thought the ratio of fruit was that bit too high. It was a lot of raisins etc to submerge in that dough.
Then my flour paste crosses were too chewy. I kept peeling them off. Not amused.
Anyway this, warts and all, is my entry to this month's Fresh From The Oven currently hosted by The Little Loaf where you can find the recipe too. The round up is due to be published by Claire at Purely Food.