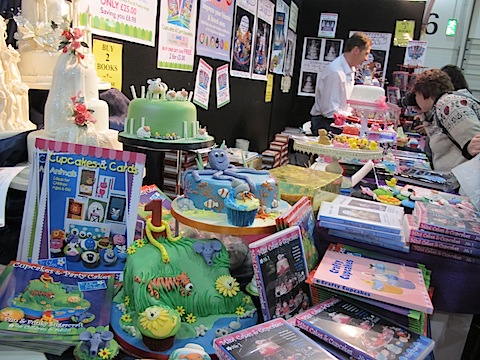 The first baking focussed Cake International show is taking place this weekend at London's Excel and I had the pleasure of nipping in the car down the road to see the opening day this morning.
This is a lightning, timely post for anyone mulling over whether they want to go. It's bigger than the Squires sugarcraft show and slightly more mainstream in focus. It is however a total mecca for sugarcraft geeks wanting to collect virtually any cake decorating tool, paste, nozzle, whatsit, whatever.
These pics are smaller than usual since I just wanted to get them up quickly – I'll tidy up and pop hyperlinks into various people afterwards.
If I've tempted you to attend the show, enjoy!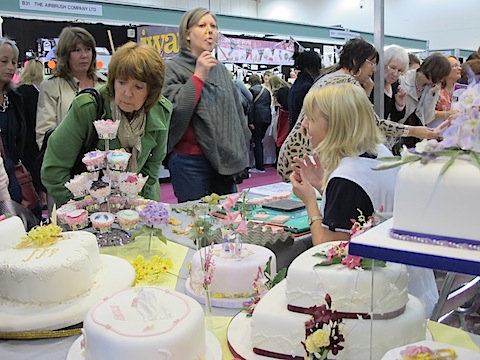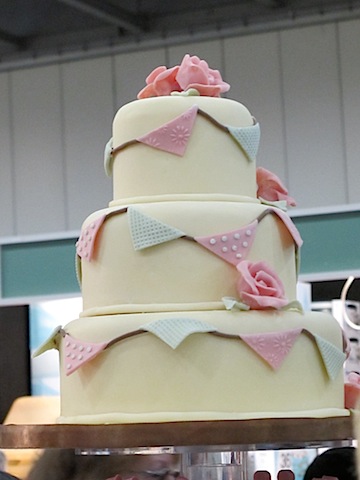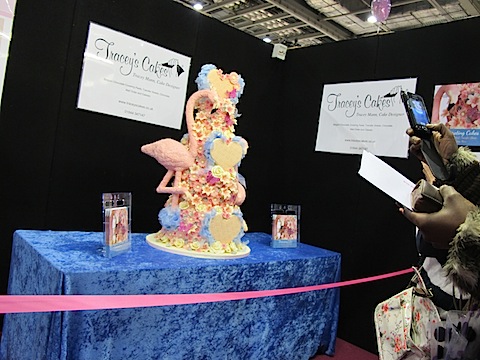 This whopping flamingo cake had a stand of it's own.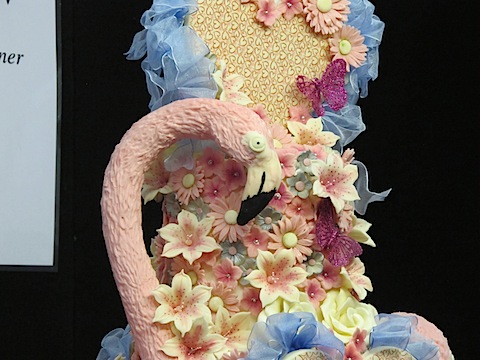 I'm just speechless. It's made of chocolate.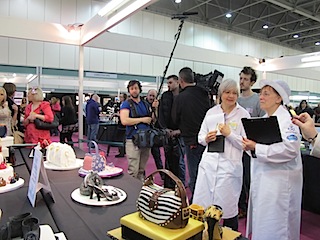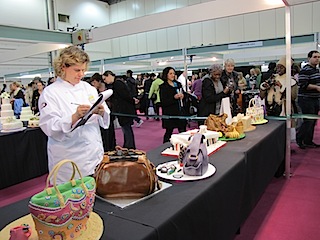 Judging in the competition area with some filming going on to – for TV I think?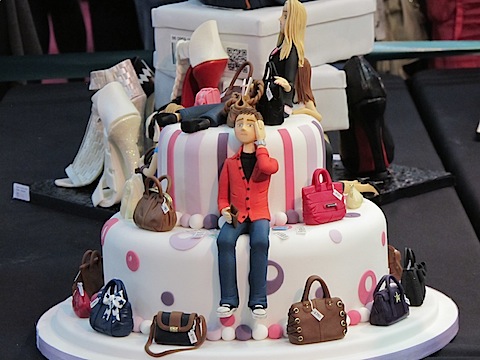 Not quite sure what this cake depicts but I love the two figures and the dinky handbags.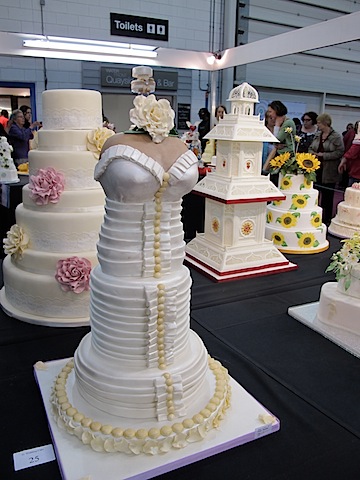 The buxom bride's wedding cake of choice. I probably looked quite similar to this cake (minus the ruffled bits) actually.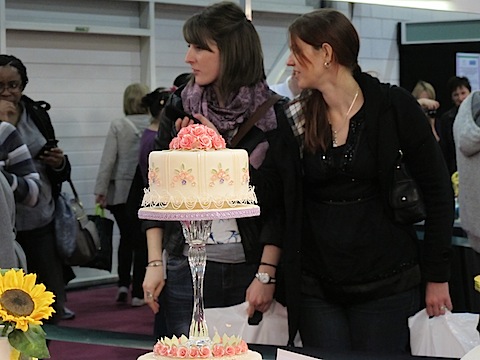 Everyone agog at detailed piping work. Look how fine this lace piping work is.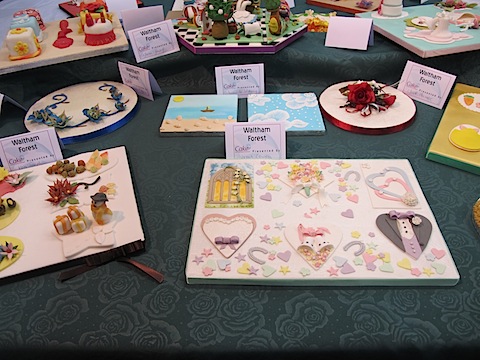 Hurrah for Waltham Forest sugarcraft classes! Glad to hear these have been brought back to my home borough after a few years.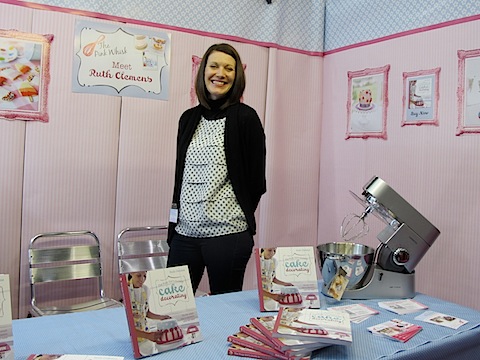 Time for a friendly chat with Ruth at The Pink Whisk stand promoting her new book The Busy Girl's Guide to Cake Decorating (published by same folks as mine, David & Charles).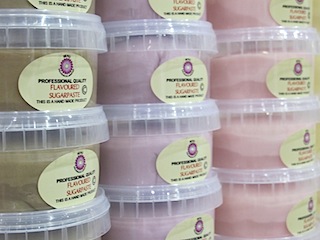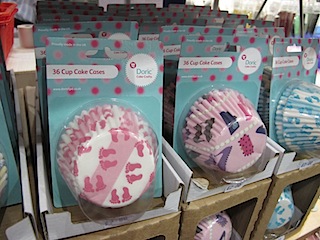 The ultimate baker/sugarcrafter's shopping fix – all the fabulous stuff you normally see only online right there in front of you to BUY (my advance is take plenty of cash – the chip and pin machines at the venue are horribly slow and you can whip round buying bits much quicker with cash plus stay more "aware" shall we say, of how much money you're spending!).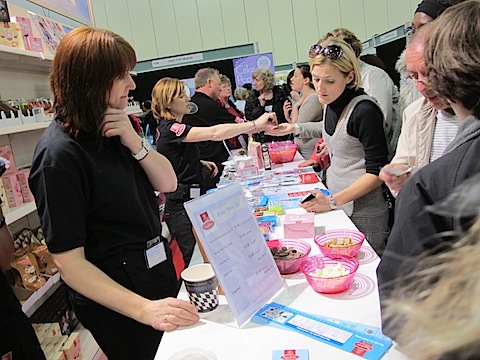 Renshaw have a huge stand showing off their melting buttons and jubilee red white and blue sugarpastes.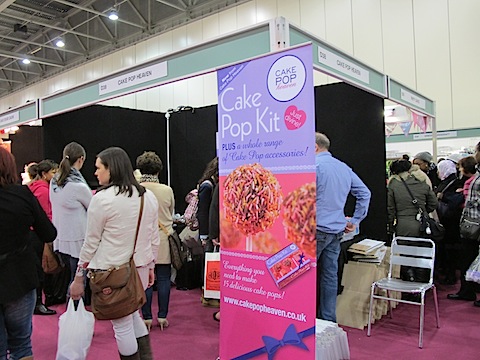 It's gadgets-a-crazy including this stand for The Cake Pop Kit – it was so mobbed I could barely see what was in the kit but it appears to comprise melts, sprinkles, sticks and most importantly, a transporter to move those fiddly cake pops around in. Cake Pops are an absolute nightmare to transport without something like this.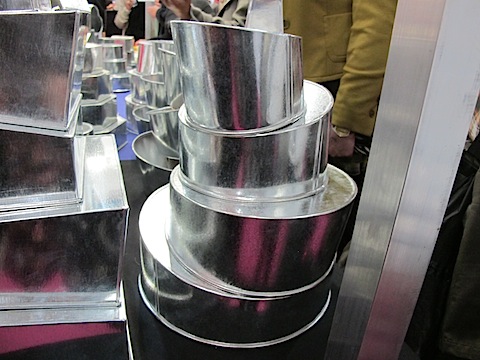 Wonky cake tins – you know I'm so daft I actually thought people lopped off bits of cake to make these.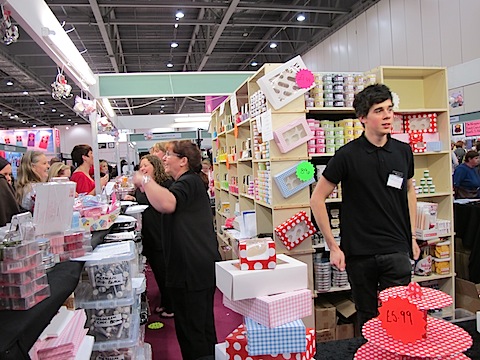 Cupcake boxes, cake stands…. you got 'em.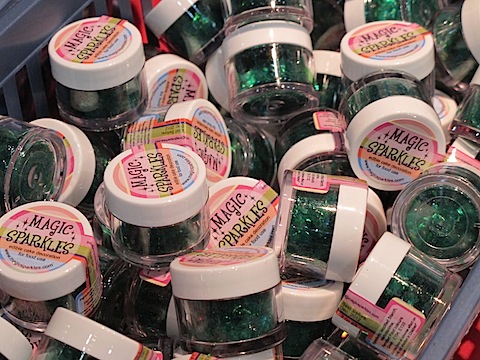 Piles and piles of Magic Sparkles.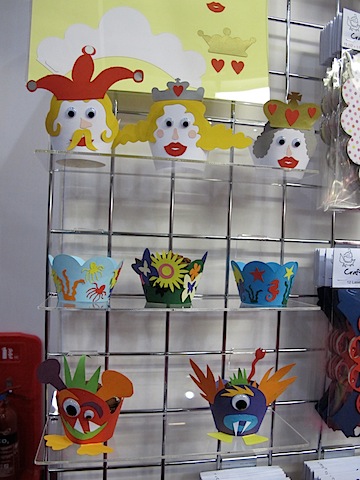 Genius idea for craft kits to decorate kids' cupcake wrappers. They're themed "royal", "monsters" and "wildlife" with more themes in the pipeline. I bought a set for Ted and I to play with.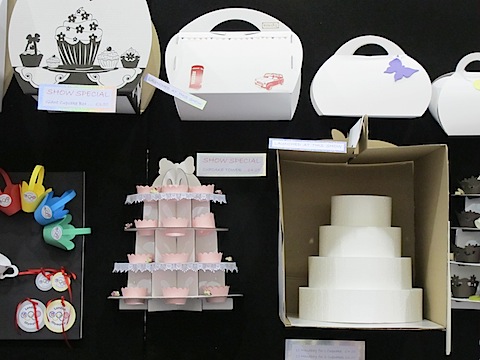 There seems to be a never ending desire for gadgets to display and transport cake – these pretty cardboard standards and paper HANDBAGS if you please.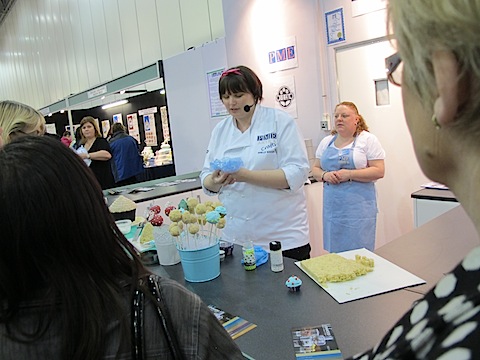 PME cake pop demonstration. I picked up some nifty tips for stopping your cake pops slide off their sticks.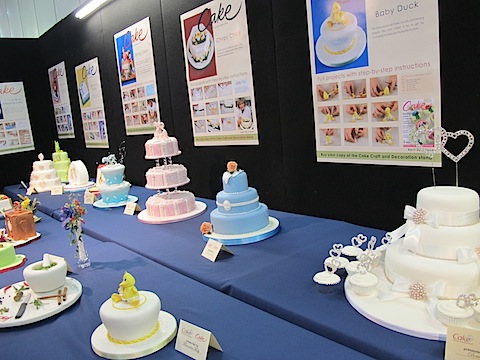 Cake Craft & Decoration magazine stand with seriously impressive tiered cakes.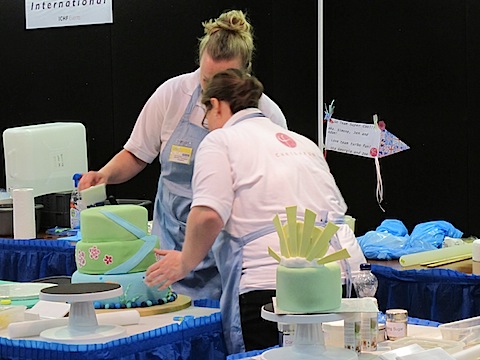 Some crazy cake decorating challenge going on – not quite sure what was happening but I think they were professional cake decorators/businesses having some kind of filmed "ice-off" for want of a better word.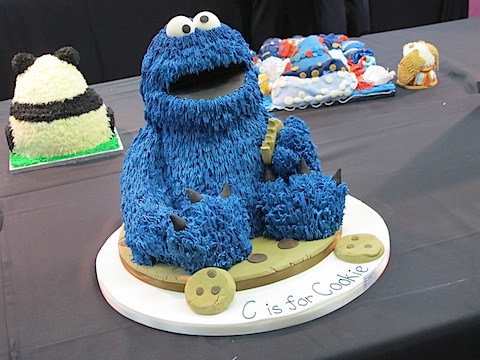 My favourite cake of the show. Me want Cookie.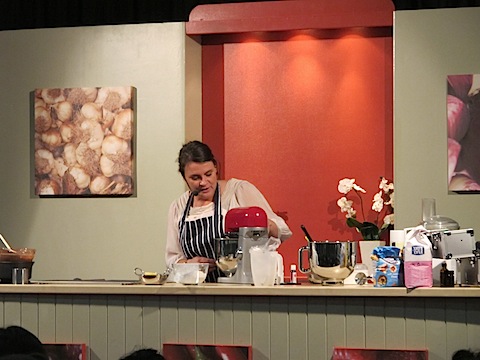 Jo Wheatley giving a macaron demonstration. Seriously I would have keeled over if I had to do this infront of all those people.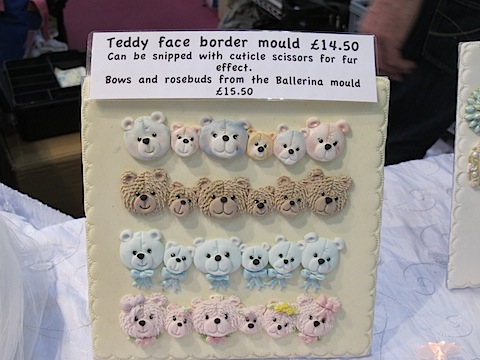 This is a mould apparently. You get bears in a row. I can't decide whether it's too sickly sweet or whether I want one.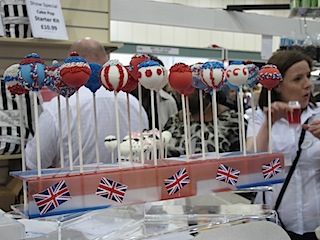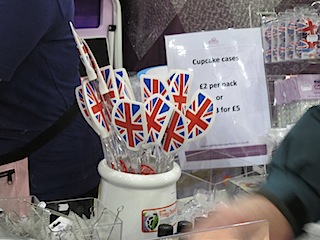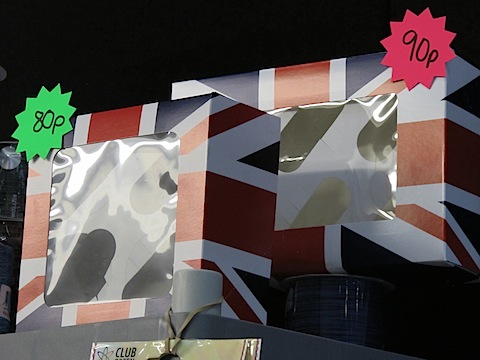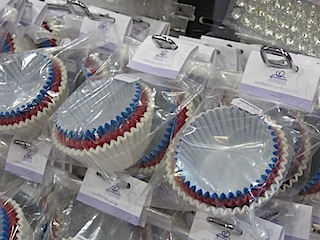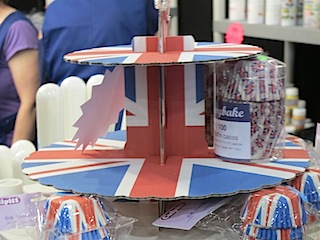 Jubilee paraphrenalia everywhere!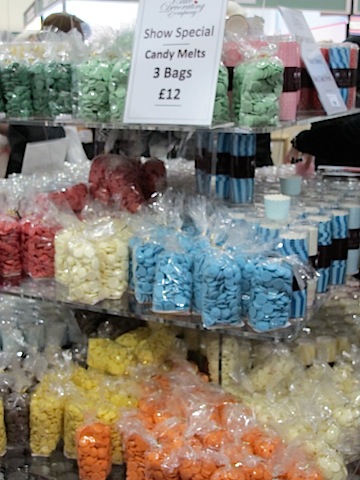 Candy melt mountain!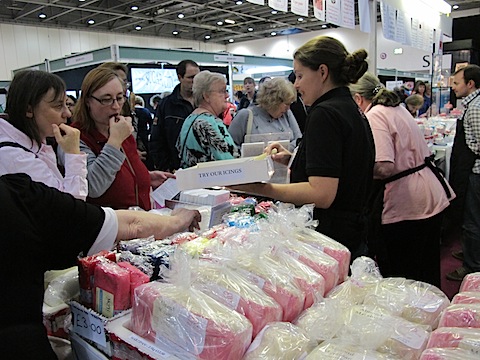 Taste my icing! Don't mind if I do…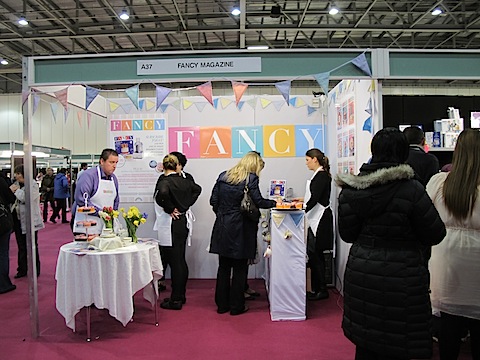 Fancy Stand – the magazine from Julian Graves which I rarely see as I don't have a branch near me. But what's that you say? £15 to subscribe? Bargain!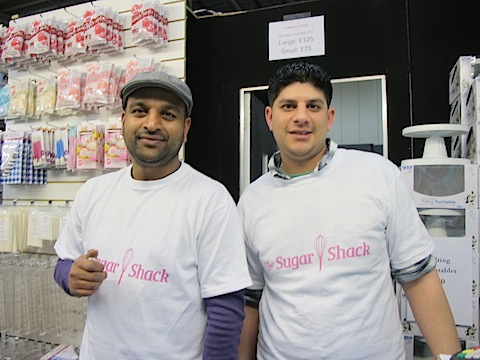 Finally, my new friends at The Sugar Shack. This was my favourite stand at the show – they've got heaps of gear from PME and Wilton and a shop in North West London to boot. I'm going to lobby them to open a branch in Walthamstow as it's sugarcraft desert here and we need them.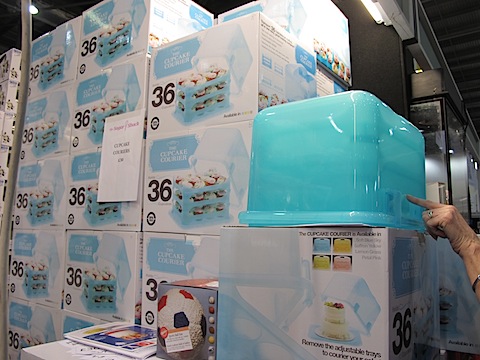 Cupcake Courier boxes at The Sugarshack Shop – £30 each holding 36 cupcakes. They worked out a lot cheaper than the chap opposite selling 24 cupcake holders if you want to transport 100 or more cupcakes at a time.
So that's it! A quick whizzy look at Cake International. There was a sign on the way out advertising the 2013 Cake International and it's in my diary already. But such a long time to wait… fortunately there's also a show at Birmingham's NEC in November. Hurrah!