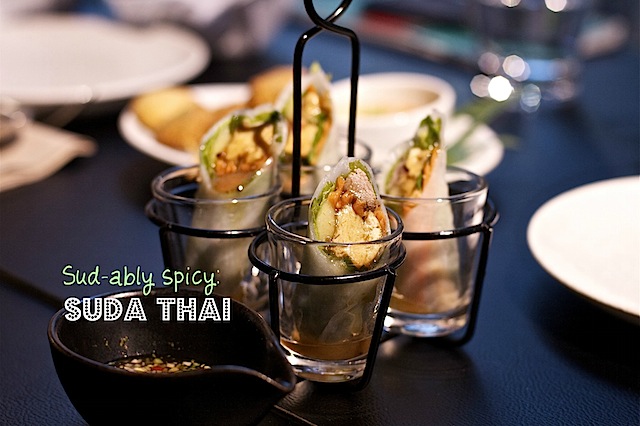 Good Thai restaurants in Walthamstow are something I'm yet to find so I was delighted by an opportunity to review SUDA Thai in Covent Garden's newest shopping and dining destination; St Martin's Courtyard.
Sandwiched between Seven Dials and Long Acre, SUDA Thai gives the exterior impression it will be dark inside but the loft apartment style upper floor is light and airy even with black walls. The interior is modern and shiny with big windows and a well lit bar and quirky touches such as carved wooden donkeys and giant bowls of rice that smell amazing as you walk past.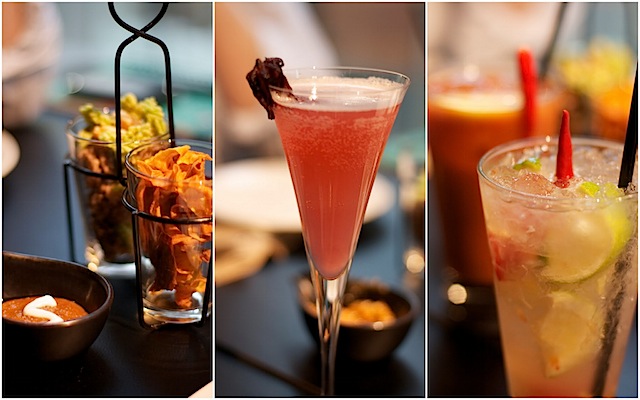 I was dining with two friends Helen of Fuss Free Flavours and Judith of Mostly About Chocolate. Our evening kicked off with cocktails and an appetiser of vegetable chips and puffed spiced rice cakes with a satay dip.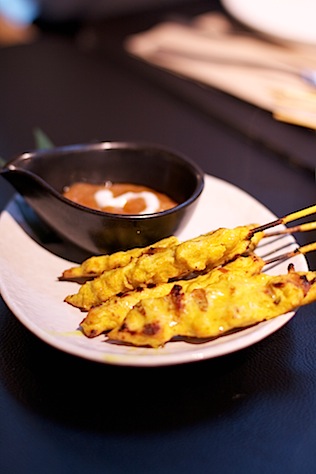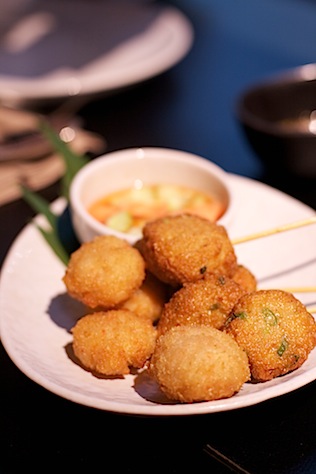 Our starters were "satay gai" chicken satay (£.5.25) and "tod mun pla goong" fish and prawn lollipops (£5.50). Satay chicken was a good colour although the dipping sauce milder than most. The lollipops were fun and substantial. Attention to detail presenting dishes is a plus point throughout SUDA's menu – with touches like egg shaped plates and banana leaves cut into pointy "grass".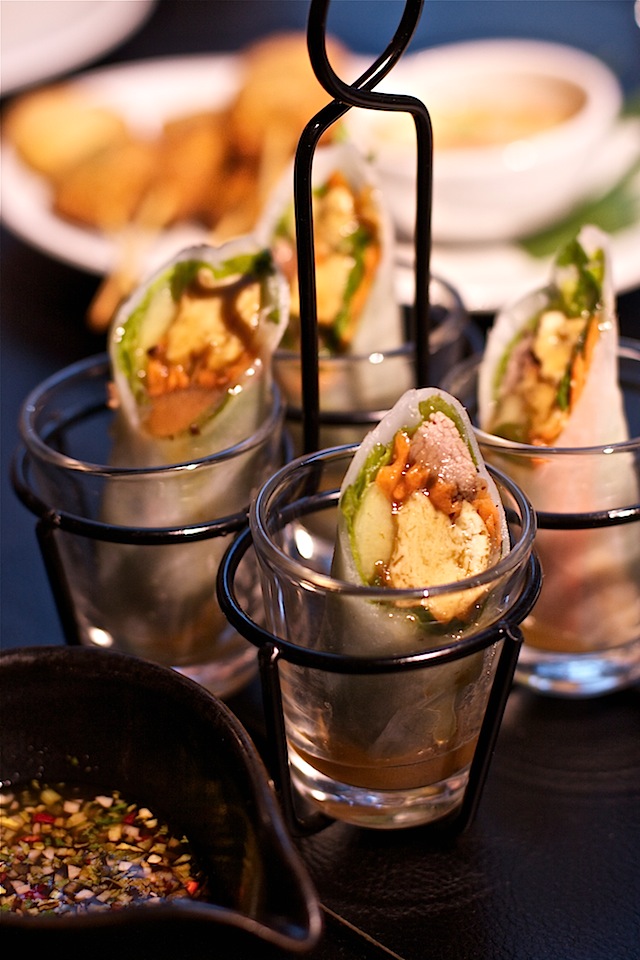 The stand out dish was "guaytiew lui suan" fresh rice wrap with braised duck and Thai herbs (£4.95) – fresh rice rolls with juicy tender duck filling and a savoury dipping sauce. We also loved the glass dishes in a rack and dipping sauce in a small pouring dish.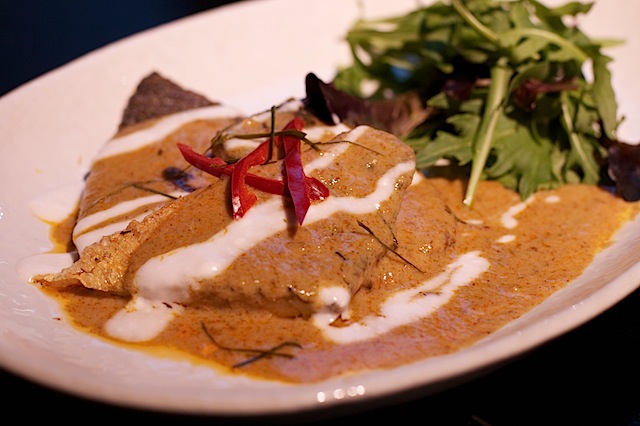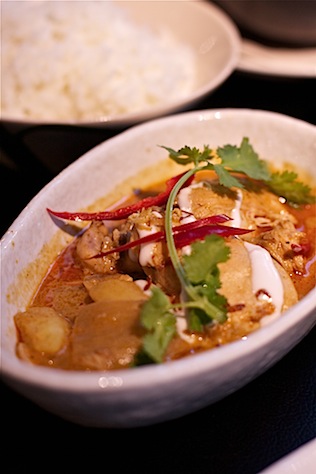 Our main courses were "choo chee pla" sizzling sea bass in kaffir lime leaf red curry sauce (£9.50), "gaeng massaman gai" thai massaman curry with chicken (£8.50) and "gaeng phed ped yang" roast red duck curry (£9.50) alongside servings of jasmine and coconut rice (£1.95 each).
Portions were not huge (especially the bass) although on balance we had ordered enough. The bass was a little too crispy for my liking but otherwise good. The massaman and duck curries were not hugely different to each other apart from the meat cooked in them but I enjoyed sampling both.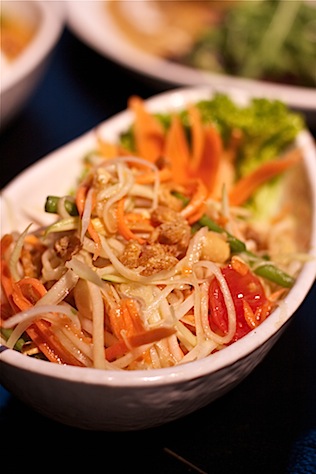 For sides we tried "som tum malakor" classic papaya salad with cherry tomatoes and roasted nuts (£6.50) and broccoli and shitake mushrooms (£4.50). The som tum's spice and texture is fresh and vibrant against Thai curries.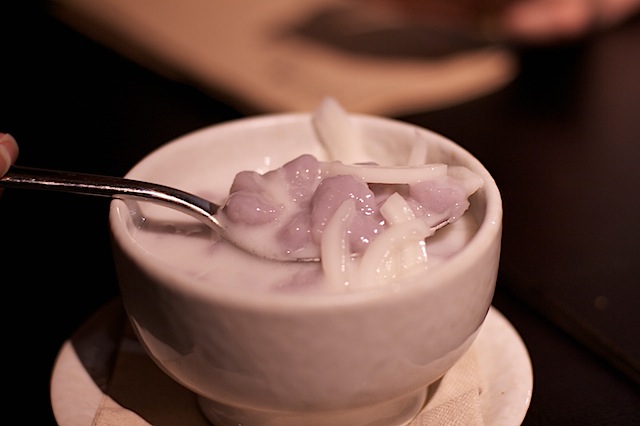 Dessert – we were curious about "bua loy puek" taro balls in coconut cream (£4.50, above) – a glutinous Thai speciality with sliced coconut although visually unappealing. It tasted better than it looked but I'm glad Helly had it instead of me.
I had golden banana fritters with honey and sesame and a scoop of vanilla ice cream £4.95 (below); suitably sticky and sweet although the sesame could be more prominent.
Judith had "kao tom mud sai chocolate" sticky rice roll with bitter chocolate filling £4.95 (below), also with vanilla ice cream. It looked amusingly like a piece of fish with soy sauce but otherwise good.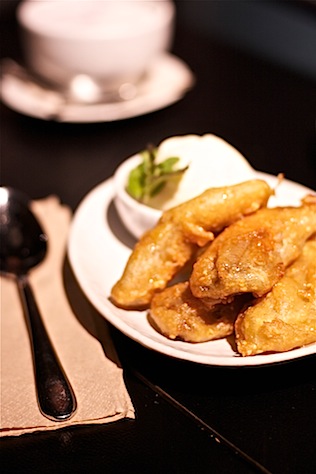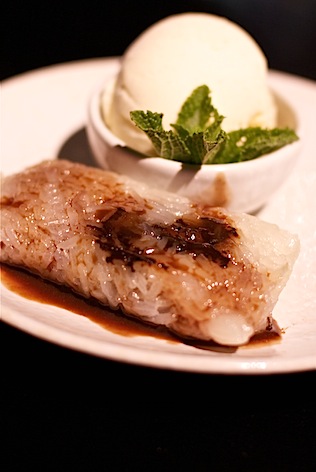 Thai wine, Monsoon Valley rose (£19, below) is a little coarse by itself however has enough oomph to stand up to the heat. Listed on the drinks menu only in red and white, we spotted the rose version on the bar. It's not available by the glass but well worth sharing with friends and a perfect match for the meal.
The cost would be £40 per head for three courses with drinks. Our trainee waitress was friendly and enthusiastic but unable to explain some dishes and a little too keen to whip used plates away (just my personal pet foible). Bathrooms were clean and bright. As an after note, the restaurant's website is a little tricky to navigate with animations of large images. Online reservations are taken.
Overall I heartily enjoyed the meal and would recommend others to try SUDA out.
With thanks to SUDA Thai for our review dinner.