Getting to know my new Robert Welch Signature Knives – this post is part two of a collaboration with this 60 year old British knife brand – find out more below.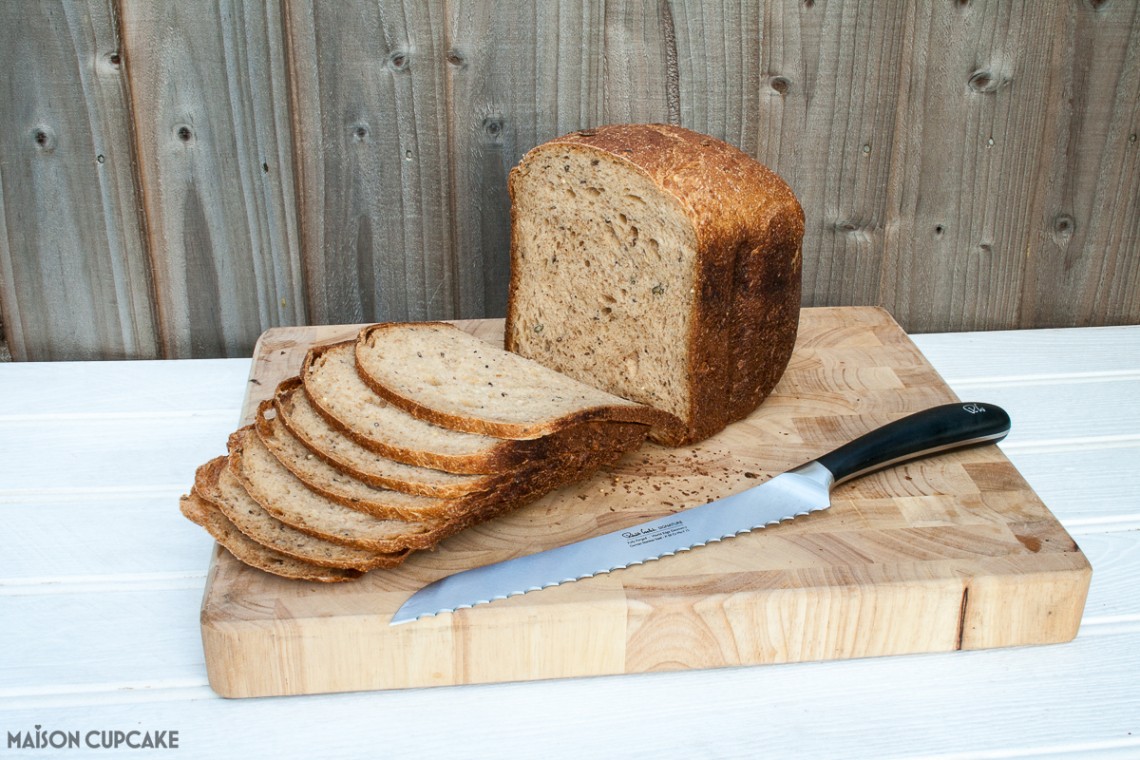 How good are you at slicing loaves of bread? I used to joke that as a carpenter's daughter I was especially good at sawing up crusty loaves of bread.
Where I'm slicing my own bread for sandwiches or toast I want fine slices not doorstops. And there's nothing more annoying than going to the effort of baking a loaf then struggling to cut it into more than seven slices because they're all so darned thick.
For sure, blaming one's tools is the cliche of every workman but more important than being a carpenter's daughter here is a good quality nice sharp bread knife.
After my knife class with Robert Welch earlier this summer I received a selection of their knives to try out at home and was delighted to find a good bread knife amongst the selection.
As you can see I've made fine work of slicing this loaf of homemade granary bread – easily on course to cut fifteen slices from an 800g loaf.
And they're the perfect thickness for sandwiches. Slicing evenly was very easy as the blade glided through the bread.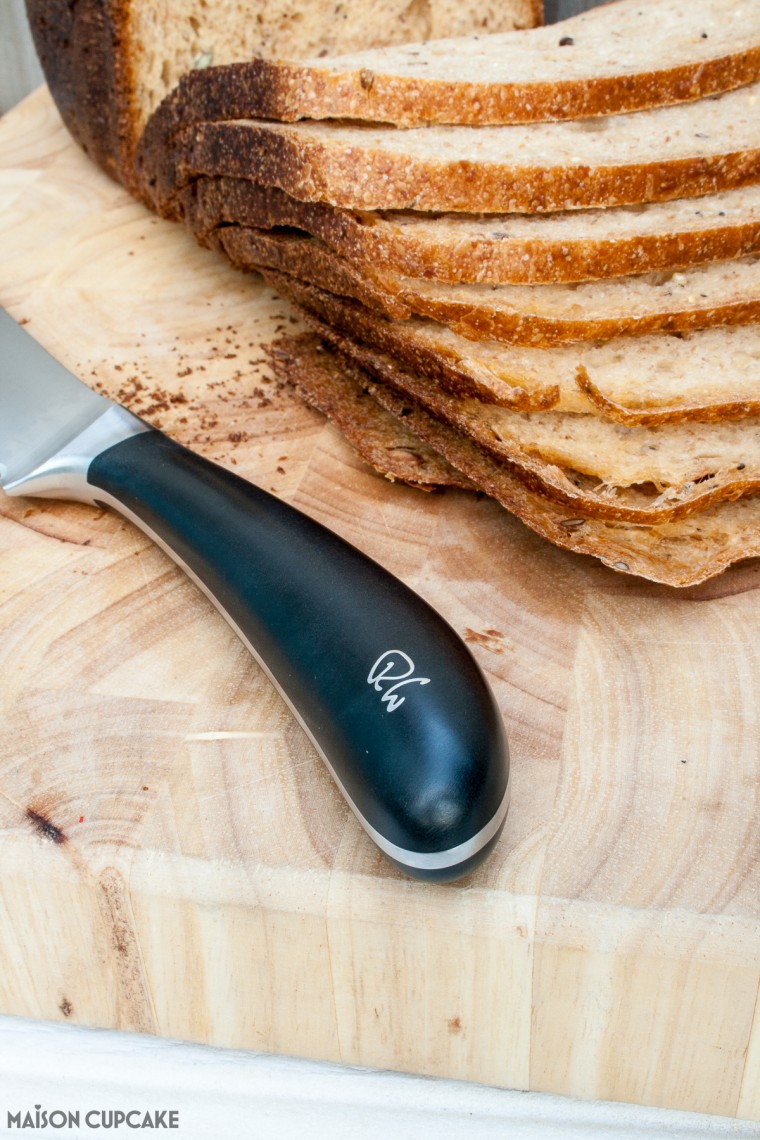 In the knives class piece I wrote about the construction of Robert Welch knives – I am especially smitten with the RW initials that show through the moulded handle having been spot welded onto the steel during the manufacturing process.
It's not just a decorative feature – the extra metal weight from this motif lends the knife balance making it comfortable to hold and use. The handle is smooth and curvy rather than angular with bolts through it.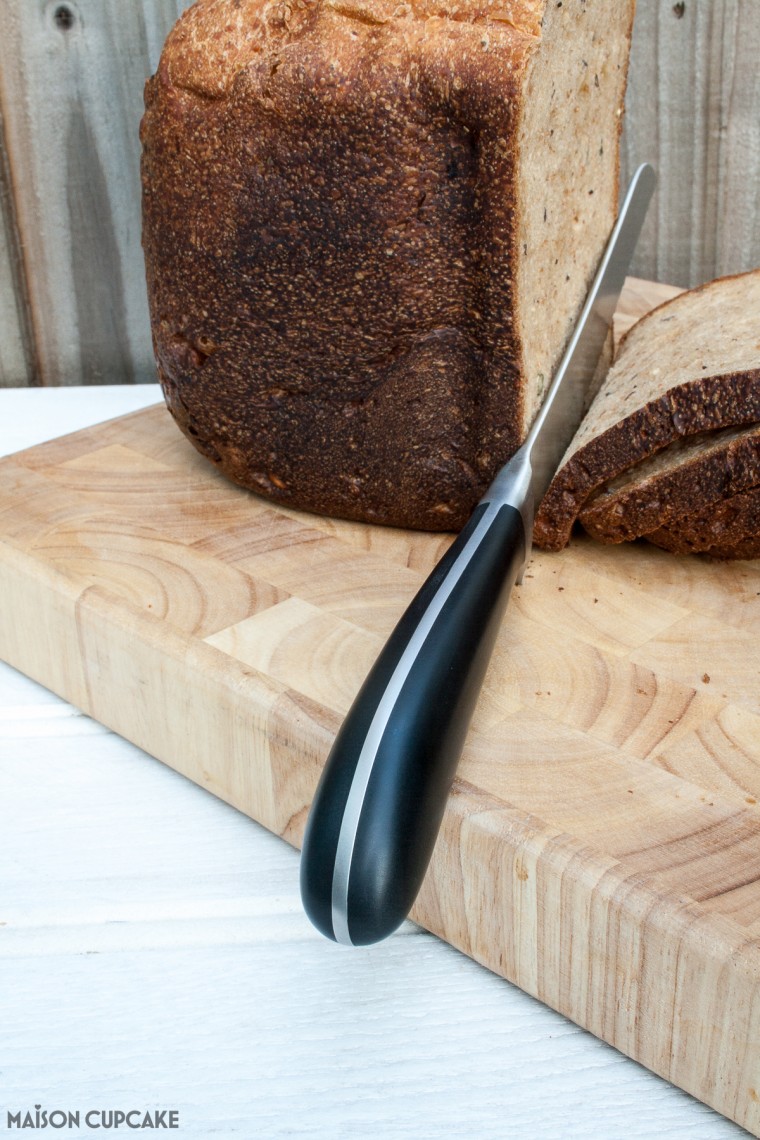 The line between the steel and moulded handle is polished perfectly smooth.  Here you can see how the knife steel is in one single tang throughout.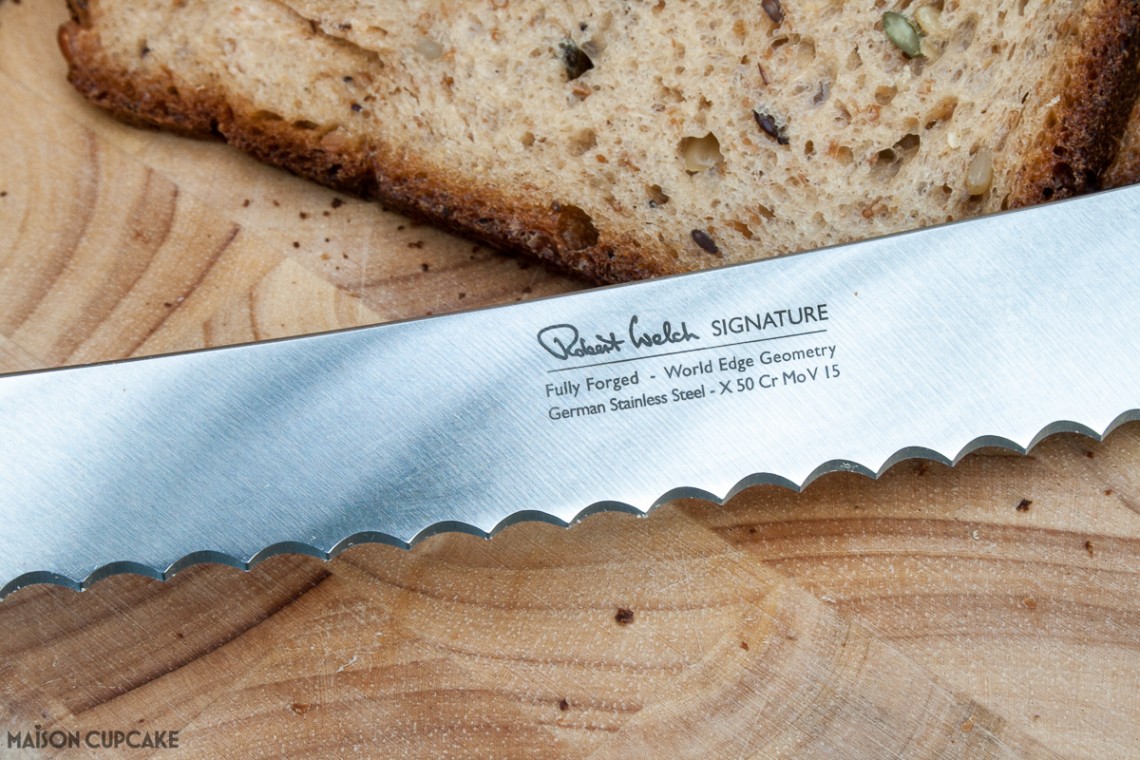 Each blade is marked with the Robert Welch logo – signature of the man himself. The company is now co-directed by son and daughter Rupert and Alice from the same Cotswolds base where their late father started his career in the 1960s. Read more about the background of the company in my earlier post.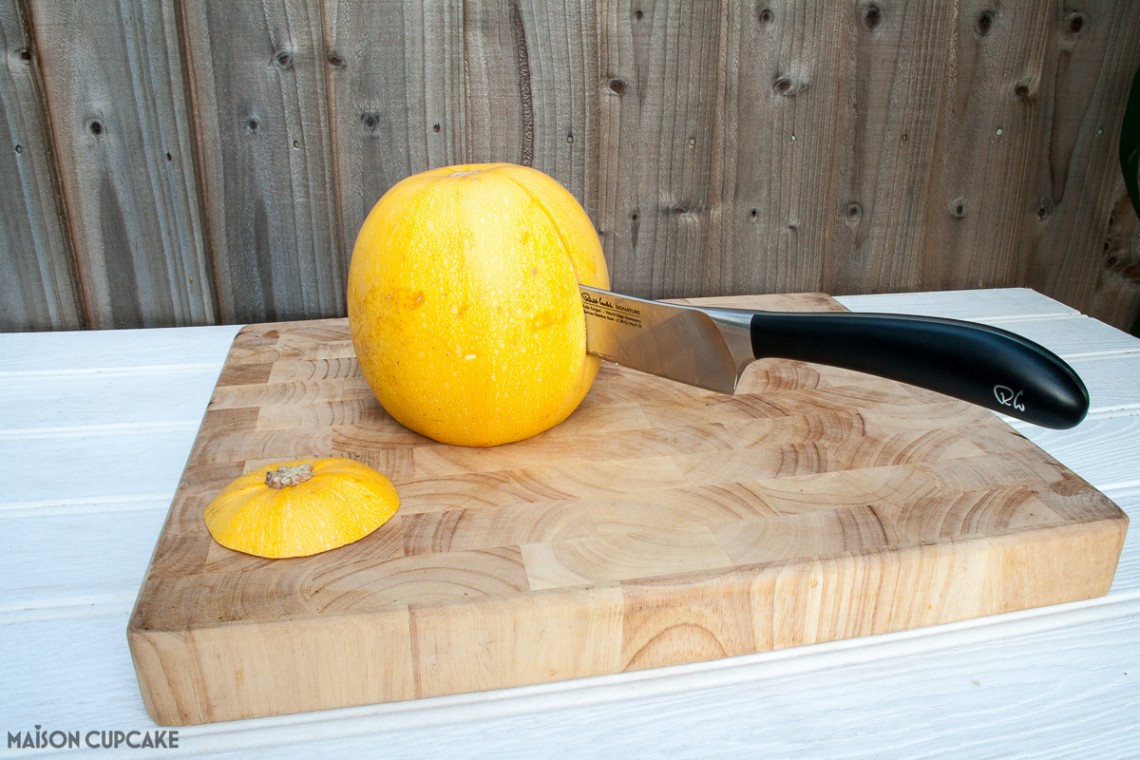 This is the Signature Cooks' Knife. It has a tapered blade lending a certain mezzaluna effect to chopping small herbs and garlic whilst also being robust enough to tackle a chunky squash.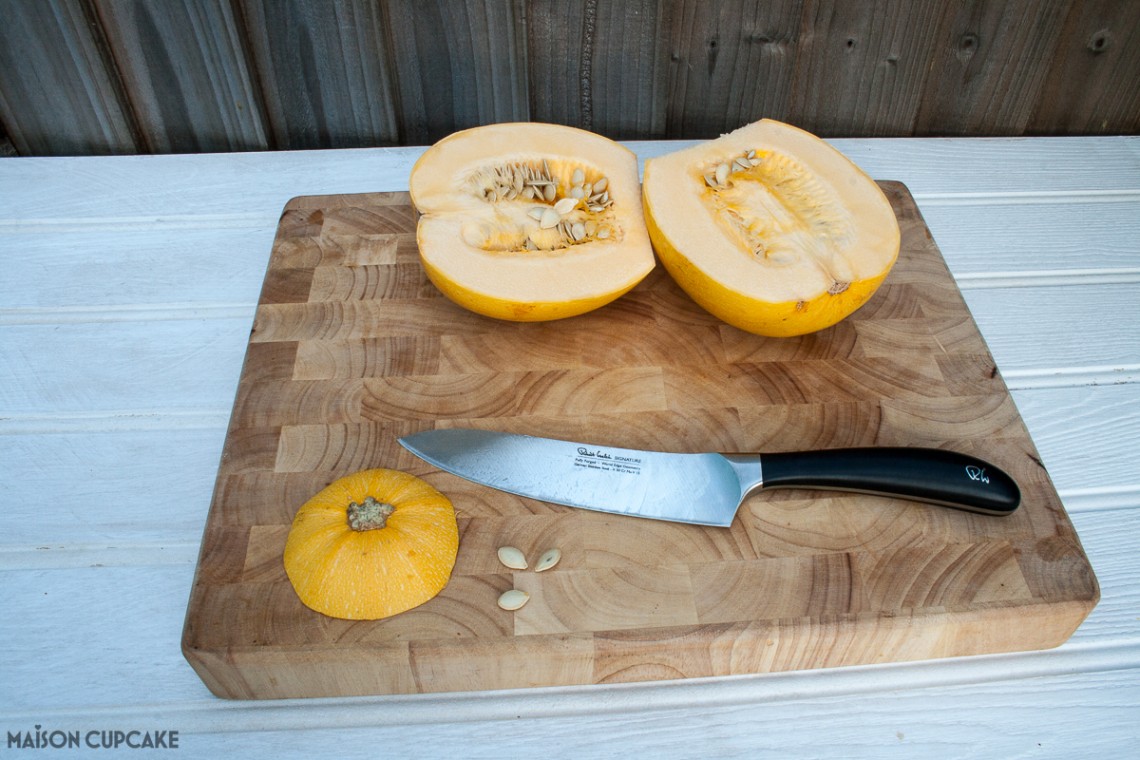 The Signature Cooks' Knife comes in sizes between 12-25cm. This one is 14 cm and suits me fine – it's a versatile knife for dicing, slicing and fine chopping.
I am not a theatrical chopper. I prefer to slice slowly and carefully – better to be a tortoise with fingers than a hare without!!
Again it was easy to get nice even slices of squash – these will be featured in a recipe later this week.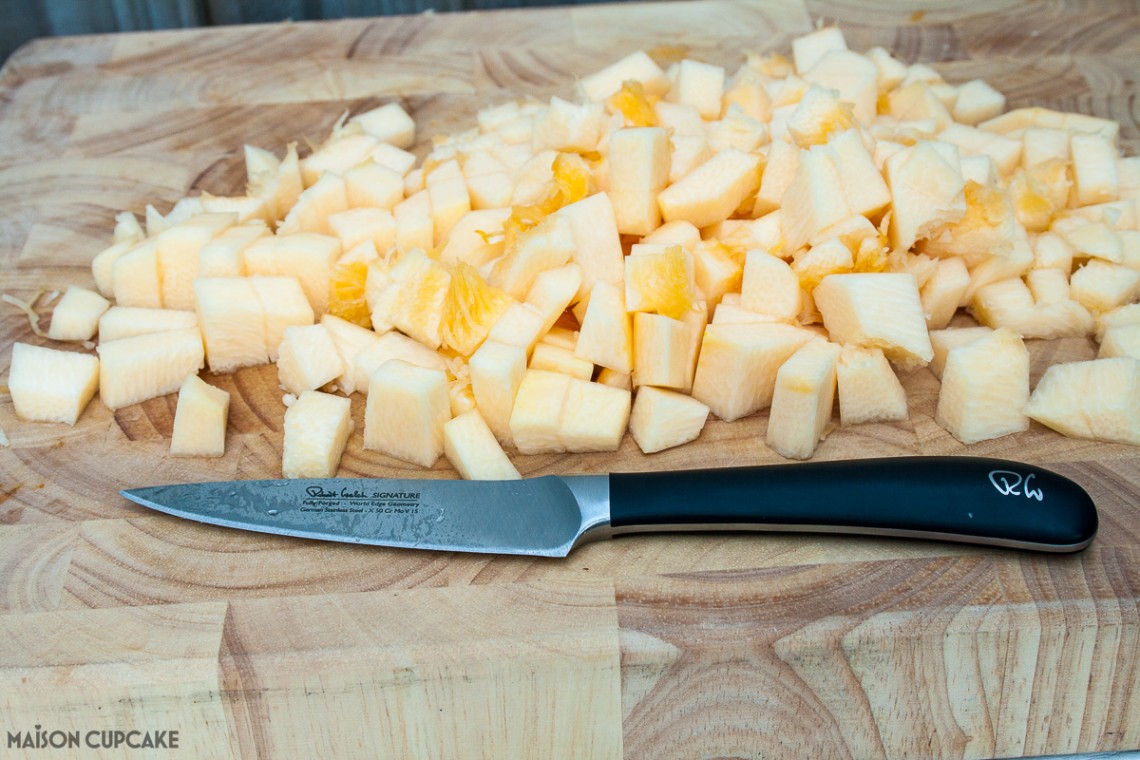 To remove the thick squash skin and do fine dicing I have used the small paring knife. This has become my new best friend for fiddly little jobs.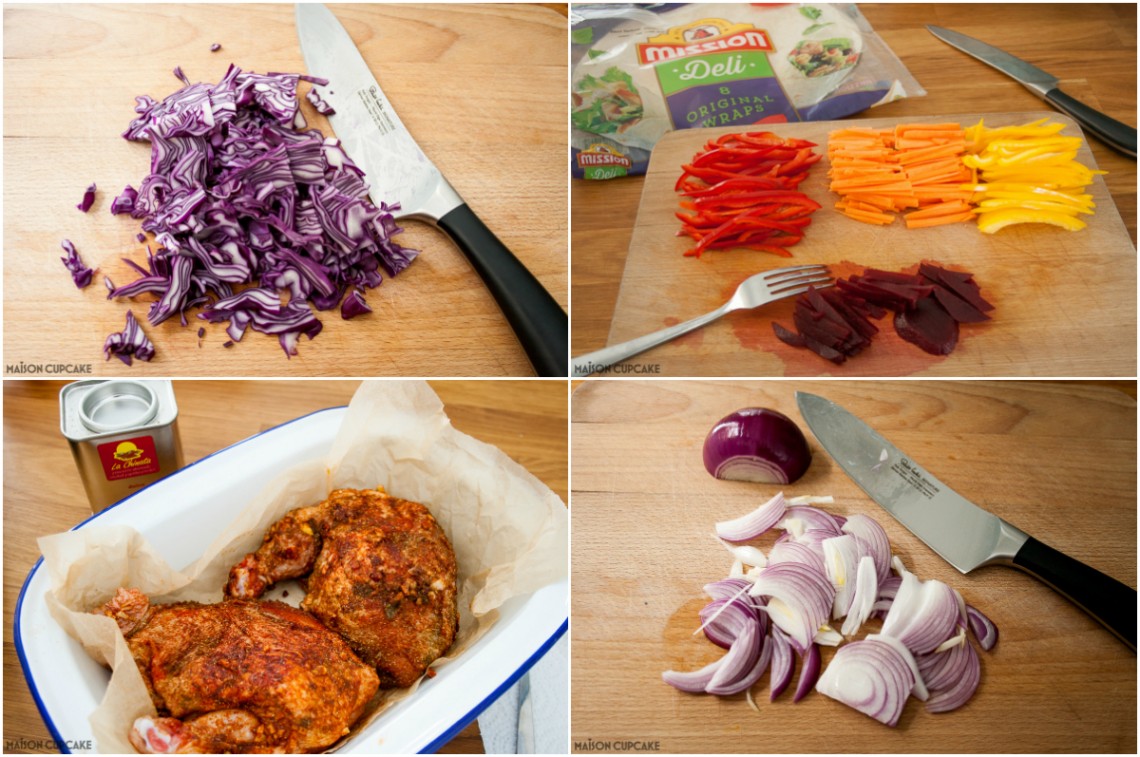 Here's somewhere you might have spotted me using the Signature paring knife and cooks' knife in an earlier post for my spicy rainbow chicken wraps back in August.
As someone with small hands this is perfectly proportioned and comfortable to hold even for prolonged marathon vegetable chopping sessions – these julienne vegetable sticks were a breeze.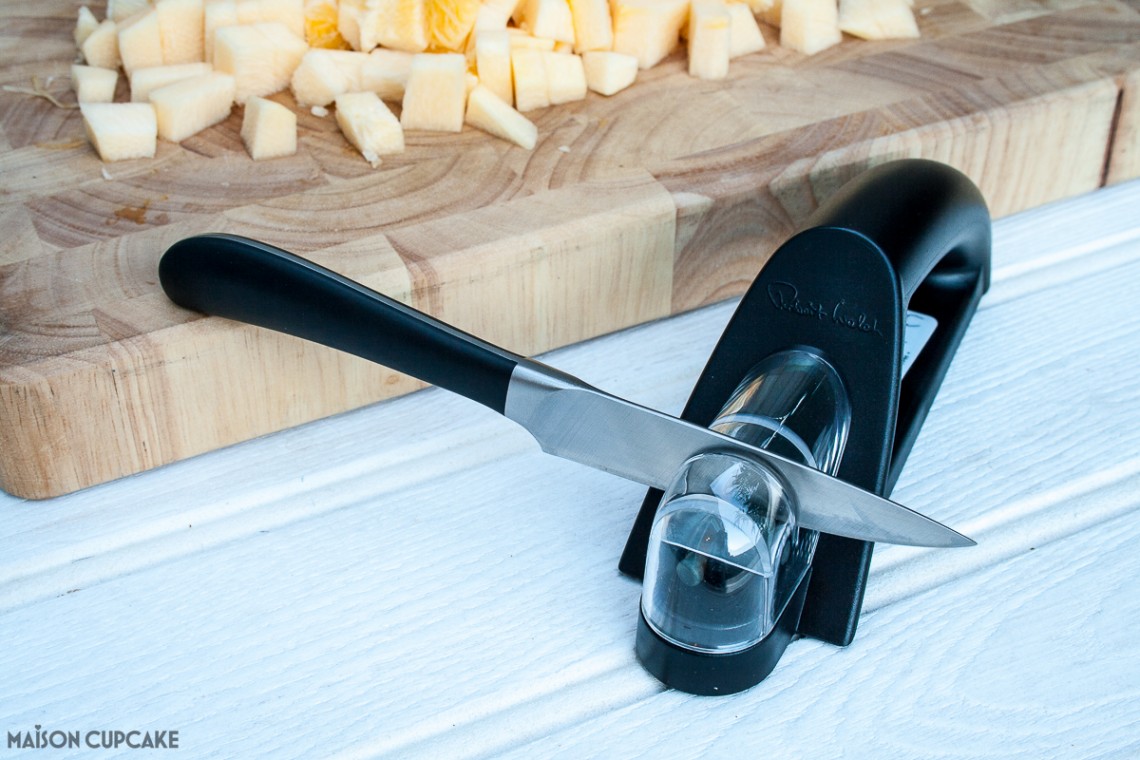 A nice new sharp knife is a joy to use but what about when they get dull and sluggish? Fortunately Robert Welch also make a hand held knife sharpener with a stone wheel against which you gently sharpen your blades 8-12 times. Doing this is recommended little and often rather than leaving it for ages (as I have been guilty of in the past – no more!)
This is much easier than the steel rod my grandfather used to use – although if you prefer that method, Robert Welch make those too. Personally I prefer find this hand knife sharpener a much friendlier method and compact enough to keep in my kitchen drawer.
Finally you will need a suitable place to stash these knives. Robert Welch's magnetic wall rack is perfect for easy access if you have a suitable spot on your kitchen wall – unfortunately I do not but you can see what it would look like in the picture above.
If you would like to win this selection of Robert Welch knives with the magnetic rack and sharpener hop through to their competition page where they are holding a competition giving this selection away during September – Chop Chop! What are you waiting for?
This feature was commissioned by Robert Welch to promote one million sales of their Signature Knife range. This review of my personal experience using their knives is entirely in my own words reflecting my own opinions. Keep up with Robert Welch on Instagram @robertwelchuk