Quesadillas are the Mexican answer to toasted cheese sandwiches – this is my second recipe created in partnership with Baxters' Deli Toppers – find out more below…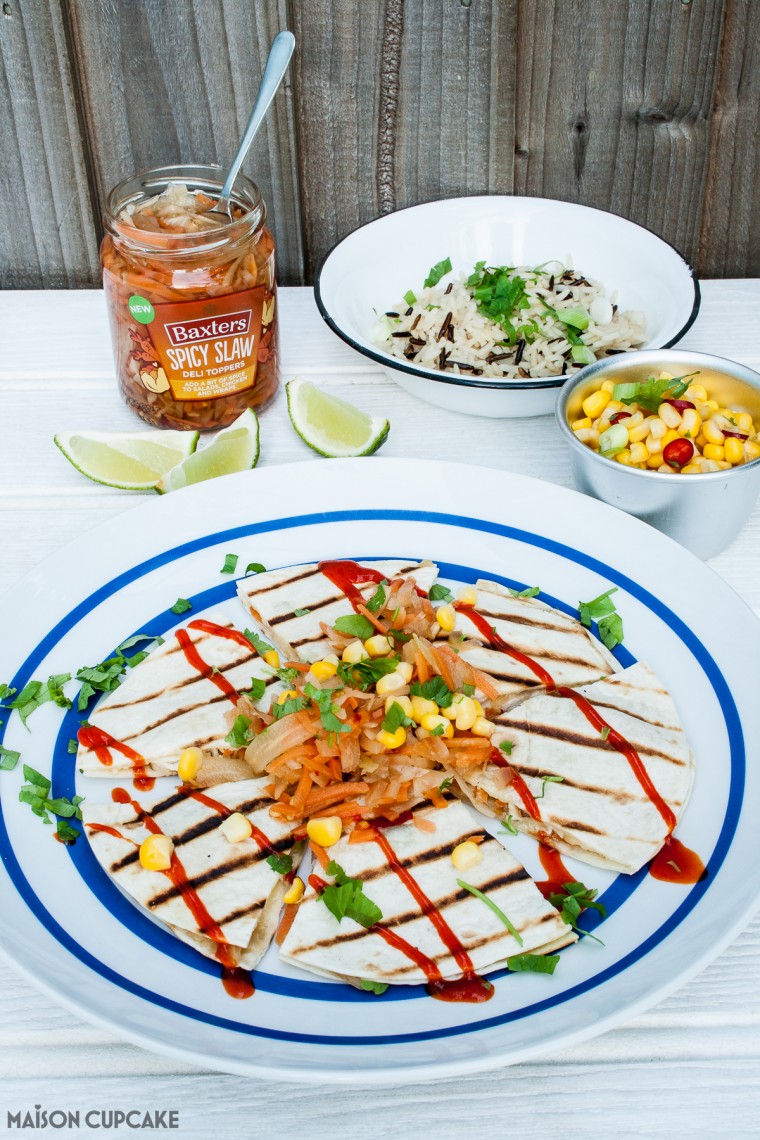 Quesadillas are simply toasted tortillas with melted cheese and other tasty bits inside.  Nothing especially complicated but I was introduced to them relatively recently. Nigella included a recipe for quesadillas in Nigella Express – her speedy recipes book which was a god send when Ted was a baby – and we've loved them ever since.
You could fry quesadillas in a pan but for the pleasing chargrilled tiger stripes effect you will need a stove top griddle. Quesadillas work especially well with chillies or pickles inside.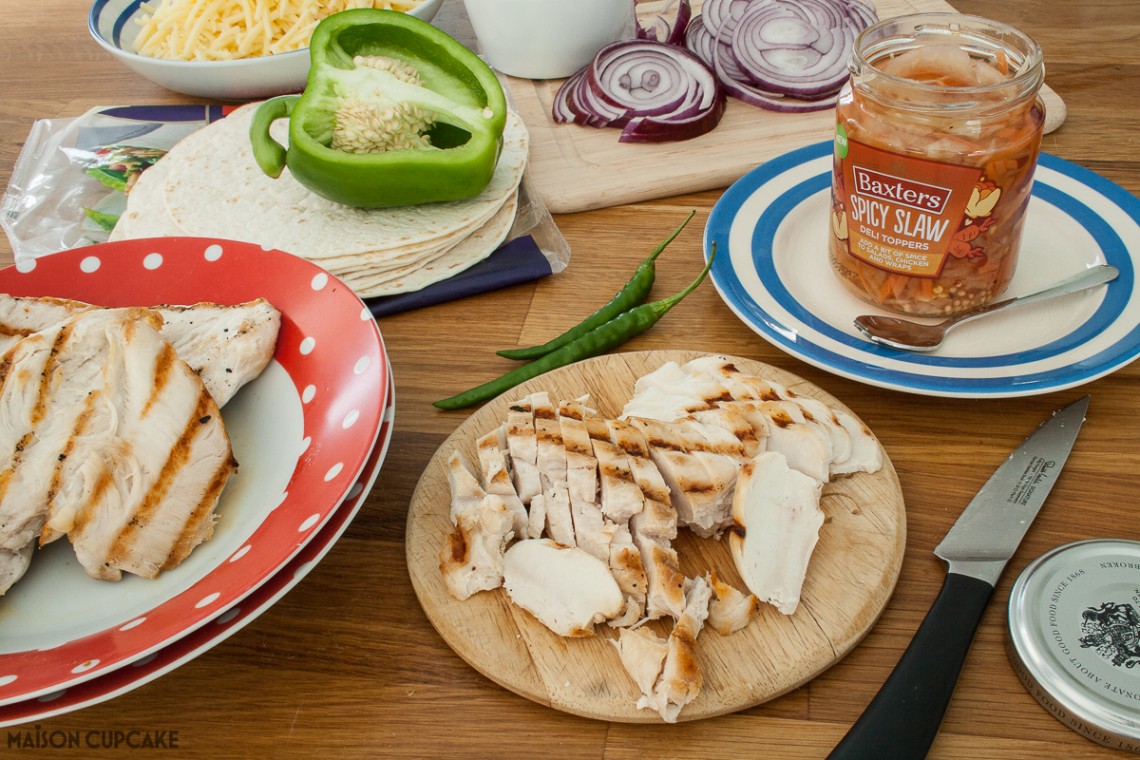 We had a Sunday night quesadilla ritual we called "Taco Night". Quesadillas and tacos are obviously not the same thing but it came from ABC's Lost, our favourite TV show at the time. In a flashback to uncharacteristic wedded bliss, main character Kate told her then-husband, "it's Taco Night".
Much amused, my husband and I adopted the phrase for ourselves – keeping the happy Taco Night tradition alive even if Lost's poor tormented Kate could not.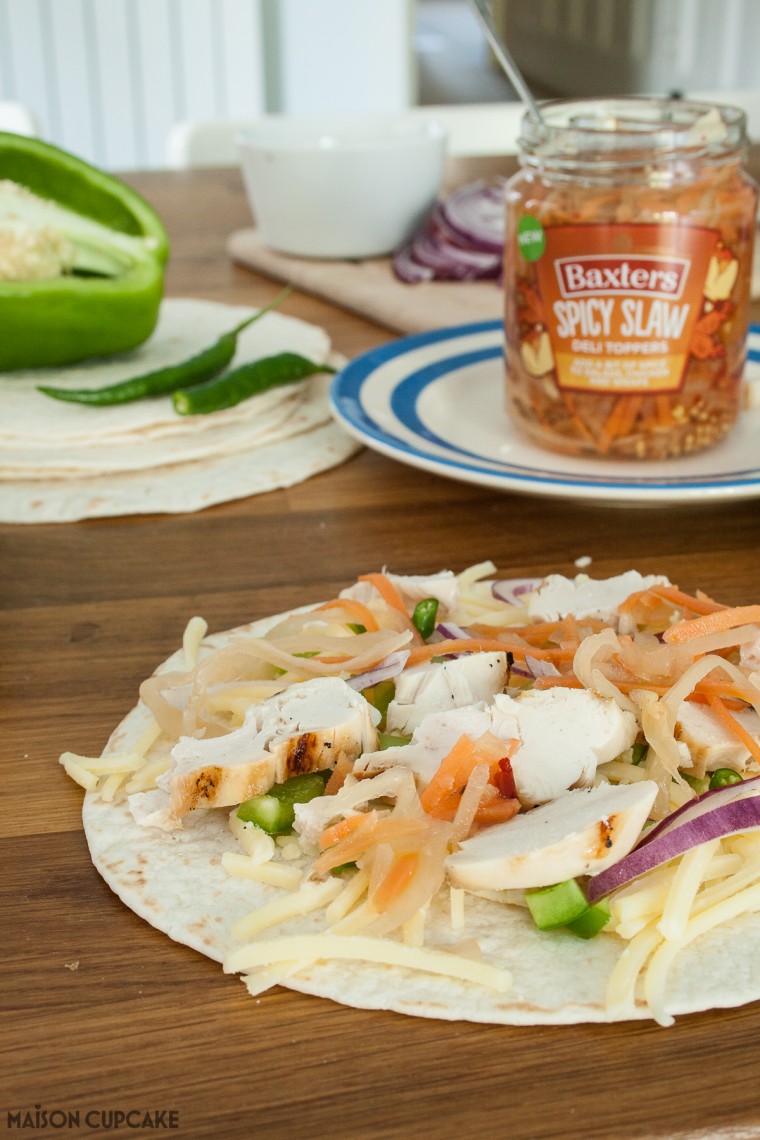 In the old days of Taco Night Chez Walthamstow, when we were still zombified from sleepless nights with Ted, I stuck fairly rigidly on autopilot to Nigella's parma ham version.
Having since eaten many quesadillas in Wahaca I now realise you can put whatever you like in them so long as the melted cheese holds it all together.
So here is my own version featuring Baxters Deli Toppers Spicy Slaw.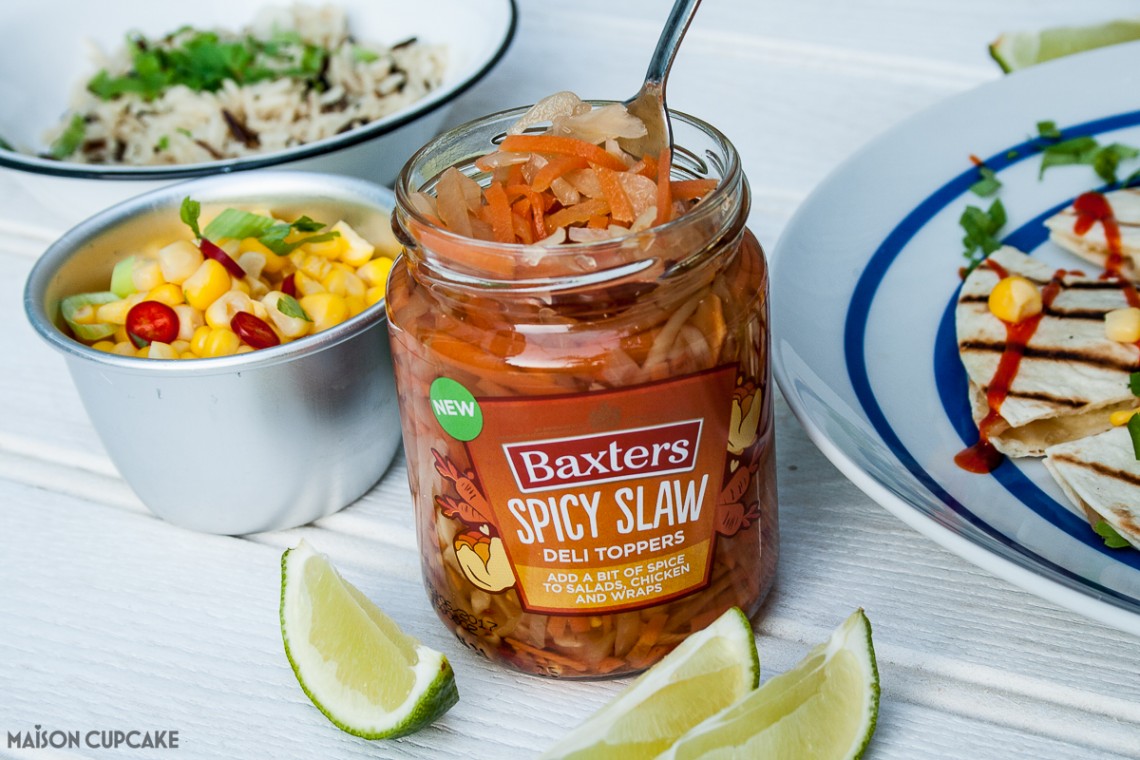 The Spicy Slaw is just one variety from the new selection of Baxters' Deli Toppers. I have already featured their jalapenos in my spicy black bean nachos last week (see below) and recipes using the Red Onion Rings and Red Slaw Deli Toppers will be featured here in the next couple of weeks.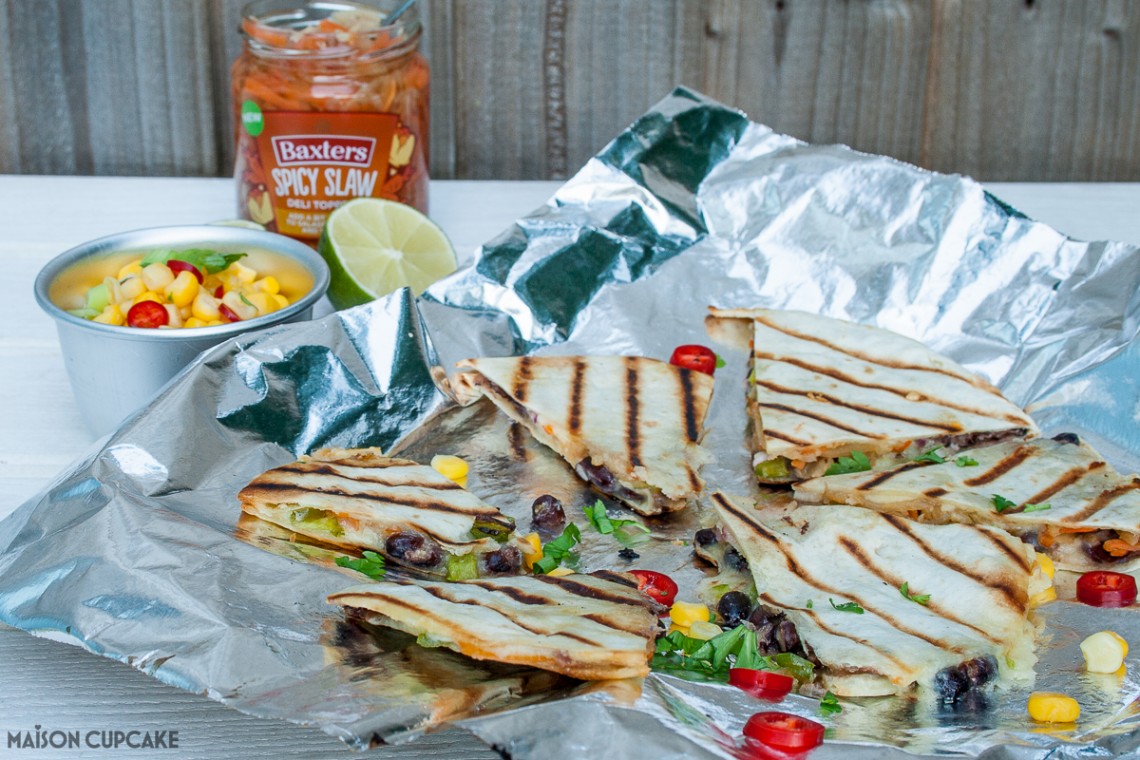 As well as the chicken filling, I toasted a veggie alternative using the black beans left over from last week's spicy black bean nachos.
Both versions have the Spicy Slaw inside but you can pile extra on the side too.
Quesadillas are best served hot but in common with pizza they're rather tasty cold the next day too. Only left over quesadillas are a rare thing – at least they are in our house!
Have you ever made quesadillas?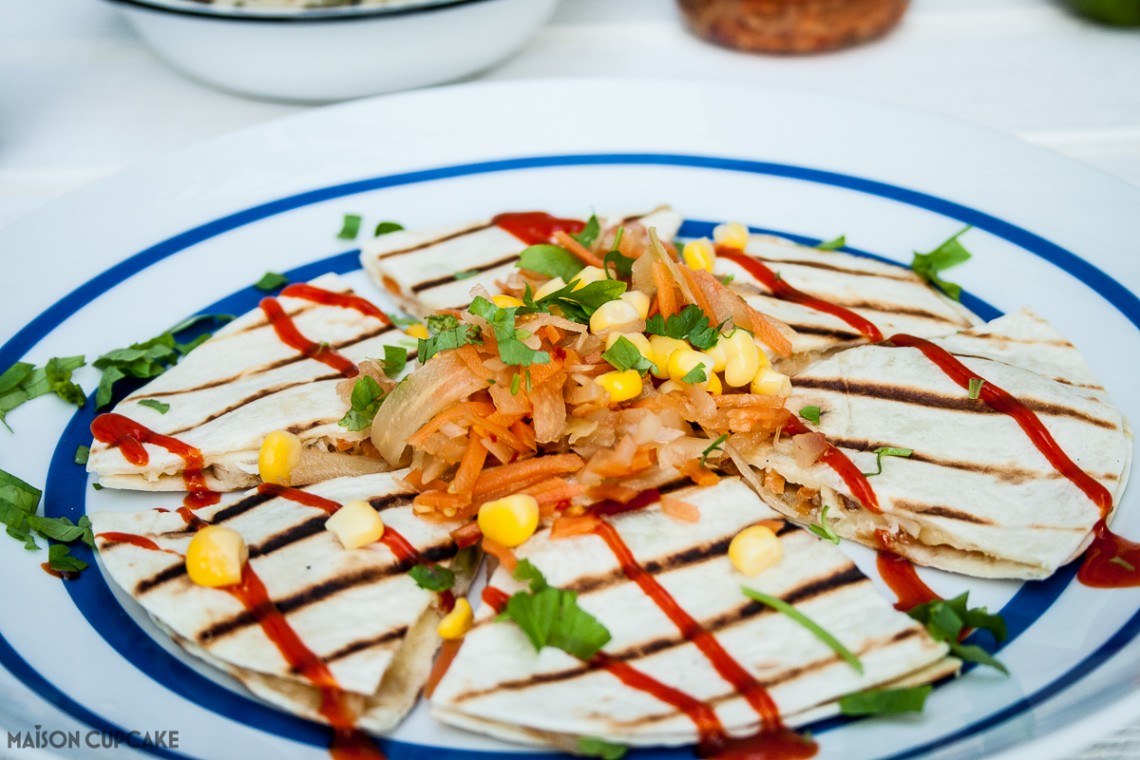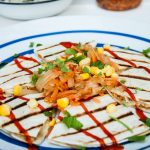 Print Recipe
Spicy Slaw Quesadillas
Quesadillas are toasted tortillas filled with cheese and other tasty bits. They're Mexico's answer to grilled cheese sandwiches.
Ingredients
8

small tortillas

160

g

strong hard cheese

grated

1

large cooked chicken breast

or 2 small ones, sliced OR 200g drained black beans (veggie option)

1/2

green pepper

diced

1/2

jar Baxters Deli Toppers Spicy Slaw

1/2

red onion

sliced into thin rings

1

small green chilli

finely sliced (optional)

To garnish:

1

tablespoon

finely chopped parsley or coriander

Drained sweetcorn

Chilli sauce
Instructions
Heat the griddle for several minutes until very hot.

Meanwhile scatter half of the grated cheese on four of the tortillas.

Arrange on top of this, chicken slices (or black beans), chopped pepper, a few sliced red onion rings and a tablespoon of Deli Toppers Spicy Slaw. Add green chilli if you want it extra hot.

Scatter over the remaining half of the cheese and press down the last four tortillas on top.

Place each filled pair of tortillas, one pair at a time, onto the hot griddle. Toast on each side for 2-3 minutes until the cheese has melted and black stripes scorched underneath.

Flip the tortilla over gently with a spatula and toast the other side.

To serve, cut the quesadillas into triangles and drizzle with chilli sauce, sweetcorn and chopped coriander or parsley.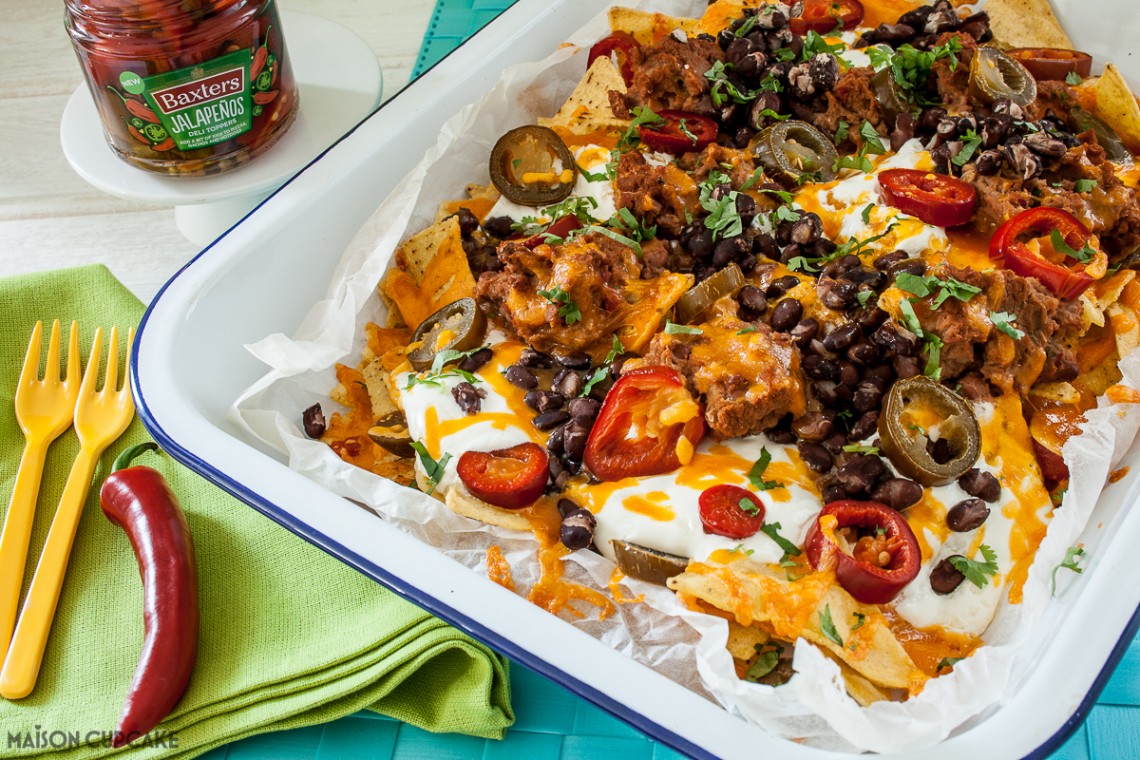 If you enjoyed this recipe try also:
Spicy Black Bean Nachos with Jalapeños (above)
Haloumi and Three Bean Tacos with Red Slaw by Feeding Boys
Vegan Mushroom Tarts with Pickled Slaw by Tinned Tomatoes
This spicy slaw quesadillas post was commissioned by Baxters as part of their new Deli Toppers #GetTopping campaign. For more recipes using Baxters Deli Toppers and the chance to grab a free jar of product visit the Deli Toppers microsite.