Speltotto is a type of risotto made from spelt grain rather than rice. This recipe produced in partnership with Cathedral City as part of their "Love Cheese?" campaign, find out more below…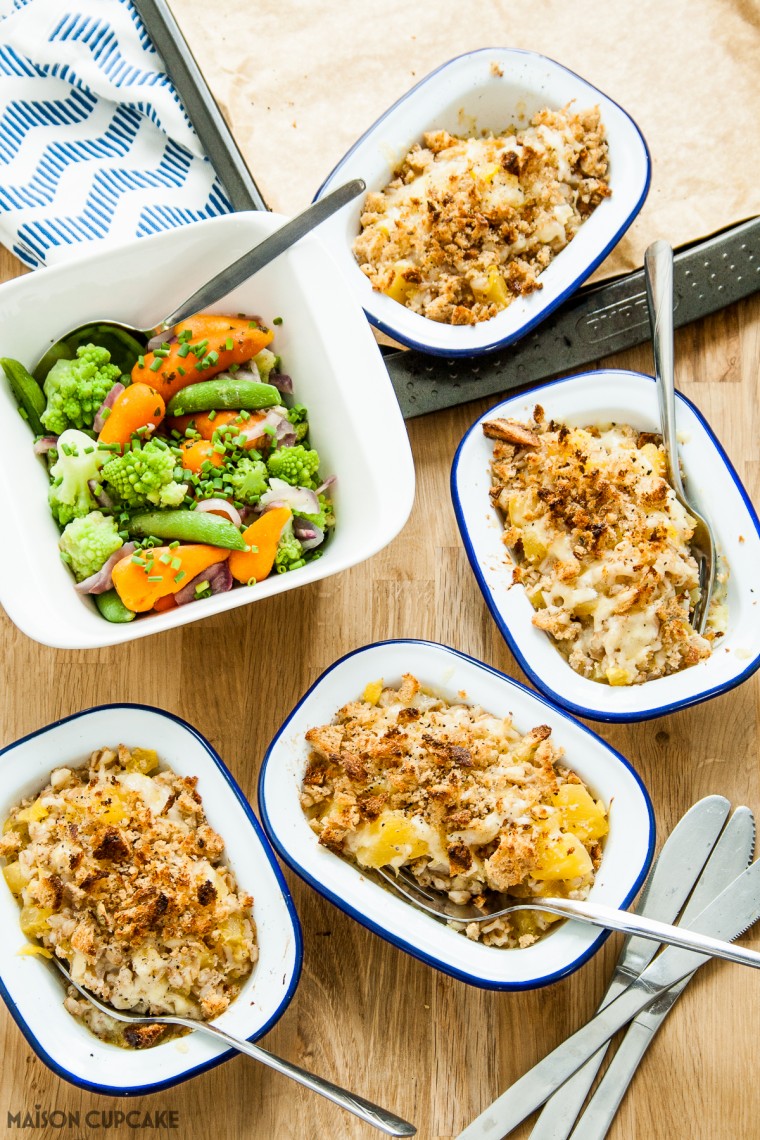 My 9 year old son will not normally eat risotto but he loves cheese so I have high hopes he'll enjoy this speltotto. Spelt risotto is less starchy than rice, it keeps its texture rather than becoming stodgy or gloopy. (Isn't it funny how when they're babies it can't be mushy enough then when they're older they're suspicious of anything where they can't tell immediately what it is?)
Best of all, spelt risotto is less prone to sticking in the pan so you don't even need to stir it as frequently as the traditional kind. Making this a win win family meal making opportunity that won't need loads of babysitting when it's homework time.
Packed with diced spaghetti squash (as chopped earlier this week) you can either serve this speltotto as a side dish with a roast or as a vegetarian main meal. If you are serving this as a vegetarian main course, a variation could be to add some white beans into the mix. And if you're not vegetarian some chopped ham would go down a treat too.
My 9 year old is also going through a fussy cheese phase. This picture on Cathedral City's Facebook page sums it up. He doesn't always like the distinctive taste that triggers extra mature cheese face. Fortunately for him they do a milder version sold as Nibbles (cubes), Towers (sticks) and Shapes (guess what).
Myself I prefer cheese to be strong or go home. So we are often a "two cheese family" (as opposed to a two car one) and in the meantime I have to gradually turn my child – best Darth Vader voice here – towards the cheese side.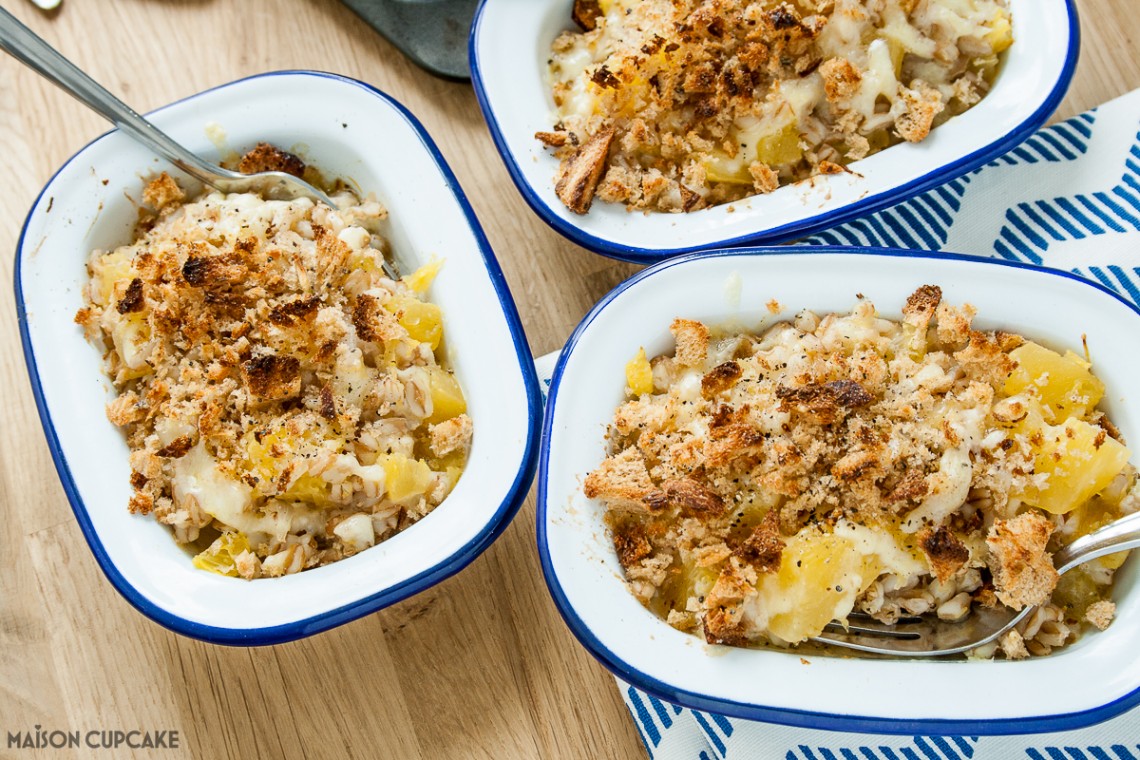 Cathedral City, the Nation's Favourite have declared that you want to love cheese there are cheese rules that must be adhered to. The Rules of Cheese include:
The bit of cheese that's too awkward to grate must immediately be eaten. 
Crispy bits are irresistible, absolutely no effort should be made to resist them.
You should feel no guilt about multiple visits to the cheese board. 
If you burn yourself on melted cheese, you will make a big fuss about it.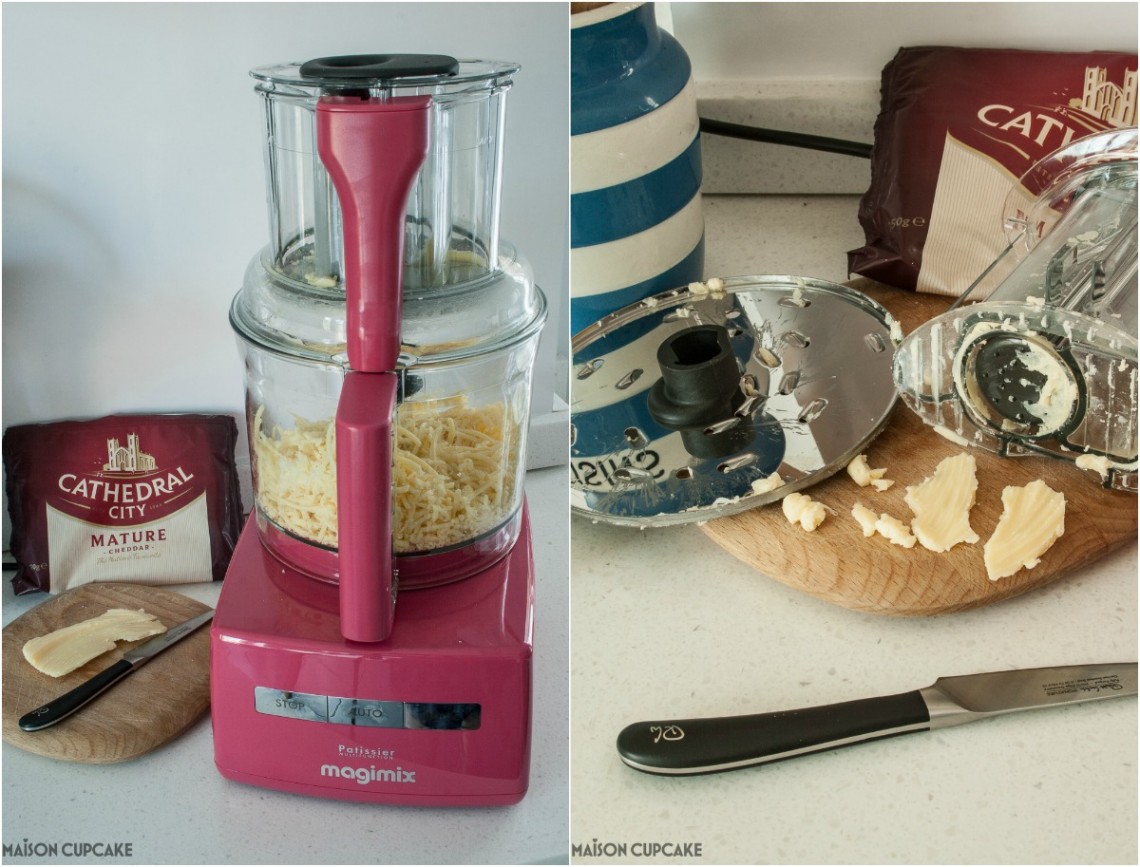 My personal cheese rule is that whenever grating cheese in the food processor, whatever gets stuck to the lid, the feed tube or grating blade is fair game. This is my favourite cooks' treat. Cheesy remnants that have been smushed in the food processor go so soft they're almost the texture of cheese spread. They are the total cliché, "melt in the mouth".
I have even been known to use a larger piece of crushed cheese to gather up the cheese crumbs from the processor bowl. And those bits that are smeared on the processor's feed tube? What else could you sensibly do with these?
If within the grated cheese there are small balls of cheese these do NOT count as grated cheese. So these are fair game too and get picked out and snacked on. I don't know why but the squished bits of cheese taste even better than the rest. This is actually my second outing with grated Cathedral City this week – it also had a cameo role melted into yesterday's Spicy Slaw Quesadillas. I am in the habit of grating my own cheese for the freezer although some people do buy it as is my preference when on holiday. It's perfect to pop into mashed potato, soup or a quick quiche.
If the Cathedral City packaging looks slightly different to usual that's because the full range has just had a refresh. You'll spot this curved logo (like a cheesy grin!) on all of Cathedral City's products including blocks, slices, grated bags, spreadable and miniature snacking cheeses. It's all made at their Cornish creamery using milk from dedicated West Country farmers.
Incidentally I should make a passing mention here of my new raspberry pink assistant. Christened Katie (as in Price), we're quickly becoming bosom buddies in the kitchen and I'll share more details about her many talents soon.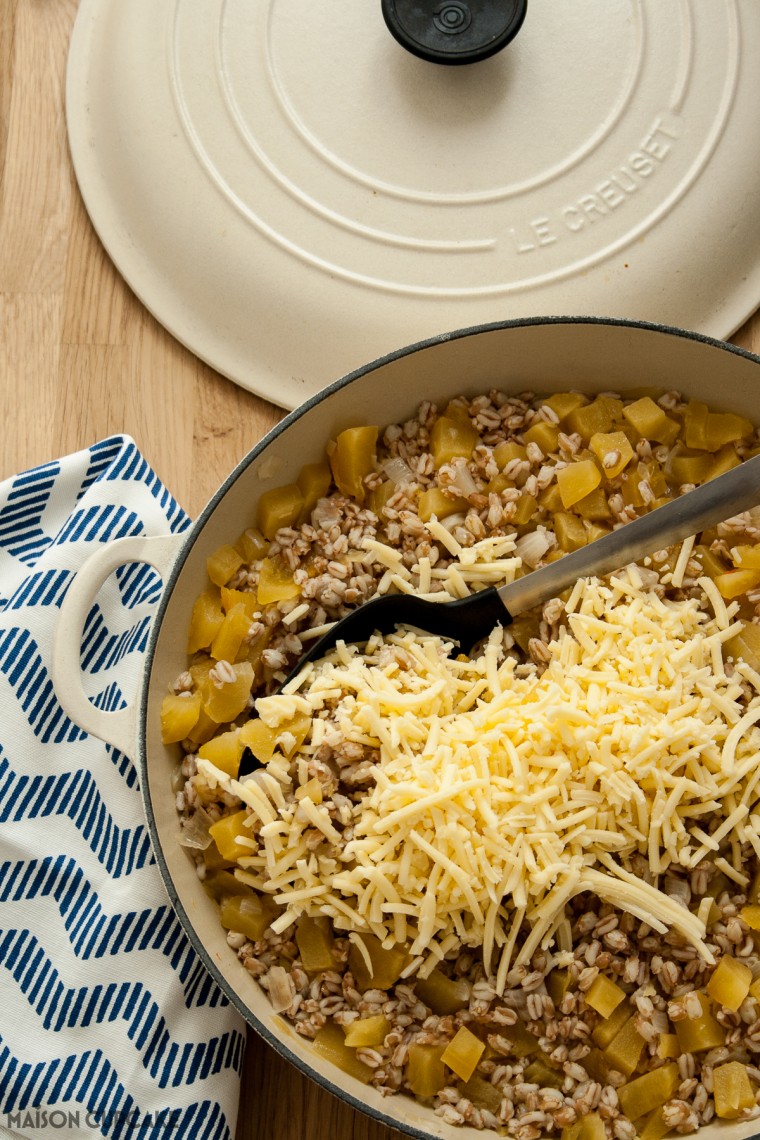 But now the recipe – you can make this dish from start to finish in under one hour but it also lends itself to being partly made ahead one day to slice this time in half.
Above you can see the grated cheese being added to the speltotto which had been made ahead the day before.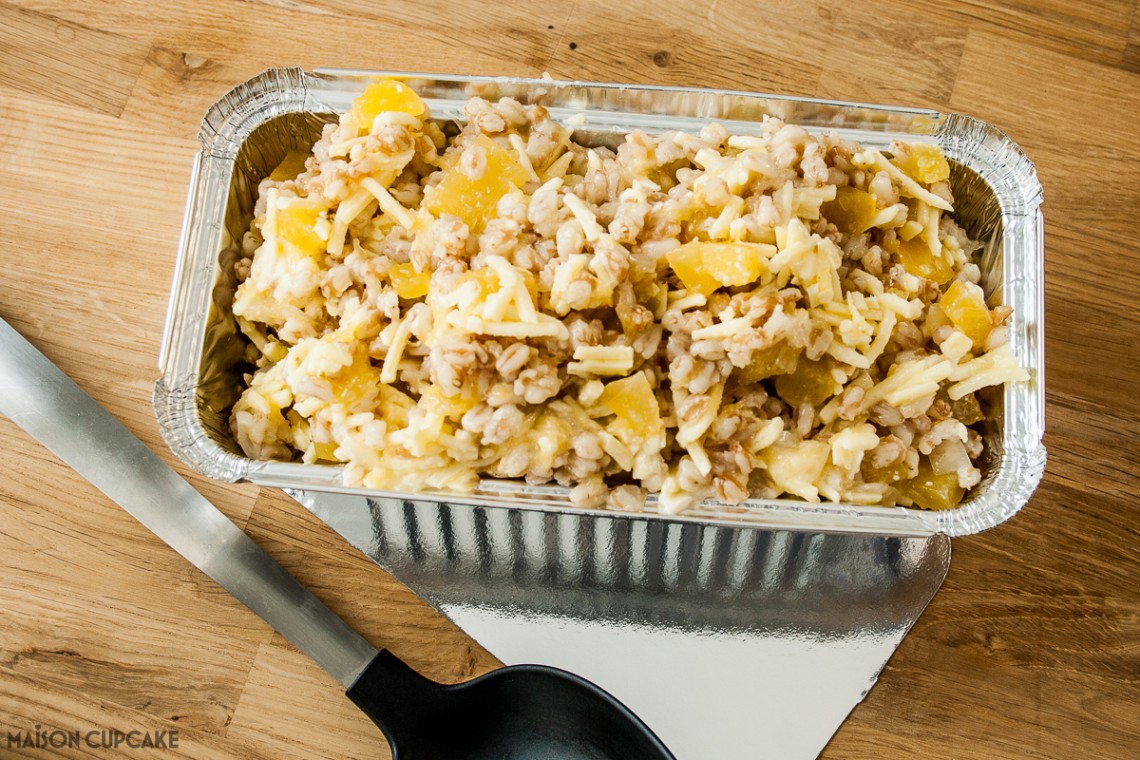 When the cheese is mixed into the cold speltotto you could freeze it at this stage.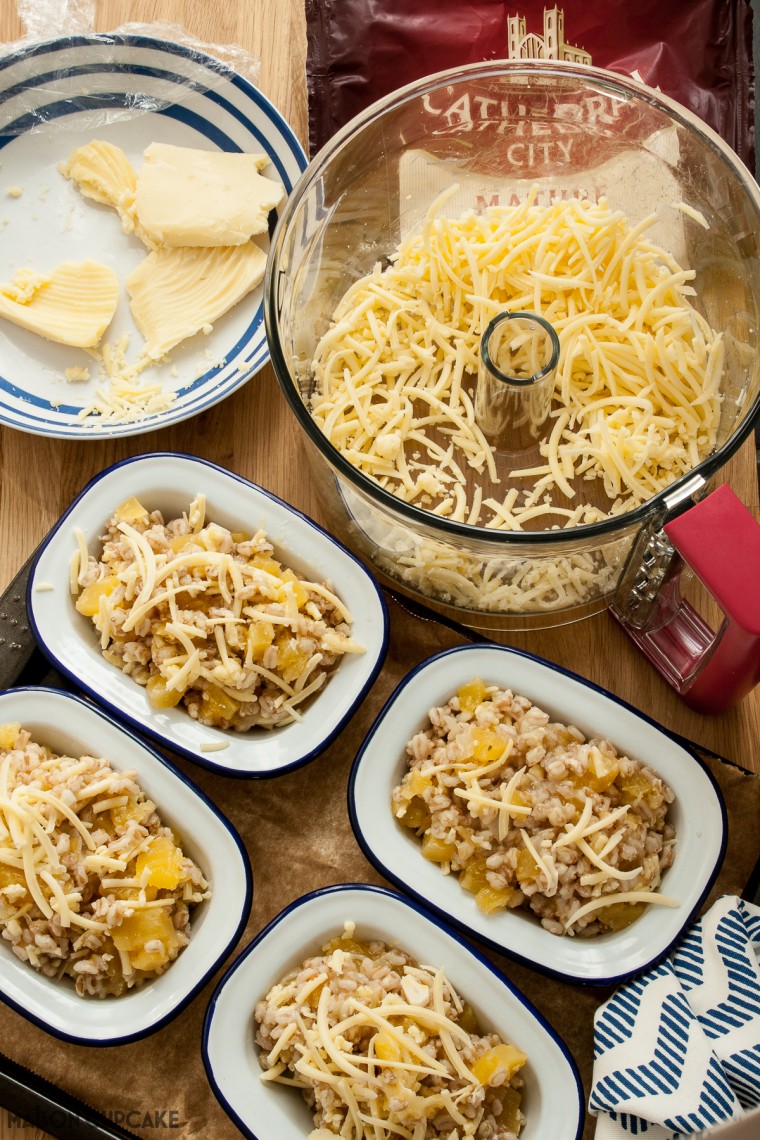 Today however I am serving individual dishes of the cheesy speltotto hoping these will further tempt my little boy into forgetting he doesn't like risotto.
I think I'm on safe ground with melted mature cheese – not sure if this applies to all kids but mine is fine with mature cheese that's cooked in things but won't eat it off the block.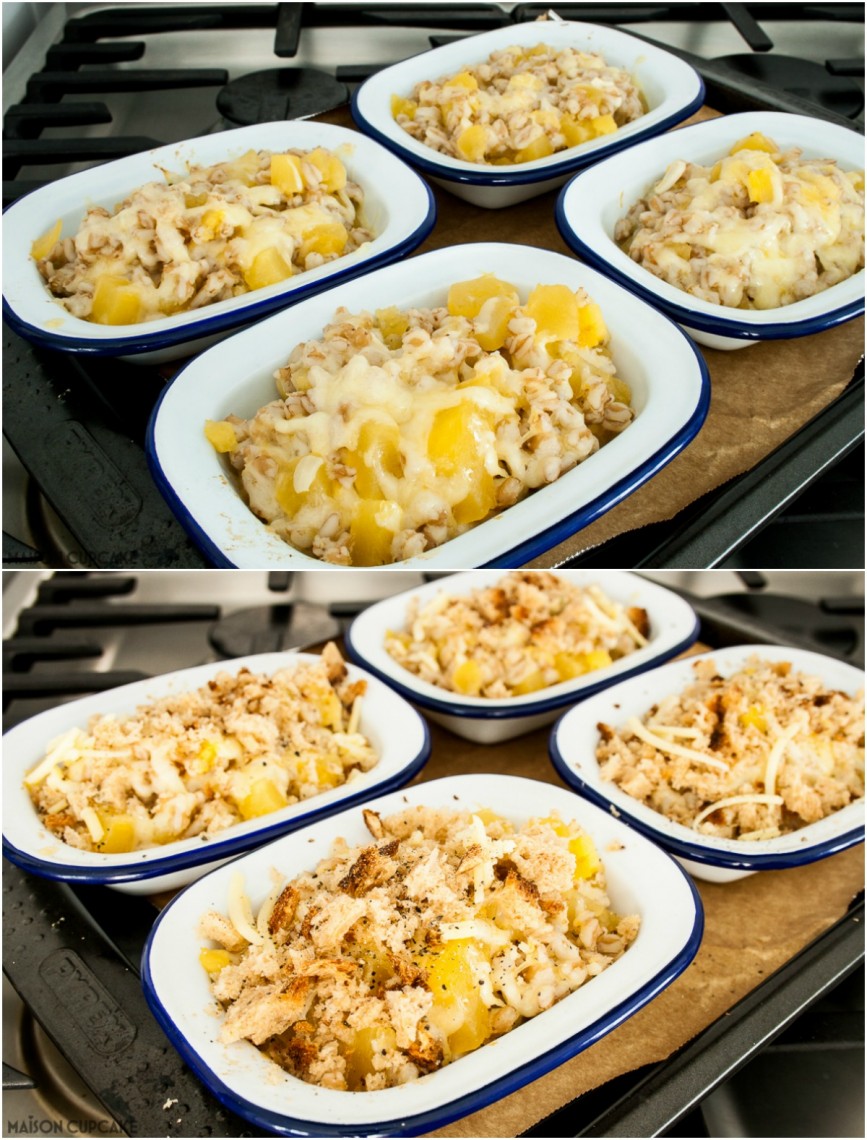 When the dishes have been heated through you could eat straight away. But the final touch is to top with some bread crumbs (quickly blitzed by Katie) and – go on then – a little extra cheese so you can definitely see it bubbling. Toast for a few minutes under a hot grill and your cheesy baked speltotto is ready to serve.
Love Cheese? Welcome to the Club! Do you have your own "cheese rules"? Let everyone know in the comments below…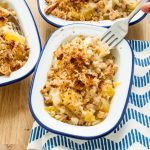 Print Recipe
Cheesy Baked Speltotto
Speltotto is risotto made with spelt grain rather than rice; this is an easy family dish suitable for vegetarians or as side dish.
Ingredients
1

tbsp

rapeseed oil

or other light frying oil

200

g

pearlised spelt grain

1

medium onion

chopped into dice

3

garlic cloves

peeled and finely sliced

1

medium spaghetti squash cut into small dice

1

litre of stock plus extra boiling water as required

1

x 350g block of Cathedral City Mature Cheese

grated

2

slices

worth of brown bread crumbs

ground black pepper
Instructions
If you are serving the speltotto the same day preheat the oven to 200c / gas 6.

In a large pan, heat the oil and fry the onion and garlic until soft.

Add the diced squash and pour over the stock. Stir well. Pour in the spelt grain and stir well again.

You can place the lid on for a few minutes at a time to speed up the cooking. If the stock is absorbed before the spelt is soft add more boiling water.

After around 15 minutes when the spelt and squash are cooked and water absorbed you can at this stage leave the speltotto to cool and refrigerate overnight.

Then mix the grated cheese into the speltotto and combine so cheese is evenly distributed. You can bake in one dish or individual ones if preferred. Bake individual dishes for 12-15 minutes although a larger mass of speltotto may require longer heating time.

When hot remove from the oven and heat the grill. Sprinkle bread crumbles and a grinding of black pepper over the top and return to the grill for 3-4 minutes until golden brown and your cheesy baked speltotto is ready to served.
Notes
For a vegetarian main course add white beans; for non-vegetarians you could add diced bacon or ham.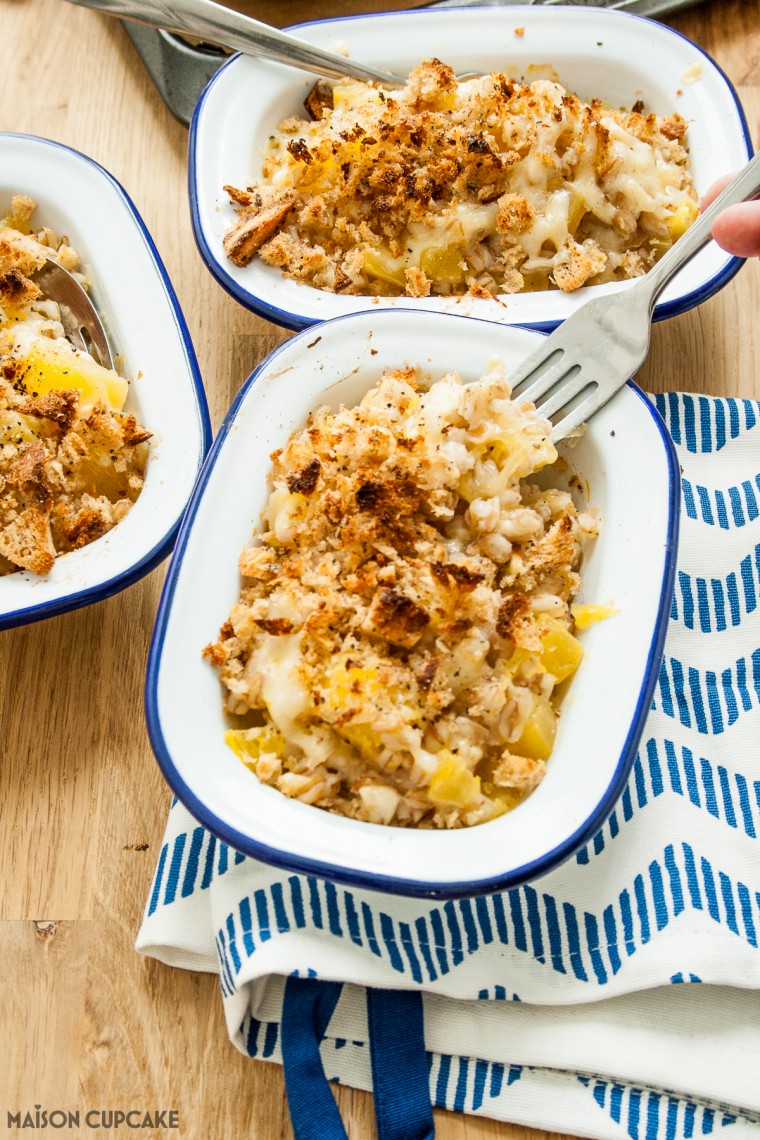 This cheesy baked speltotto recipe was commissioned by Cathedral City as part of their "Love Cheese?" campaign. You can find Cathedral City on Facebook and elsewhere on social media using the #LoveCheese and #CheeseRules hashtags.