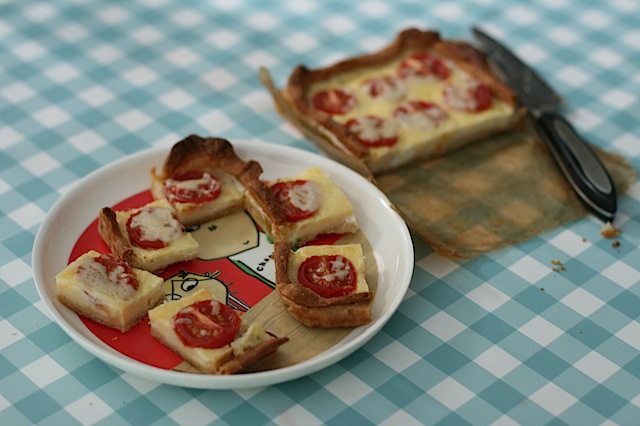 My grandmother was red faced and embarrassed. She'd just had her diction corrected by an eight year old.
It's not quitch-y grandma, it's keeesh.
We were bustled away from the deli counter at high speed.
I joke now that my foreign languages are excellent so long as it's only the menus I'm being tested on.
Clearly my French food knowledge was already established at an early age!
Hilariously Grandma only ever referred to quiche as "flan" thereafter.
Unless it's some weird Nuneaton dialect akin to calling bread rolls "batches", no one calls quiche "flan". Tart maybe but never "flan". Flan might be a fat free sponge base topped with fruit and quick jel or it might be a Spanish custard dessert. But to this day I've neither seen nor heard quiche and tarts referred to as "flan". The closest has been a goats' cheese flambe from Sainsbury's Taste the Difference range circa 2005 but definitely not "flan". I can't bear the word flan, it's too close to "flannel".
Quitchy wasn't Grandma's only mispronunciation. She also had a tendancy to say brocull-eye and most memorably, Ferrari Row-share to describe certain hazelnut chocolates served at the ambassador's receptions.
I don't think Grandma appreciated being shown up at the Co-op but I think she'd have admired this recipe.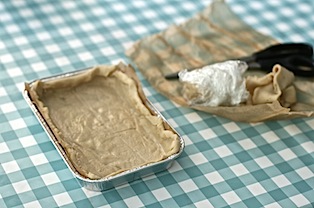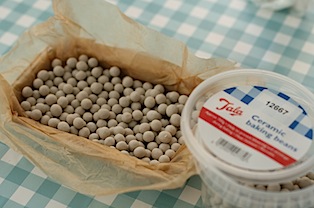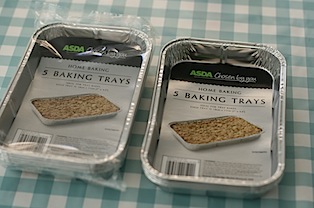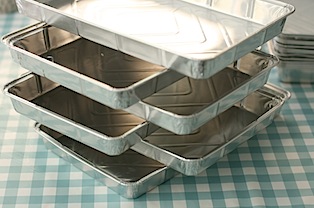 These foil baking trays are my new best friends. As you can see above they stack fabulously and were just the job for letting cookies dry for my cake stall back in June. I would also use them to make any tray bakes for school bake sales as it doesn't matter if you don't get the tray back and you can bake and despatch them in the same container.
Plus I can fit three in my wide oven on one shelf at once – so in theory I could bake six tray bake cakes at a time. I haven't tested this yet but the time will come.
So I spotted these mini foil trays in Asda and thought I fancied some of those too!! Fast forward a few days and they're just the job for using up a piece of pre-rolled shortcrust pastry (it really really hasn't been the weather for making your own and besides it's August. I'm mentally on holiday anyway) in a mini quiche.
I pre-baked the pastry case for 15 minutes at gas mark 6 / 200c using ceramic baking beans (I've finally given up on using old dried beans and bought some at last).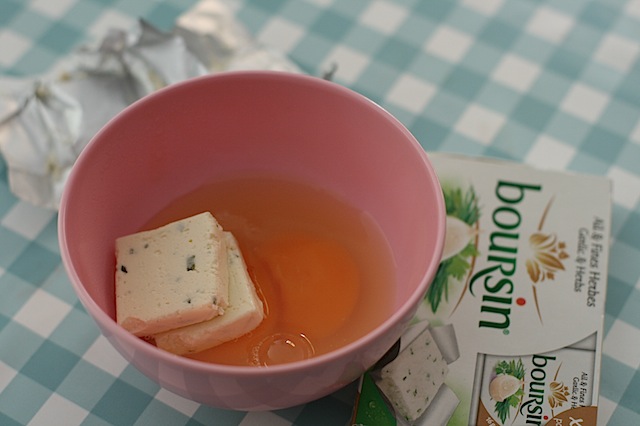 For the quiche filling I simply used two eggs and two squares of individually wrapped Boursin soft cheese in garlic and herb flavour. Beat them together with a fork until smooth(ish… the lumps melt!)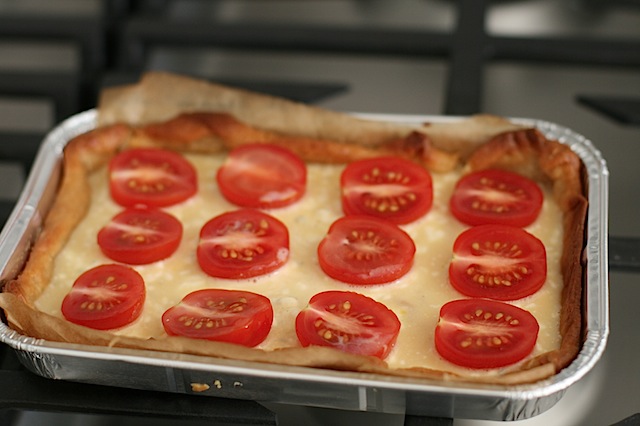 Arrange plum cherry tomatoes sliced in half in a satisfying grid layout and bake for 15-20 more minutes at slightly lower temperature gas mark 4 / 180c.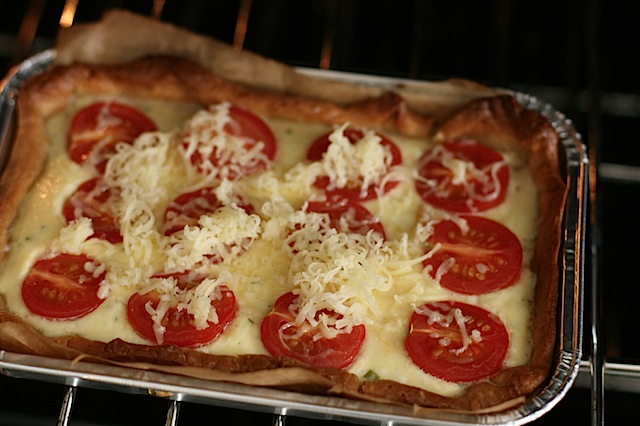 Sprinkle over some cheese for the last five minutes of baking.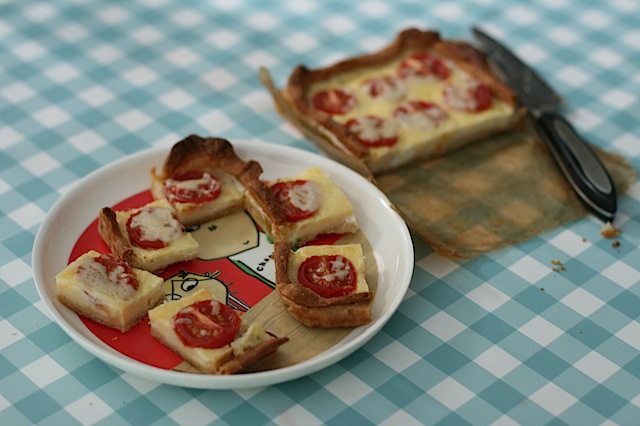 And serve. Ta-dah. Effortless quiche with barely any measuring of ingredients.
Or flan Grandma – if you insist on calling it that.
Did any of your family ever mispronounce the names of any foreign food?
With thanks to Boursin for product samples.