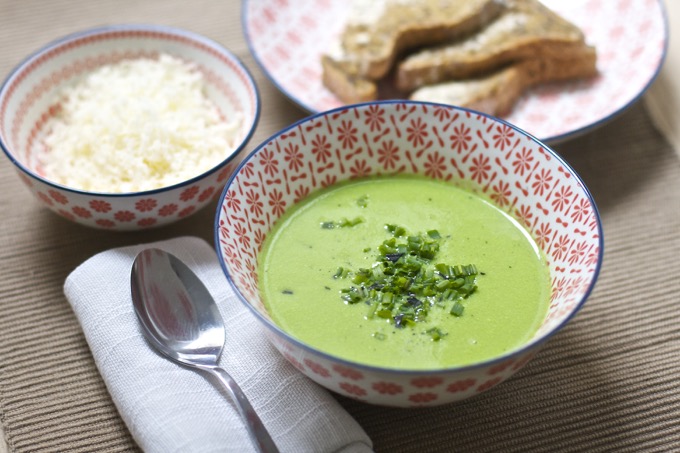 This garlicky pea soup took only ten minutes to make. My husband had been ranting on Saturday that I'd left the day in limbo, too late to combine a trip out with lunch, nothing in the fridge to speak of.
I'd avoided shopping this week and so we'd been low on salad for several days. Now we barely had any vegetables either. It was one of those moments where I wished deeply that my child would eat baked beans and he'd already had eggs for breakfast.
Thank goodness for freezers. Within minutes I'd blitzed up a load of peas in the power blender and we had this glow in the dark soup for lunch.
Ted actually doesn't like peas so I told him it was "glow in the dark soup" which was met with more enthusiasm than the truth. And it's amazing how the distraction of a bowl of cheese to sprinkle can distract a seven year old.
I haven't experimented enough with soups in the Vitamix. I make smoothies almost every day and hummus and pesto probably once a week. But the soups have been hit or miss if you find raw flavours challenging. The happy medium is possibly to give your soup a further simmer on the hob which helps reduce the liquid, thicken the texture and cooks the vegetables further – rather than heating them up through brute centrifugal force.
You could melt any cheese in this although red varieties might clash somewhat. I considered goat but opted for the teensy chunk of leftover Christmas Stilton with some grated cheddar for sprinkling.
I am sharing this Vitamix pea soup with:
Simple and in Season – which I am hosting for Ren
Extra Veg – organised by Michelle and Helen
Credit Crunch Munch – organised by Helen and Camilla
No Croutons Required – organised by Jac and Lisa
It's also part of my ongoing Jumpstart January.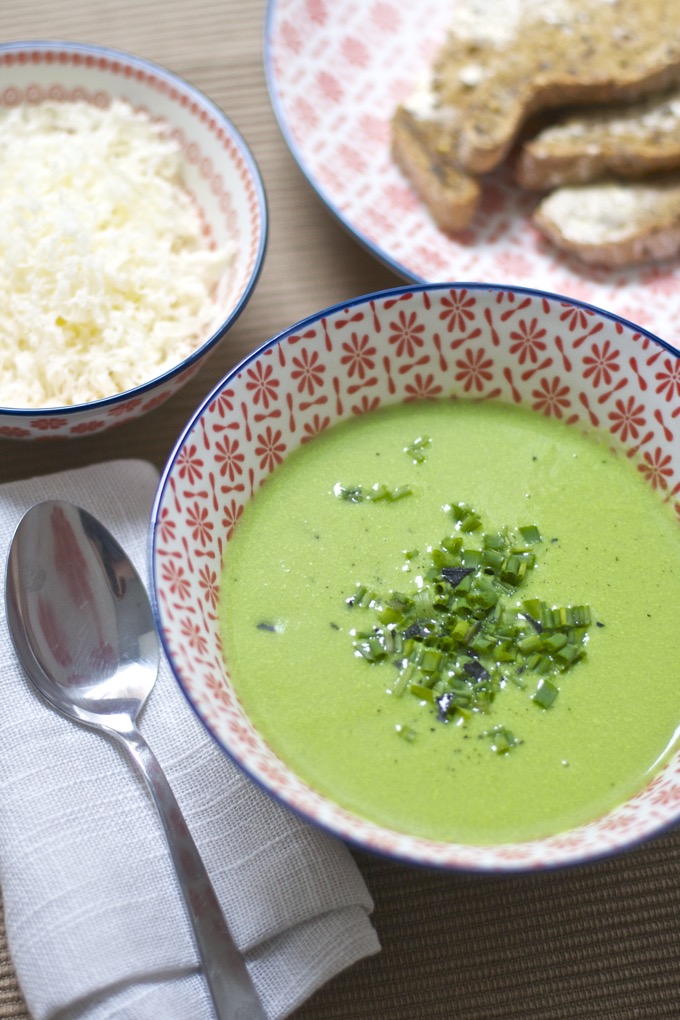 Vitamix pea soup with cheese and chives
Serves 4
Ingredients
300g frozen peas
1 vegetable stock cube
2 tsp garlic puree
1 litre water
50g hard or firm cheese of your choice
Finely chopped chives and extra grated cheese to serve.
Directions
1. Place the peas, stock cube and water in the Vitamix or power blender jug.
2. Using the soup programme if you have one or blend on full power for several minutes until completely smooth.
3. Pour the blended soup into a saucepan and simmer for a few more minutes. Add the cheese and let it melt.
4. Serve with a sprinkling of chopped chives and extra cheese to sprinkle on top if you wish.
When did you last rely on your freezer in a foodie emergency?