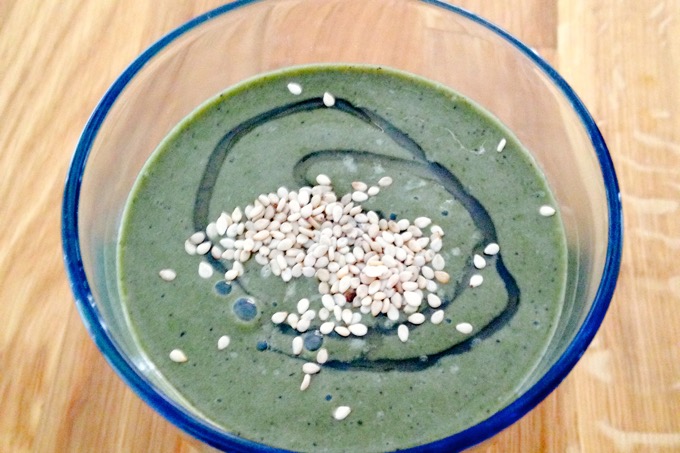 Cavolo nero is such a dark green vegetable that there's no hiding it in this green smoothie. I promise you however that the addition of frozen banana and a drizzle of agave nectar stops it being too punitive.
Mornings are not the same for me lately without my therapeutic whizzing up of fruit, veg and seeds in the Vitamix but it's my steady supply of frozen bananas that helps keep them nicely thick and cold. I kid myself I'm drinking burger bar milkshakes!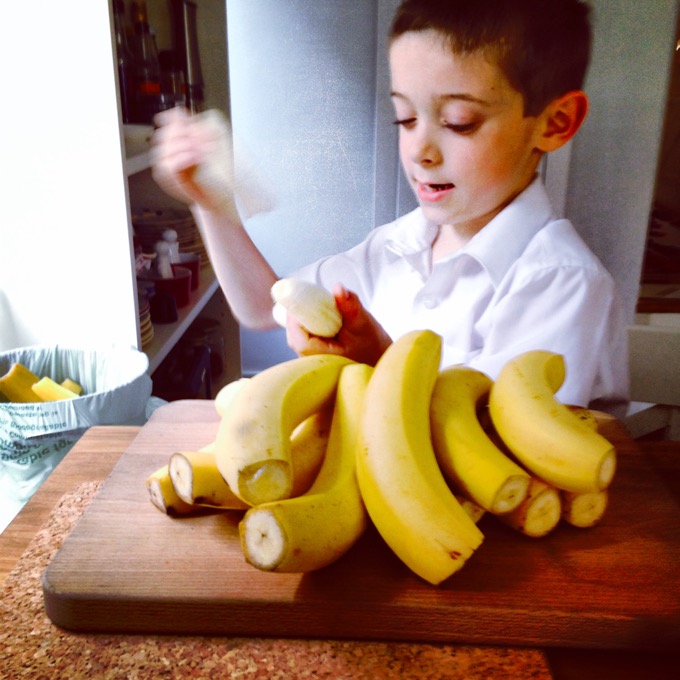 So we have been buying a lot of bananas lately. Double the bunches so we have some to eat straight away and a supply to bag up in the freezer.
I managed to recruit a little helper to peel the bananas. Ted is into jokes at the moment and chuckled to me yesterday, "Why did the banana go to the doctor?"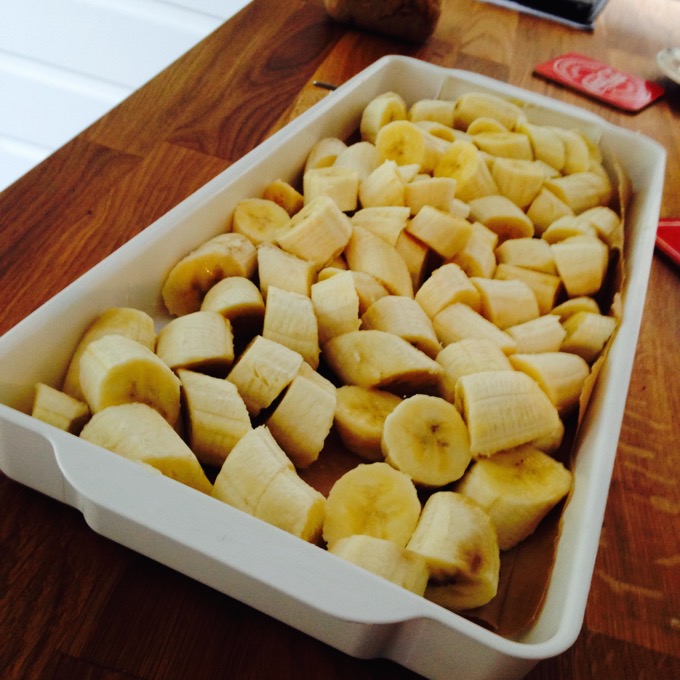 I don't know Ted, why did the banana go to the doctor?
"Because he wasn't peeling very well." Bah-bum. Although rather obvious I must admit I'd not heard it before.
So we lay out our chunks of banana on the shallow ice cube tray that lives in the bottom drawer of my freezer – I use this all the time lately as it's so handy to freeze bits of anything you are going to bag up without them all sticking together.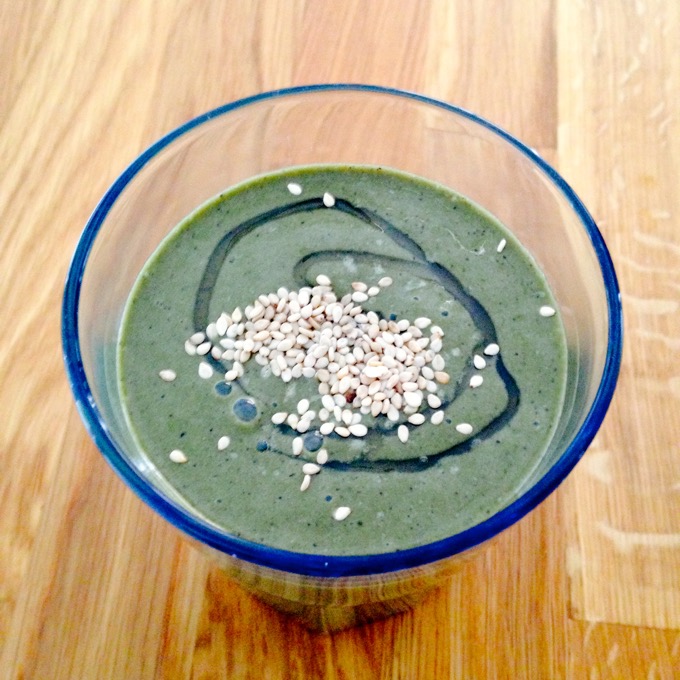 Cavolo nero banana smoothie 
Makes 2 smoothies
Ingredients
2-3 leaves of cavolo nero
1 frozen banana in chunks
500ml milk – I actually used oat milk here so this smoothie is dairy free
Drizzle of agave nectar
2 heaped tablespoons sesame seeds plus extra to garnish
Directions
Tumble the ingredients into a Vitamix or power blender. Blitz. That's it.
This is my entry to launch this month's Simple and in Season which I am hosting for Ren Behan this month. If you have a recipe using seasonal ingredients you are welcome to link up and join in.
Here are Ren's guidelines to take part:
"All you have to do is come up with a dish using any seasonal produce you like (savoury or sweet) post it on your blog, add a link to this post mentioning Simple and in Season and linking to www.renbehan.com and then manually add the link to your post in the box on each month's launch page (click the badge on my Blog sidebar to find the current host) – this month that's ME so link also to this post.
A round up post featuring all the recipes entered will be posted at the beginning of each new month.
You can take inspiration from anywhere – adapt a recipe from your favourite cookbook, try something from a magazine, make up your own creation or share a family favourite. The usual rules apply when using someone else's recipe, please either get permission from the author to post it or adapt it in some way stating how/why you've changed it.
Include any seasonal produce you fancy including fruit, veg, herbs, meat or fish.
Link as many recipes as you like. You can link posts entered into other blog events or carnivals as long as it involves a seasonal food item (and fits in with their rules).
The linky-up is open to anyone, anywhere. I'm happy to post prizes abroad and although it will be nice to feature as much British produce as possible, it will be interesting to see what's in season elsewhere.
By entering your link, you are giving me permission to add your photograph to the round-up. I will link back directly to your post when I include you.
If you have questions or problems, email me or leave me a comment in the comment box at the bottom of the post.
If you are on Twitter, tweet your link adding the hashtag #simpleandinseason or add me @RenBehan and I will re-tweet it."
Loading InLinkz ...