This roast tomato and pepper soup has a garlicky kick and served with a drizzle of basil oil, grated Grana Padano and some toasted foccacia. Recipe post in partnership with Aldi.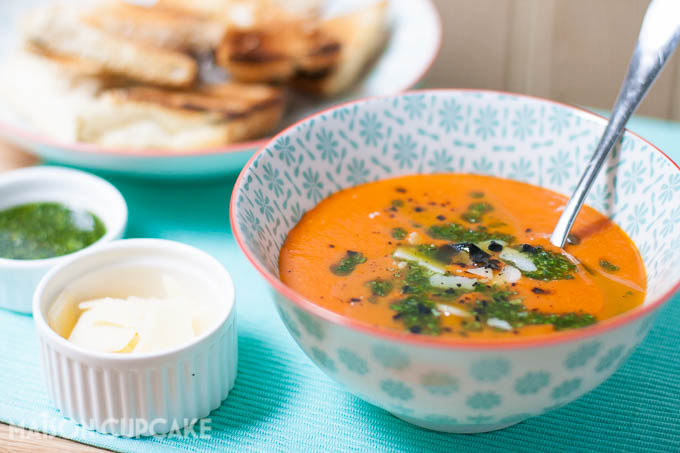 Are you feeling the pinch of 6-7 weeks since the last pay day? Are you still on the straight and narrow with your new year healthy eating plans?
I often find the desire to save money and eat more sensibly comes at the same time. And yet I do not want to feel deprived by austerity. I still want to look forward to meals and eat things that are visually appealing.
Supermarket Aldi invited me to swap my boring old blue January for a colourful fun Aldi January with their #AldiChallenge. Could I beat the January blues with a perked up exciting shopping basket? And would it cost me less?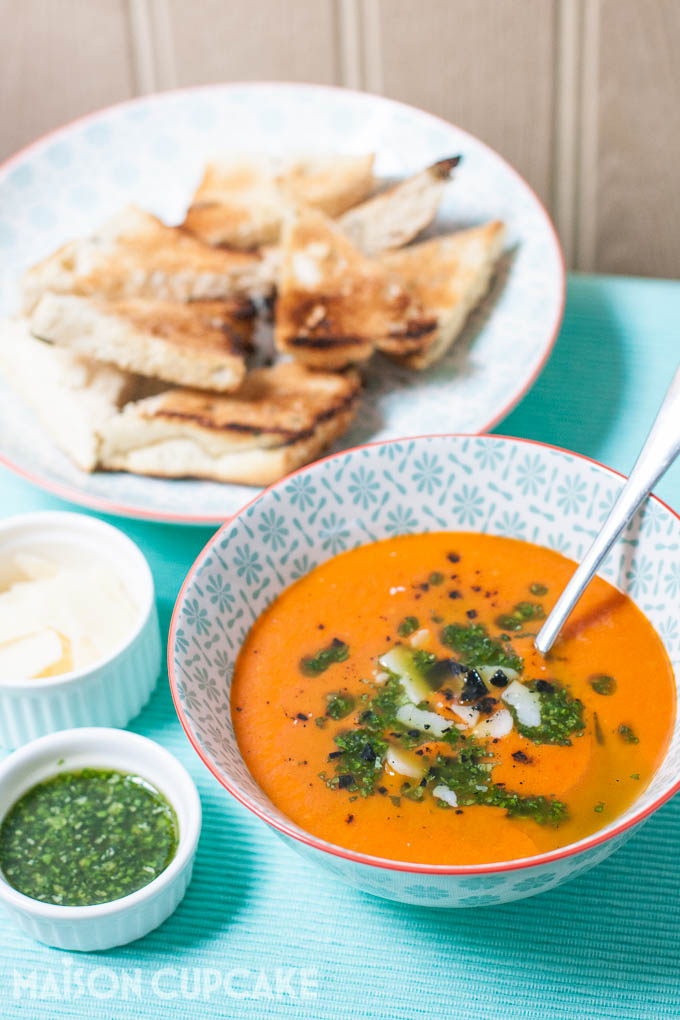 My favourite thing about Aldi is that it reminds me of supermarkets in France and indeed how supermarkets used to be. Before they become oversized and filled with one glossy marketing campaign after another. Honestly each time I visit some stores it's as if they redecorated the entire shop because it's Valentines / Pancake Day / Chinese New Year in four weeks' time.
Rather than gimmicks, I want good quality groceries with a pleasant surprise rather than a nasty shock at the till. Without the smokescreen of petrol coupons, stickers to collect homewares and loyalty cards. Or my personal bugbear – those vouchers that say because your shop would have been less elsewhere, here's a coupon for the difference to spend here next time. When your shop would still have been less elsewhere and mabye they'll give you another coupon for the difference that time too. I'd sooner it was cheaper in the first place.
So what did I get? (You can click on these images above to make them bigger).
I made price comparisons on MySupermarket. Most comparisons were done with at least two stores to identify the cheapest competitor for that item. Similar or same pack sizes were used for comparisons.
Key:
*Cheaper elsewhere
**Same or modest saving – less than around 5%
*** Significant saving – more than around 5%
Items in photos above:
500ml British cold pressed rapeseed oil **
Italian mozzarella 52p * (47p both Asda and Tesco)
500ml Italian extra virgin olive oil £2.89 **
Continental cured hams £1.49 ***
Grated Grana Padano £1.79 *** (40p+ saving)
Fresh basil plant 89p ***
Green olives in a jar 45p ***
Panini rolls 49p ***
Kids' smoothies in cardboard box £1.49*** (£3 for branded equivalent)
1kg box porridge oats 99p ***
Brazil nuts £1.29 ***
Mixed red and green seedless grapes £1.89 **
500ml plain low fat yogurt 45p** (matched by Tesco value range)
Cherry Bakewells 75p** (matched by Tesco value range)
2 x milled linseed with dried fruits mix £1.99 each*** (Linwoods' brand typically £5+)
Free range chicken drumsticks and thighs £2.99 ** (Matched by Asda)
Spinach and ricotta filled pasta 99p *** (cheaper by at least 40p)
1 kg family size lasagne £2.69 ***
Dry cure bacon £1.99 ***
Bratwurst £1.65 ***
German baked ham 99p ***
Barbecue pulled pork £2.49 ***
English mustard 45p ***
Gherkins 65p ***
12 brioche rolls 99p ***
4 large red onions 89p ***
3 large peppers 95p**
Red pesto 99p **
Italian gnocchi 65p **
Passata 35p **
Focaccia 99p ***
500g Arborio rice 79p ***
Grilled peppers antipasti 99p ***
6 big vine tomatoes 99p **
The trolley total (with multiples of many items above plus other items not shown) came to £70 for around 7-8 days' worth of meals for a family of 3.
I estimate a similar shop would have cost up to £100 in my usual supermarket.
Observations made:
Generally across all product types, Aldi offered consistent savings of 5% upwards, and often more.
Occasionally a very low price was matched by one competitor whilst other stores all charged much higher price. Free range chicken thighs and drumsticks were £2.99 in Aldi and Asda but £6 upwards elsewhere.
Aldi was often cheaper than the discounted offer price elsewhere. For example, Tesco's boxes of childrens' smoothies were £3 each or £4 for two making them equivalent of £2. Whereas Aldi product was £1.50.
Similarly, Aldi mini cheesecakes were 99p for three whereas Tesco were £1.60 (£1.50 if you bought 2 packs) and Asda were £1 for two.
My other favourite saving was milled flax seed and berry packs – typically £5 upwards elsewhere yet only £1.99 at Aldi.
When Aldi is cheaper, it's often significantly so. Yet in the few cases I found Aldi to cost more, the difference was only a few pence.
And I haven't even tried any booze yet so a return visit is definitely likely!
In the meantime, I plotted to get the most out of our weekend and make some roast tomato and pepper soup for a bracing winter walk on the beach.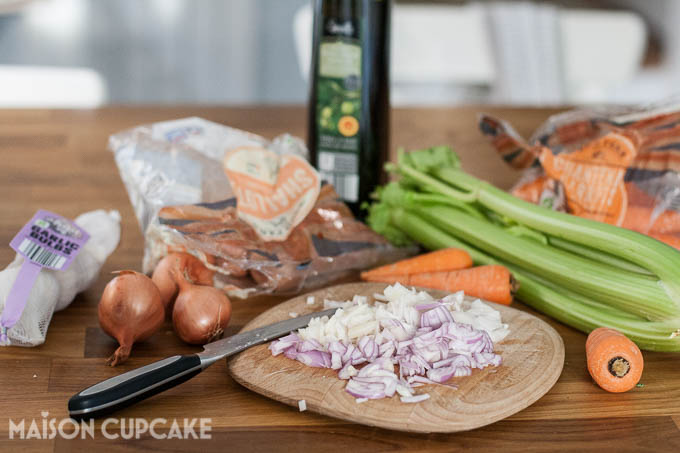 First I made a soffrito type base of shallot, carrot and celery. Fried this in olive oil and added water and seasoned with salt.
When the diced vegetables had stewed for around 30 minutes I strained the liquid off and set aside. (I boxed up the veggies to mix into a pasta sauce or something – no waste).
At the same time I had been roasting some tomatoes with whole peeled garlic cloves and strips of pepper. I let these roast for around 50 minutes.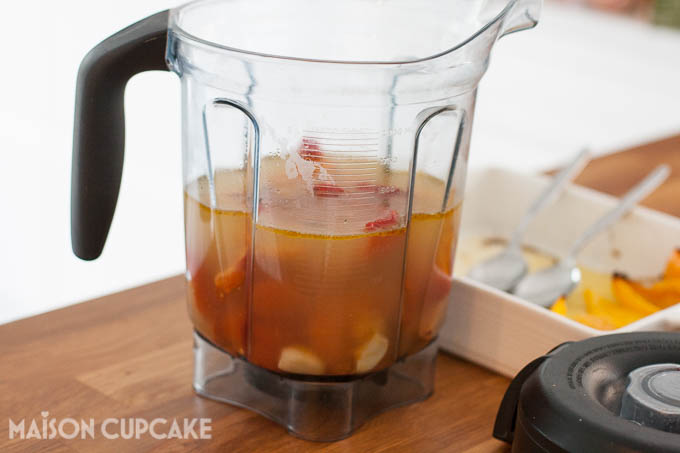 Afterwards I decanted the roasted tomatoes, peppers and garlic into the Vitamix power blender jug and poured over the liquid from soffrito.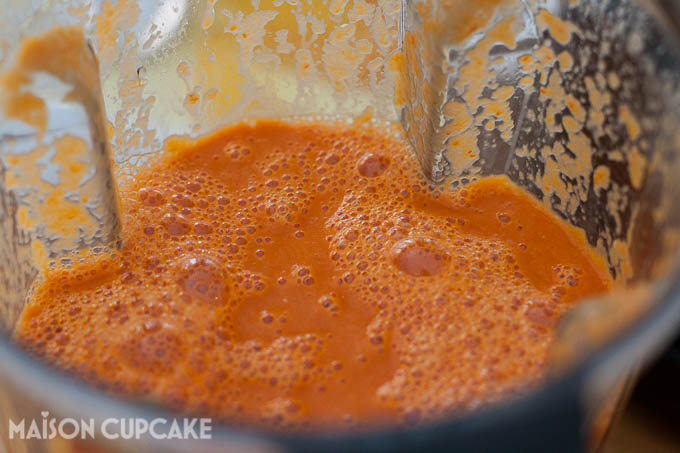 And blended for around 1 minute on high.
Then it was time to decant the lovely thick soup into a flask and hit the beach.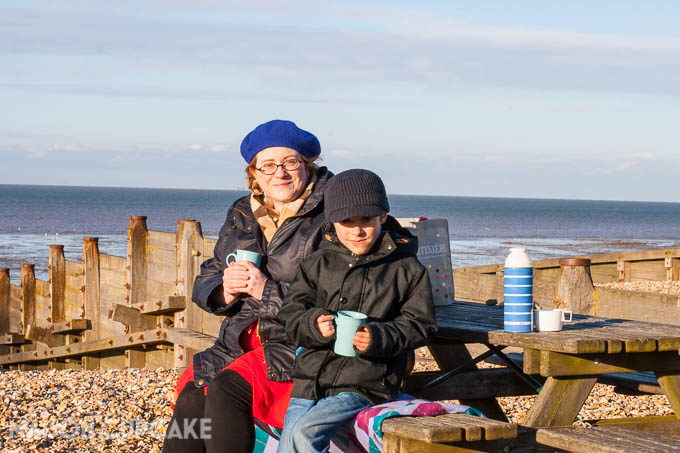 I'll be honest, Ted wasn't massively impressed by my suggestion of a bracing walk on Whitstable beach but I convinced him it was in the name of getting as much out of our family time as we'd got out our budget in our bumper Aldi shop.
Whitstable is around 1 hour 15 minutes' drive from home on the north Kent coast. Today was especially clear and with the days still being short, the sun was low in the sky and a bit awkward for taking pictures.
The tide was out meaning Ted couldn't throw pebbles in the sea today but he amused himself playing with them on this weather beaten picnic bench.
Our soup was very satisfying on this bright blustery afternoon. Afterwards we perused the lovely local Whitstable shops and before long dusk fell.
Luckily I'd made enough soup to enjoy it again for lunch on Monday. I added a few tweaks at home of my own basil oil and a sprinkling of that fabulous grated Grana Padano. Do note that if you are vegetarian you will need to choose a vegetarian hard cheese not made with animal rennet. The tomato soup recipe is below.
Would you take Aldi's January challenge?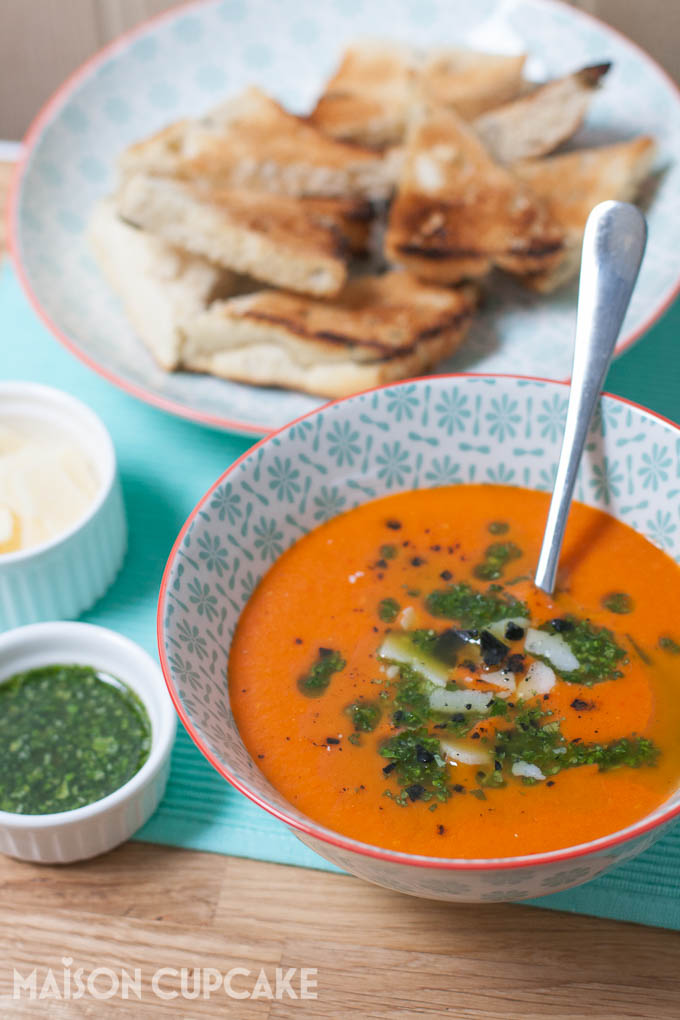 Roast tomato and pepper soup with garlic and basil oil
Serves 4
Ingredients:
Five large vine tomatoes
4 whole peeled cloves of garlic
3 red, yellow, orange peppers, deseeded and cut into thick strips
Olive oil*
2 sticks celery, diced
3 chanteney carrots diced (or 1 big normal one)
4 shallots, finely shopped (or 1 onion)
1 litre water
Salt and pepper to season
For the basil oil:
1 small basil plant
3 tbsp extra virgin olive oil
To serve
Aldi focaccia bread rolls
Grated Grana Padano
Salt and pepper (I use a black salt just because I like how it looks)
*I had only bought one bottle of Extra Virgin Olive Oil from Aldi and was using this. However usually I'd use ordinary olive oil or rapeseed oil to roast vegetables.
Directions:
1. Preheat the oven to gas 5 / 190c. Slice the vine tomatoes in half and remove the stalky bits. Place in a small oven dish with the peeled garlic cloves. In another dish, arrange the pepper strips. Drizzle olive oil and scatter some salt over the tomatoes, garlic and peppers. Roast in the oven for around 50 minutes until softened and slightly blackening around the edges.
2. Meanwhile, over a medium heat in a frying pan, heat a tablespoon of olive oil and lightly fry the diced celery, carrot and chopped shallot. When softened add 1 litre water and bring up to the boil and simmer for around 30 minutes to create a vegetable stock. Add salt and pepper to taste.
3. Strain the cooked vegetables from the vegetable stock and set aside to use elsewhere.
4. When the peppers, tomatoes and garlic are roasted, place these in the power blender jug and add the vegetable stock. Fit the lid and blend on high for around 1 minute until completely smooth.
5. Reheat the soup in a saucepan then serve or decant into a flask.
6. Meanwhile, to make the basil oil, blend most of a small basil plant's leaves with around 3 tbsp extra virgin olive oil. Drizzle this green liquid over the soup when serving as well as scattering with grated Grana Padano and salt if desired. Serve with toasted focaccia bread rolls.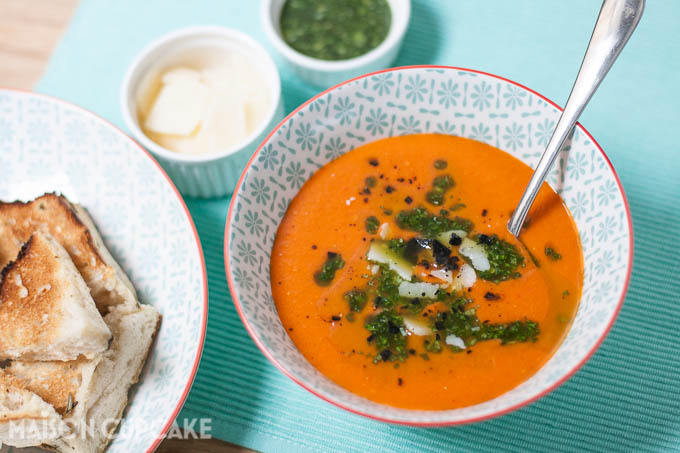 I am sharing this Vitamix roast tomato and pepper soup with:
Simple and in Season – which I am hosting for Ren
Extra Veg – organised by Michelle and Helen
Credit Crunch Munch – organised by Helen and Camilla
Super Soup – organised by Jo's Kitchen
It's also part of my ongoing Jumpstart January.
Recipe post commissioned by Aldi as part of their Aldi January Challenge campaign. Join in with the #AldiChallenge on social media.