These chilli mussels with giant pennoni pasta are ready in around 25 minutes. An easy Mediterranean holiday recipe based on a version by Jo Pratt for James Villas.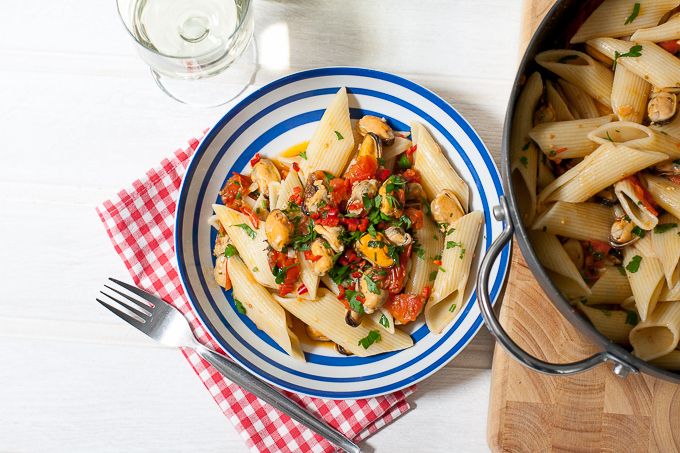 Although my grandmother made some amusing clangers with foreign pronunciation, actually she was somewhat ahead of her time referring to her favourite pasta as "penne" rather than mere pasta.
Penne, which roughly translates as quills or more literally, "pens" was my first introduction to pasta other than spaghetti. My grandmother would have been impressed by this giant version known as pennoni rigate. Although you can get straight penne or pennoni, the "rigate" refers to the ridged surface to which the sauces cling bringing flavour to every bite.
This pennoni pasta was by Tesco Finest range but similar versions are sold by De Cecco and Carluccio's. My dear friends Anastasia and Marco of this mushroom tagliatelle post taught me the importance of buying the best quality pasta you can afford. (Or indeed, make your own). It really does make a difference transforming a standard weeknight dish into casual dinner party material.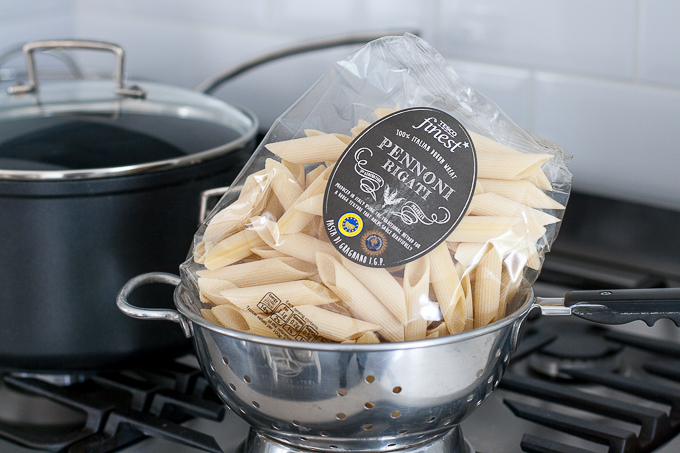 I did not discover mussels until the late eighties. You did not eat mussels in Staffordshire back then.  Certainly you would not pop out and buy mussels in the supermarket – at least neither my mother nor my grandmother did. My mother is still deeply suspicious of mussels now and spurned the opportunity to eat this dish last weekend. My father won't eat them either so where did my love of molluscs come from?
I first ate mussels returning home via Dieppe after the family wedding in Lyon celebrated in my recent tomato couscous post. I had stayed behind for two weeks in a blistering heatwave ostensibly to improve my French. As it happened, my aunt's nephew, whose spoken English was already very good, benefited rather more from my English tuition. I was too shy to speak in French then and aged only fifteen, found being away from home by myself with strangers intimidating enough without trying to speak in another language.
The family brought me home by car as the father had a business meeting in England and Jacques was visiting an English pen friend.  On the night before our ferry back to Newhaven, Jacques and his father each ordered moules at the hotel restaurant. Being an adventurous foodie even then I enthusiastically copied.
I have loved moules ever since and always make a point of ordering moules frites at least once during each European holiday. But funnily enough it's been unusual for me to cook them at home. Until I discovered how easy this authentically Italian chilli mussels recipe was.
Choosing mussels
Mussels are fairly easy to buy in the UK and come in various guises:
Fresh mussels in their shells sold at the fish counter or fishmonger in mesh baskets
Cooked mussels in shells sealed in vacuum bags with flavoured sauces in the chiller cabinet
Frozen mussels with or without shells in the freezer section.
We opted for the frozen mussels without shells on this occasion. My son is not keen on the shells however he likes the mussels themselves. And it meant I had a big bag in the freezer handy to throw a few mussels into other dishes such as risottos or chowder.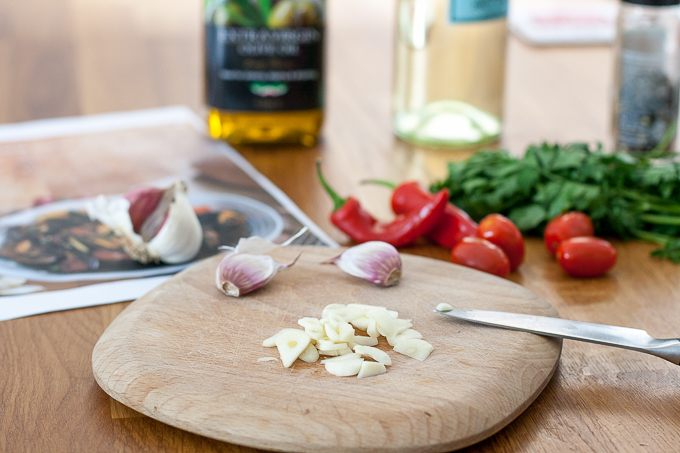 #MyHolidayDish with James Villas
I was asked to prepare this dish by James Villas who are getting everyone in the holiday mood with their #MyHolidayDish campaign. Chef and presenter Jo Pratt has created a selection of recipes inspired by the various European locations you might enjoy a James Villas holiday; from Portugal and Spain to Italy, Croatia and more.
I was allocated Jo's recipe pasta con le cozze which translates from Italian as pasta with mussels. Italian food is full of big flavours from simple fresh ingredients. This simple dish is popular in Puglia, the southern heel of Italy, a place I have long wished to visit.
Cooking on self catering holidays
We nearly always take self catering holidays and I could see this was exactly the type of recipe I could cook on holiday. A good self catering holiday recipe is easy to cook with just a few locally produced ingredients that are easy to buy nearby. It shouldn't need any fussy equipment or tools. And it needs to be ready quickly so you are not slaving away when you should be relaxing.
My favourite thing about this recipe was that you crushed fresh tomatoes in your hands. Somehow this feels very Italian!
Better still, with a glass of wine amongst the ingredients you have the perfect excuse to sit back and enjoy the rest of the bottle. Hopefully on a balmy Mediterranean evening with the sun going down.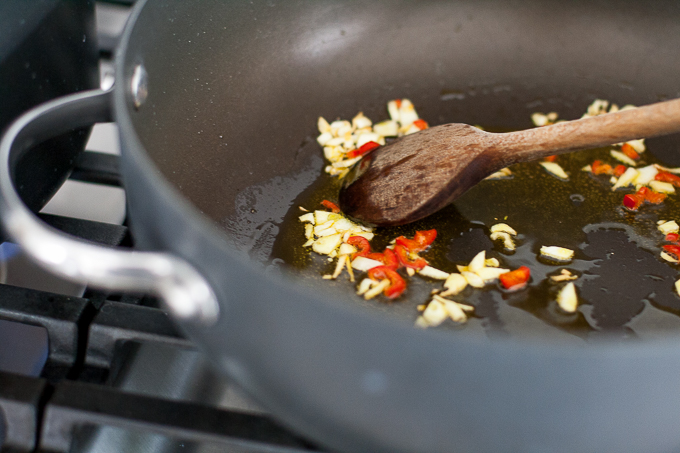 Chilli mussels with pennoni pasta – notes on the recipe
It is said water used to boil pasta should be "as salty as the Mediterranean". I have used smoked sea salt for extra depth.
If you are using fresh pasta, this requires a much shorter cooking time – probably 2-3 minutes.
Use fresh mussels if you prefer – remove any "beards" and after cooking, discard mussels whose shells have not opened.
This is a gutsy family friendly dish although you may wish to reduce the chilli content to suit everyone's taste. You could omit the chilli when cooking and only add it at the end. For instance, after serving childrens' portions or just scatter the fresh chilli on top at the table.
The alcohol in the wine will cook off but you could omit it altogether if alcohol is not desired. If you do not wish to open a whole bottle of wine, use half quantity of white vermouth topped up with a little water. Or a splash of vodka.
Notes on serving and storing chilli mussels
Although a version with fresh mussels could be cooled rapidly and mussels frozen in their liquid, this version with frozen mussels is not suitable for refreezing.
You may however reheat leftovers within 24 hours provided you cool the food down quickly, cover and refrigerate and take care to reheat it thoroughly.
Be mindful of seafood allergies when serving this dish. Furthermore it maybe prudent to avoid feeding reheated shellfish to children, older relatives or those with impaired immunity. Pregnant or breastfeeding women should avoid shellfish altogether.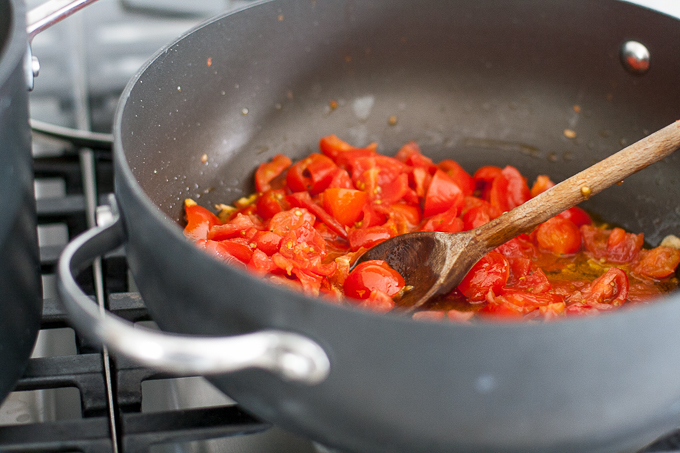 Variations on chilli mussels with pennoni pasta
If you do not like mussels you can make this dish with king prawns instead.
Giant pasta make this a substantial dish, if you prefer something more elegant try linguine or spaghetti instead. This recipe can be gluten free friendly if you choose gluten free pasta.
I ramped up the chilli content when reworking Jo Pratt's version of the recipe – you can scale that back down if you wish. Or push it further with some smoked paprika!
This dish should be served hot immediately. For true casual Italian dining serve it in a large dish at the table for people to scoop out their servings themselves.
If there is a lot of liquid, soak this up with some Italian ciabatta.
Taking just 25 minutes, this chilli mussels recipe is perfect to throw together on a self catering holiday after a lazy day in the swimming pool. It's equally apt for a low effort supper after a hard day at work.
Using frozen mussels makes this work as a store cupboard dish – you might also sub with "lazy garlic", dried chilli and if really pushed, dried parsley and tinned tomatoes.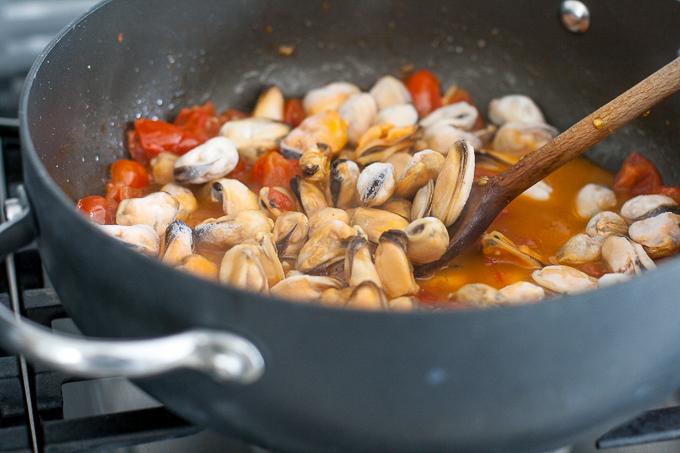 Chilli mussels with pennoni pasta recipe – cookware and homewares shown in this post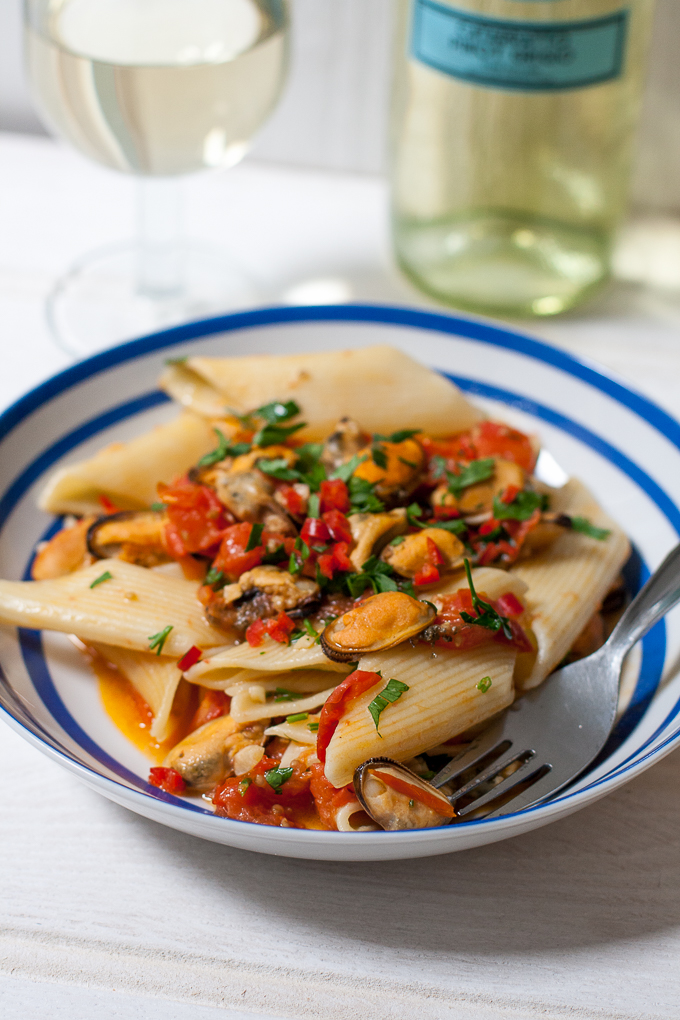 As well as the printed recipe below you can follow Jo's video created for the James Villas blog:
Do these chilli mussels remind you of holidays? Do you ever cook with mussels at home? Can you imagine cooking this dish on a self catering holiday?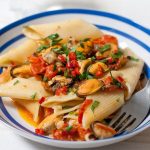 Print Recipe
Chilli Mussels with Pennoni Pasta Recipe
These chilli mussels with giant pennoni pasta are ready in around 25 minutes. An easy Mediterranean holiday recipe by Jo Pratt for James Villas.
Ingredients
400

g

Italian pasta shapes

400

g

frozen mussels minus shells

or 1kg fresh mussels in shells*

Italian extra virgin olive oil

3

Cloves

garlic

peeled and crushed or chopped

1

large fresh red chilli pepper

deseeded and finely chopped

Jo's version has less chilli - a pinch of dried, crushed chilli

Small glass dry white wine

about 125ml

Approx. 400g cherry tomatoes

halved

Salt and freshly ground black pepper

Large handful chopped flat leaf parsley

* If using fresh mussels

wash the mussels in cold water, pulling off any straggly beards. Throw away any that remain open after a few seconds when lightly tapped.
Instructions
Bring a saucepan of salted water to the boil. Cook the pasta until al dente, usually for about 10 minutes though check the pack for guidance.

Heat a large lidded saucepan over a low-medium heat and add a really good glug of olive oil. Add the garlic and half of the finely chopped chilli. Gently fry for about 1 minute to soften the garlic and then add the halved cherry tomatoes, squeezing them by your hands into the pan, to release their juices.

Increase the heat to high and when the tomatoes start to soften, add the mussels and wine. Toss around in the pan then cover with a lid. Cook for a few minutes until the mussels have defrosted and cooked.

Drain the pasta, keeping back some of the cooking water. Toss the pasta into the mussels pan adding some of the cooking liquid if the sauce seems too thick. Season with salt and pepper and add the parsley. Cover with the lid and leave on a low heat for about 1 minute.

Serve in bowls and drizzle with a little extra olive oil and a scattering of the remaining fresh chilli. Buon Appetito!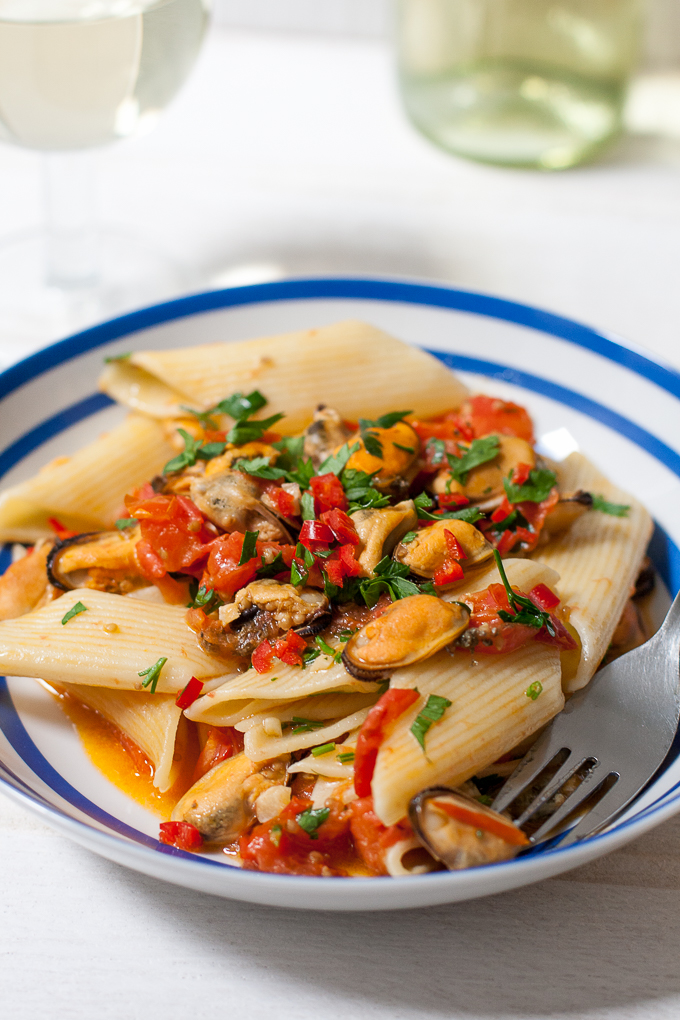 Other food blogger recipes using mussels
For another giant pasta dish try this conchiglioni giant pasta shells with asparagus and bacon: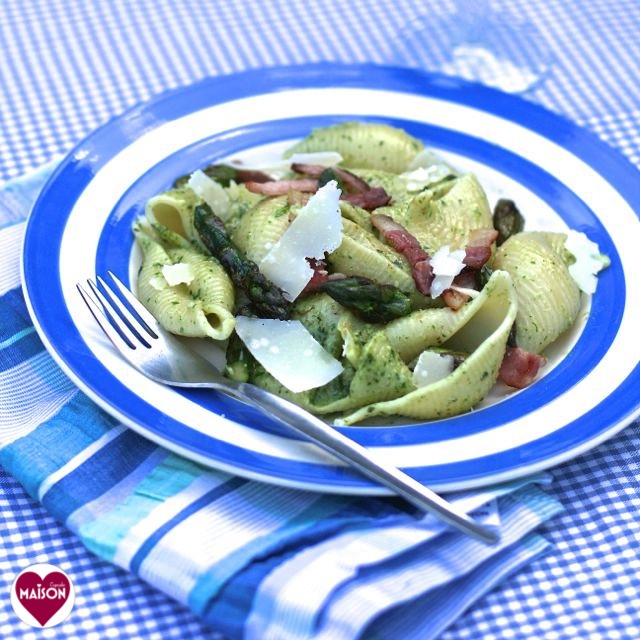 *Affiliate links used. Follow James Villas' #MyHolidayDish campaign on Twitter, Instagram and Facebook. Chilli mussels with pennoni pasta recipe recreation of Jo Pratt's pasta con le cozze commissioned by James Villas.