Vegetable frittata is a super easy recipe to use up bits and pieces in the fridge. Post sponsored by British Lion Eggs.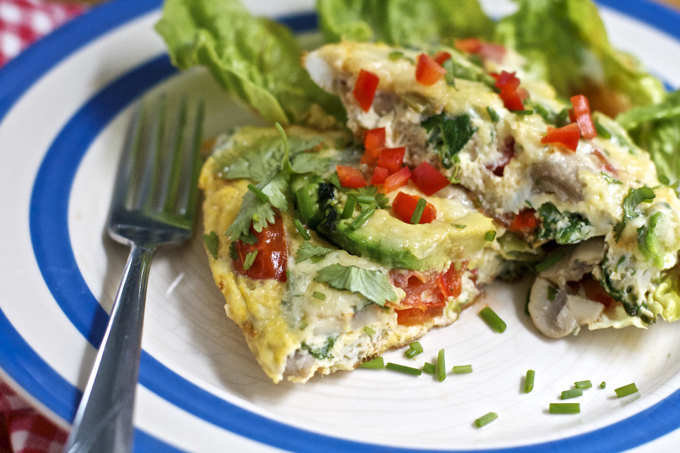 You say frittato, I say frittata. A frittata without potato is a first for me. I always put potato in my frittata – even if this possibly makes it technically a tortilla instead.
But this was to be a "fully loaded" vegetable frittata and now I've tried one without potatoes I will definitely be doing it again. Frittata tends to be something I cook when there's already some cooked potato languishing in the fridge so it's an advantage to not need to have done that in advance.
This is my spin on the latest recipe video at Lion Eggs' YouTube channel featuring vlogger Barry Lewis from My Virgin Kitchen. Eggs are always my favourite store cupboard dish, full of potential for a myriad of dishes as well as a great source of protein helping you feel fuller for longer.
Barry's original ingredients are not set in stone – I have switched his spinach for some rocket on its last legs in the fridge and bumped up the mushrooms instead of using courgette. The joy of frittata for me is that eggs can transform the tired pre-shopping trip fridge contents into a feast.
We often enjoy frittata as a brunch dish or light supper. It's just the job too if you have a hungry child who needs dinner NOW.
What's your favourite frittata?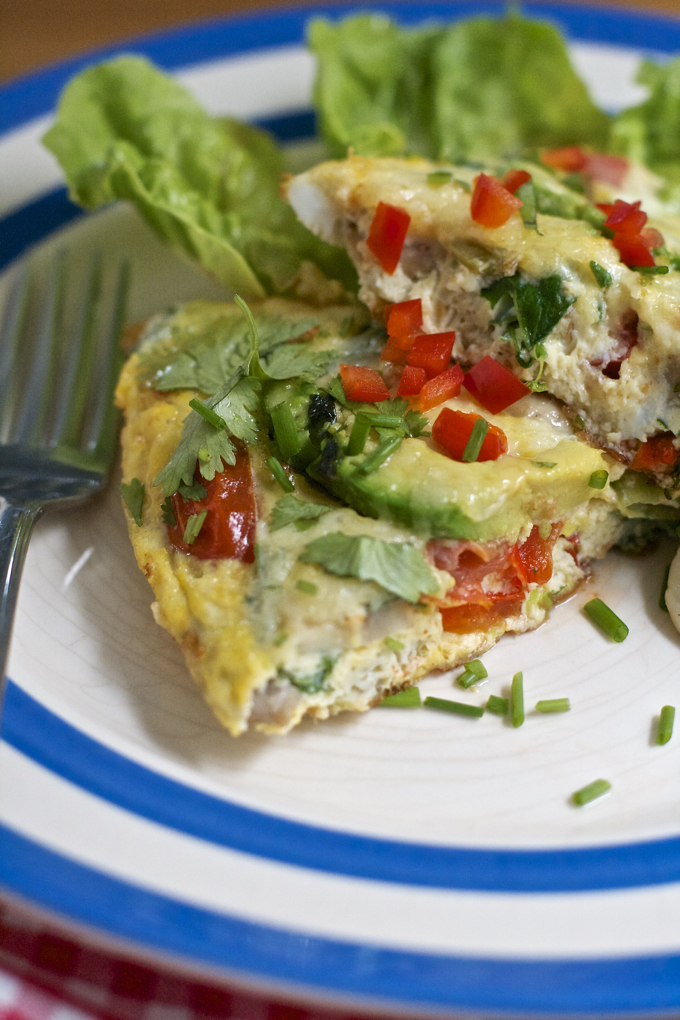 Vegetable Frittata with Avocado
Serves 4
Ingredients
A little rapeseed or groundnut oil
8 British Lion eggs, lightly beaten
8 cherry tomatoes, sliced
6 button mushrooms, sliced
Handful fresh spinach
4 tbsp sweetcorn
1/2 courgette, sliced
3 spring onions, sliced
1 pepper, sliced roughly
1 avocado, peeled and chopped in chunks
Handful fresh parsley
Large handful grated extra mature cheddar cheese
(use extra cheese if you wish to top up before baking)
To serve: sweet chilli sauce, side salad
Directions
1. In a large frying pan heat the oil over a medium and fry the courgettes, mushrooms and spring onion. When these are softened add the other vegetables apart from the avocado. Meanwhile light the grill on full – it will be warmed by the time you need it.
2. Pour in the eggs and stir quickly to make sure they are coating all of the vegetables. Place the avocado pieces on top.
3. Replace the lid of the pan (if it has one) to help it cook quicker.
4. Use a non stick spatula to slide around and check the eggs are cooked on the bottom. When they are, scatter over the cheese on the top avoiding the avocado if you like the green to show through. Place the pan under a hot grill to help the top surface cook.
5. Serve immediately with lettuce and sweet chilli sauce.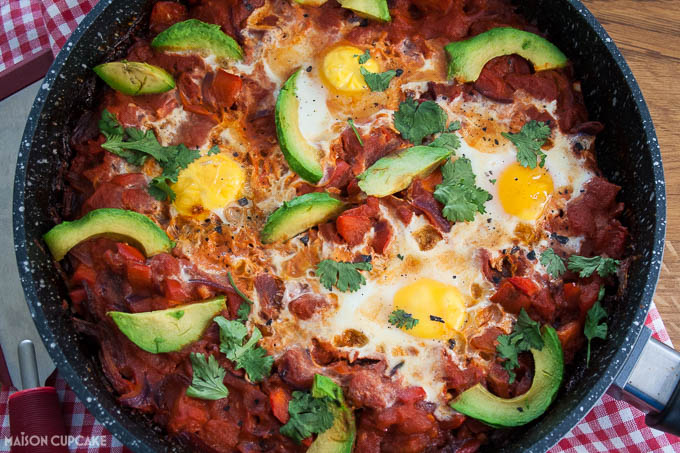 If you like this dish you might also enjoy my previous version of Crumbs Food's Baked Eggs, also for British Lion Eggs.
This vegetable frittata post is sponsored by British Lion Eggs.