Here's an easy to make non spicy version of Huevos Rancheros (Spanish Eggs recipe) with avocado that's the perfect family brunch recipe.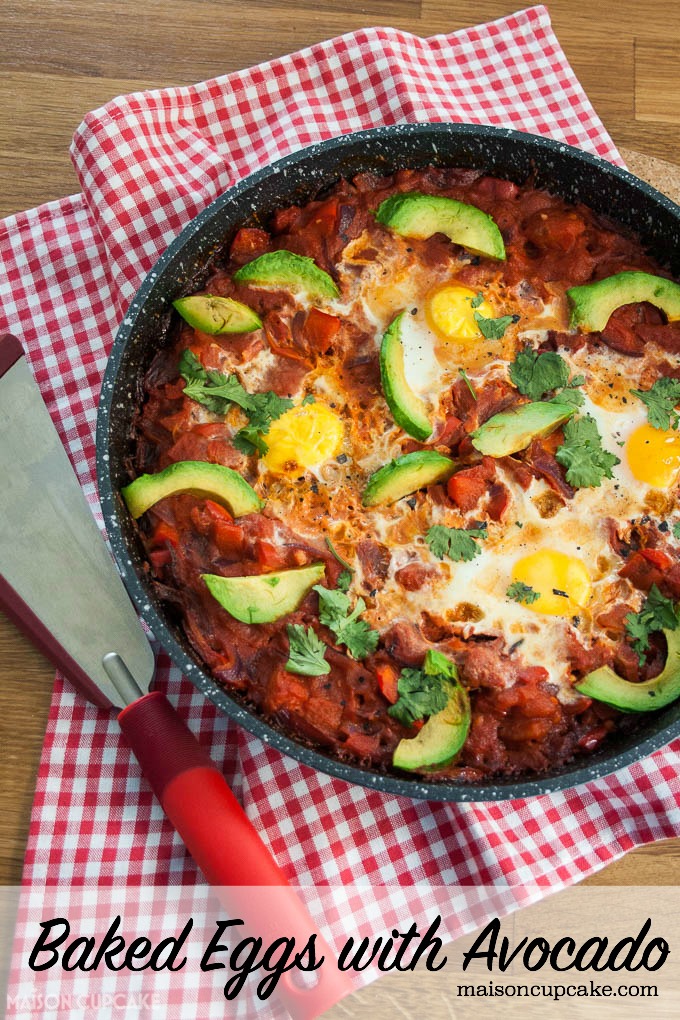 I don't like to brag. But we had this for breakfast on Saturday. I am not usually one for "brunch", generally I have had breakfast way earlier than anything approaching lunchtime but when I saw the baked eggs video by the Crumbs sisters I felt compelled to make a version of it.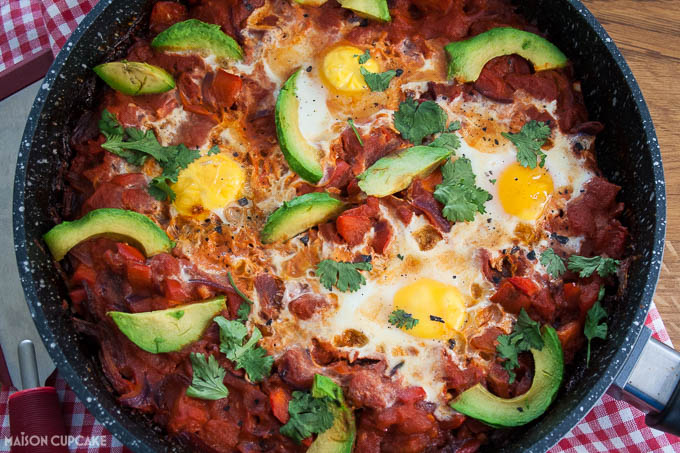 I have tweaked their recipe slightly – doubled the quantities for the whole family, added a red onion, used tinned tomatoes instead of cherry ones and switched cheese for avocado. If you bubble most of the liquid off the canned tomatoes, by the time you've added the egg, this dish will come out of the pan in pleasing wodges if you use a wide spatula to serve it. We had ours on toast. And by golly we'll be having it again.
Traditional Spanish eggs recipes known as "huevos rancheros" generally include something spicy. Since I was serving this to my seven year old I only used garlic and got my firey fix from some chilli oil and a splash of lime juice and black pepper on top.
If you'd like to see Claire and Lucy make their original version, here is their video for the Egg Recipes YouTube channel with their version of the recipe below. Mine is virtually the same apart from using tinned tomatoes and avocado instead of cherry tomatoes and cheese.  Enjoy!
Have you tried baked eggs Spanish style?
Lion Eggs and vlogging sisters, Crumbs Food show you how to make a quick and healthy baked egg recipe.
Proving once again that eggs can be used in interesting quick dishes that are innovative and tasty, this video from Lion Eggs, featuring Claire and Lucy from Crumbs Food shows you how to make an easy, delicious and fast baked eggs in tomatoes, parmesan and basil:
The Crumbs Version:
cherry tomatoes
red pepper
basil
olive oil
black pepper
parmesan
garlic
2 eggs
A handy tip is to cut the red pepper nice and small so that you're kids will eat it! Eggs are one of the most nutritious foods money can buy and are a natural source of many nutrients including high quality protein, vitamins and minerals. They're also super quick to prepare meals with!
"This is the kind of thing you can really rustle up quickly. Just takes a few minutes to prepare. So it's perfect for those nights when you're busy and on the go…They keep you fuller for longer. It's one of those things you can eat at lunch and you don't need to snack before dinner time" Crumbs Food
For further information and lots of exciting recipes head over to http://www.eggrecipes.co.uk – the spinach, feta and pine nut omelette also looks like a good one to try.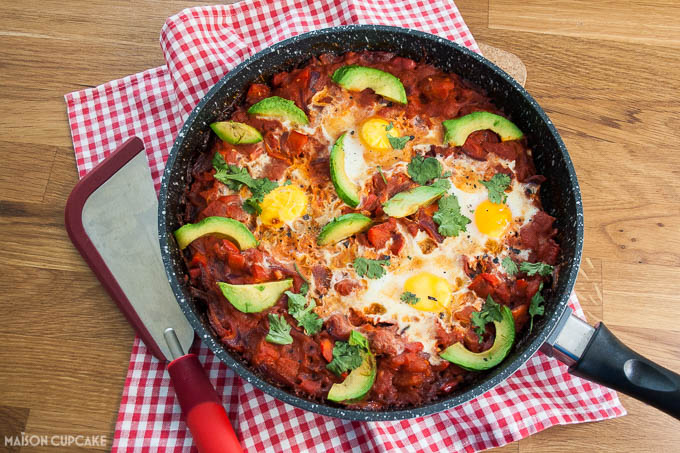 My version: 
1 tbsp rapeseed or sunflower oil
1 red onion, finely sliced
1 red pepper, diced
1 tbsp finely chopped garlic (I cheat and use a frozen pack of this!)
2 x 400g cans chopped tomatoes
4 large free range eggs
1 nice ripe avocado
a few sprigs of fresh coriander
dash of lime juice
generous drizzle of chilli oil
sprinkle of coarse salt and freshly ground black pepper
To cook, fry the red onion in the oil (or not – see note below) until soft, add the diced red pepper. When the red pepper has partly cooked, tip in the two cans of chopped tomatoes and ramp up the heat to boil off the liquid and make the tomatoes nice and thick. When the tomatoes have thickened, make four pools in the tomato to break the eggs into. When the eggs are half cooked, scatter over the avocado slices and place under a hot grill for a couple of minutes to cook the eggs as you like them. Serve as it is or on toast. Dress with fresh coriander and for the grown ups add lime juice, salt and pepper and a generous drizzle of chilli oil. Enjoy!
Post commissioned by Lion Eggs