Here's a quick easy meatball casserole with the flavour of a Moroccan tagine style stew to make a family meal in under 60 minutes. Perfect for batch cooking and freezing. This is a commissioned recipe post.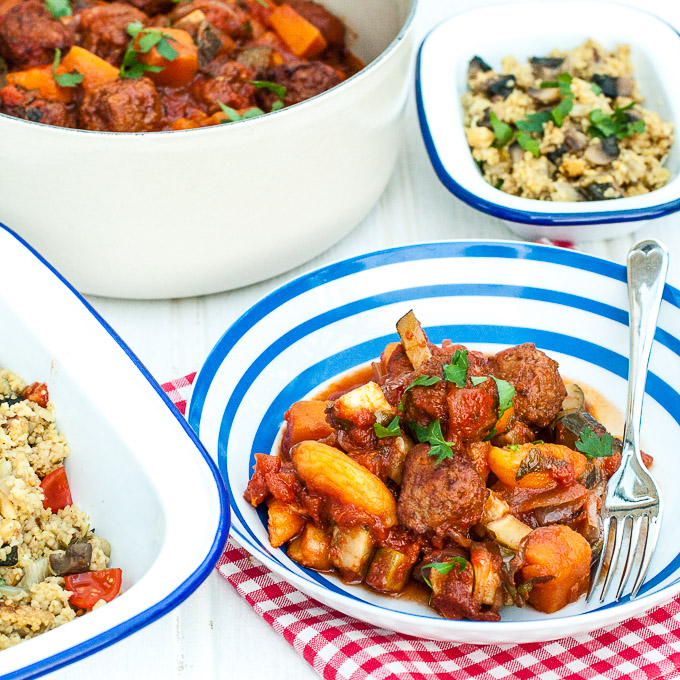 Are you looking for a sunny meal that's easy to make in less than an hour but packed with veggies and enjoyable for all the family?
Look no further than this colourful Swedish meatball casserole taking its inspiration from the Moroccan tagine style stews of north Africa.
I have previously enjoyed meatball tagine in north African restaurants such as was shown in my Mamounia restaurant review back in 2012.
Although I do not have a tagine pot I often make tagine style stews at home so this is a version using pre-cooked Swedish meatballs by Scan.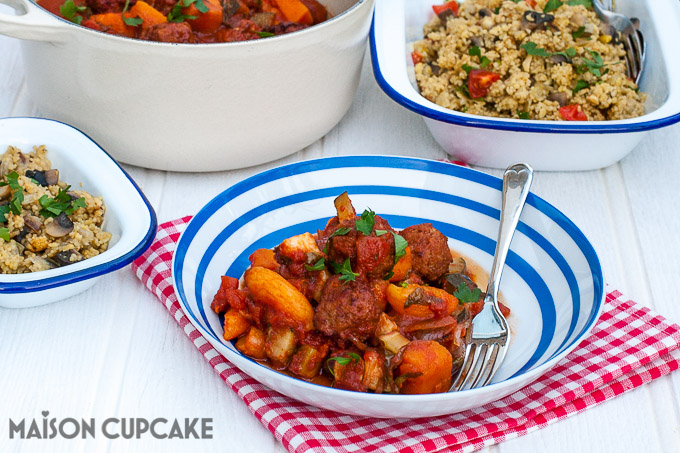 Cooking with Swedish meatballs
We've long been fans of Scan Original Swedish Meatballs and frequently grab a pack in the supermarket. They're my stand-by ingredient for nights I'm too tired to cook for long.
My son adores meatballs and I love their versatility to serve in a range of family friendly meals, not to mention that they're pre-cooked making meals speedier. Sometimes we enjoy them IKEA style with potatoes, sauce and lingonberry jam. Or I make a spaghetti polpetti meatball pasta dish. And yes I occasionally snack on them from the fridge if the packet is already open…
They're made in Sweden to an authentic family recipe containing 70% meat (pork 55%/beef 15%), real potato chunks, herbs, pepper and a little onion. They're free from artificial flavours, colours or preservatives and are Sweden's no.1 meatball brand. You can buy them in the UK at either Sainsbury's, Morrisons, Asda or Ocado.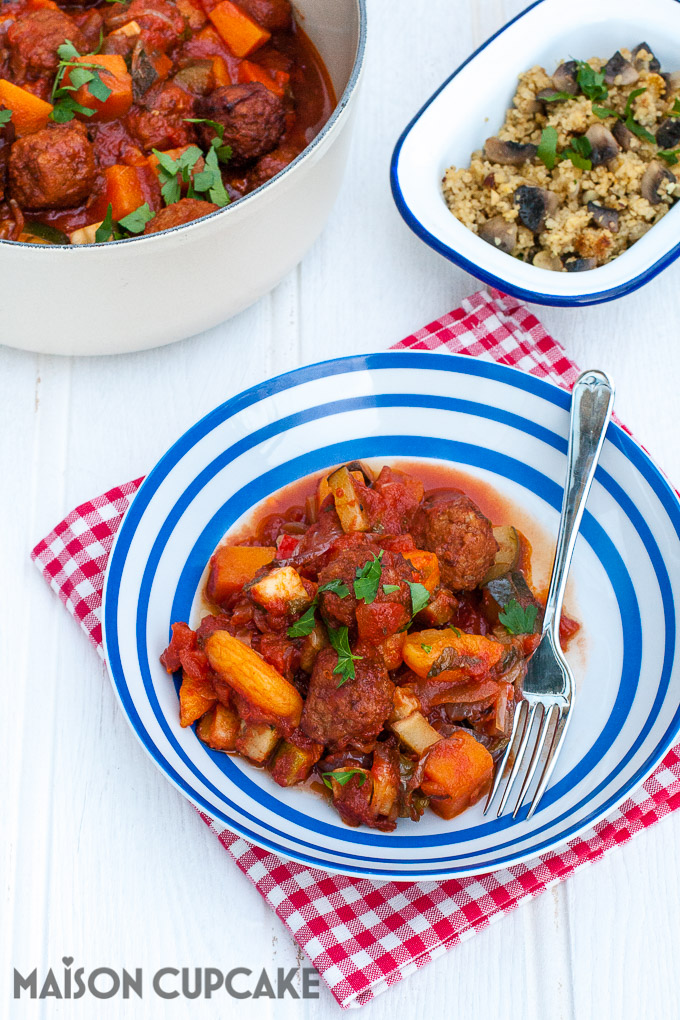 Meatball casserole Moroccan tagine style stew – notes on the recipe
This meatball casserole recipe does have a fairly long list of ingredients. If you don't have all of them to hand don't panic!
I think of this recipe as being like the allegorical "stone soup". So long as you have the tomatoes, garlic and onions (and in this version the meatballs), you can miss out or substitute any of the other ingredients.
The combination of mint, ras al-hanout and thyme is – for me at least – what makes this a Moroccan tagine style recipe. You could add prunes instead of apricots, you could use parsley instead of one of the other herbs. Instead of squash you could use swede, instead of the courgette you could use peppers etc. If you cannot find ras al-hanout they do sell it on Amazon or you could substitute with mild curry powder.
Depending how spicy your family like their food you can scale the heat of this tagine up or down. The red chilli can be skipped or less used, the ras al-hanout can be halved.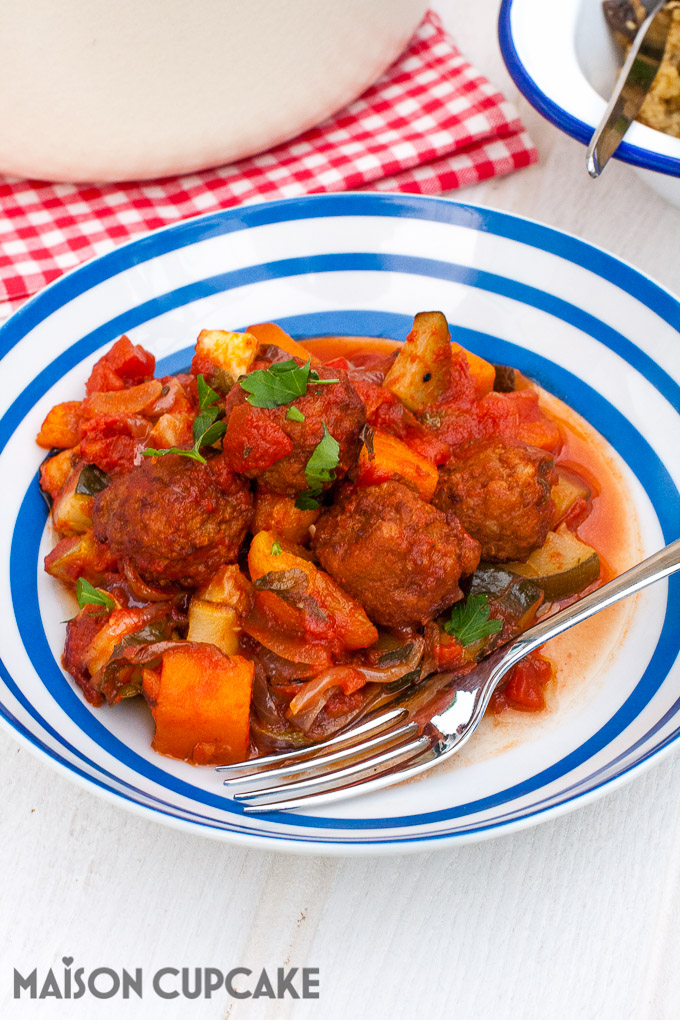 Do I need a real tagine pot?
If you have one that's great – the purpose of a conical tagine dish is that the condensation builds up on the inside surface and runs back down in to the food. It's a traditional north African cooking dish that keeps all the moisture and flavours in the food.
A traditional casserole dish or Dutch oven will cook this tagine style stew just as well. Admittedly if you want to serve the tagine in authentic north African style then a tagine pot is the way to go. I don't have one yet but if I ever use one I'll update this post and report back!
This meatball casserole recipe could also be adapted for use in multicookers or pressure cookers. Since the Swedish meatballs are already cooked, you only need to make sure the vegetables are cooked through and everything heated thoroughly. Equally, if you're not in a hurry, you could make it in a slow cooker or leave in the oven on a low heat until ready to serve.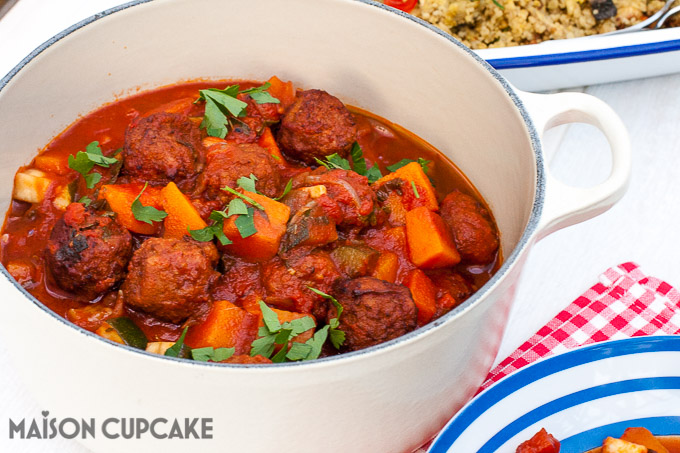 Meatball casserole Moroccan tagine style stew – ways to serve
This meatball casserole easily provided six grown up size portions and would be wonderful for batch cooking and freezing ahead.
Decanted into tupperware containers it also makes a tasty microwaved packed lunch for the office.
You could serve this tagine style stew either as a family dinner or as a help yourself buffet at big parties.
The Mediterranean flavours make it perfect for summer whilst the comfort food feel makes it equally warming for winter meals too. This meatball casserole could be served with either couscous, rice or mashed potatoes.
Have you ever tried Moroccan tagine?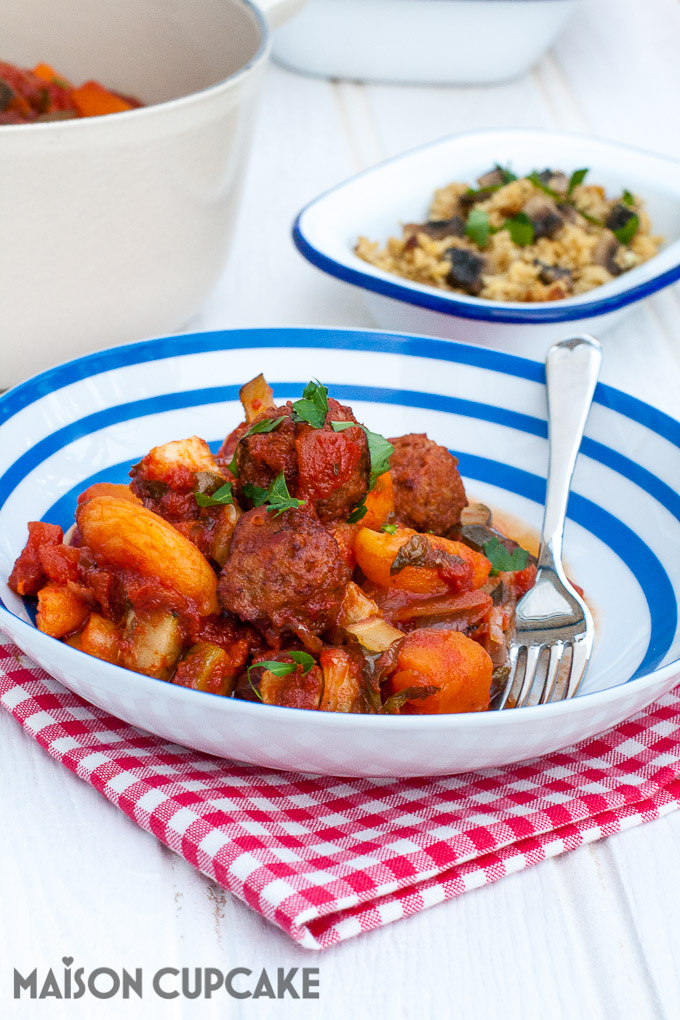 Get the look:
Almond 20 cm casserole* by Le Creuset
Enamel cookware* by Falcon
Red check napkins* (similar to those shown)
Ras al hanout* spice mix by Al-Fez
Breton blue bowls by Carrefour in France, similar blue bowls* available from Mason Cash.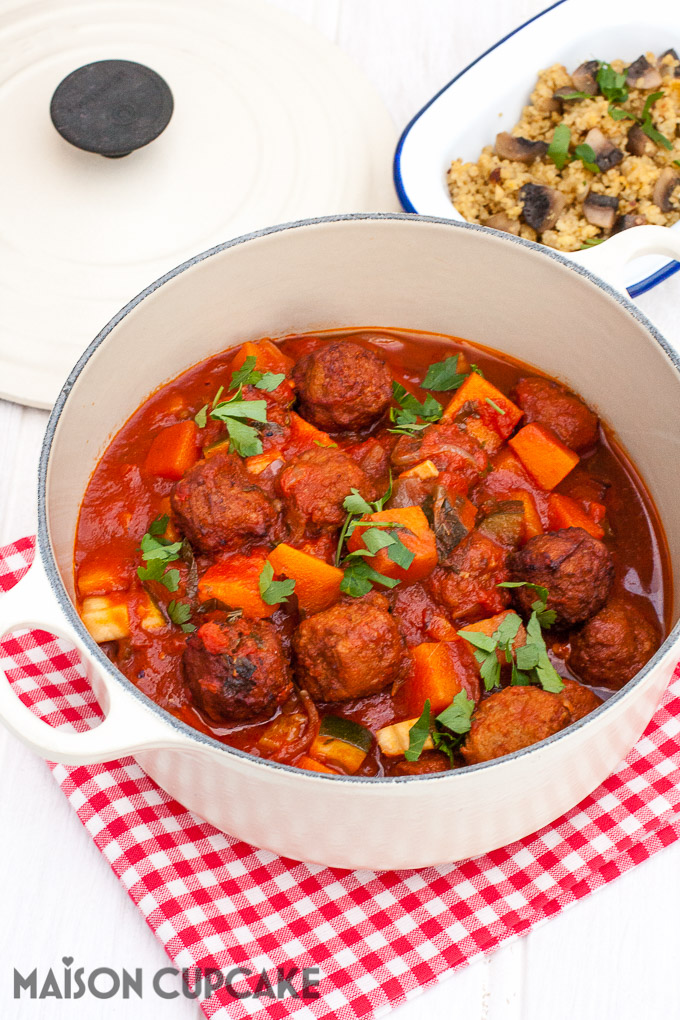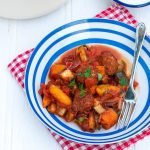 Print Recipe
Meatball casserole Moroccan tagine style stew
Here's a quick easy meatball casserole with the flavour of a Moroccan tagine style stew to make a family meal in under 60 minutes. Perfect for batch cooking and freezing.
Ingredients
1

tbsp

light olive oil

1

large red onion

finely sliced

3

cloves

garlic

finely sliced

half a red chilli

finely chopped

300

ml

vegetable stock

400

g

can chopped tinned tomatoes

1

level tsp ras-al hanout spices

or mild curry powder

300

g

diced butternut squash

1

medium courgette

chopped into chunky dice (around 300g)

1

tsp

chopped or dried thyme

12

dried apricots cut in half

1/2

tbsp

fresh mint

finely chopped

2

x 230g packs Scan Swedish meatballs

1

tbsp

fresh coriander

finely chopped
Instructions
Preheat the oven to gas 6 / 200c.

In an oven proof casserole dish on a medium heat, heat the olive oil and fry the red onion and garlic for 2-3 minutes. Once the onions and garlic are starting to soften add the chilli and ras al-hanout spices and continue to cook on a low heat for a few minutes more.

Next add the vegetable stock, tomatoes, butternut squash, courgette, thyme, mint and dried apricots. Raise the heat and when it reaches simmering point add the Scan Swedish meatballs. Give the casserole a final stir before putting the casserole in the oven. Cook for 25-30 minutes in the middle of the oven until the vegetable cubes are cooked.

For an authentic Middle Eastern style, serve alongside cous cous.
More Middle Eastern style recipes
Sweet potato and lime hummus here at Maison Cupcake
Turkish zucchini fritters at Tinned Tomatoes
Lamb rice with crispy potato rice at My Custard Pie
Roasted chicken legs with Za'atar and pomegranate at Franglais Kitchen
And here's a traditional side dish for a tagine – this quick easy mushroom couscous – but you'll have to wait until the next post for me to publish the recipe!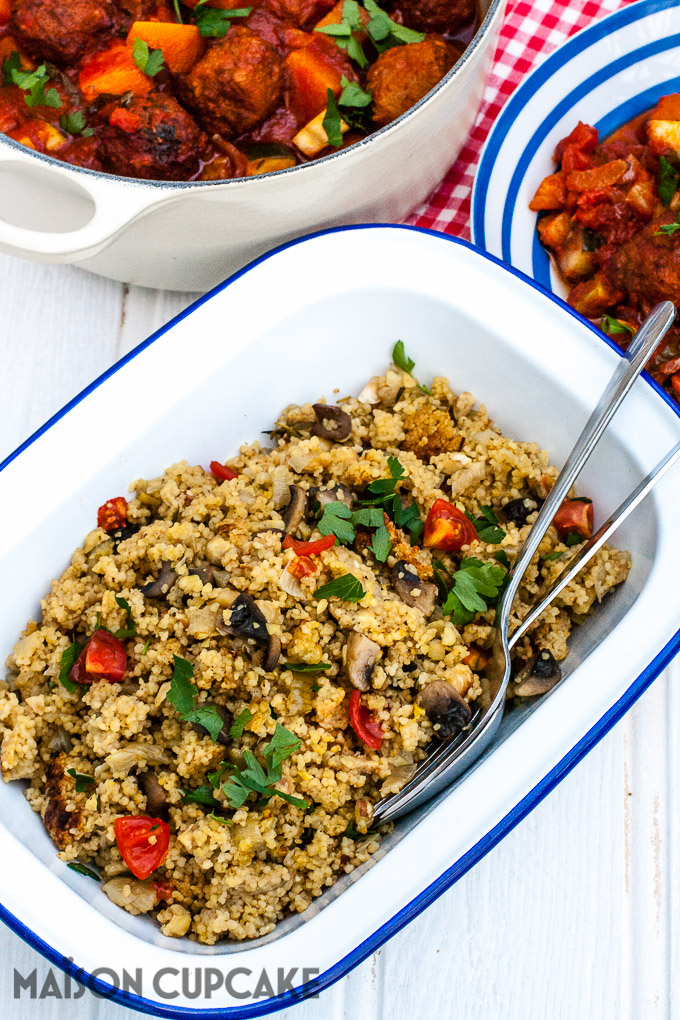 *Affiliate links used in this post. Follow Scan Meatballs on social media via Scan Meatballs Facebook page and Twitter @scanmeatballs. Meatball casserole Moroccan tagine style stew recipe commissioned by Scan Meatballs.