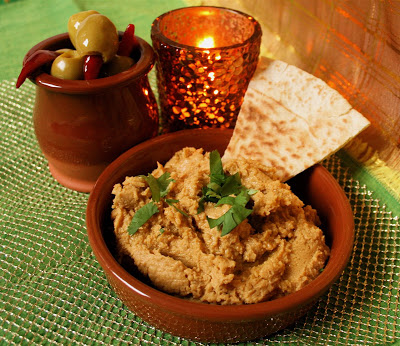 Amongst the dregs of my recent yard sale you will find a reindeer that poops jelly beans, a broken kettle and a heap of Trinny and Susannah books. These are still bound for the charity store or dump but I am seeing other items with new eyes. These terracotta dishes, once sold filled with desserts from Marks and Spencer are perfect for Mediterranean and Middle Eastern food.
Last week, my son was having a fabulous time elsewhere with his friends and I had a rare opportunity to photograph food in daylight. Three dishes to shoot and using my new found inspiration from Meeta of
"What's For Lunch Honey?"
I had plans to style them all up individually in my back bedroom where the best light is. It was a gloomy rainy day or else I would have been outside as had been successful for for the
Banana Pecan Fudge cake
and
Mini Sugar Plum Tarte Tatins
last month.
The fabrics you see are all from a previous Christmas project left over in my "Magpie Cupboard".  I like that my Magpie Cupboard now has purpose and is not just nagging me about unfinished (unstarted usually) sewing projects.
For everyone asking about the Caterpillar.  Here is a sneak peak.  I have lots of pictures of the process making him and will do proper post on him soon: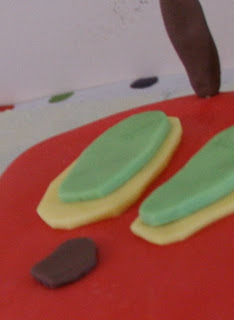 That's all you're seeing for now!
Food Blogger Connect
has given me plenty to think about, one thing is how I want to be more organised and know a little further in advance what I will be writing about and when. Quite often I want to cook something and put it on here but then decide it would be more relevant at a different time of year. So if you want strawberry cheesecake here you need to wait until Wimbledon.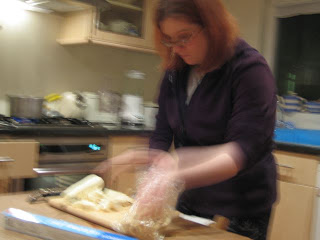 Sunday: cooking in a blur
Sundays for me are usually spent cooking from morning to dusk. Monday mornings, I now plan to take photos. I took these I'd been busy making various items you will see on here shortly.  Hopefully I can stick to a loose itinerary of things to post during the forthcoming month and you'll start seeing more frequent, more relevant posts and I will feel more organised.  She hopes.
Also, I'm trying to find a slightly tighter direction for the Maison Cupcake blog.  Outside blog life it is my goal to launch a party catering company which also does cakes.  We're a few months yet from doing that but I am starting to find my feet doing small jobs for friends and local contacts – such as the caterpillar cake which will be posted soon.  At Food Blogger Connect, people naturally assumed that I made cupcakes but I explained that my use of the word "Cupcake" was more a term of endearment than to signify cupcake bakery.  You'll notice that the majority of the famous cupcake bakeries, Primrose, Hummingbird, Lola's etc do not use the word "cupcake" in their title even though that's what they're famous for.  I definitely will be featuring cupcakes here but there will be plenty of party food too.
Today's recipe is ideal for parties. Hummus is a perennial party dipping favourite, great for dunking cucumber sticks and carrots into, it's even a healthy option that waist watchers will tuck into – although their ratio of cucumber stick versus hummus might be different to mine.
Whilst creating this post I had Bethany of
Dirty Kitchen Secrets
in mind. You can see her here in this video from the Food Blogger Connect site. Bethany is half Lebanese and half American, a bit like this hummus.  I've taken a Middle Eastern dish and added what I consider to be an American flavour (ok I own up, I meant to do this in time for Thanksgiving but got way laid) with sweet potato, lime and cinnamon. I'm not sure if this interpretation would go down well in all quarters but I'm hoping Bethany and all hummus lusters will like it.
Another thing we talked about at Food Blogger Connect was the importance of developing a strong "brand" identity for your blog and other social media. Dirty Kitchen Secrets has this in spades. I can already see the bags and t-shirts dancing out of the shop some day so I urge you to check it Beth's blog  if you haven't already.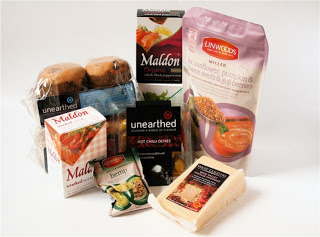 Some of the contents of the Food Blogger Connect goodie bags
I have served the hummus alongside the wonderful Unearthed olives stuffed with chilli that featured in the wonderful Food Blogger Connect goodie bags that Bethany worked so hard to pull together.  I had a great time chatting with Beth and her husband Chris on the day after Food Blogger Connect and hope to visit her at home in Brighton some time in the New Year.  So this post it my little gift to her.
Emma Bridgewater Give Away Winner!
Finally, before the recipe, I am delighted to announce the winner of the first ever Maison Cupcake give away: Pam of
The Cooking Ninja
will be receiving her Emma Bridgewater bag in the post shortly.  There will be more Maison Cupcake give aways in the New Year.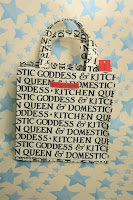 Sweet Potato and Lime Hummus
Ingredients:
400g can of chickpeas (you can of course soak and boil your own if you have time)
3 heaped tbsp tahini
100mls olive oil (you may need more depending on preferred texture)
2 crushed garlic cloves
100g cooked, mashed sweet potato
Juice of a whole lime (microwave it for 10 seconds to yield more juice)
1/2 tsp cumin
1/2 tsp cinnamon
1/4 tsp paprika
Salt to taste
More oil for drizzling
Fresh chopped coriander to serve
Method:
Very very easy. Blitz your chickpeas, tahini, oil and garlic in the food processor.  Leave some texture in the bits as it is going to be blitzed again in a minute.  Add more or less oil than I've stated depending on how runny or thick you like your hummus to be. Add the rest of the ingredients to the processor and blitz again adding more oil if you like.
This hummus will keep for a week in the fridge, oddly I've found that although traditional hummus "turns" after 4-5 days, this one still tasted as good after 6-7 days which is useful if you are making it ahead of parties or have some left over to use afterwards.  Serve drizzled with oil and then some chopped coriander sprinkled on top. It tastes great with toasted pitta bread.