An easy mushroom couscous dish you can make in under thirty minutes to batch cook for parties, family meals or the freezer. This version is made using a Redmond Multicooker.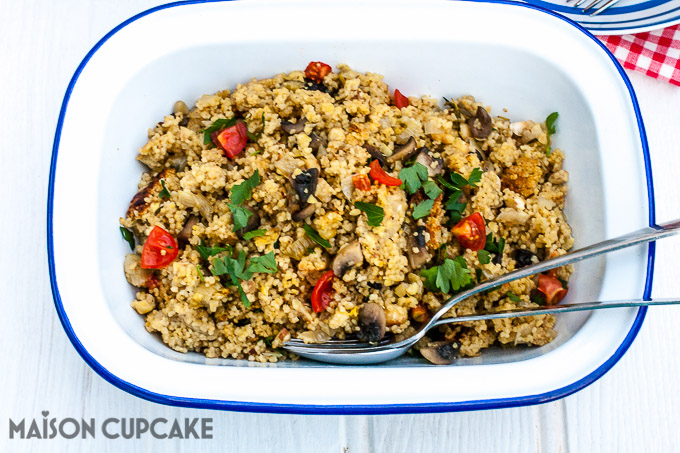 Couscous is not a dish I grew up with yet once tried I was determined to cook it myself and delighted how simple it was to do so. Couscous is a traditional north African semolina dish made from wheat granules. Since several countries in north African are former French colonies, couscous enjoys much popularity in France and it was there I ate it for the first time.
I attended a large memorable family wedding in Lyon in around 1988. After a day featuring two ceremonies (civil and church), the evening reception centrepiece was an impressive ice sculpture shaped like tower bridge and adorned with a union jack and French tricolore flags. A pair of croquembouche tower wedding cakes fizzed with sparklers. Two precarious pyramids of glasses stood high upon tables where the bride and groom joyfully poured champagne from top to bottom filling every guest's glass. My grandfather read a speech phonetically in French even though he barely spoke a word. The disco played Vanessa Paradis and Voyage Voyage until 4am.
A huge buffet served couscous. Seeing it for the first time, I was curious about this unfamiliar dish that wasn't quite rice. Probably at that point I'd mostly eaten rice served plain so couscous mixed with cooked vegetables seemed more adventurous. By the time I left home for university in the 90s, food in the UK became more adventurous and I was able to buy couscous in the supermarket. Couscous has been a regular fixture on my dinner table ever since. Since the grains absorb the liquid so effectively (especially if you leave the couscous to stand a while) it is an easier dish to get right than rice which can be prone to stickiness.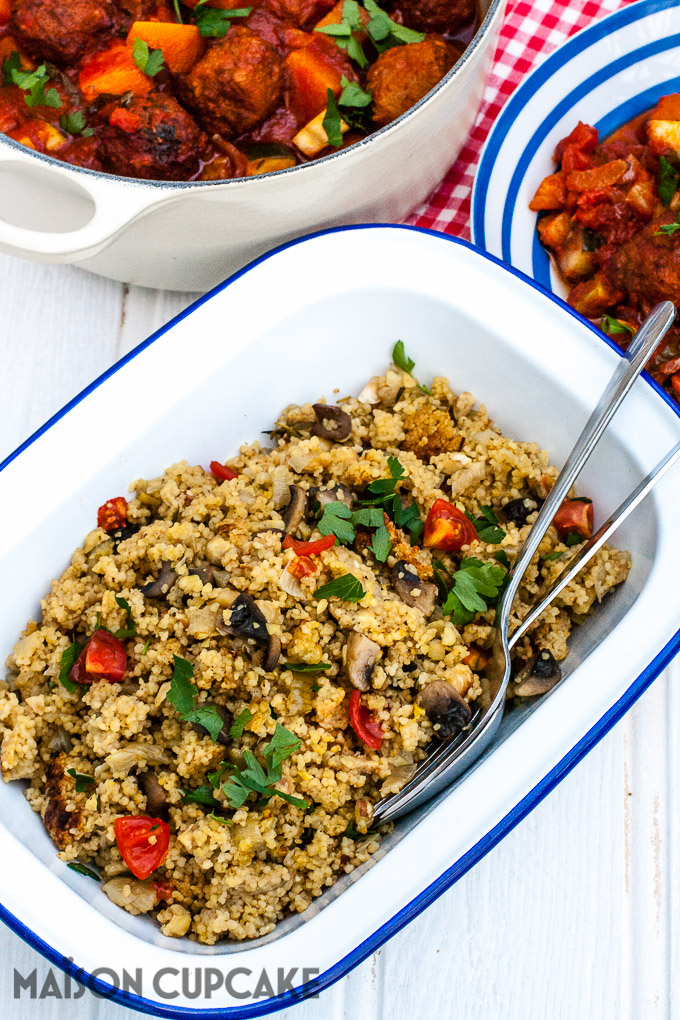 Cooking with the Redmond multicooker
A multicooker with its range of cooking modes would be suitable for a student at university with rudimentary cooking facilities or equally to expand the capabilities of a typical family kitchen. You are effectively gaining an extra hob or oven by using a multicooker.
The accompanying tools and 16 automatic programs on this particular model allow you to fry, steam, bake and stew. There are also dedicated programs for pasta, porridge and soup.
The multicooker differs from a slow cooker in that it lets you cook dishes at normal speeds – although you could set it to lower temperatures to cook things such as stews for a longer period.
"3D" heating means the cooking chamber is heated from the sides as well as underneath. There are also time delay and keep warm functions for maximum flexibility. The multicooker is accompanied by a 100 recipe cookery book to help you get the most out of its capabilities.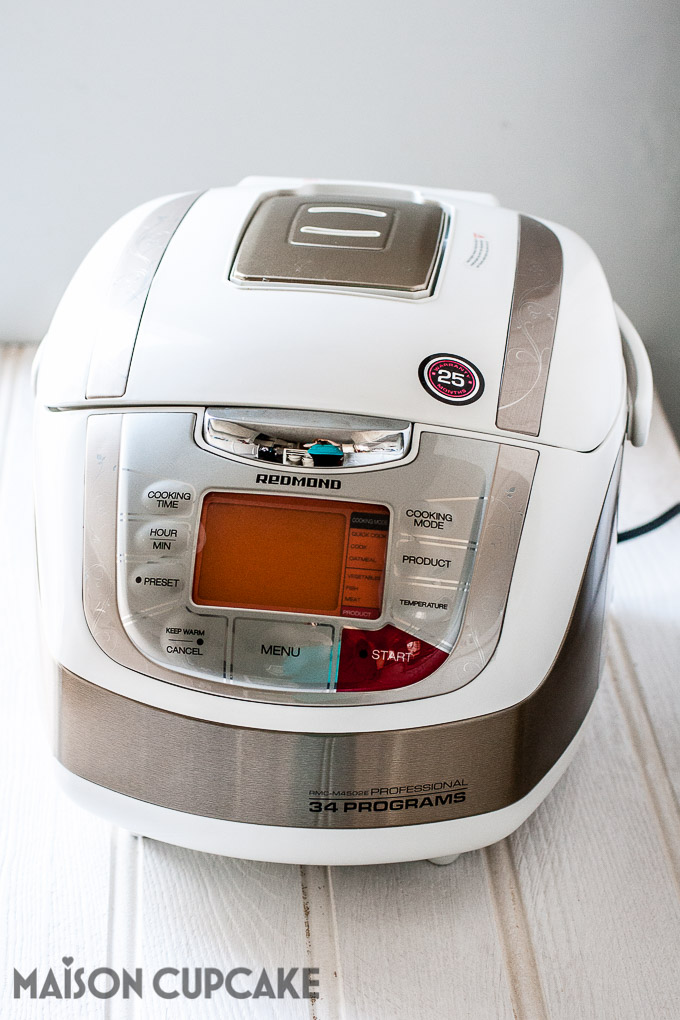 This particular Redmond multicooker RMC-M4502E model comes in white/silver (as shown) or black/gold. It retails at around £104 making it competitively priced compared to other manufacturers.
The design is very neat with sleek lines and a useful handle to pick the machine up. Which would be very useful if you were taking it in and out of cupboards. It is not too heavy or unwieldy to pick up. The capacity at 3 litres is enough to make a family sized portion for 6 people. The button panel is easy to wipe clean. The components come apart easily for cleaning and are quick to reassemble. Unlike some other multicookers this machine is very quiet.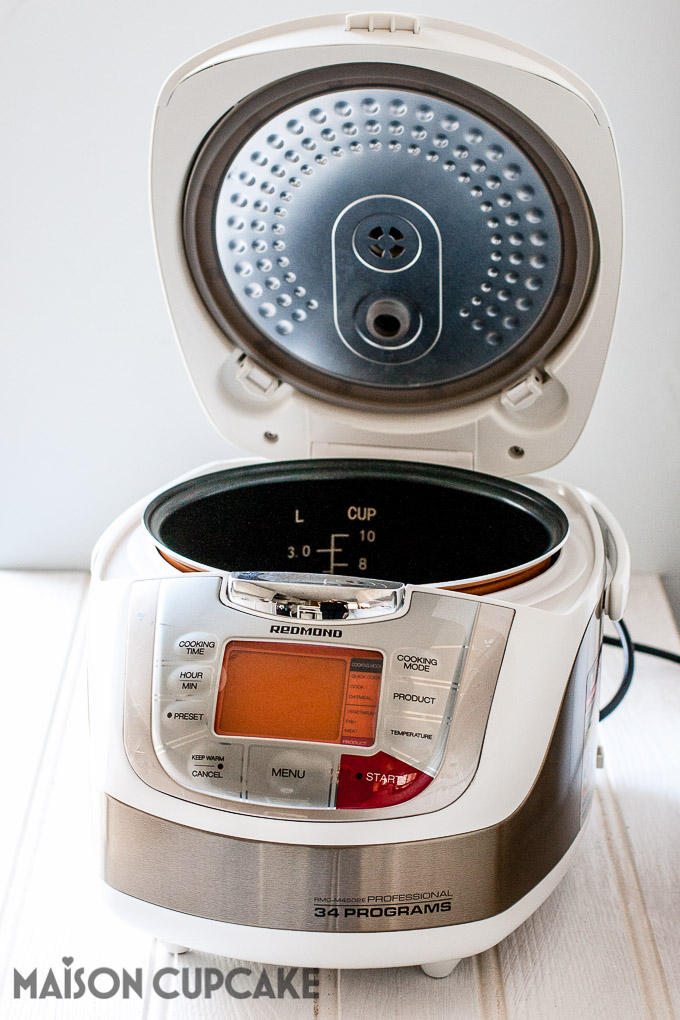 The main cooking chamber is non stick with a volume gauge on the inside surface. There is a gripping handle to remove the cooking chamber and a selection of accessories such as steaming tray, frying basket and ladle.
What I especially liked about this machine was the "keep warm" setting and this was just right for today's garlic couscous recipe as I made that over half an hour earlier than needed. Many dishes could be kept to temperature until you are ready to serve i.e. stews, soups or pastas. So this would be a handy gadget for entertaining when you are not 100% certain what time you are serving dinner but want everything to be ready.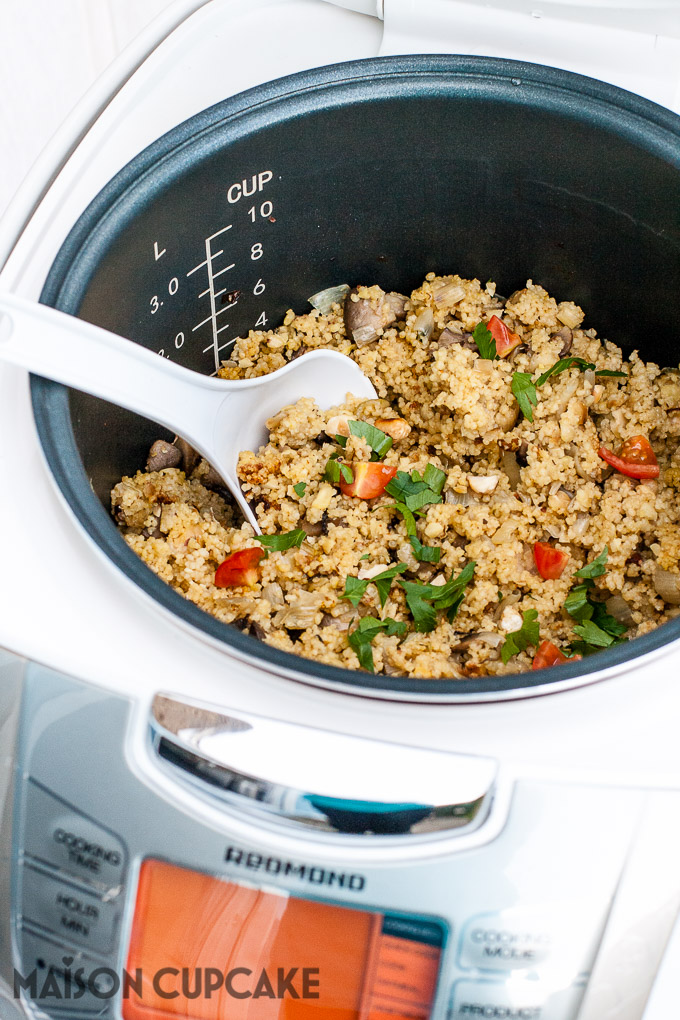 Garlic mushroom cous cous with hazelnuts – notes on the recipe
This recipe utilises three functions of the Redmond multicooker; "fry", "pasta" and "keep warm".
Freshly toasted nuts with the skins just removed taste best but if you would like a shortcut either use shelled hazelnuts or ready chopped ones.
If you wish to freeze this dish omit the tomatoes and coriander. Reheat the garlic couscous, use a fork to refluff the grains and add the tomato and coriander when serving.
Ways to serve cous cous – variations on the recipe
What I especially like about couscous is that you can serve it hot with meat or pulses in sauce (such as a Moroccan tagine style stew) or cold as part of a salad or buffet. Cold couscous is equally suitable for picnics or packed lunches. Children tend to enjoy couscous as it is soft with a texture halfway between pasta and rice.
The chopped hazelnuts stirred into the couscous grains after cooking give a more textured bite rather than crunch. If you wanted a softer dish for children you could omit these or add them before the water so they get slightly steamed.
You can mix and match the flavours in this recipe by switching the type of nut, swapping shallot for red onion, using parsley instead of coriander and tinkering with the flavours of stock. Whack up the heat with chilli if you wish. Likewise be generous or skimpier with the garlic depending how garlicky you like it. A colourful alternative to mushrooms is diced red pepper and harissa can be stirred into couscous for a spicier version still.
How do you like to eat couscous?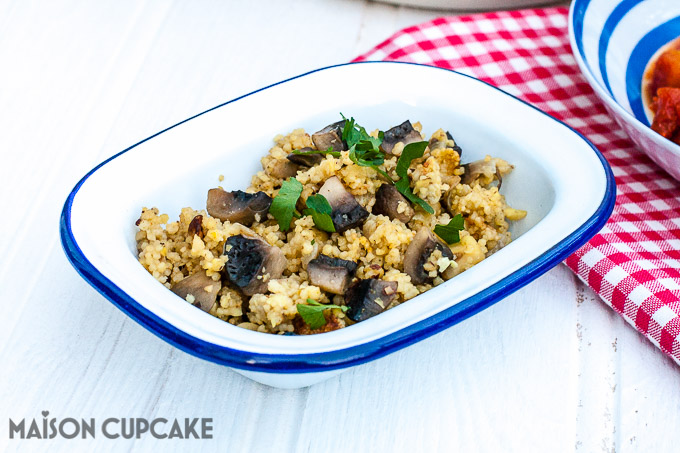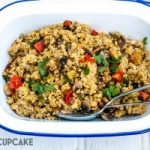 Print Recipe
Garlic mushroom couscous with hazelnuts
This easy garlic mushroom couscous is an ideal vegetarian side dish for tagines or Middle Eastern dishes. It can also be served cold for salads, packed lunches and picnics.
Ingredients
75

g

whole hazelnuts in their skins

1

tbsp

rapeseed or ground nut oil

200

g

shallots

peeled and sliced

3

cloves

fresh garlic

peeled and finely chopped

200

g

mushrooms

roughly chopped

300

g

couscous

600

ml

vegetable stock

coriander and cherry tomatoes to garnish
Instructions
Program the Redmond multicooker to "Fry" setting.

Add the whole hazelnuts to the cooking pot and keeping the lid up, let them toast for several minutes. When they've started to darken, remove them, turn the Redmond multicooker off and allow to cool slightly. Roll the nuts in some kitchen paper to loosen and remove the brown skins. Roughly chop the nuts and set aside.

Restart the multicooker on "Fry" setting. When warm add the oil and allow to heat before adding the shallots. Put the lid down but remove the vent so condensation can escape. When the shallots have had 2-3 minutes to start cooking, add the garlic and leave to cook for 2-3 more minutes keeping the lid down.

Next add the mushrooms and let these cook with the shallots for 5 more minutes. Stir occasionally but replace the multicooker lid inbetween.

At the end of the "Fry" program re-set the multicooker to "Pasta" setting. Add the stock and couscous and stir to combine the ingredients. Replace the lid and leave the couscous for around 8 minutes to absorb the stock. Stir once halfway through this program then at the end of the cooking time use a fork to fluff the grains.

Use the "Keep Warm" setting to keep the couscous warm until you wish to serve. At the point of serving, stir in the chopped nuts and scatter over some chopped cherry tomatoes and coriander.
Get the look:
Multicooker.com stock a range of various Redmond multicookers.
Falcon enamelware* from Amazon.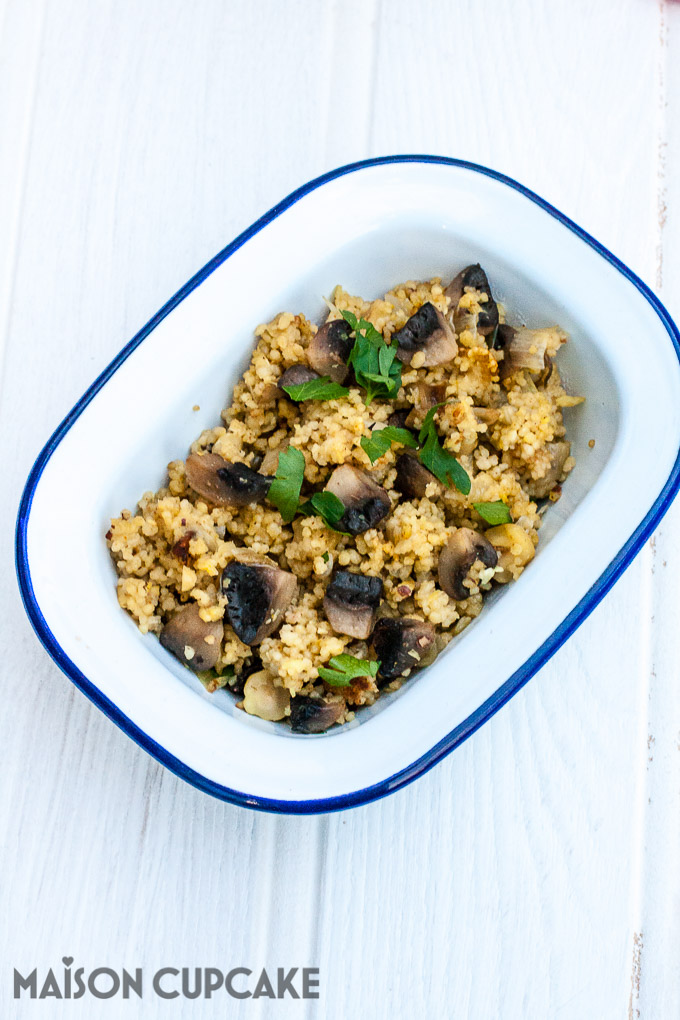 Serve cous cous hot or cold with a nicely sauced spicy stew such as my Moroccan tagine style stew meatball casserole recipe which could easily be adapted to make in the Redmond Multicooker.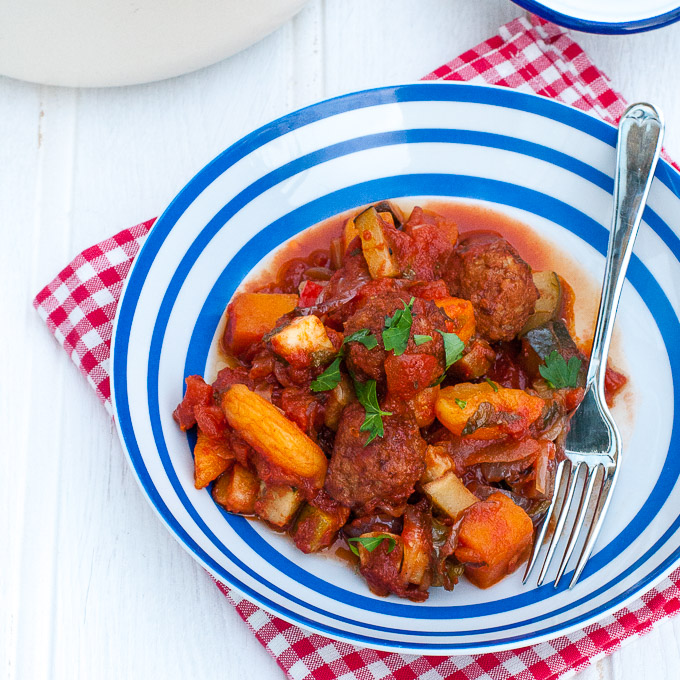 *Affiliate links used. Follow Redmond on social media at Facebook.com/redmondmulticookers.
Multicooker provided and garlic mushroom cous cous recipe commissioned by Redmond.