New Year, new leaves and this morning lots of us will be turning over them.
I speak with a certain amount of smugness. I turned over my new leaf back on December 1st, a pre-emptive strike on the damage that might otherwise be wreaked during the festive season.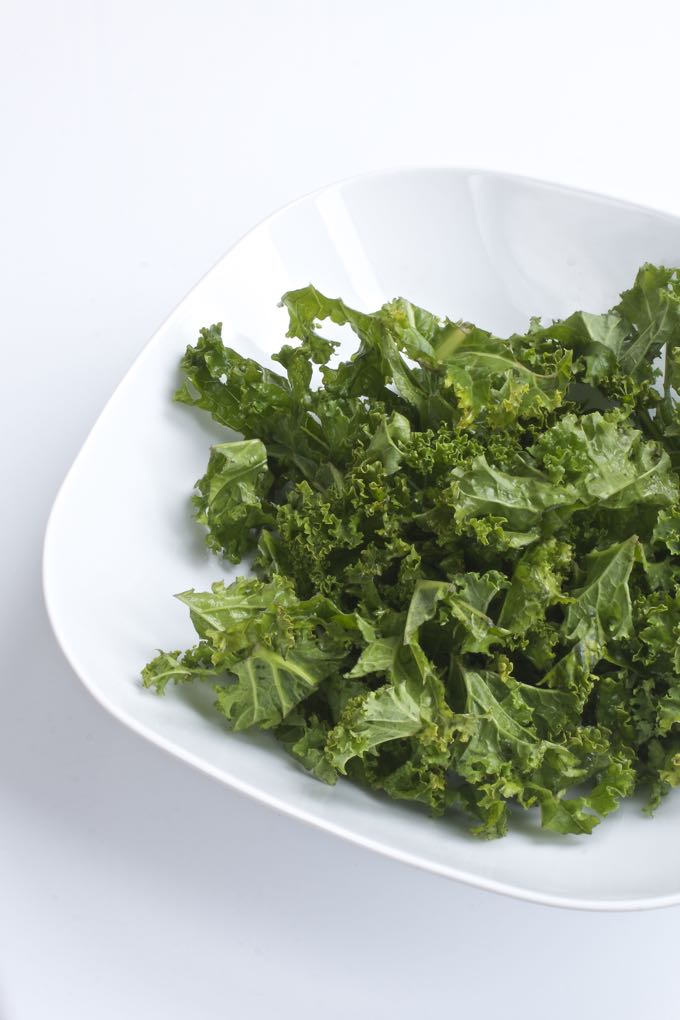 Too often winter is a time when we curl up inside and do less. Top that with a series of pre-Christmas parties, the main event itself and a final what-the-heck before New Year's Eve.
And then midnight strikes. The party's over now.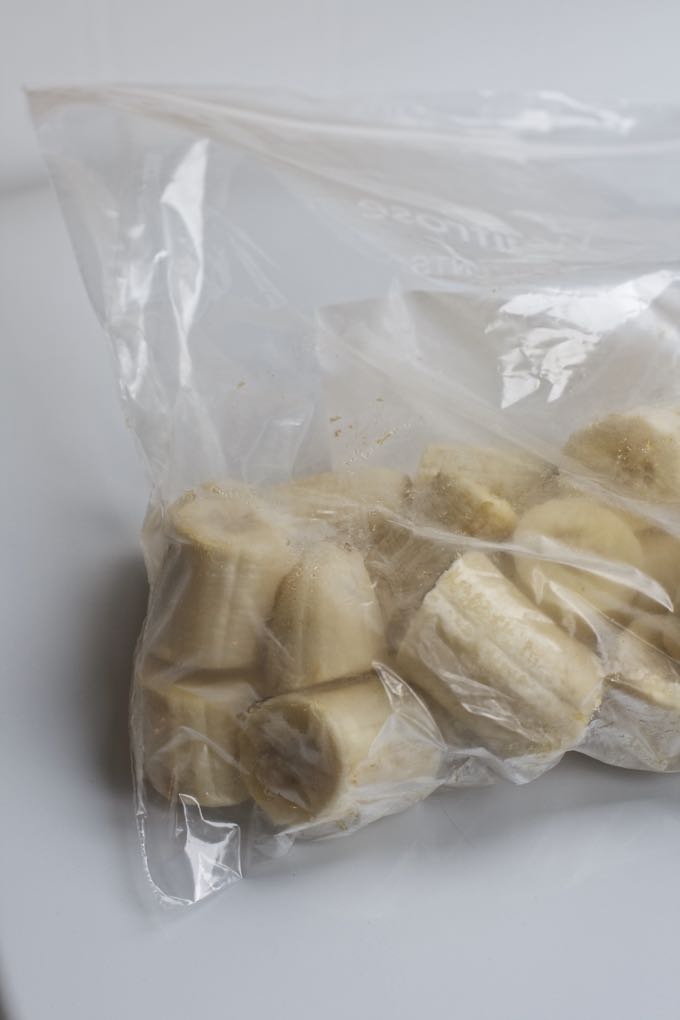 We often don't realise what extra pressure we place on our insides until we start to feel rough the next day. The good news is that if you are kind to your insides, you might feel the benefits much quicker than you expect.
One month ago, I decided to check all the boxes of eating more fruit and veg, eating more wholegrains alongside drinking less alcohol and less snacking. Rather than reach for a bag of crisps or bar of chocolate, if I was peckish I'd nibble some nuts or dried fruit. Instead of the same old sandwich for lunch I'd assemble a salad of low fat protein, fresh leaves, chopped salad vegetables and nuts. It has become something of a game to see just how many ingredients I can fit into one salad.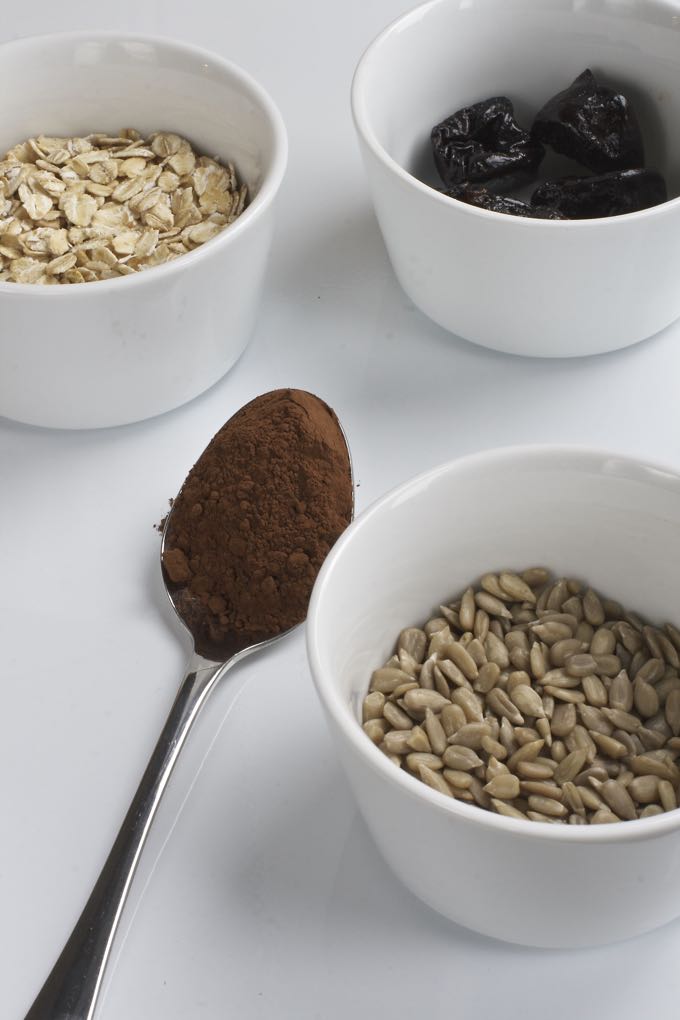 Personally, I felt more energetic by the first evening and this gave me the incentive to stick to my new habits in the following days. Instead of feeling exhausted and collapsing on the sofa by 6pm, I still had the energy to get the most out of my evening. After my son has gone to bed, I still like to watch telly with my husband but I'll savour a chilled yogurt rather than a high calorie dessert.
Going to bed, I've managed to sleep more easily and in the mornings I've felt more rested and able to meet the challenges of the next busy day. Four weeks in and I feel fantastic. I still enjoyed Christmas but took particular care not to overburden myself by eating or drinking too much.
Admittedly that's quite a challenge over Christmas but I didn't want to erase the feelings of wellbeing I'd experienced in the previous few weeks.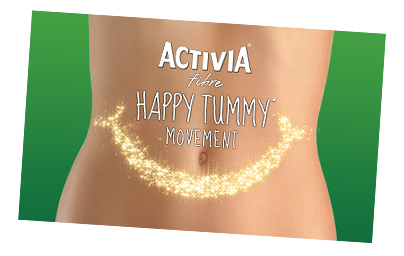 So it was good timing when Activia asked me to share with you, my favourite way to a #HappyTummy.
Activia have brought out a new product called Activia Fibre Topper which comprises wheat bran cereal with their delicious creamy yogurt with a unique blender of five live cultures, including the exclusive Bifidus ActiRegularis®.
As part of a healthy breakfast Activia Fibre Topper can help your digestive wellbeing and help you make the most out of life's moments this January. Activia Fibre contains wheat bran fibre that contributes to an acceleration of intestinal transit. The claimed effect is obtained with a daily intake of 10g of wheat bran fibre. It is intended to be enjoyed as part of a healthy balanced diet and lifestyle.
Just the job for mornings when I haven't got time to make anything before the school dash – I could grab one of these with a banana and some of my favourite pumpkin seeds.
Equally suitable for the Happy Tummy lifestyle I now love to start the day with one of my power blended smoothies made in my Vitamix. I feel especially virtuous to include raw green vegetables in these.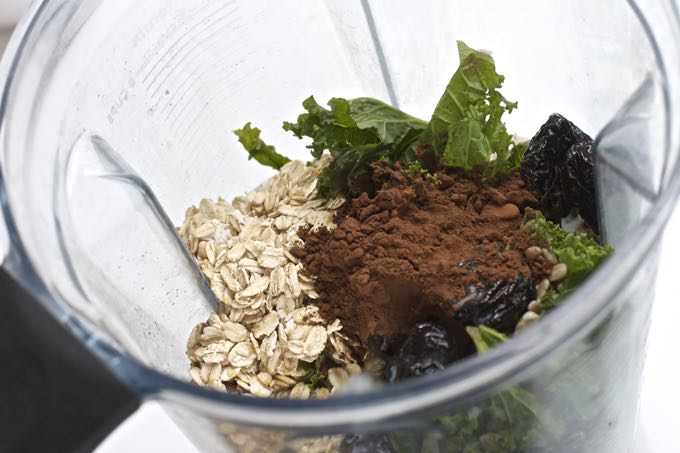 To save the smoothie being too Kermit-like I have found the addition of frozen banana and a few prunes gives a natural sweetness masking the vegetable flavour. The cocoa powder isn't absolutely essential but since I often make smoothies on alternate mornings, the brown cocoa disguises the discolouration that might naturally occur through oxidisation overnight. So when you wake up tomorrow, your chilled smoothie still looks as good as you feel.
Kale, prune and chocolate smoothie
Serves 2-3
Ingredients
6 chunks frozen banana (equivalent to 1 banana)
2 handfuls kale
6 prunes
2 tbsp sunflower seeds
1 handful jumbo oats
1 level tbsp cocoa powder
600ml semi skimmed milk
Directions
1. Place the frozen banana, kale, prunes, sunflower seeds, oats and cocoa powder into the jug of a power blender.
2. Pour over the milk and replace the lid.
3. On high power or a smoothie program, blend the ingredients in the Vitamix or power blender until completely smooth – around 30 seconds.
4. You can serve immediately or chill in the fridge for up to 24 hours. I tend to drink one glass immediately then chill the second one to enjoy the following morning.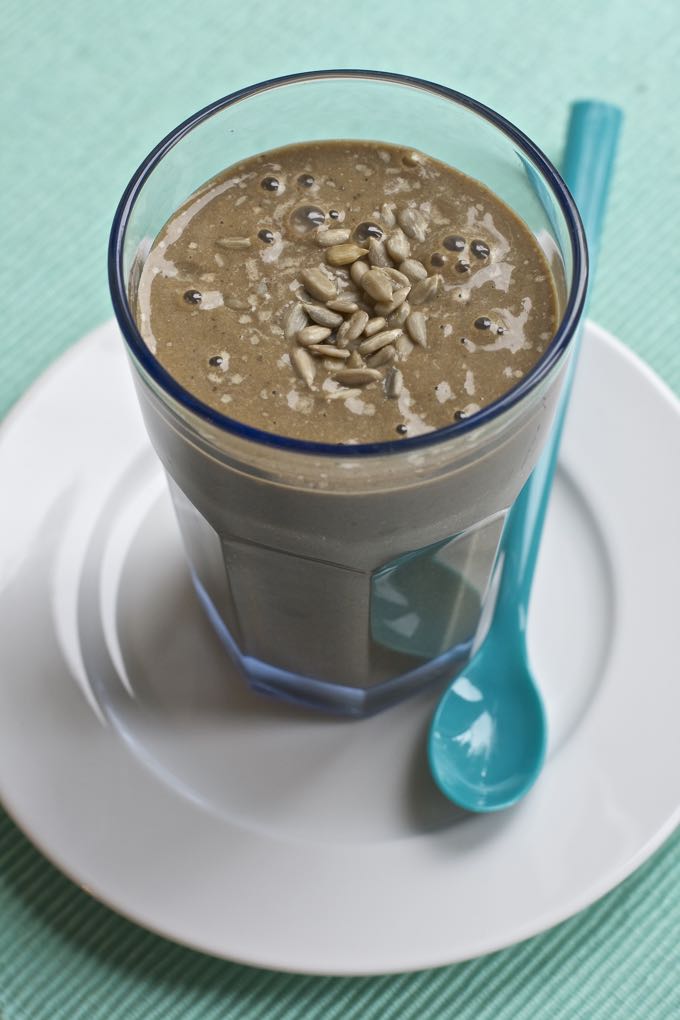 Throughout January, Activia will be celebrating how much you can get out of life when you have a #HappyTummy on Facebook and in-store across the UK. Activia will also be holding a daily giveaway of a "Happy Tummy hamper" containing lots of products to contribute to wellbeing. Once a week they'll also be giving away a luxury retreat to give someone an indulgent opportunity to feel good in January.
Post commissioned by Activia as part of their new #HappyTummy campaign. Join the fun over on Activia's Facebook page.