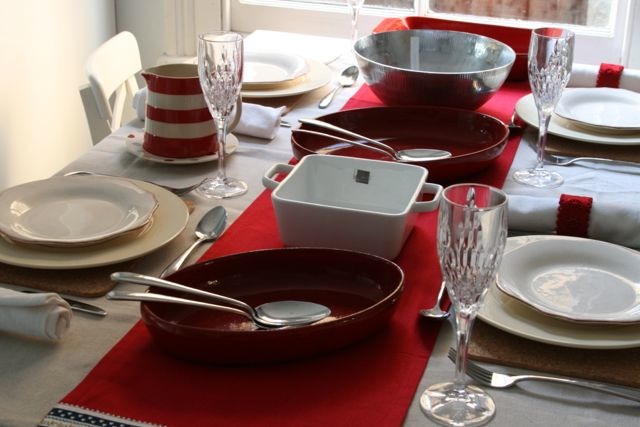 When I was a girl, one of my favourite jobs at my grandmother's house was to lay the table.
Probably I get my hoarding of crockery gene from her and there was an aladdin's cave of items we never seemed to use. She would tell me "those knives are for fish", "those dishes are for dessert". Add to the mix, "those plates are for best", "those glasses are for sherry" and you had one confused eight year old who just wanted to put all the sparkly shiny stuff out at once.
I did inherit various pieces of crockery from my grandmother's house – the set of oval red Italian ceramic bowls you see above for instance – but I've also amassed homeware that's reminiscent of her style if not exactly the same (notably the lack of Welsh dressers decked with willow pattern but one day if I get my "dream house" you never know 😉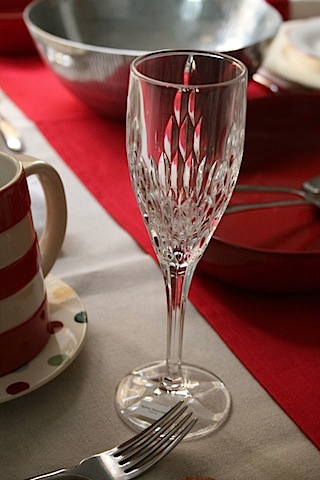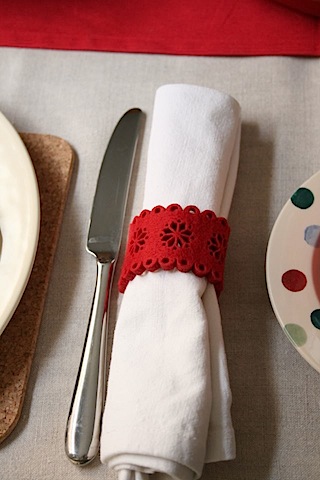 My grandma was very fond of red, it was her most frequent colour to wear. When she and my Grandad celebrated their diamond wedding anniversary, the family were most amused that the Queen's card depicted her dressed in red – "She's put your favourite colour on for you" we said.
I know my Grandma would have been very impressed with our table settings planned for Christmas, I suspect she'd have described them as "jolly" or "gay". I suspect too, she'd have been very proud of the ever increasing prop collection too.
And if Debenhams had invited my Grandma to style her Christmas table using items from Debenhams' dinnerware range I think she'd had thought all her Christmases had come at once. So it was with her in mind that I made my choices…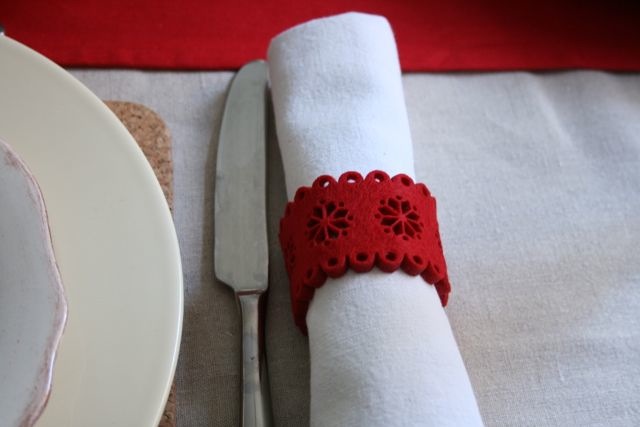 Kitchencraft red felt napkin rings – now reduced to £2.50.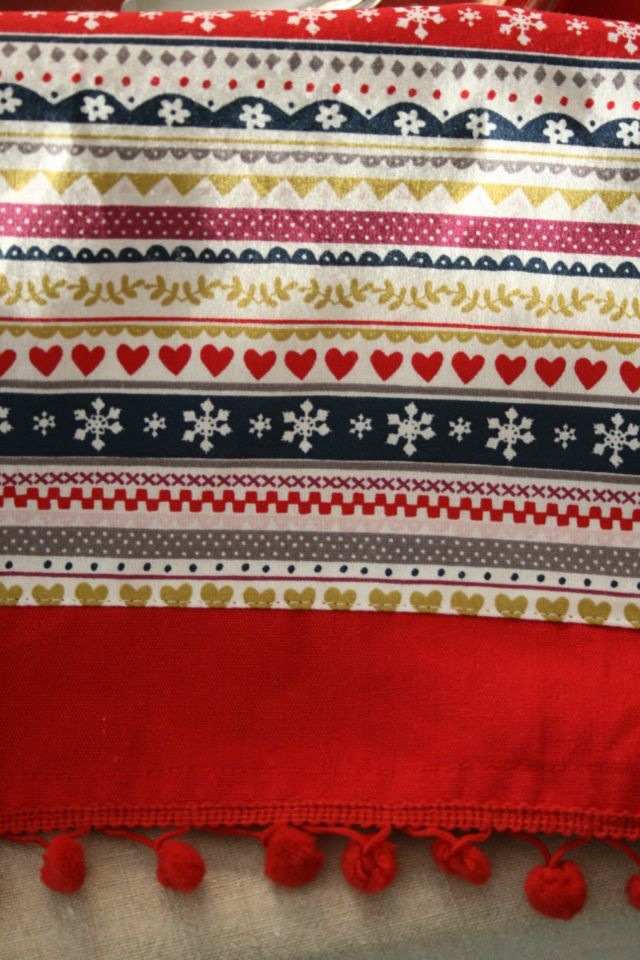 Patterned table runner by Ashley Thomas now £11.20 – I also picked up a matching apron now £7. (both half price)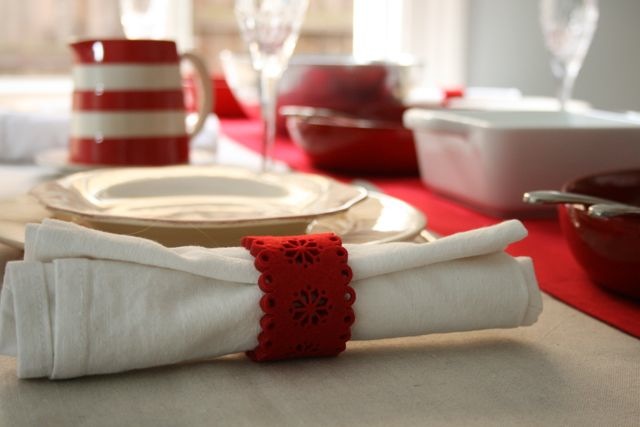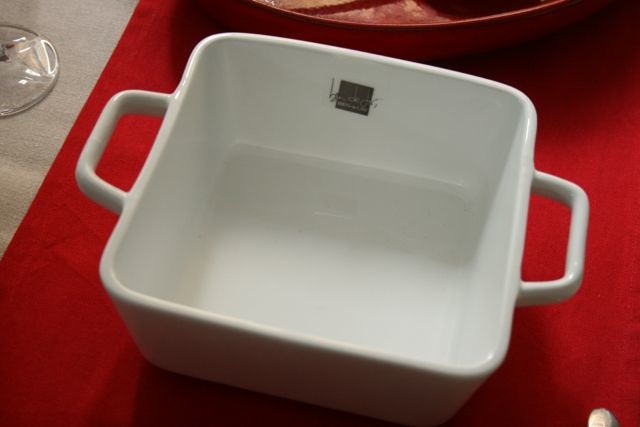 Mini roaster by Ben de Lisi – now £12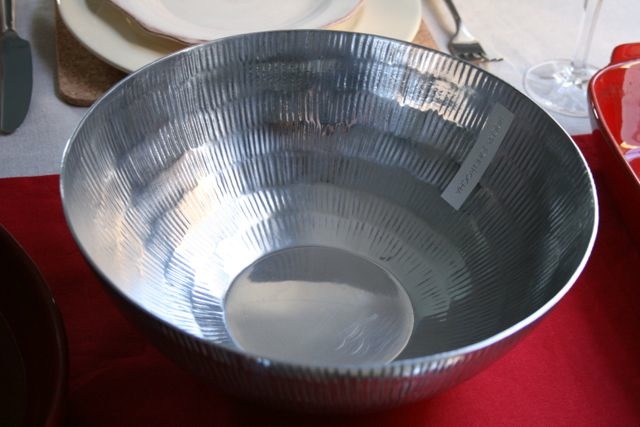 Silver bowl by Rocha John Rocha – now £15 – ideal for crisps, fruit or nuts.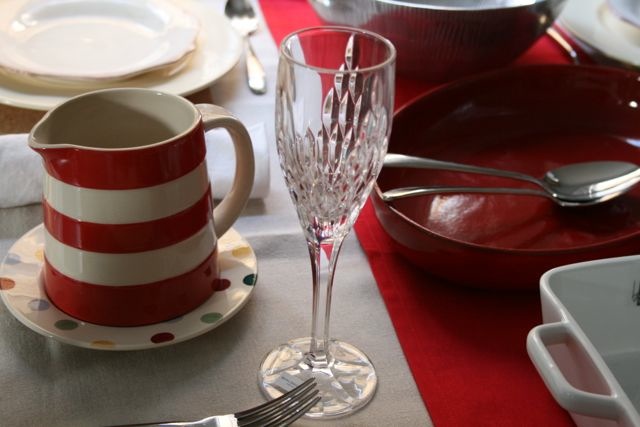 My favourite item was this set of six Royal Doulton crystal flutes now £42 down from £84. I've always been very fussy about wine glasses – not that I expect them to be crystal but I like them to be chunky and substantial yet still elegant. We've been using a set from Habitat for 15 years (many of which have since broken) and I've been on the look out for some good quality glasses lately. Although these are flutes, they're squat enough to get away with using them for ordinary wine too.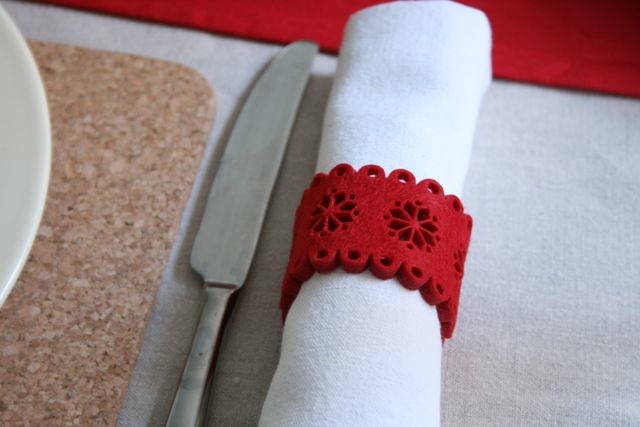 Set of six cork table mats £13 – my grandmother mostly used rush table mats but she had a set of big circular cork ones for special occasions.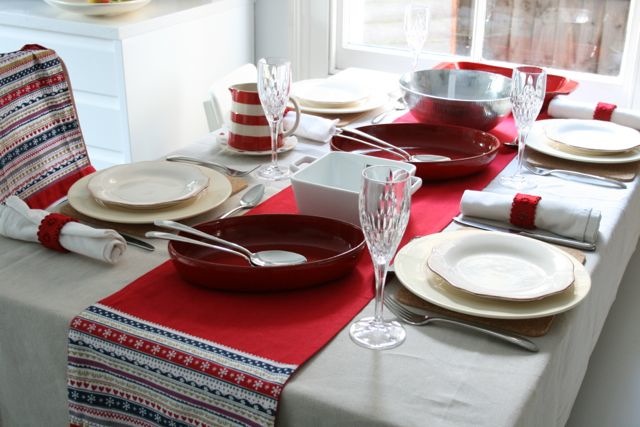 Put it all together with various items we already had:
Beige linen tablecloth by John Lewis (wedding present)
Cream plates – from Habitat, bought for the one occasion I hosted my Grandma for Christmas dinner rather than other way round)
Scalloped side plates – from a shop in France
Red oval bowls – inherited from Grandma
White linen napkins – wedding present from John Lewis
Red and white Cornishware jug – by TG Green, previously PR gift a few years back.
We look nicely kitted out, we're looking forward to our Christmas lunch of Norfolk Black turkey and this morning Ted presented me with a list of ingredients for the roast potatoes. Apparently we need "sage and majoram". Quite where a six year old picks up ideas like this I'm not sure.
Happy Christmas everyone!
With thanks to Debenhams for the voucher covering various items within this post. All thoughts and words are my own. Most items purchased from Debenhams were already discounted in pre-Christmas offers and prices may differ in the post-Christmas sale.