Get that gastropub vibe going at home with these easy sticky salmon fillets served in brioche rolls. Recipe commissioned by Baxters Deli Toppers #GetTopping campaign – find out more below.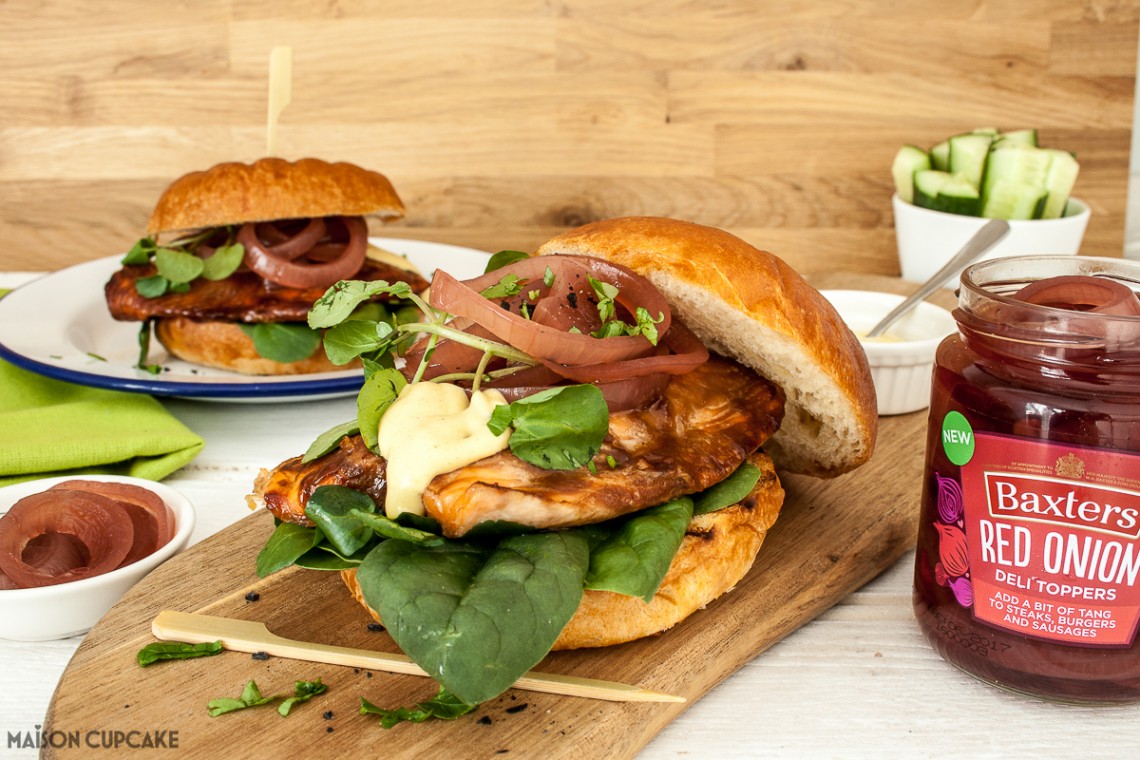 My favourite consequence of the street food and burger trend in recent years has been the appearance of golden brioche rolls in supermarkets. They're soft and squishy to eat and look amazing whether you serve out the pack or chargrill stripes on top for an authentic diner look.
Typically these would be used for presenting American style burgers but I've gone for a fishy fusion flavour instead.
Our freezer nearly always contains some salmon fillets for quick family meals. Sealed in individual bags, they are very easy to defrost in a hurry by placing in a sink or big bowl filled with cool water. To get the sticky finish and tasty flavour on these salmon fillets I have merely swiped them with a dollop of Ketjap Manis – a type of thick sweet Indonesian soya sauce – you'll usually find it in the world foods aisle.
Whilst the salmon fillets sizzle in the oven you can heat up the griddle. Once it's baking hot, simply lay each half of brioche roll on top and leave for 2 minutes or so to sear pleasing tiger stripes on the surface. Beware of moving the brioche around too much or you won't get clear black stripes. My tip is to use a fork to prise up one edge and peep underneath and carefully lever back down (without nudging sideways) if you still need more pronounced stripes.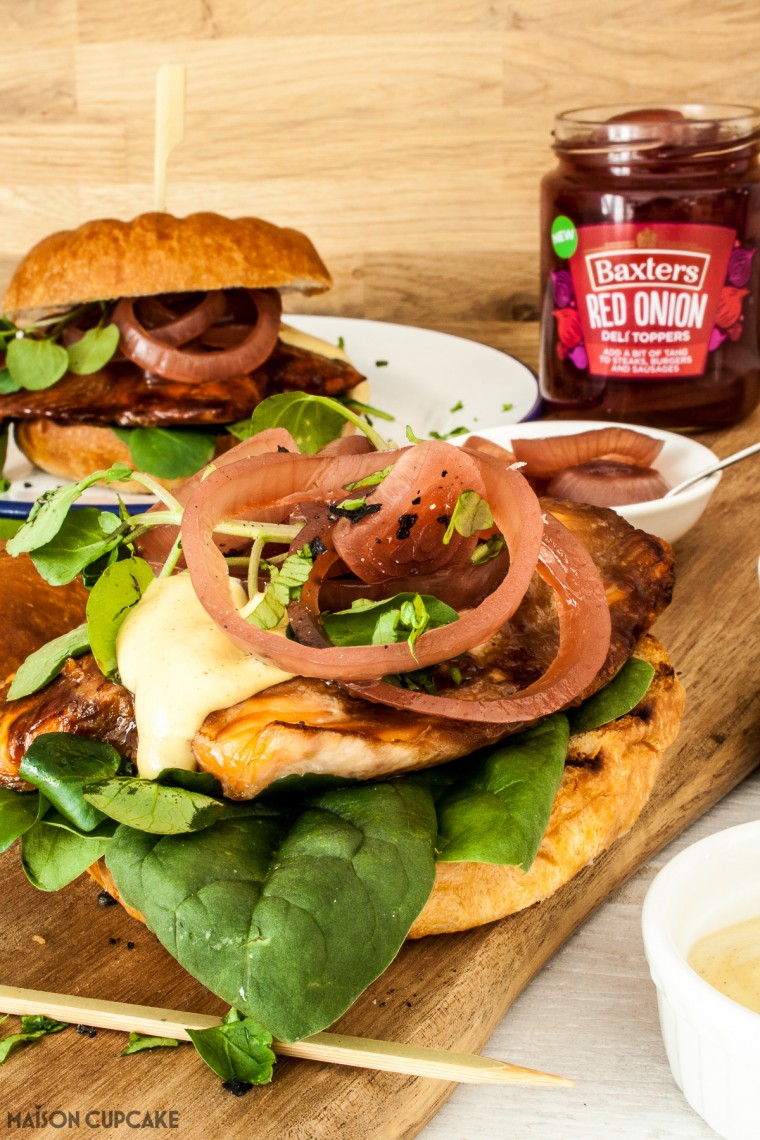 The perfect foil for hot filled brioche rolls is something sweet and picked. You might try any of the Baxters Deli Toppers range here but today it's the turn of my personal favourite – pickled red onion rings.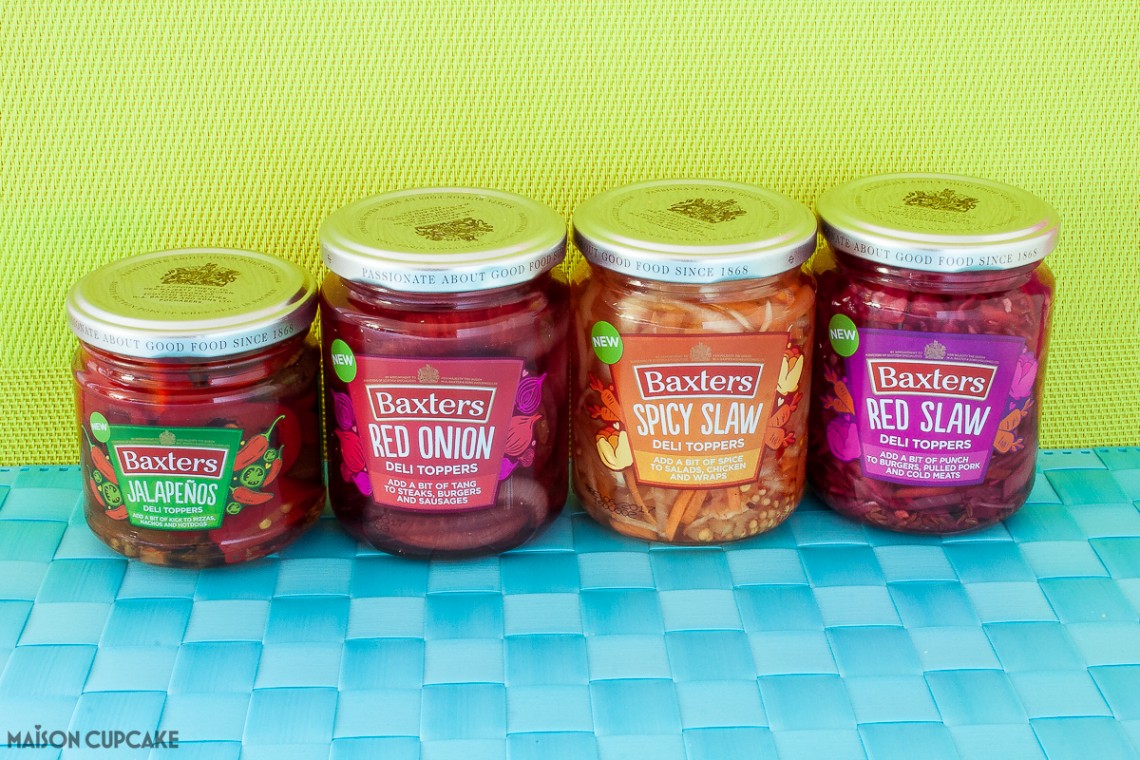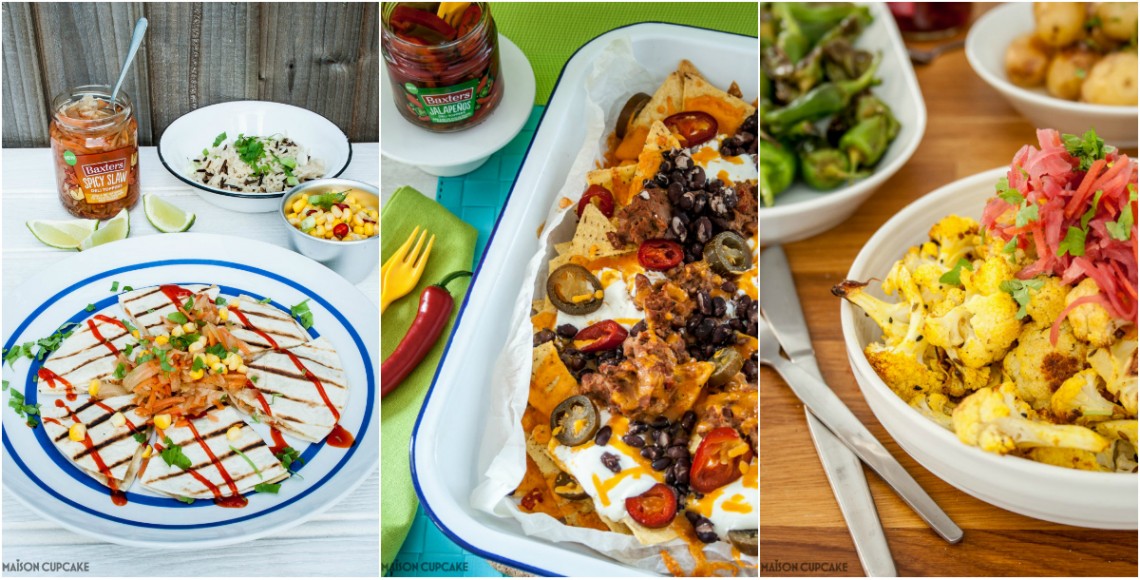 The Baxters Deli Toppers range can be found in major supermarkets at recommended selling price £1.49. See also how I've employed their Spicy Slaw in Quesdillas, their Jalapeños in Spicy Black Bean Nachos and Red Slaw on Spicy Roasted Cauliflower Florets.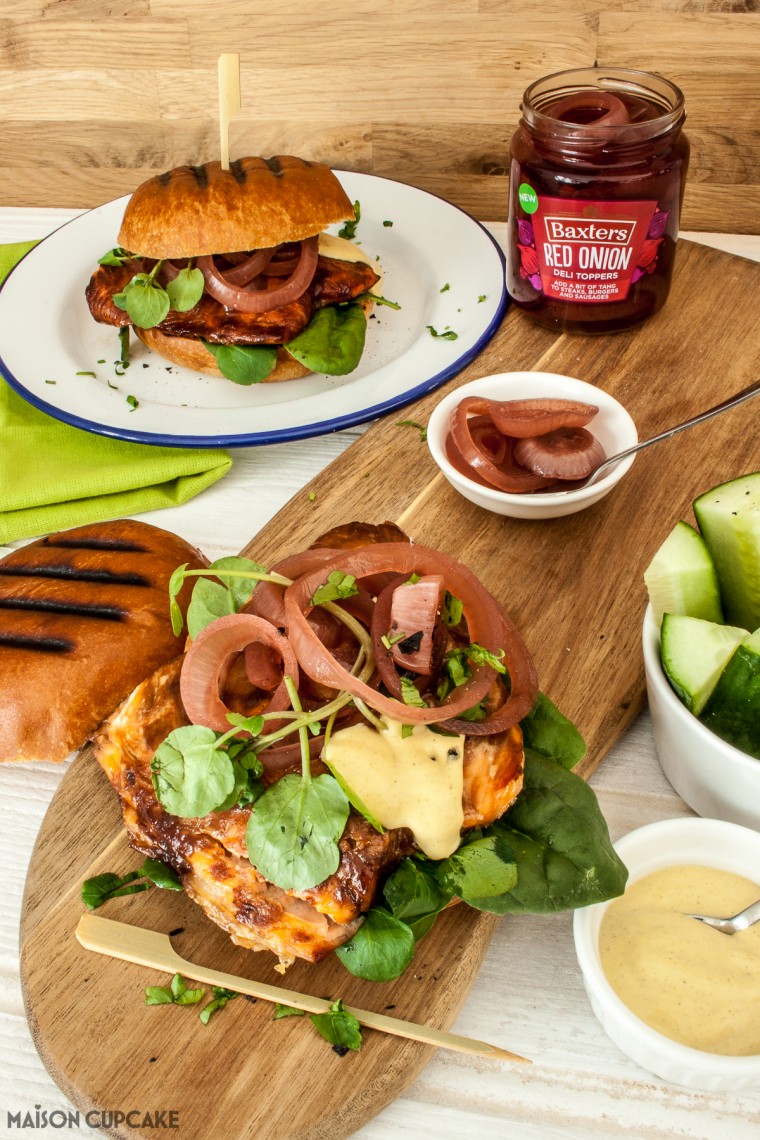 Apart from rubbing the salmon fillets with Ketjap Manis and searing your buns, this is more an assembly job than anything. Perfect for easy cooking when friends or family are visiting. Print out the easy reference recipe sheet below.
How would you get topping with these red onion rings?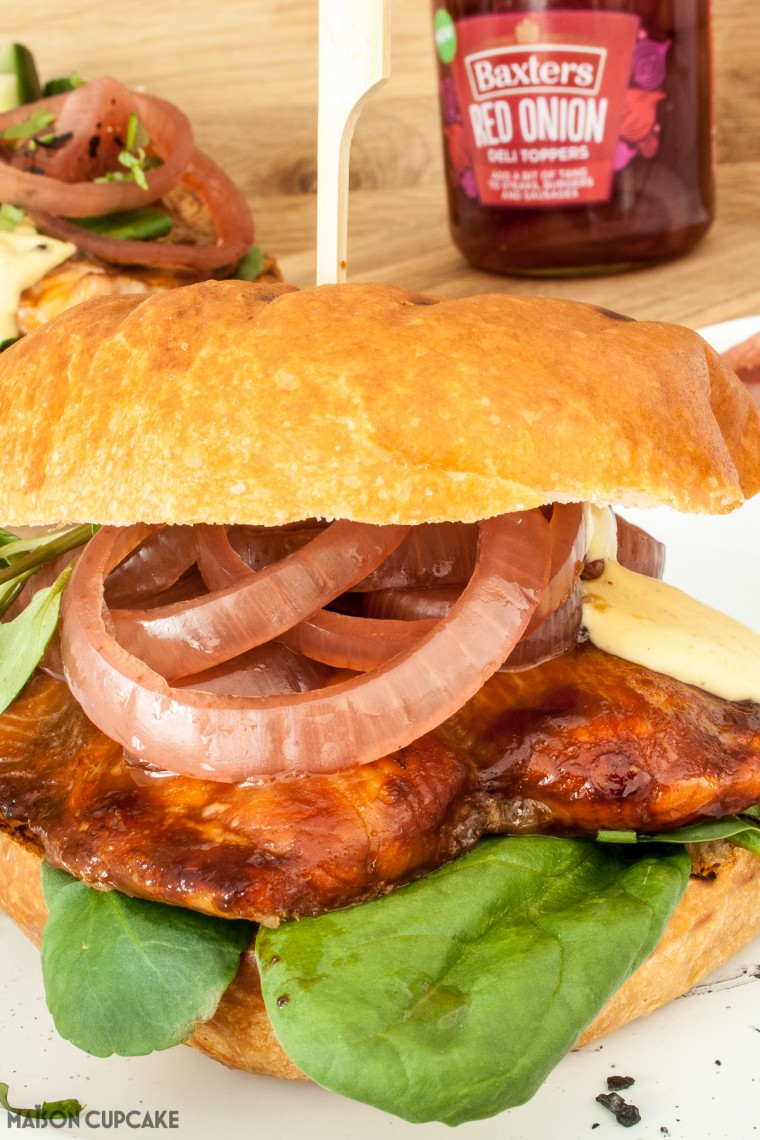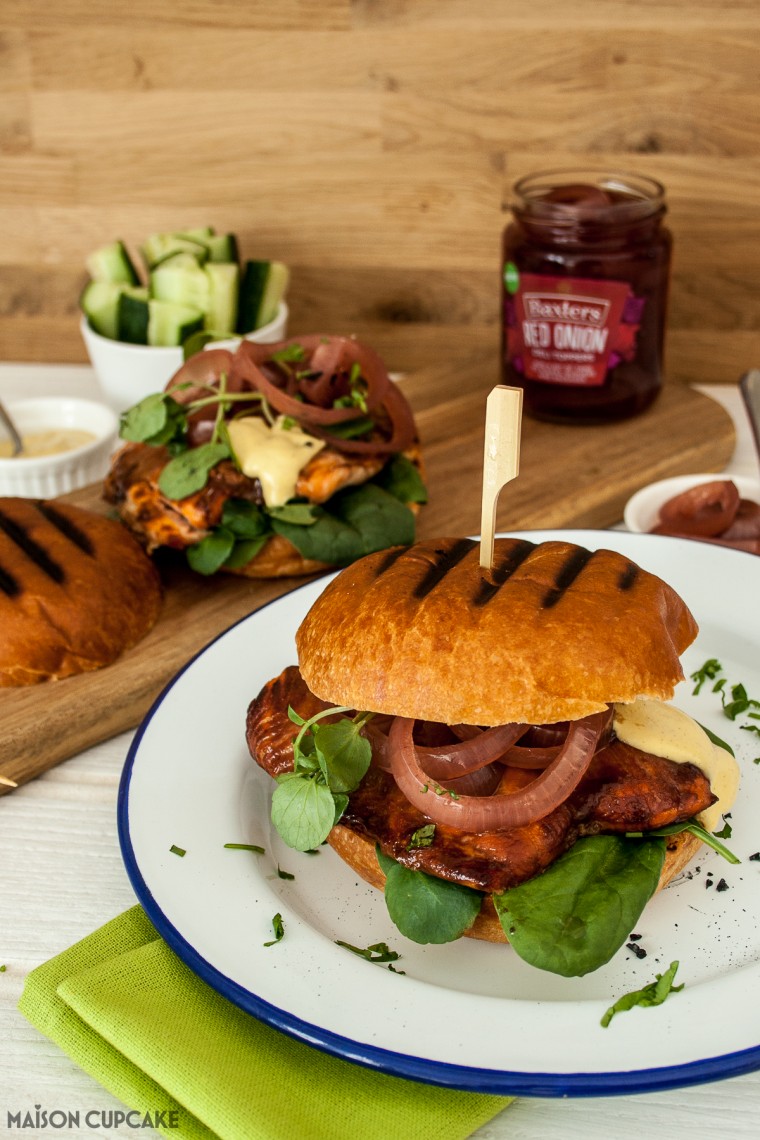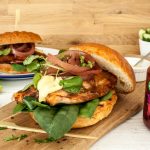 Print Recipe
Sticky Salmon Burgers with Sweet Red Onion Rings
Warm chargrilled brioche rolls filled with sticky salmon fillets and picked red onion rings
Ingredients
4

brioche rolls

4

salmon fillets

4

heaped tsp Ketjap Manis

1

jar Baxters Deli Toppers Red Onions

2

handfuls baby spinach leaves

2

handfuls pea shoots

American mustard
Instructions
Preheat the oven to gas 6 / 200c and preheat the griddle and wait until it's blisteringly hot.

Spoon a dollop of Ketjap Manis onto each salmon fillet and arrange on a baking sheet lined with parchment paper. Bake for around 15 minutes until cooked through.

Meanwhile toast halves of brioche rolls on the griddle to achieve blackened tiger stripes.

On the bottom layer of brioche rolls arrange some baby spinach leaves, top each base with a sticky salmon fillet, some pea shoots, a squirt of American mustard and generous helping of Baxters Deli Toppers Red Onions. Place the other halve of the brioche rolls on top. Enjoy immediately.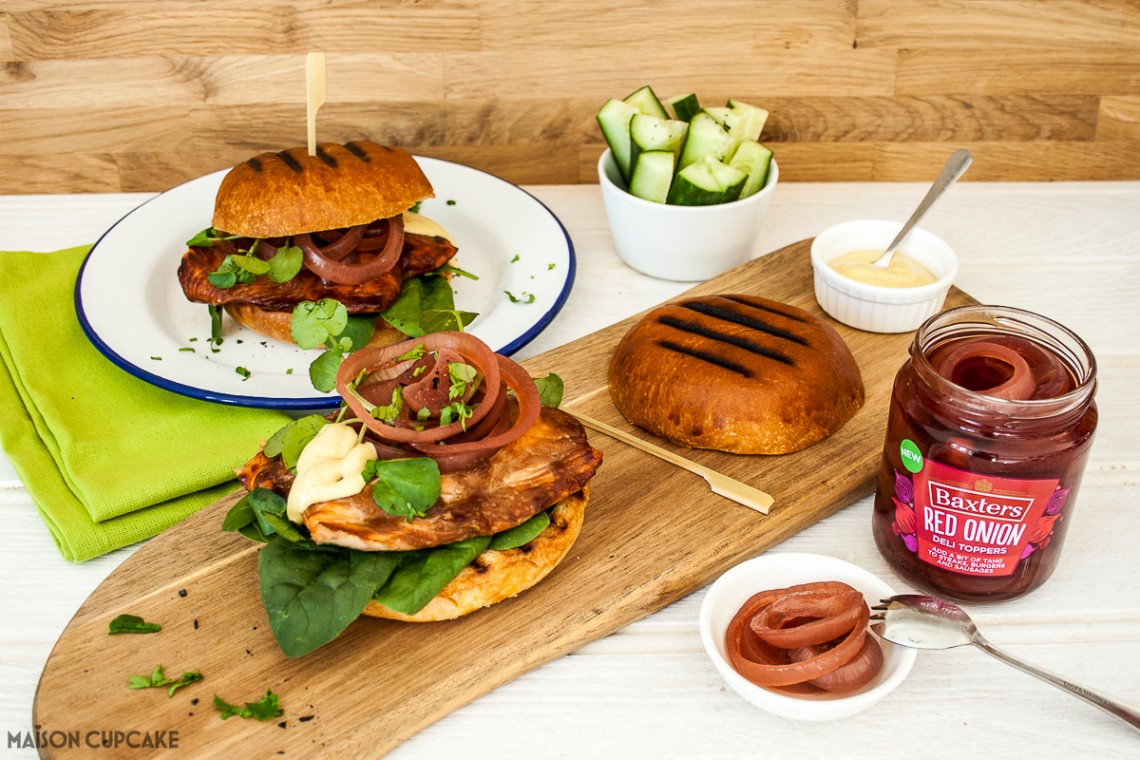 This sticky salmon fillet burger post was commissioned by Baxters, visit their microsite for further ideas using Deli Toppers and even a chance to win a free jar of product. Share your own Deli Toppers ideas on social media with hashtag #GetTopping.