Here's a fresh tasting chopped salad with rice noodles and salsa verde. It's packed with crunchy vegetable texture and strong flavours. [A commissioned post for Robert Welch with an opportunity to win products from their Signature Knife range…]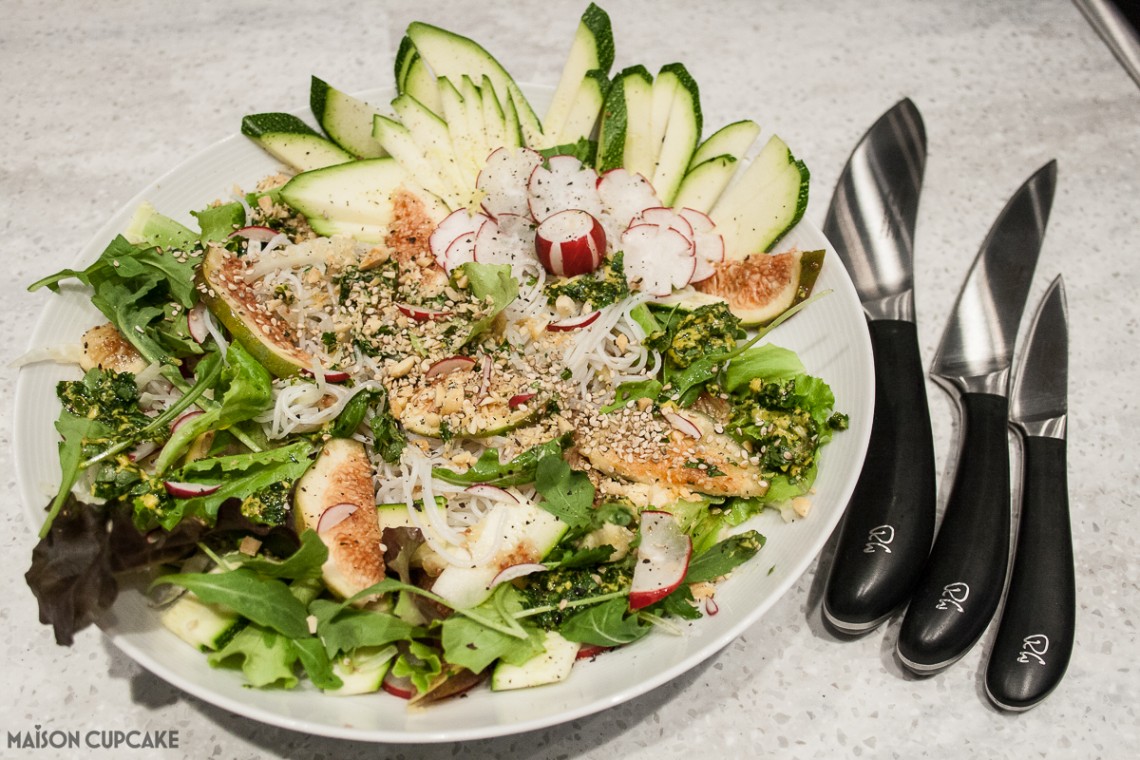 Kitchen magpies need a steely resolve to resist shiny new stuff on offer these days. Wherever there's a new food trend there'll be a product promising to make it easier to prepare.
This year's Christmas gimmick for cooks could well be the electric spiraliser. This promises less drudgery occasionally turning a handle – but like many gadgets is a single job item taking up cupboard space.
By contrast, an investment in good quality kitchen knives might deliver useful daily service for years beyond a zoodle fad.
Robert Welch company background
Robert Welch may not be a British brand bearing an obvious household name such as Jaguar or Burberry. You will however recognise the institutions using and selling Robert Welch Designs; 10 Downing Street, British Airways, Eurostar, Asprey, Heals, John Lewis and Liberty to name a few.
Based in the Cotswolds, Robert Welch is a solid British success story selling fine design cutlery, kitchenware, tableware and other products for the home for over 60 years.
Initially a silversmith, Robert Welch undertook a stainless steel commission around the time he graduated from the Royal College of Art.  A keen cricket player, he developed a business that flourished under the efficiency of close working teams.
Robert's son Rupert and daughter Alice have directed the company since his death in 2000. Under their direction with a team of in-house designers the company has continued to thrive. This summer they celebrate one million sales from Signature Knife Range (launched 2007) and have collected the Queen's Award for Enterprise in recognition of their international success. Export sales now represent 40% of company turnover.
To mark one million Signature knives being sold the company have a competition to win Robert Welch Signature knives – visit their website for a chance to win.
Robert Welch also invited me to attend a class to learn more about their Signature Knives and prepare a chopped salad recipe demonstrated by brand ambassador and chef Georgina Davies.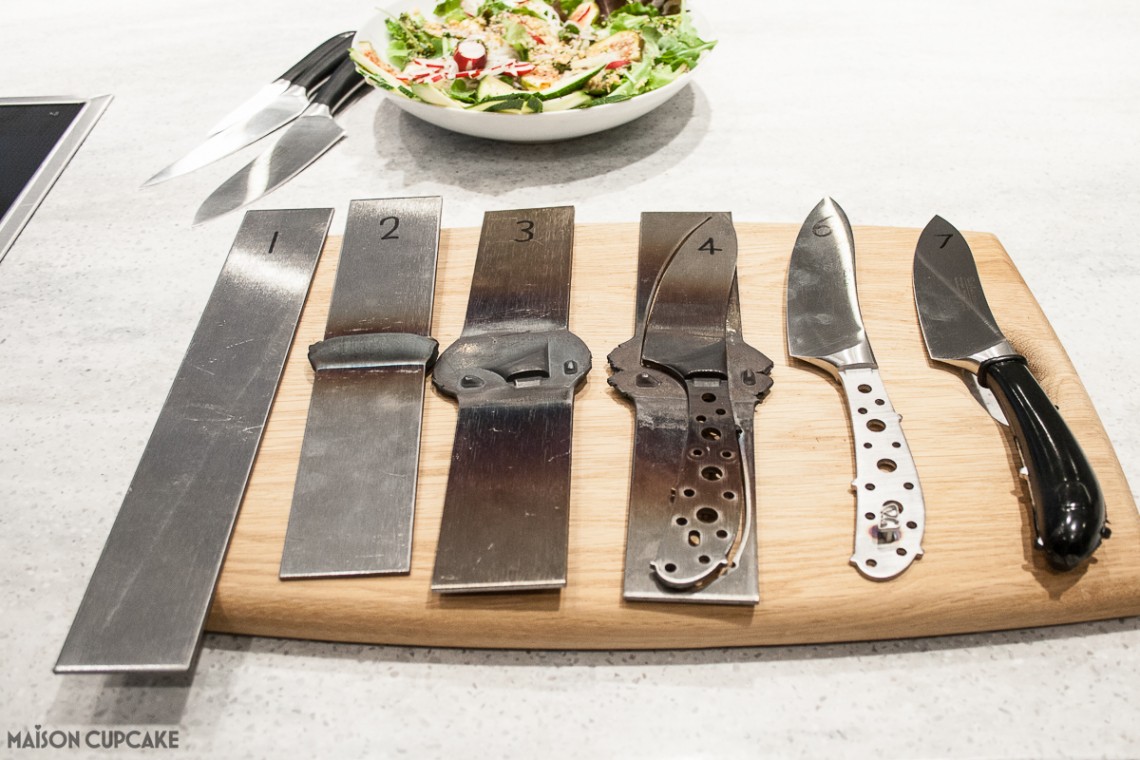 How the knives are made
Above left to right shows stage by stage a depiction of the knife making process. Robert Welch knives are fully forged full tang blades which means they are made from one piece of steel. Using a flexible European steel makes the knives easier to sharpen at home.
First a piece of high carbon stainless steel up to 3mm thick is heated to 1200 degrees and then compressed by 1000 tonnes of pressure to create a strong bolster between the handle and blade.
A cutting tool then stamps the shape of the knife out with handle holes and then the piece is fully hardened. The Robert Welch signature motif is spot-welded onto the tang (see no6) adding counter weight as well as stylish design. The knife is ground to give a precision blade edge with the correct taper angle – a Japanese style 15 degrees – being applied by hand. 
After cleaning and polishing the blade, the handle is injection moulded over and into the tang to produce a solid one piece handle for total strength. Finally the handle is polished leaving the Robert Welch signature motif shining through. 
Choosing the right kitchen knife
The Robert Welch philosophy is to combine function and form in a beautiful product yielding years of use whether at home or in a professional kitchen. The Signature range features over 25 types of knife each individually constructed for their specific tasks in food preparation.
Knives are a deeply personal thing. Chefs and home cooks alike rely on them for virtually every dish they make. Culinary students each have to purchase sets of knives for their personal use. Every chef will have different requirements depending on their needs; different blades designs, sizes and handles.
Such is the impact of a bad knife on the cooking experience I always take one in a box from home on self catering holidays incase the caravan offering is especially bad!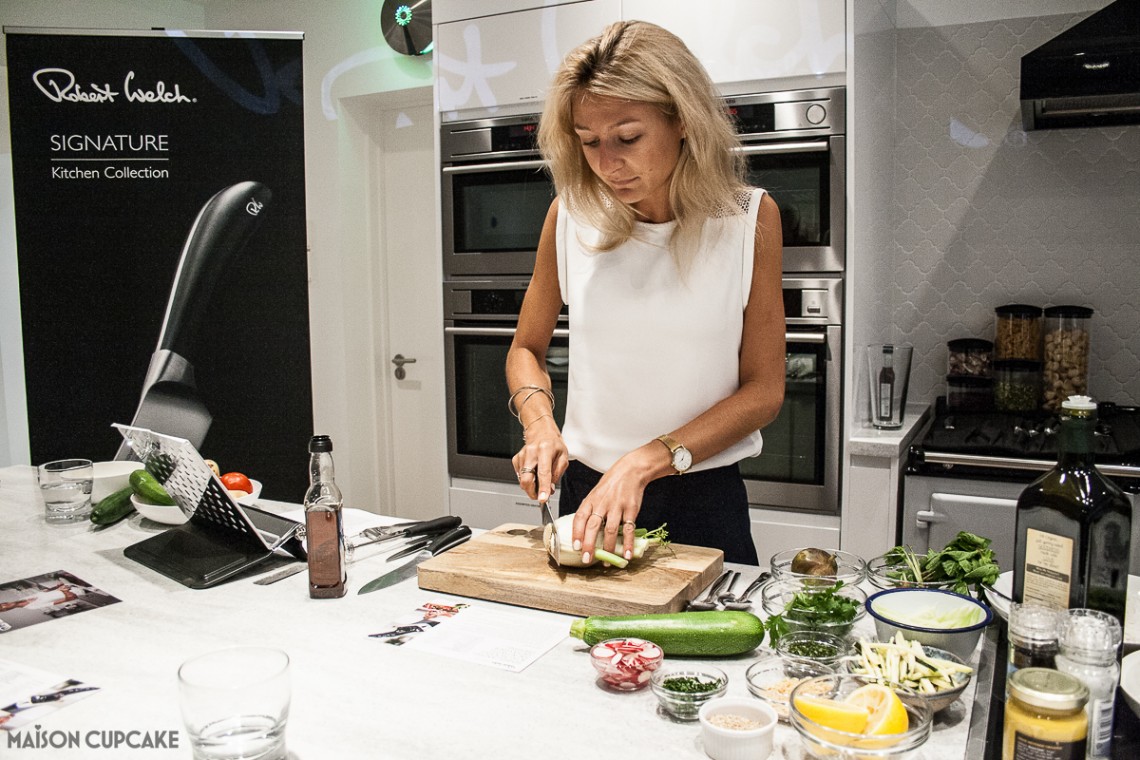 Food stylist and chef Georgina Davies is a brand ambassador for the Robert Welch Signature kitchen collection; her chopped salad with salsa verde and rice noodles was the perfect introduction to using the knives.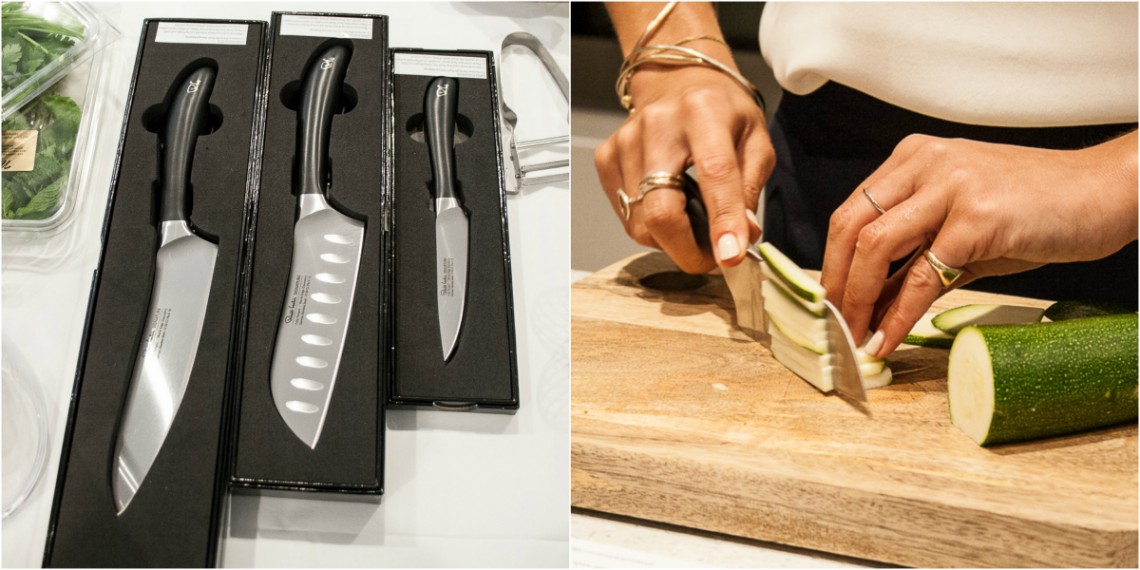 After seeing Georgina demonstrate the recipe, we tried out (from left to right):
Cooks/Chefs knife with a curved blade that enables a rocking action for chopping and dicing;
All purpose Santoku knife with Asian style wide blade for slicing, dicing and chopping delicate foods and everyday use;
Vegetable/Paring knife perfect for peeling, trimming and slicing fruits and vegetables.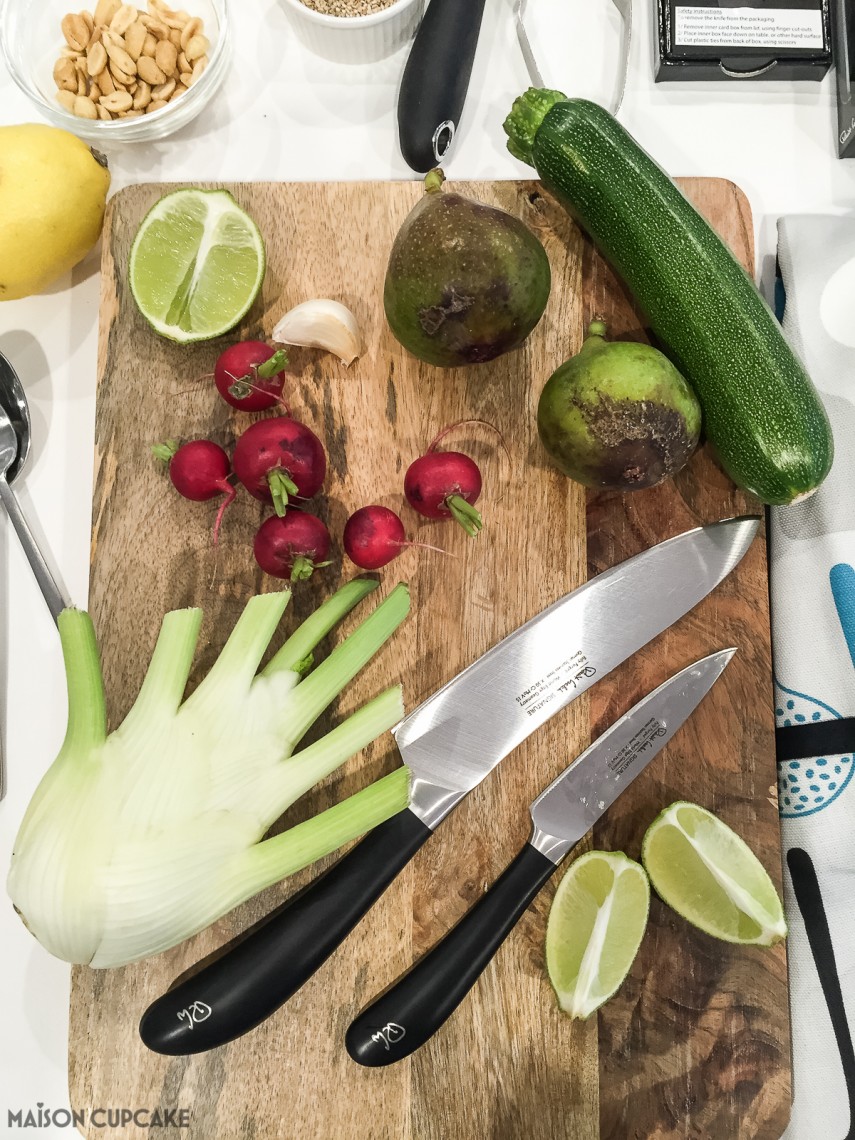 At our work stations it was time to recreate the recipe ourselves. Everyone's salads – as you can see Georgina admiring below – were completely different appearance showing how much variety and personality you can bring to a dish with your cutting style.
I have been given three Robert Welch signature knives of my own to try out at home so I will elaborate more about my experience matching the knives to different tasks in a post later this summer.
Back home I served my finished salad with torn roast chicken but you can stick to the recipe below and serve it as a vegetarian dish. The salsa verde brings a robust edge to the rice noodles and if I practice my knife skills some more I will have a restaurant worthy dish in my repertoire!
Do you have any knife recommendations? Which ones would you have in your Signature collection?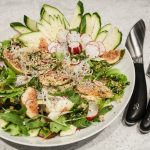 Print Recipe
Robert Welch Knives - Chopped Salad with Rice Noodles and Salsa Verde
Ingredients
1

courgette

1

fennel bulb

80

g

rice noodles

60

g

radishes

50

g

mixed salad leaves

2

figs

1

tsp

sesame seeds

1

tsp

peanuts

Juice of I lemon

Drizzle of sesame oil

For the dressing:

Half a small bunch of mint

Half a small bunch of coriander

4

tbsp

olive oil

Salt and pepper

Half clove garlic

minced

1

tsp

Dijon mustard

Juice of 1 lime
Instructions
Cook the noodles according to the packet instructions, drain, rinse and transfer into a large bowl. Coat the noodles with the sesame oil to stop them sticking together.

Slice the fennel bulb thinly with a sharp knife and thoroughly coat in the lemon juice to stop it from going brown, add to the bowl with the noodles.

Ribbon half the courgette with a peeler or paring knife and add to the bowl.

Slice the radishes thinly and add to the bowl.

Next make the dressing by finely chopping the mint, coriander and garlic before whisking together with all of the other dressing ingredients.

Transfer the noodle, fennel, courgette and radish mixture to a serving dish. Scatter the salad leaves over and mix through.

Quarter the figs and arrange over the salad.

Chop the peanuts and sprinkle over the salad with the sesame seeds.

Finally dress the salad just before serving.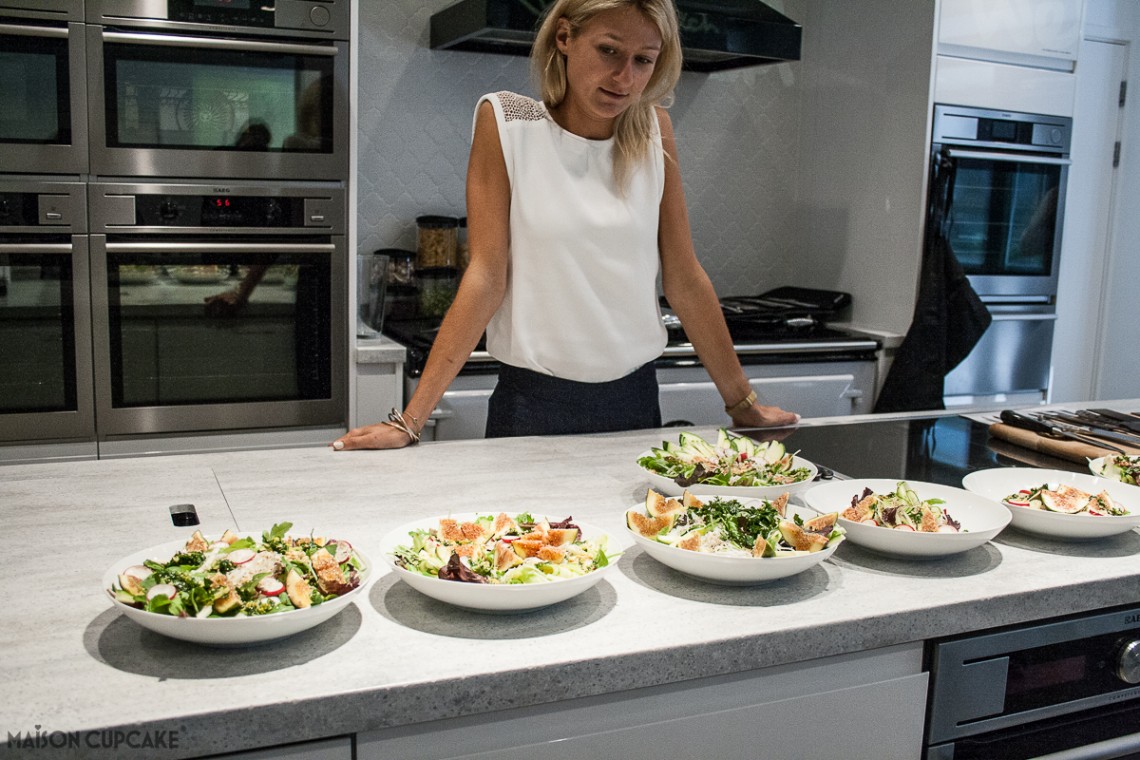 This post with chopped salad with rice noodles and salsa verde recipe was commissioned by Robert Welch.