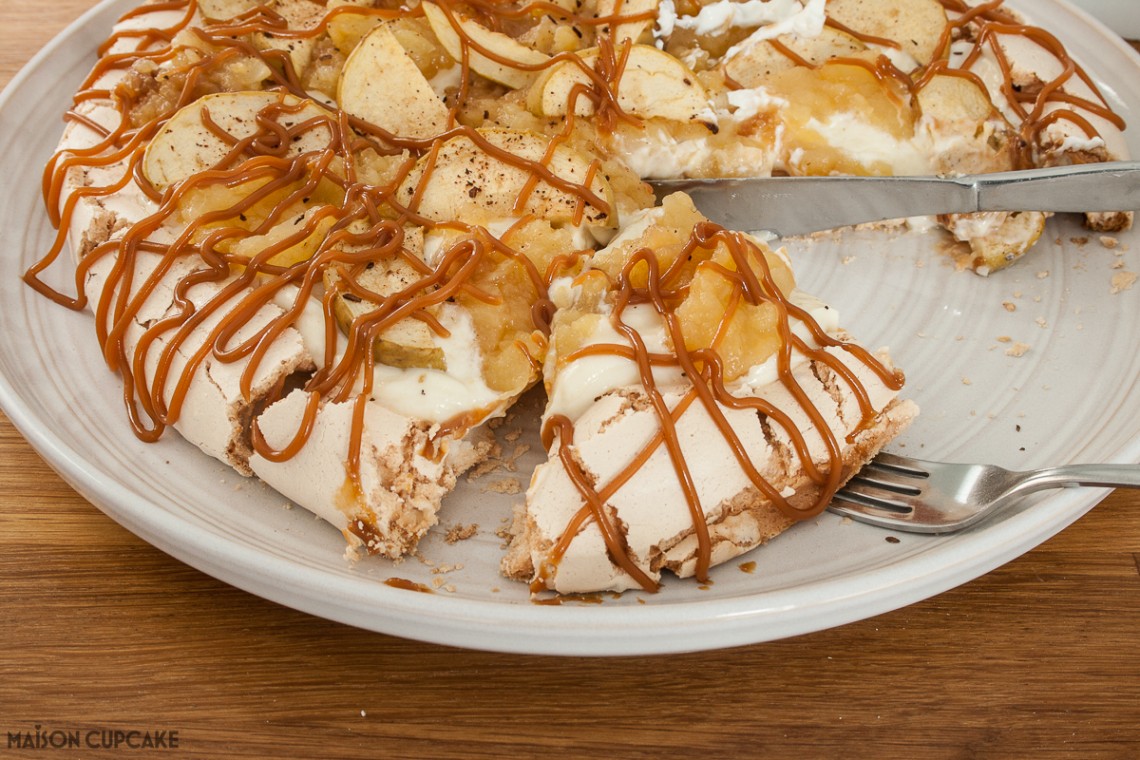 A frothy pavlova, light as the ballerina's tutu it was named after, has to be the ultimate casual summer dessert. Sweet, crowd pleasing and light with a mix of cream and fruit. [This is a commissioned post for Bramley apples. Read more below…]
But generally these meringue confections are associated with berries. A rampant raspberry bush in my garden means I'm fed up of berries by late July and I'm not a huge fan of whipped cream either. So despite its popularity, pavlova has rarely made it onto my summer party menus.
Whilst mixing the quark and white chocolate base for the recent cheat's raspberry tart, it occurred to me this moussey mix would work equally well on top of a pavlova. We need a toffee apple version and here it is.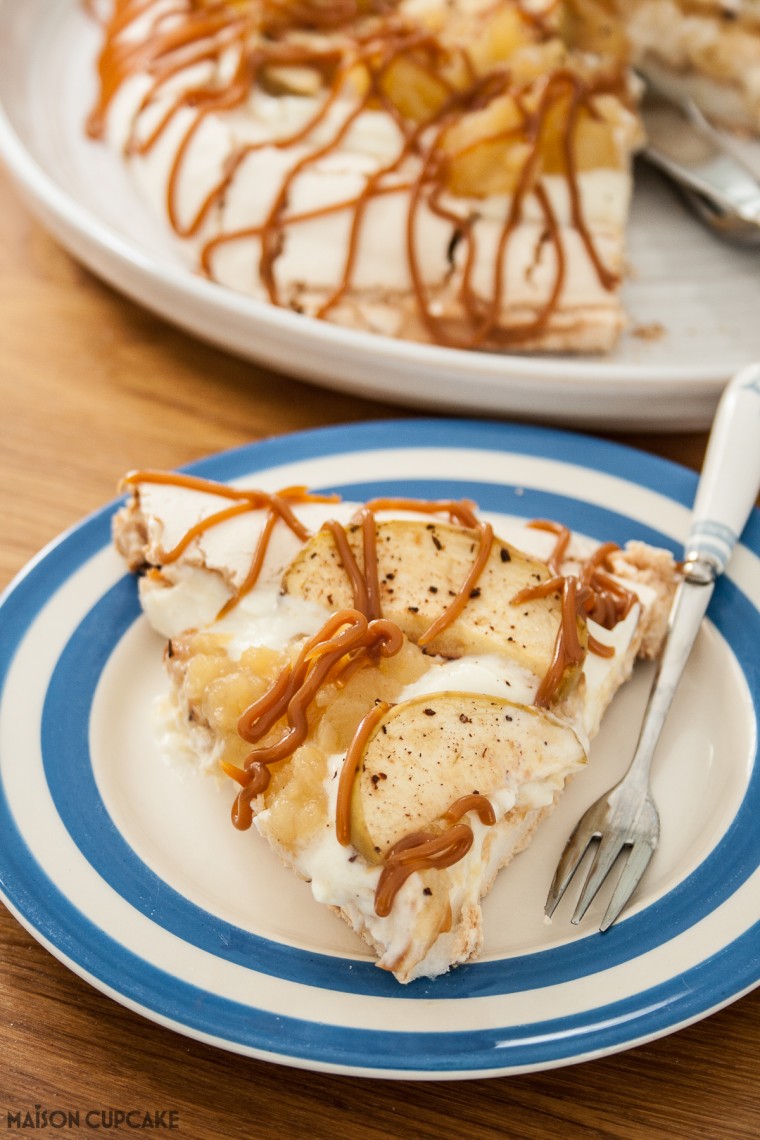 This summer dessert recipe using Bramley apples is the latest in a series I've made for Bramley.
Bramley are a home grown British apple variety; I wrote in my earlier Beetroot and Bramley salsa post how the variety had suffered after a poor season and how the growers had moved quickly to secure Bramley's year round presence on supermarket shelves.
This campaign has been part of an initiative to encourage home cooks to use Bramley apples all year round in all kinds of new recipes beyond the traditional tarts and crumbles.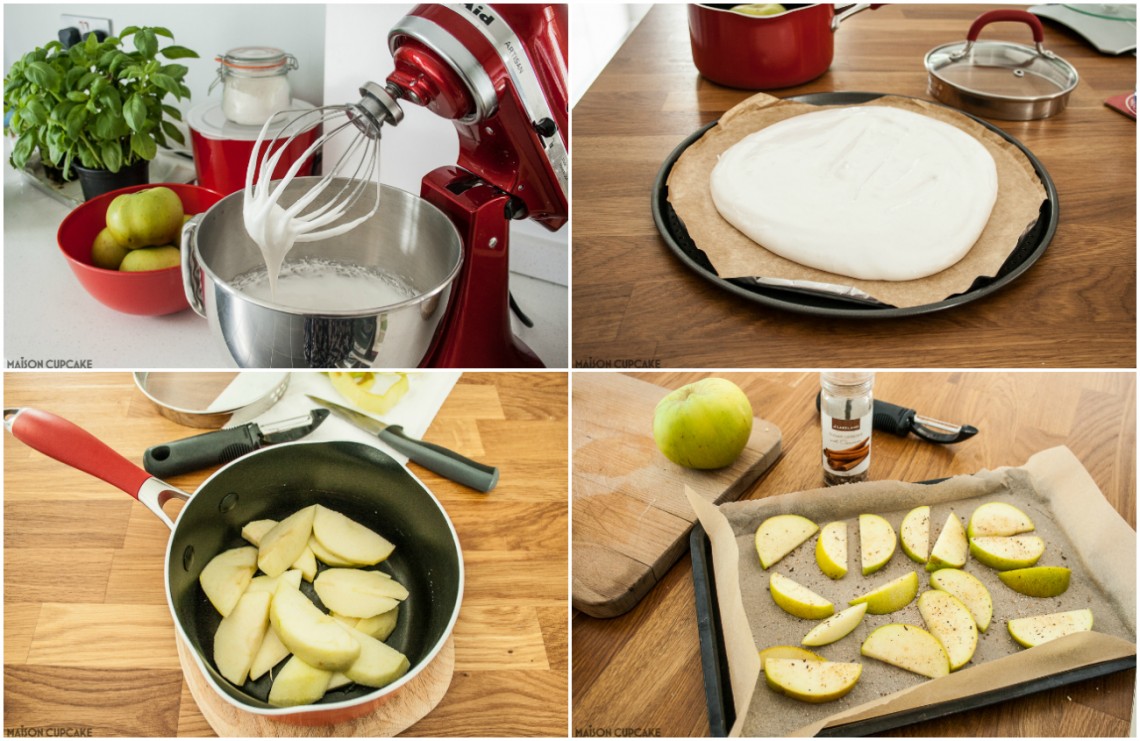 Bramley apples work beautifully in both sweet and savoury dishes (some examples below) and need not have masses of sugar added to sweeten them.
To make an easy apple puree I merely stew the slices for a few minutes in a lidded saucepan with a scant tablespoon of water per apple. No added sugar required. I like to keep a tub of Bramley apple puree in the fridge to top breakfasts and desserts as well as serving with roast meats.
For the baked apple slices topping this recipe I have sprinkled a little brown sugar but this is as much to encourage a golden colour rather than flavour.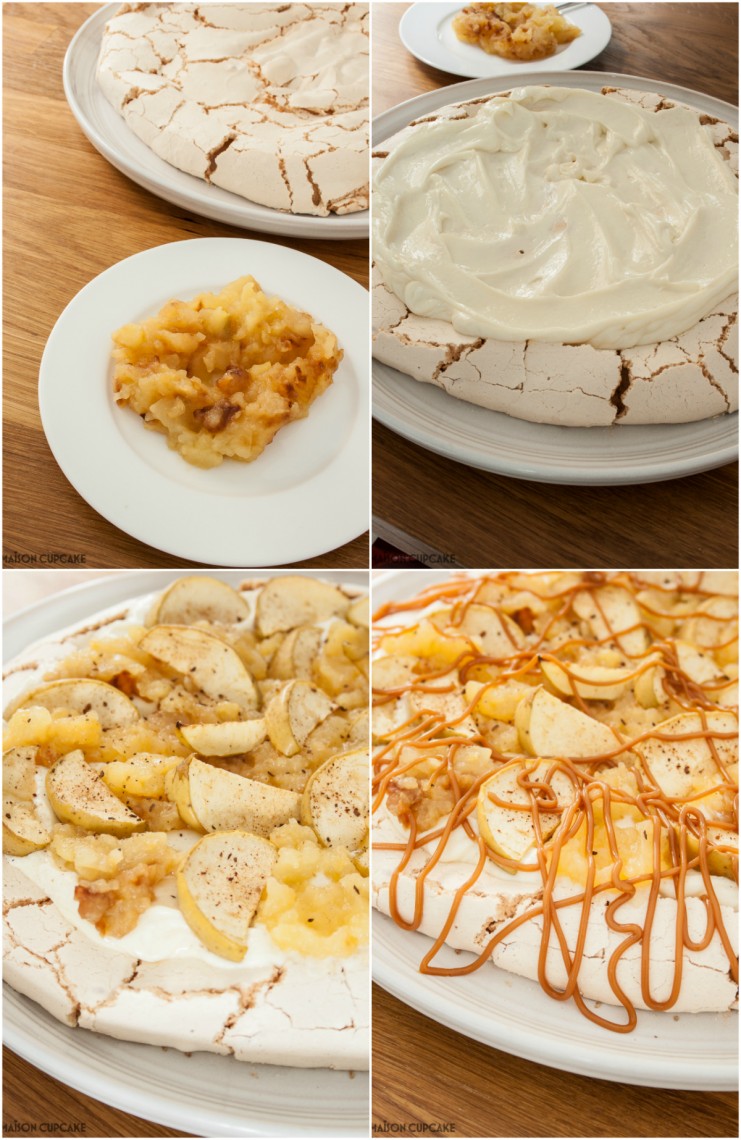 This dish has several simple components (meringue, quark mix, the cooked apples) but all of these could all be prepared ahead of time and then it would only take five minutes to assemble the pavlova at the last moment. You could even transport everything to a pot luck party and assemble it on a big plate when you got there. Bingo – your hostess will love you forever.
I'm especially pleased with this dish because toffee apple would normally be associated with autumn and it's a version of a classic I don't recall seeing anywhere else. I hope you will enjoy trying it out!
What have you been using Bramley apples for recently?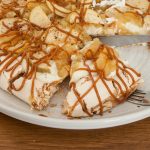 Print Recipe
Sticky Toffee Apple Pavlova Summer Dessert
A sticky toffee apple pavlova dessert using Bramley apples
Ingredients
For the meringue

4

large egg whites

pinch

of salt

250

g

caster sugar

1/2

tbsp

cornflour

1

tsp

vinegar

For the toppings

3

Bramley apples

100

g

white chocolate

100

g

quark

a little brown sugar and cinnamon

2

tbsp

dulce de leche
Instructions
Preheat the oven to 180c /gas mark 4. Beat the egg whites and salt until you get satin peaks. Beat in the sugar a little at a time until the meringue is shiny and stiff. Sprinkle over the cornflour and vinegar and fold in lightly.

Mound onto a baking sheet lined with parchment paper in a round shape. Put in the oven and immediately drop the heat too 150c /gas mark 2. Cook for 30-35 minutes then turn off the oven leaving the pavlova inside to cool completely. When completely cool, put on a pretty plate or cake stand.

Popping the oven back up to 160c / gas mark 3, slice one of the Bramley apples into largeish segments and bake on a baking sheet lined with paper. Sprinkle with a scant amount of sugar and cinnamon (I actually use a ready made grinder filled with sugar crystals and cinnamon stick pieces). Bake the apple for 10-15 minutes until cooked through but not breaking down. Watch the baked apple slices like a hawk as they'll suddenly disintegrate if you forget about them. When cooked lightly, set aside to cool.

For the quark topping, melt the white chocolate in a double boiler (or gently in the microwave) and when smooth beat in the quark and set aside to cool.

Meanwhile stew the apple slices in a medium saucepan with just 2 tbsp water and the lid on. As the apple cooks, give it a stir to break down. Take care it doesn't catch but actually a tiny bit of caramelising on the pan base adds a good colour. Just don't over do it. Set aside to cool.

When the pavlova base and toppings are all cooled down, slather the quark white chocolate mix on top of the pavlova base then spoon over the apple puree. Fill any gaps with cooked apple slices.

Finally drizzle over the dulce de leche (I squeezed mine out of a small piping bag but you can use a plastic bag with a hole in the corner). Add a final sprinkle of sugar and cinnamon.

Serve with more quark alongside.
This summer dessert using Bramley apples concludes a series of recipes I have created for Bramley over the past year. Here is a reminder of my previous Bramley apple recipes;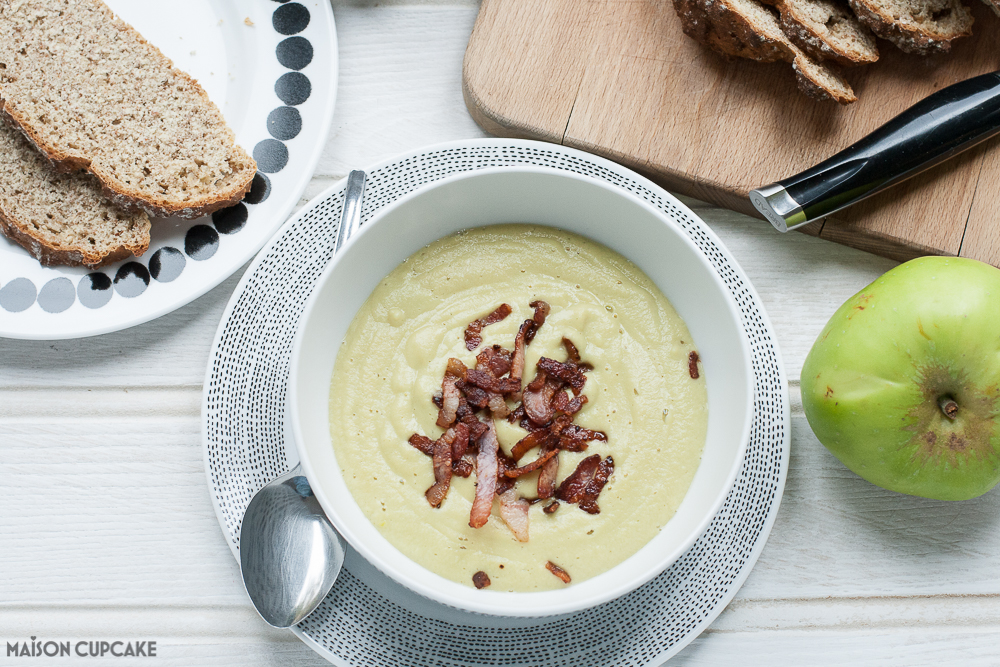 Soya Bean and Bramley Apple Soup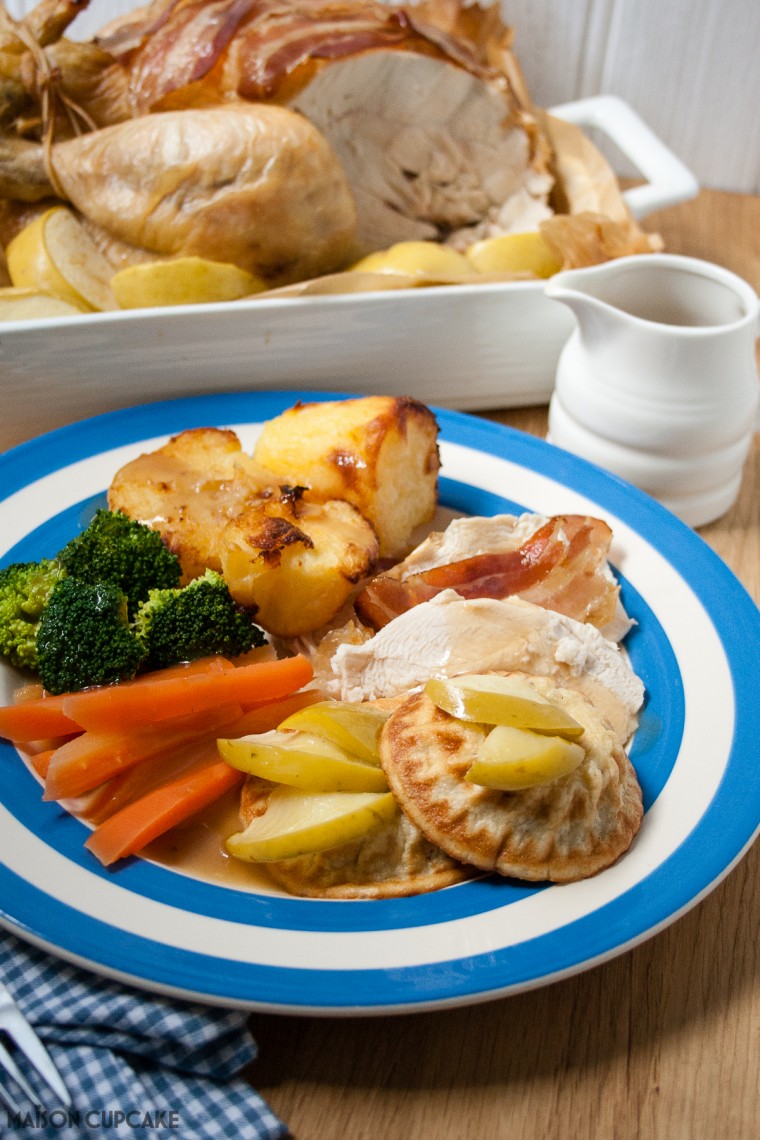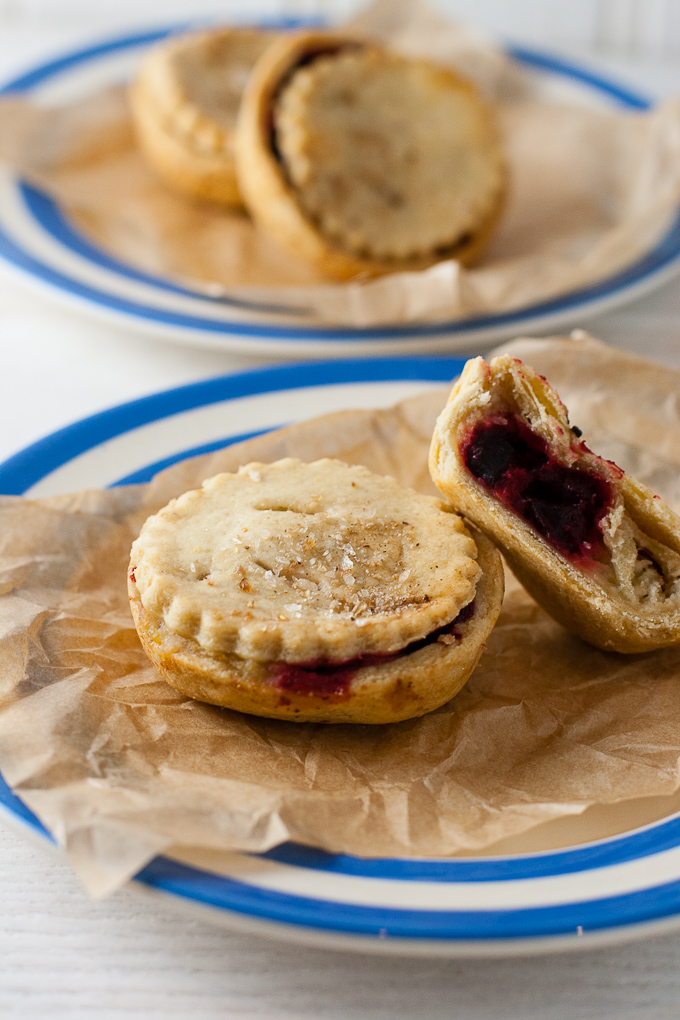 Roast Chicken with Sage and Bramley Apple Popovers; Beetroot and Bramley Apple Pies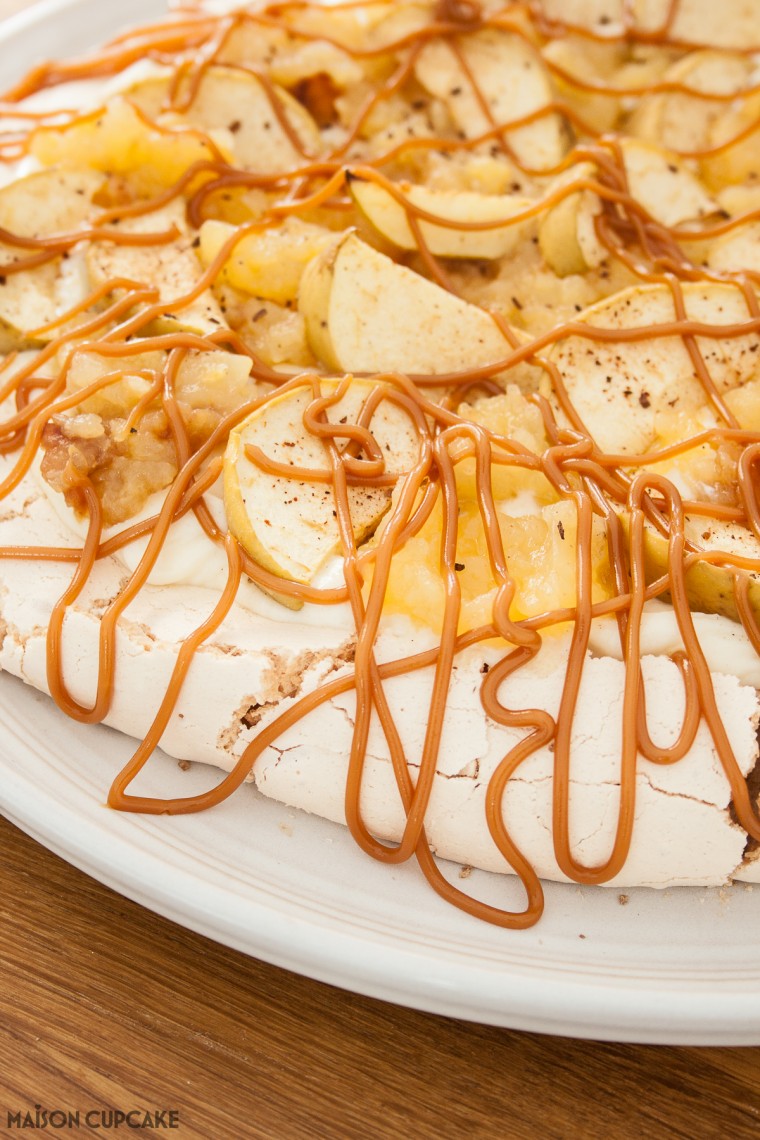 Today's sticky toffee apple pavlova recipe was commissioned by Bramley Apples.