Easy apple soup with soya beans and bacon is quick to make with a power blender, recipe commissioned by Bramley Apples.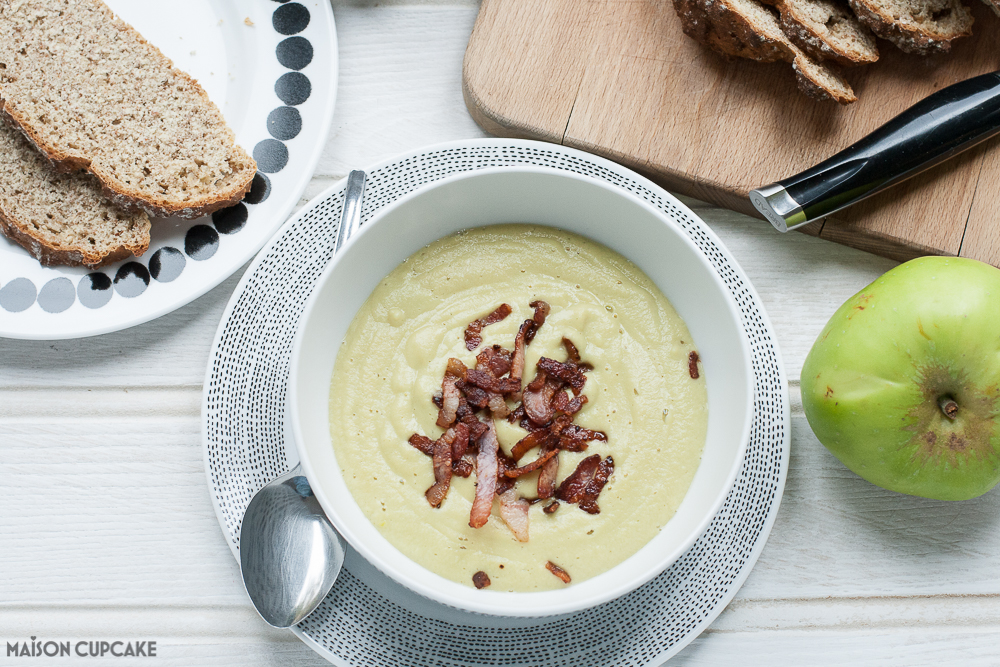 Have you ever been anxious about something not being quite right and then it completely surpassed your expectations?
I had my doubts about this flavour combination. My instinct said it should work but I was also worried it would taste like apple sauce, that the texture wouldn't be right, that the soda bread wouldn't go with it. I was thrown by the soya beans – generally I only eat these whole and associate them with Japanese food which couldn't be much further away than a English fashion thick winter soup.
I'll be honest, I've never used a cooking apple in the way I might a vegetable but as part of my ongoing relationship with Bramley Apples I was challenged to make a winter soup using them.
Dom at Belleau Kitchen had already produced an excellent parsnip, roasted Bramley apple and cheddar soup and for a while I was struggling how else to put cooking apples in soup. I felt bacon would pair well with apple and considered a pea soup. But I had already done bright green pea soup with cheese and chives last year and didn't want to go over old ground.
So I mulled my Bramley apple soup throughout January and procrastinated along with my tax return until  inspiration hit. I had two ideas so one was back up if this turned out really weird. I expected my husband to pull faces and protest (as he often does with my "creations") but to my astonishment this savoury apple soup came out better than I ever expected and he ate every last spoonful.
You can definitely taste the Bramley apple. But not too much. It's there but it's not too sweet and apple sauce-y nor lost in the savoury flavour. The blended texture of the soya beans didn't go waxy as I feared, it's smooth in the way a blended split pea or lentil soup might be. And the soda bread I'd made turned out to be the perfect accompaniment.
Best of all Ted ate it without any complaints. And that has to be a good sign.
Trust me – savoury apple soup is a thing worth trying. Here's what you do.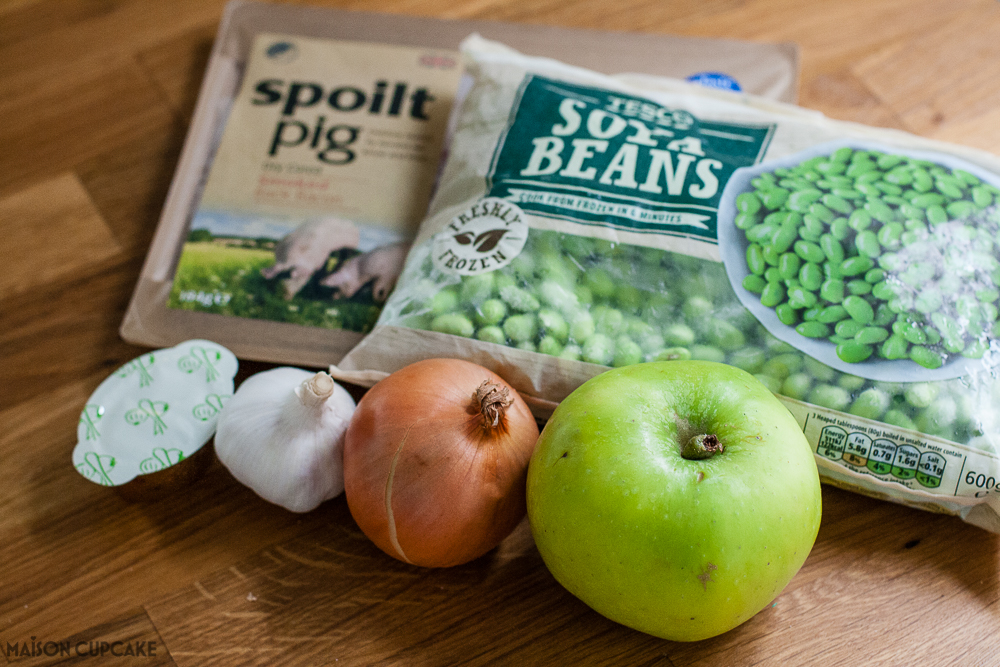 Gather your ingredients – these few things along with olive oil and water are all you need. You can use the soya beans straight from the freezer.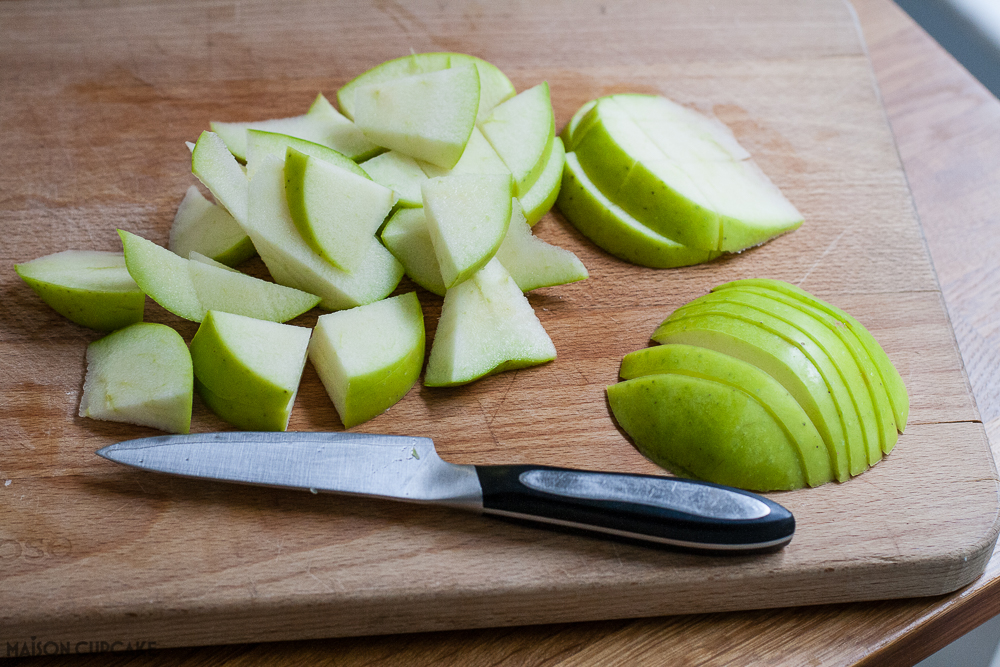 There's no need to even peel the Bramley apples. Because their skins will be blended later on.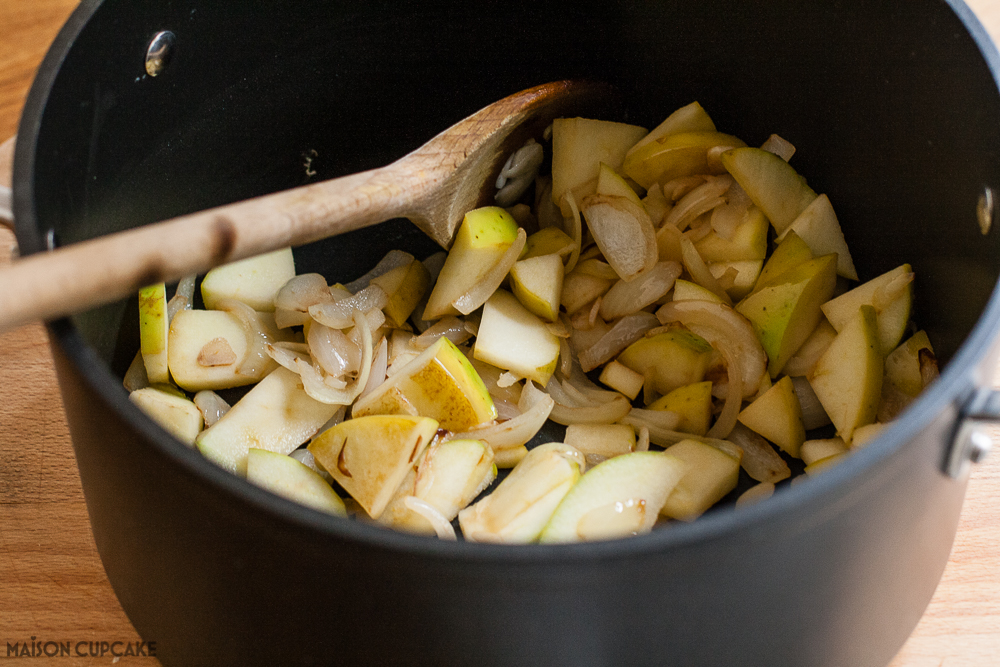 Fry the onions and garlic. Next add the chunks of Bramley apples and cook for a futher few minutes.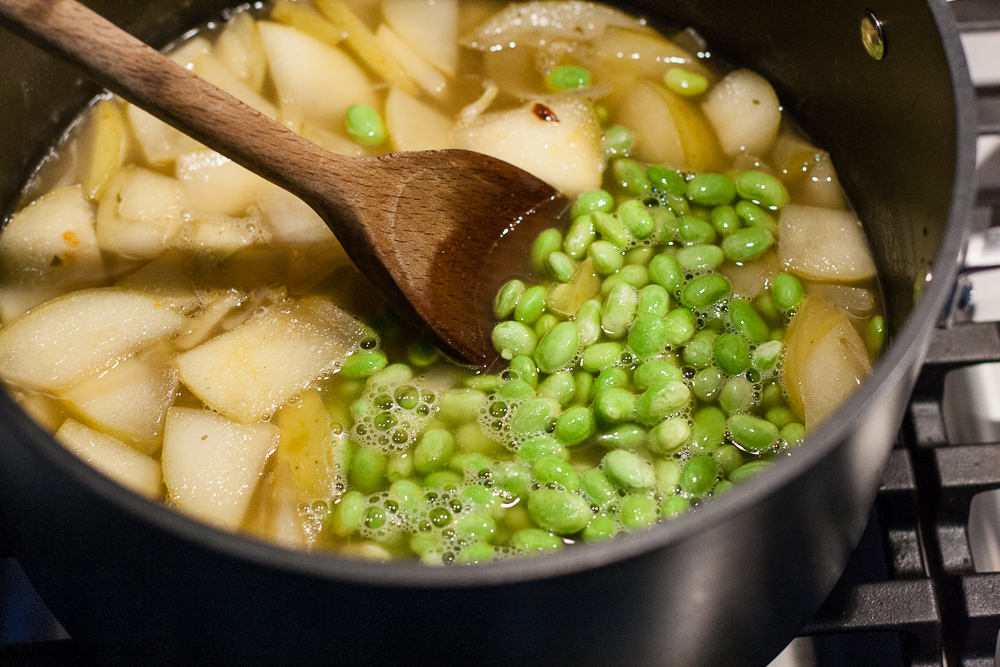 When the apples have browned slightly, add vegetable stock and frozen soya beans.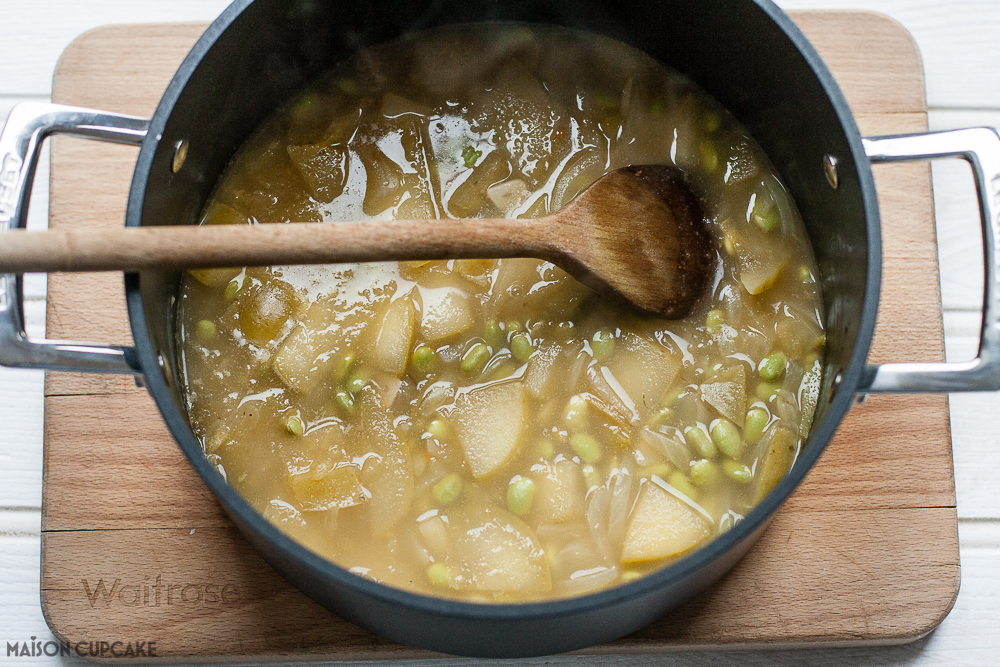 When the soya beans are just soft, remove from the heat.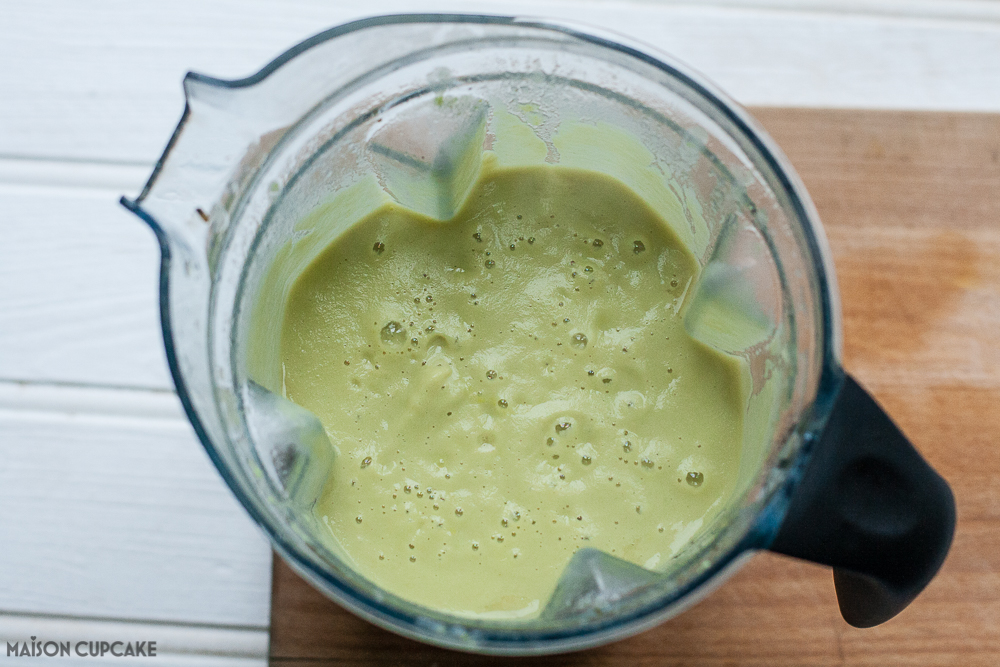 And blend until smooth in the power blender. It comes out this lovely eau de nil colour (and not remotely like my Kermit-y raw cavalo nero soup.)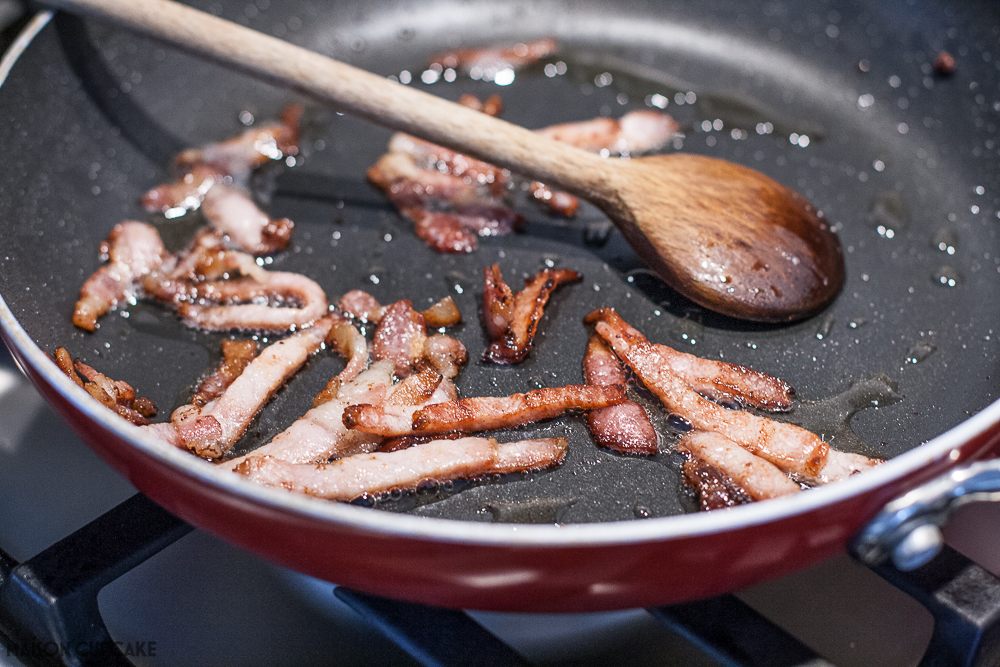 To scatter on top, fry strips of bacon quickly on a high heat to become crispy.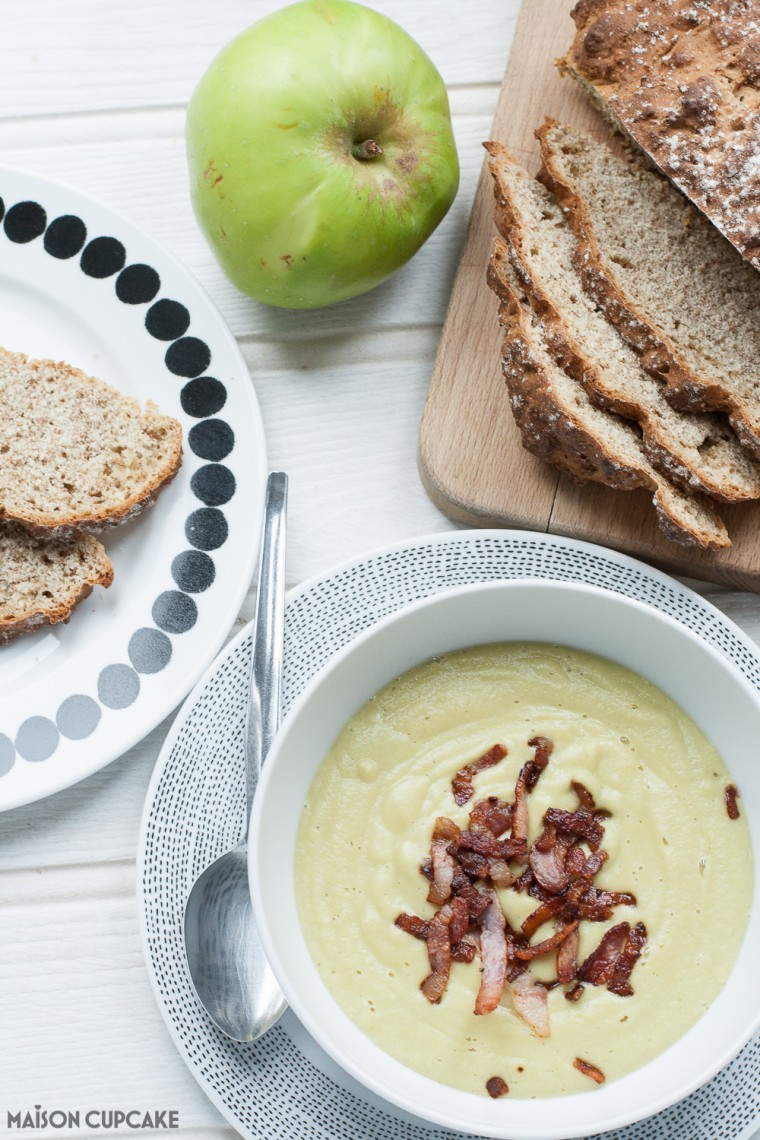 And serve with a good bread such as my easy 30 minute soda bread.
I can't tell you how pleased we were with this soup and it will definitely become one of my star recipes. I urge you to try it and let me know how you find it!
But what of my other savoury apple soup idea? Aha I will be trying that out as well and if it's as good as this one I will definitely be publishing it soon.
Have you ever tried apple soup or any savoury Bramley apple dishes?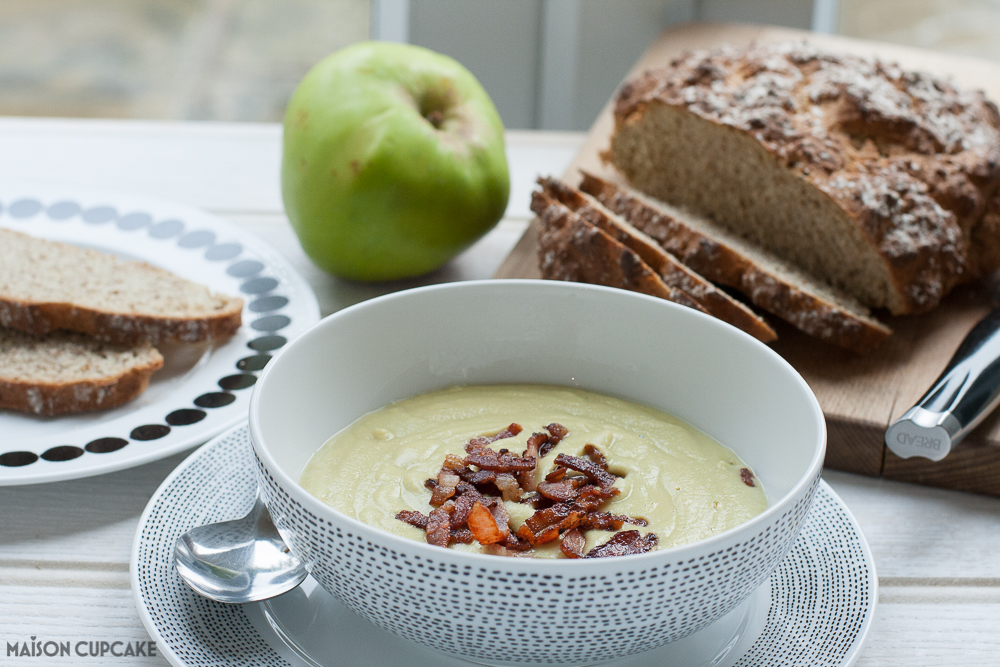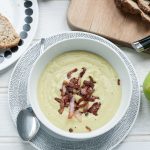 Print Recipe
Easy Apple Soup with Soya Beans and Bacon
This savoury apple soup flavour might sound a bit weird but the flavour will blow you away.
Ingredients
2

tbsp

olive oil

1 for the soup, 1 for the bacon

1

medium onion

sliced thinly

2

cloves

garlic

sliced thinly

1

Bramley cooking apple

chopped into chunks (skin on but no core)

1

litre vegetable stock

300

g

soya beans

I use frozen

2

slices

of back bacon cut into strips.
Instructions
Warm the olive oil in a deep cooking pot on medium heat.

Fry the onions for a few minutes without allowing them to burn. When softened add the garlic and reduce the heat to cook for a further five minutes.

Add the Bramley apple and raising the heat again, fry for several minutes until starting to brown.

Add the vegetable stock and soya beans. Bring up to the boil and simmer for ten minutes until the soya beans are cooked.

Meanwhile, in a frying pan heat the remaining olive oil and fry the bacon strips on a fairly high heat so they quickly brown and go crispy. Set aside.

When the soya beans in the soup are cooked, blend the mixture until smooth - I use a Vitamix.

Serve the soup with bacon strips scattered on top alongside some good bread - such as my 30 minute loaf of soda bread.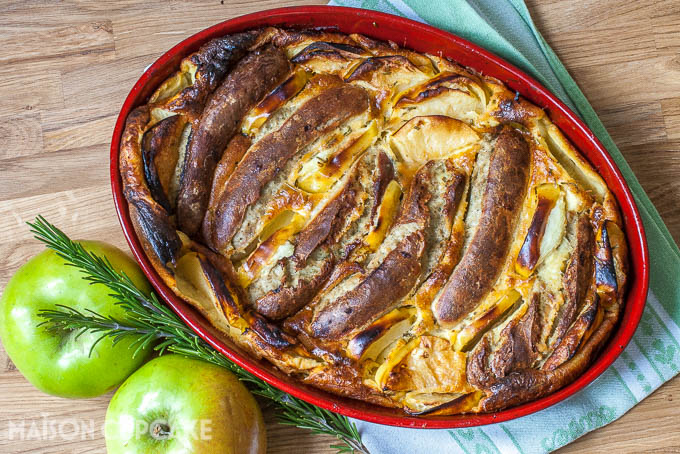 More savoury recipes with apple
Toad in the hole with Bramley apples (Maison Cupcake – shown above)
Savoury stuffed baked apples (Farmers Girl)
Pork and apple stroganoff pie with cheddar crust (Kavey Eats)
Pork roast with apple and cider gravy (Supper in the Suburbs)
Beetroot salsa tortilla dip with Bramley Apples (Maison Cupcake)
This easy apple soup recipe was commissioned by Bramley Apples.