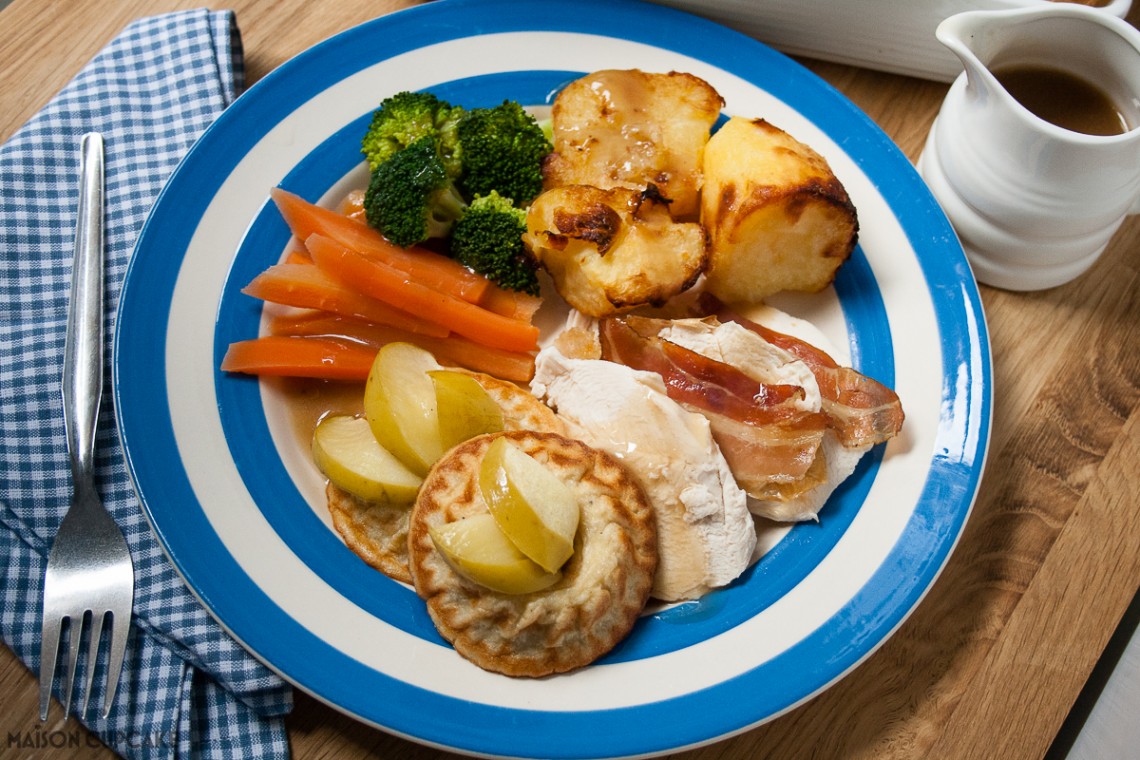 This apple and sage popovers recipe with roast chicken and pancetta is the latest in a series of posts for Bramley Apples. 
Oh how I miss the days when my grandma used to cook me a roast dinner every Sunday. Her kitchen was about 6 foot square, she didn't have a fridge never mind a freezer and worked miracles from that tiny space.
I was thoroughly spoiled by my "grandma dinners" – I've written previously about these in my recipe for chocolate semolina hazelnut meringue pudding but what I don't recall mentioning before is the expertise and role of my grandfather in these weekend lunches that were such a focus of my childhood.
My grandad was a butcher. Not for his whole life, but before the second world war when he first stepped out with my grandma, he was a butcher. With full on abattoir experience. A favourite family story involved him getting an escaped (bolted) cow out of a nearby quarry.
So these roast dinners were really a double act. My grandad was most definitely in charge of the meat, from shopping to serving. As a young girl I'd sit and watch him theatrically sharpen his knives on the steel before carving every roast.
Now timekeeping wasn't my grandmother's forté. So the dinner was frequently late. Which meant there was a hoard of marauding hungry relatives pacing up and down asking where the dinner was. And unlike my grandad, we didn't see the point of waiting for the meat to "rest" and he'd get most upset if he had to cut the meat up whilst it was too hot to slice.
My grandparents were also very traditional about which accompaniments were served with which meat. It was mustard with beef, mint with lamb and apple sauce with pork. I was very fond of apple sauce and would often ask for it only to be told "we're not eating pork today." I was also fond of Yorkshire pudding but would be told "we're not eating beef today." The Yorkshire pudding rule was only waived when my grandma stopped buying beef in the advent of Mad Cow Disease. (The cow in the quarry was probably pretty mad too).
Well as I've proven today, you can absolutely have apple sauce with roast meats other than pork. It goes beautifully with roast chicken and I've broken another rule by serving a close relative to the Yorkshire pudding – the popover – with chicken rather than beef.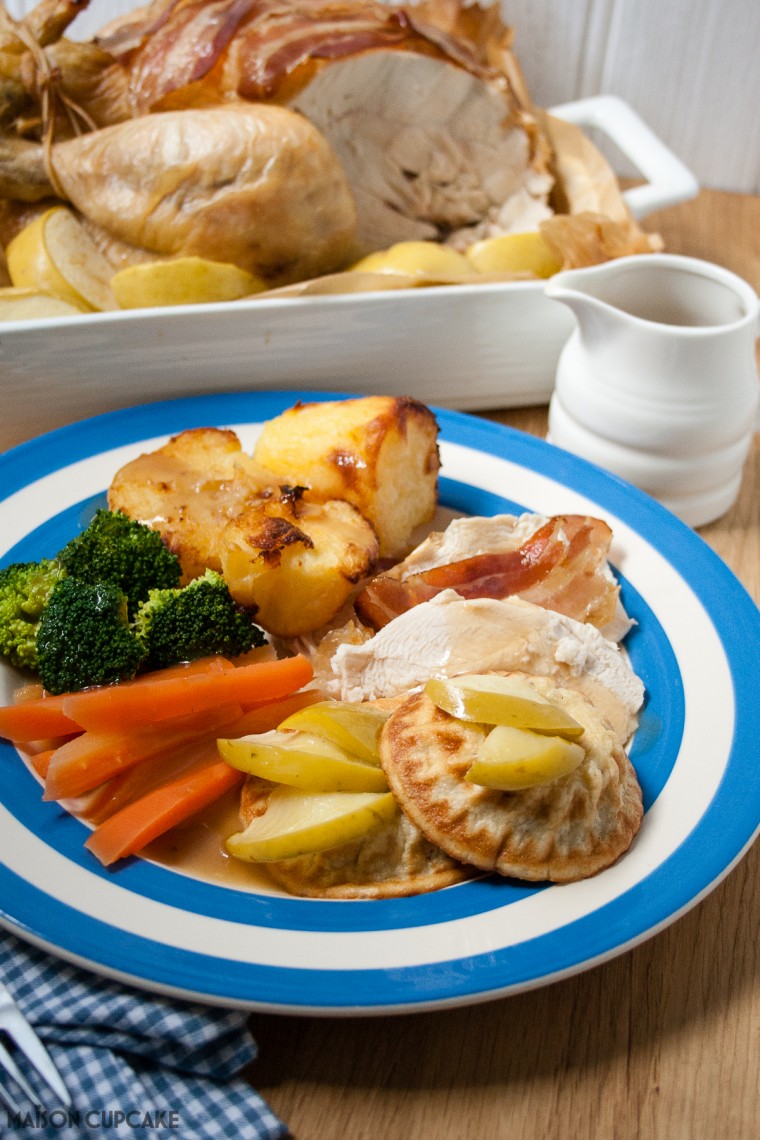 Roast dinners are not my natural territory on here – truth be told it's more likely we nip to the local Toby Carvery or my husband cooks it. If you attend a church service on a Sunday morning, it's quite a puzzle how you serve a roast Sunday lunch that day unless chucking it all in the slow cooker. So I admit, it is not a regular habit I cook them even if I enjoy the eating part very much.
Even where I manage to cook a piece of meat correctly it does all fall down at the carving stage which I'm prone to another type of butchery all together.
It's then I miss my grandad competently slicing the joint. He even had one of those electric carving knives in later years. I mourn the missed opportunity of learning more about meat and butchery from him. He would have been an excellent teacher.
My grandparents sadly did not overlap with my blog and its exploits but I know they would have taken a keen interest in it. At least if someone had printed the posts out for them to read on paper.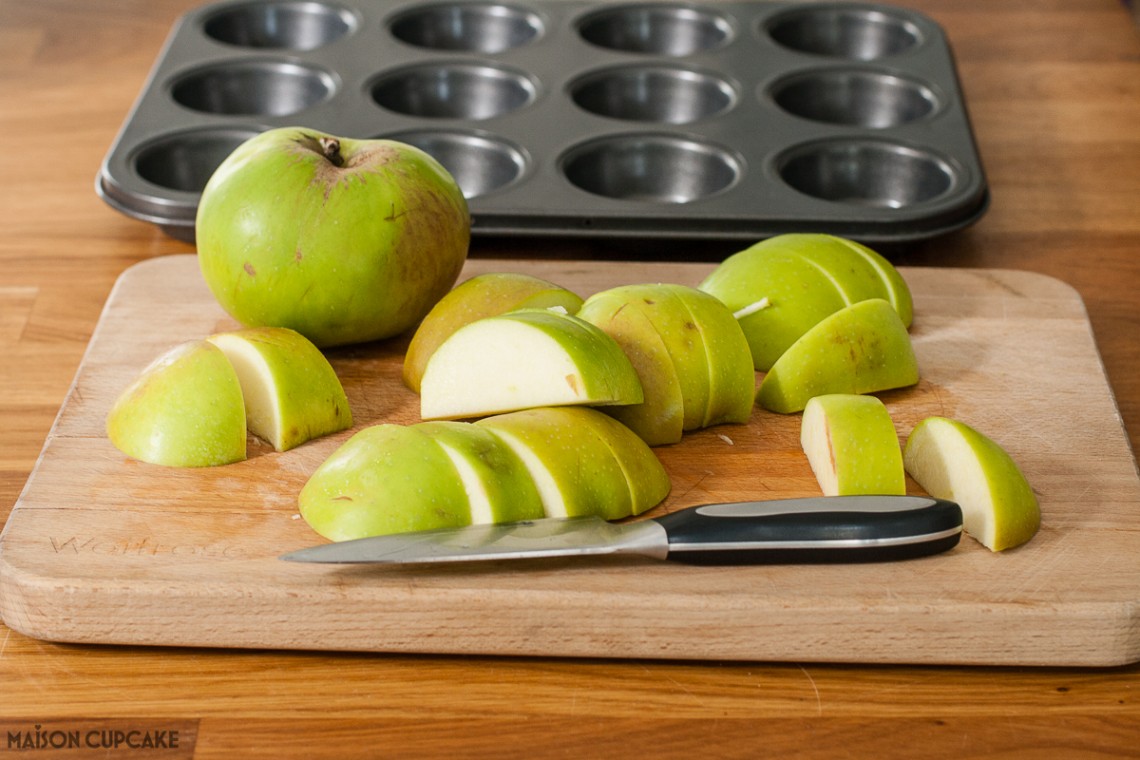 Coming back to today's roast chicken dinner, I have cast out all assumptions that Bramley apples are only for pies or sauce or that they need sweetening. I'm seeing a whole new use for Bramleys using them as much like a vegetable as much as fruit.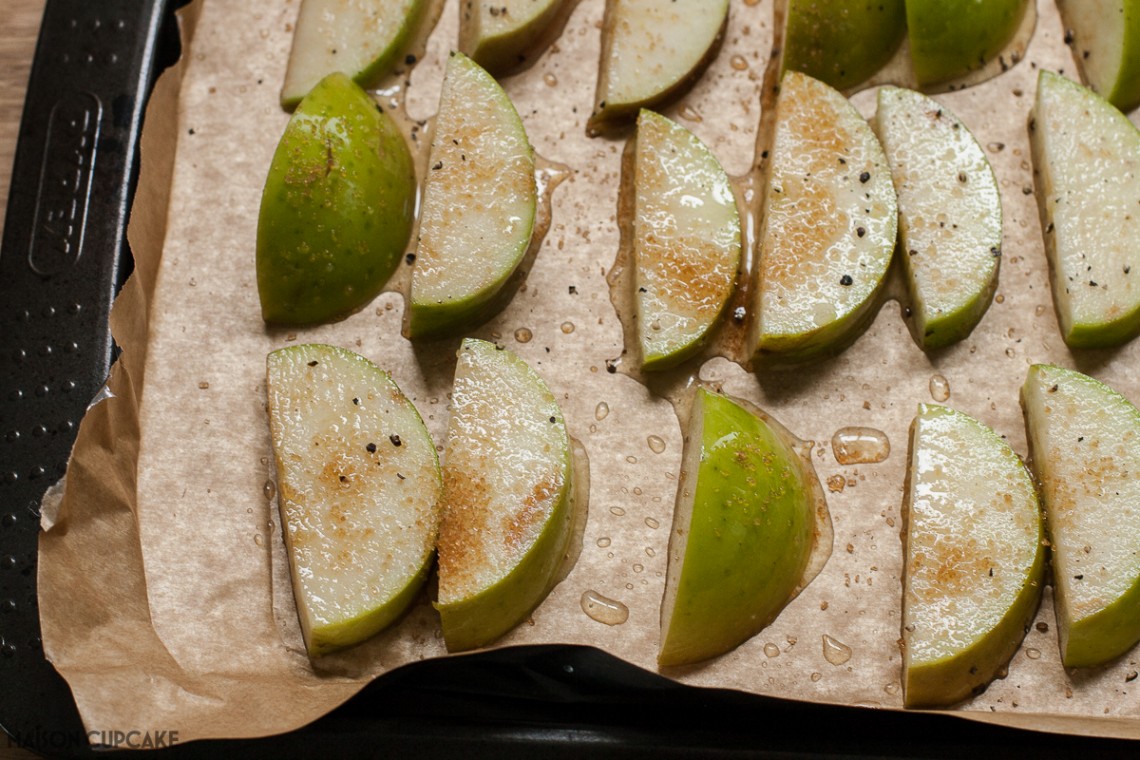 These thick slices of Bramley apple were tossed in a little oil and baked on parchment paper with a grinding of salt and pepper. I have experimented both with a scant scattering of sugar and without. But honestly they do not need the sugar.
With the oven at 200c (same as the chicken) apple wedges this size only need a few minutes to cook through to serve in pieces and slightly longer to let them cook down into sauce. Gone is my previous method of simmering chunks of cooking apple in sugar to make apple sauce. You merely need to bake Bramley then mash slightly to make a fluffy apple sauce.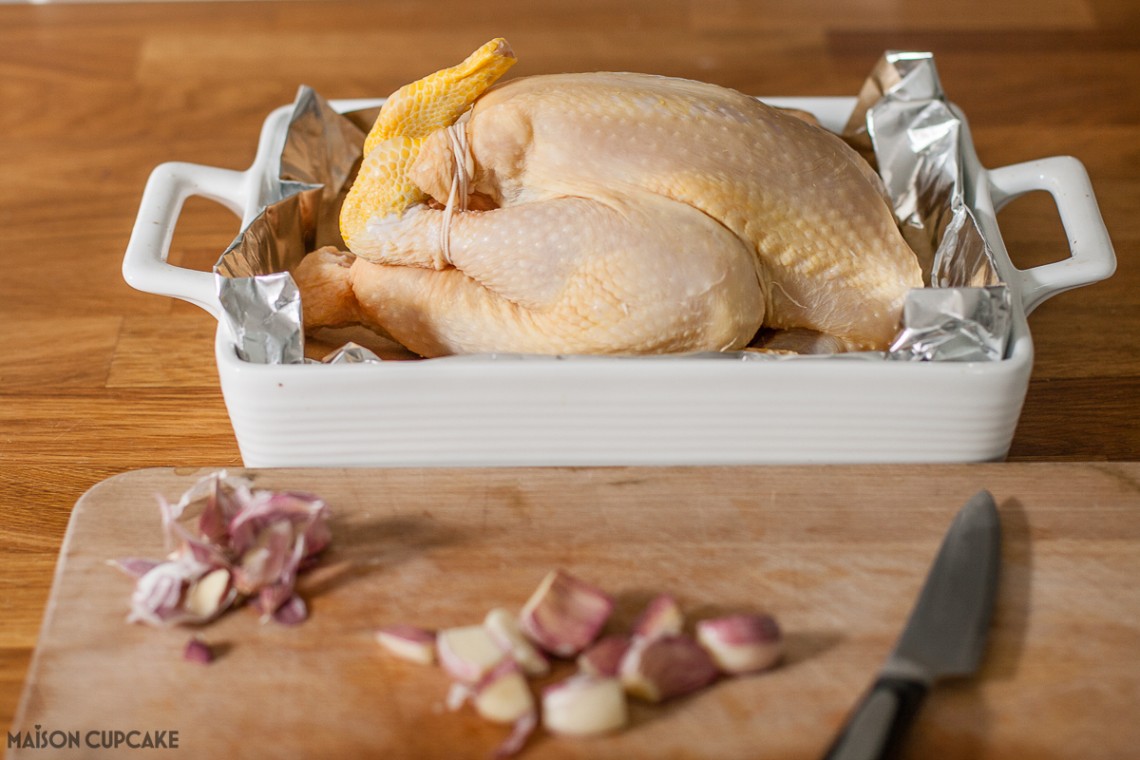 Our chicken is a free range corn fed one and I like to fill the cavity with several cloves of garlic.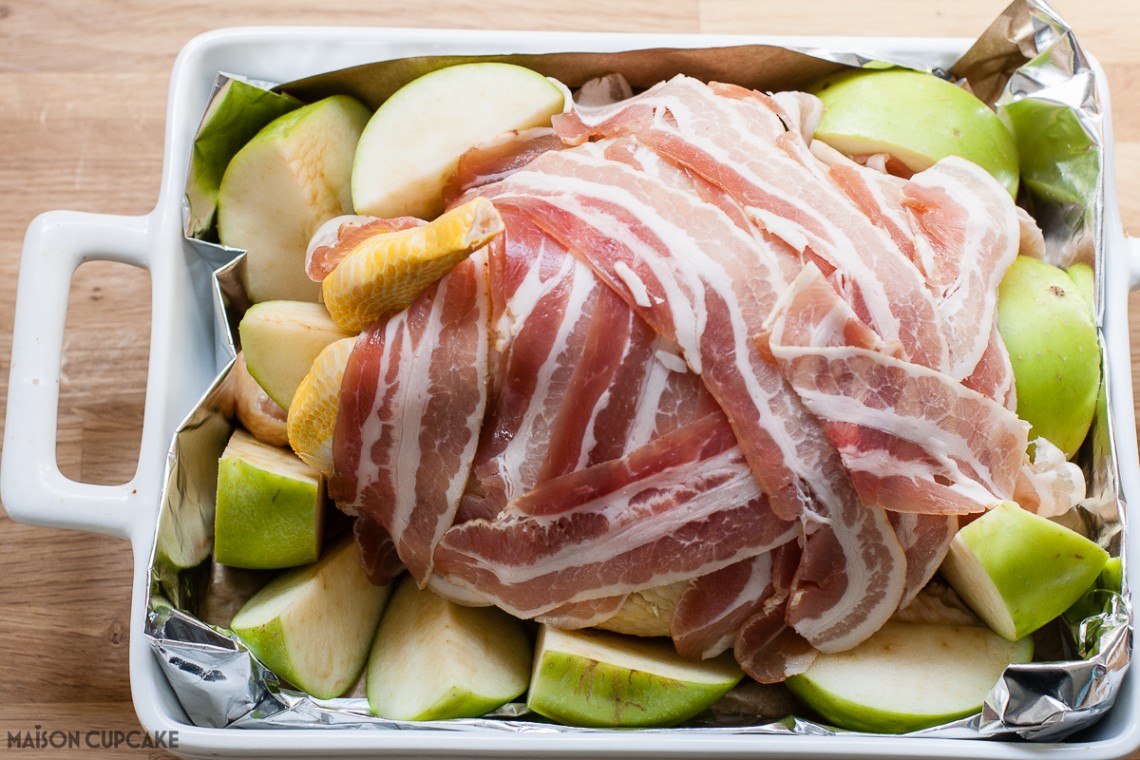 To roast the bird I covered it with pancetta. I have tried two methods for the apple around the edge; either you bake the apple wedges in the last ten minutes (coinciding with its foil covering being removed) or you can put them in at the beginning so they mush down and turn into a savoury chicken-y puree with the meat juices. The latter is less photogenic but very tasty.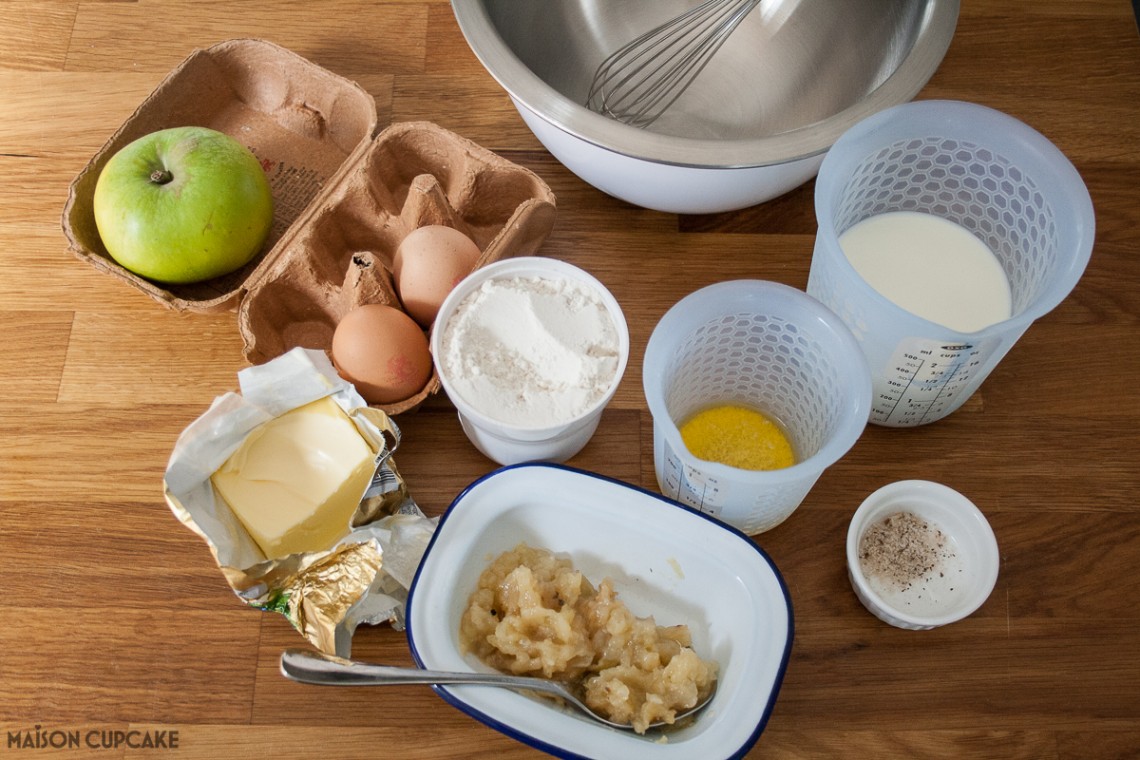 For the popovers you will find a printable recipe below – here's a glance at what you need. If you put a first batch of Bramley apple slices in to bake when the chicken first goes in, these will be done in a few minutes and you can mash half of them and leave the rest to serve whole on top. (These fab honeycomb measuring jugs* are Squeeze and Pour one by Oxo to be featured in an iminent post)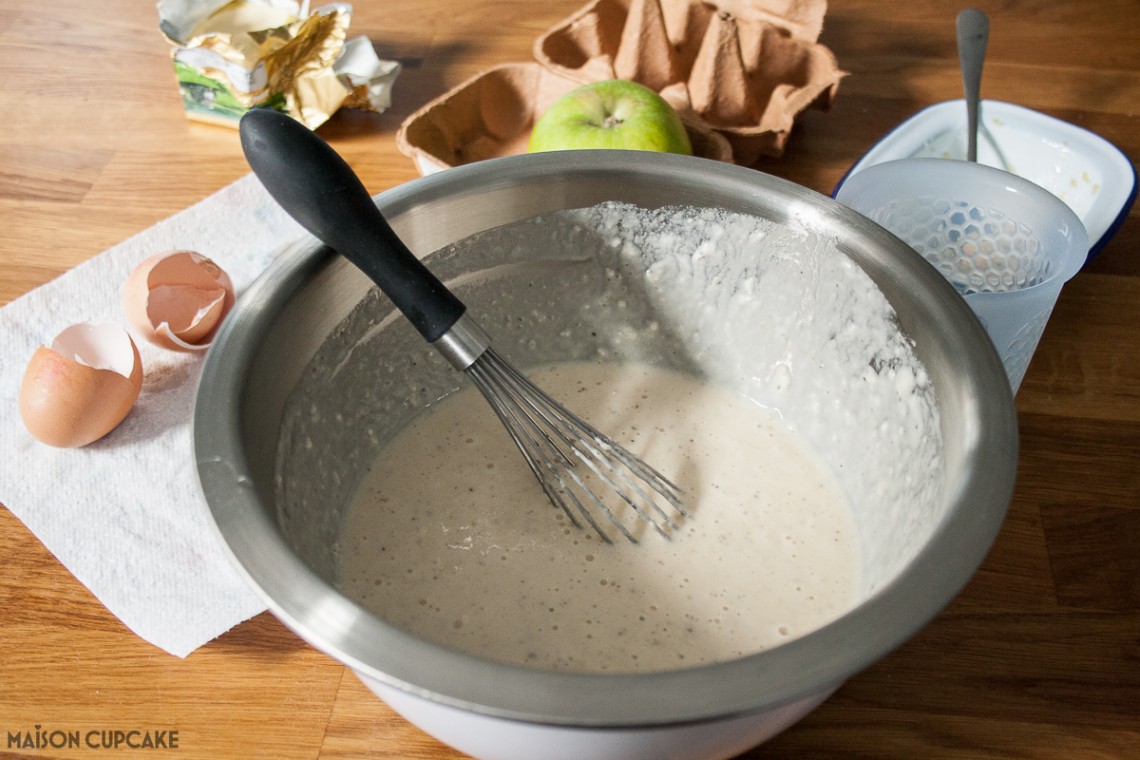 The popover batter is very easy to make – simply mix the wet ingredients in a jug and the dry ones in a bowl before whisking it all together. I have included sage in the batter to add extra herby flavour.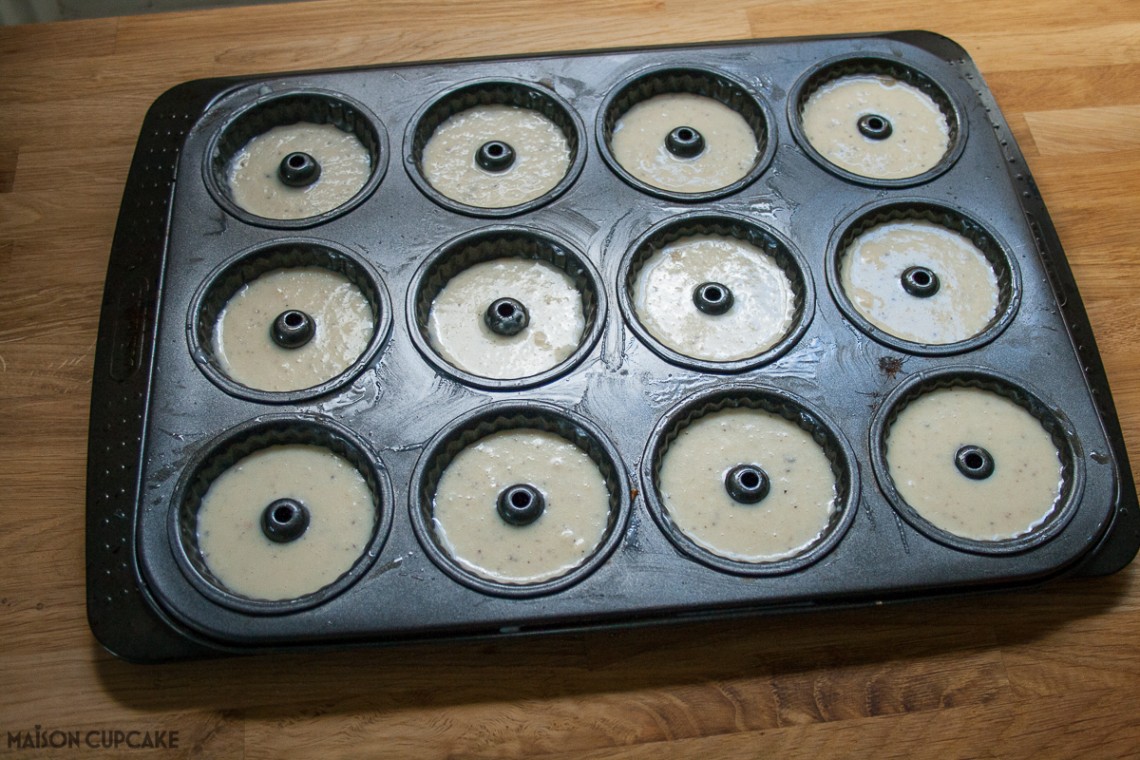 I am using once again my mini bundt tin as seen in honey and lemon cream cheese popovers (a few years back now!). Mine was from Walthamstow market but you can get one the same on Amazon*.
Grease the tin liberally with melted butter. I am still at a loss for replacement for Dr Oetker's aerosol baking spray so do comment below if you know what I can use instead.
A mini doughnut mould will do the job equally – although I like the design you get with a mini bundt. Alternatively you can use an ordinary muffin tin.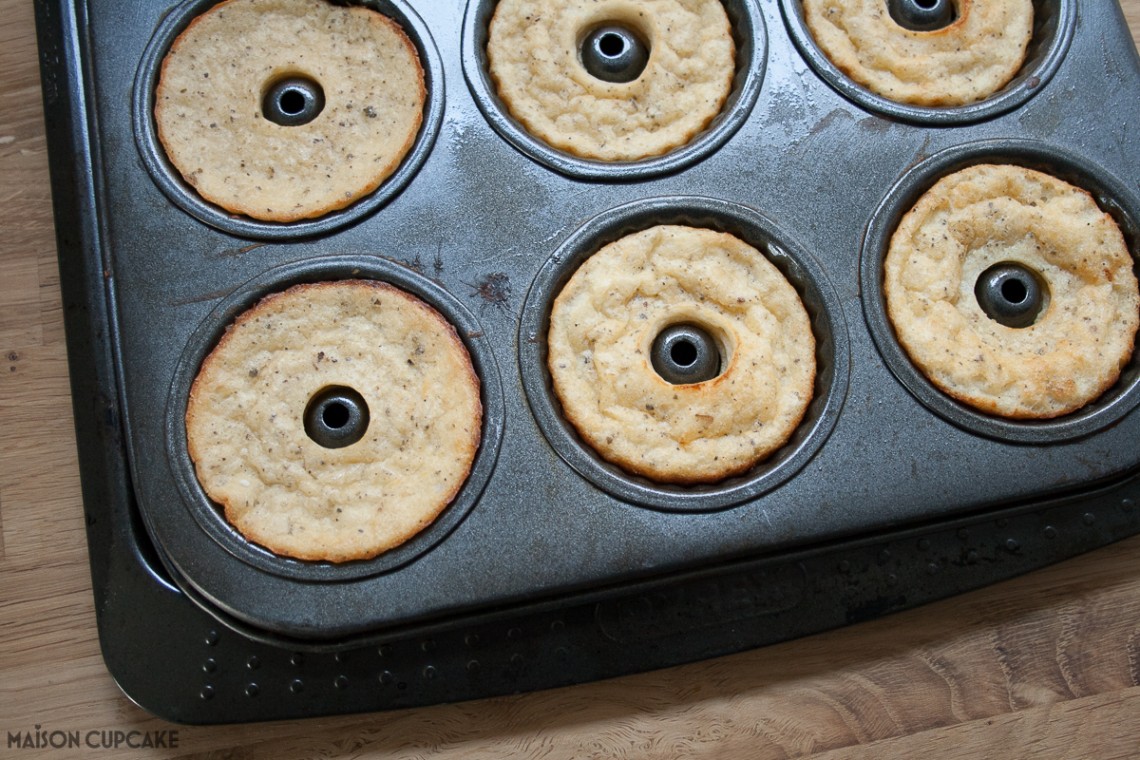 The popovers take around 15 minutes to bake and then you can pop them over (bah-bum!) the way up ready to serve.
Have you tried cooking Bramley apples with roast dinners other than pork? What did you think?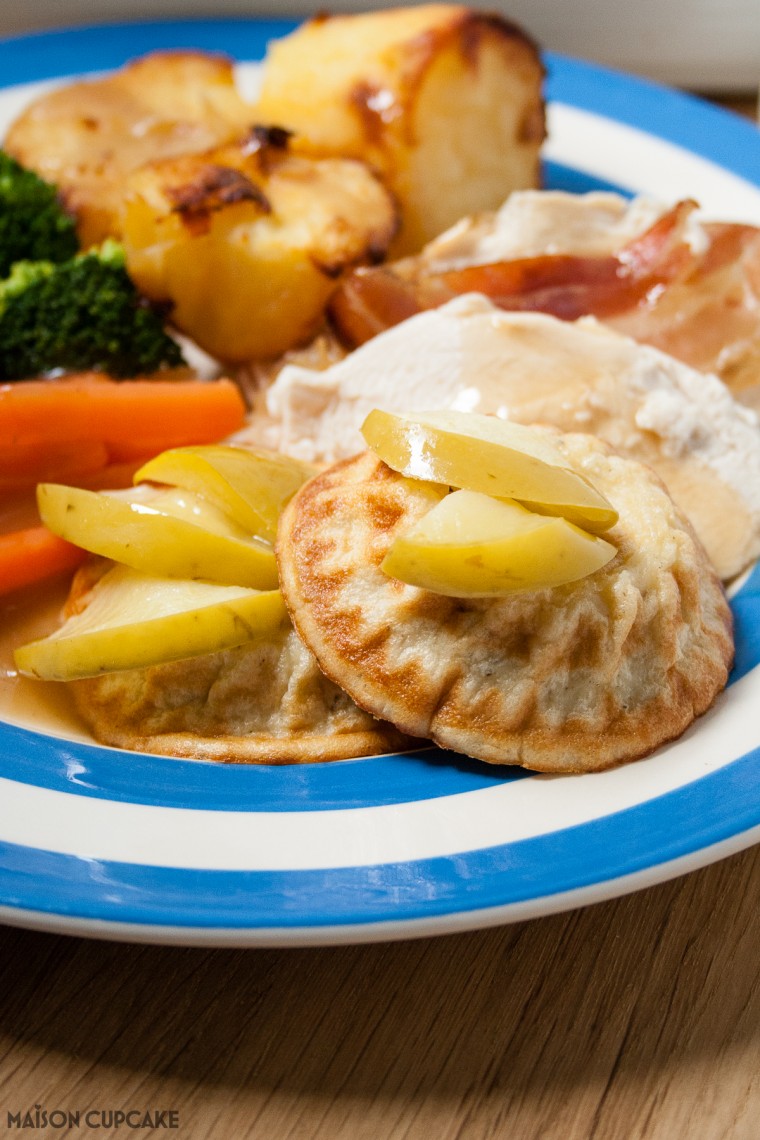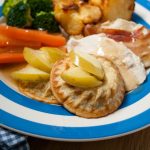 Print Recipe
Bramley Apple and Sage Popovers
Pairing Bramley apples with roast chicken for Sunday lunch.
Ingredients
1

large Bramley apple

1

tsp

rapeseed or groundnut oil

1

tbsp

melted butter plus extra for greasing the tin

2

large eggs

290

ml

milk

1¼ cups

1

tsp

dried sage

or finely chopped fresh if you have it

125

g

plain flour

1 cup

½

tsp

salt

seasoning
Instructions
Preheat the oven to 200c / gas 6.

Cut the Bramley apple into 1cm slices. In a small bowl, coat the apple slices with oil and arrange on a baking sheet lined with parchment paper. Season and bake for 5 minutes until soft but not collapsing. Remove from the oven and set aside.

Grease the tin liberally or spray with cake release spray.

Combine the flour, salt and sage in a medium bowl.

Whisk the eggs, milk, melted butter and cooked Bramley apple in a separate bowl.

Pour the wet ingredients over the flour and beat with a balloon whisk until blended and smooth-ish. Decant the batter to a jug. If you are worried the apple is too lumpy you can fix this with a very quick blitz with a stick blender.

Meanwhile pop the tin into the oven for a couple of minutes to heat it up.

Take the tin back out of the oven and quickly serve small pools of the batter into the tin and bake for 12-14 minutes until puffed up and golden brown. Don't open the oven during cooking but when you get them out give them a poke to see if they're cooked underneath.

Allow to cool slightly before removing from the tin and arranging upside down. Serve with additional baked Bramley apple slices on top.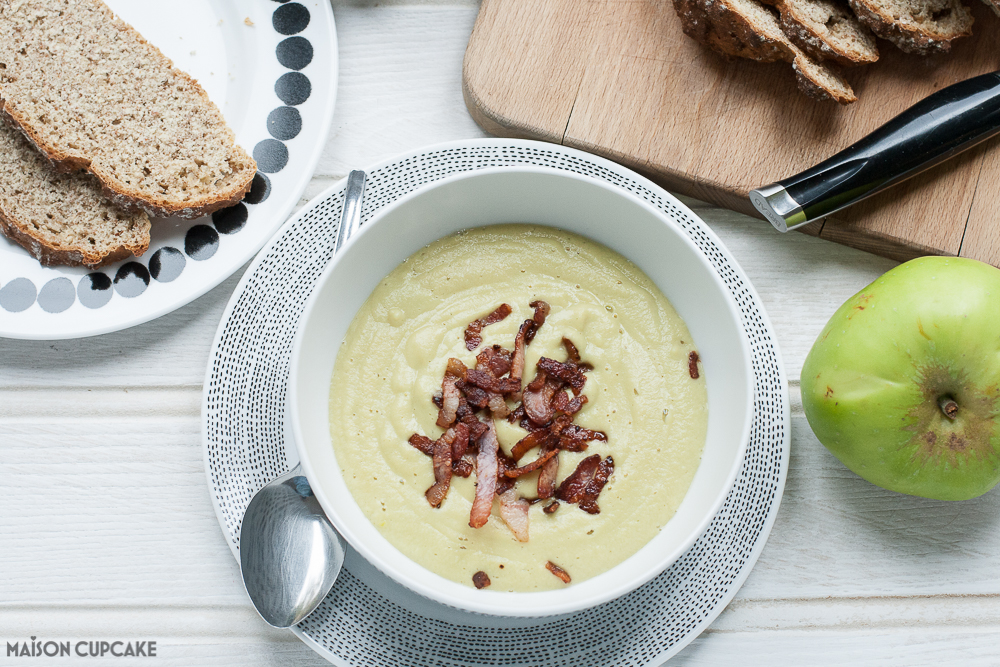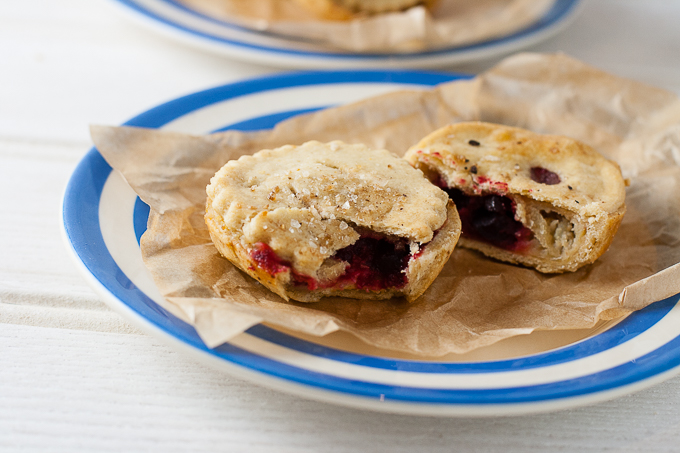 Apple soup with soya beans and bacon and Bramley apple hand pies with beetroot (vegan)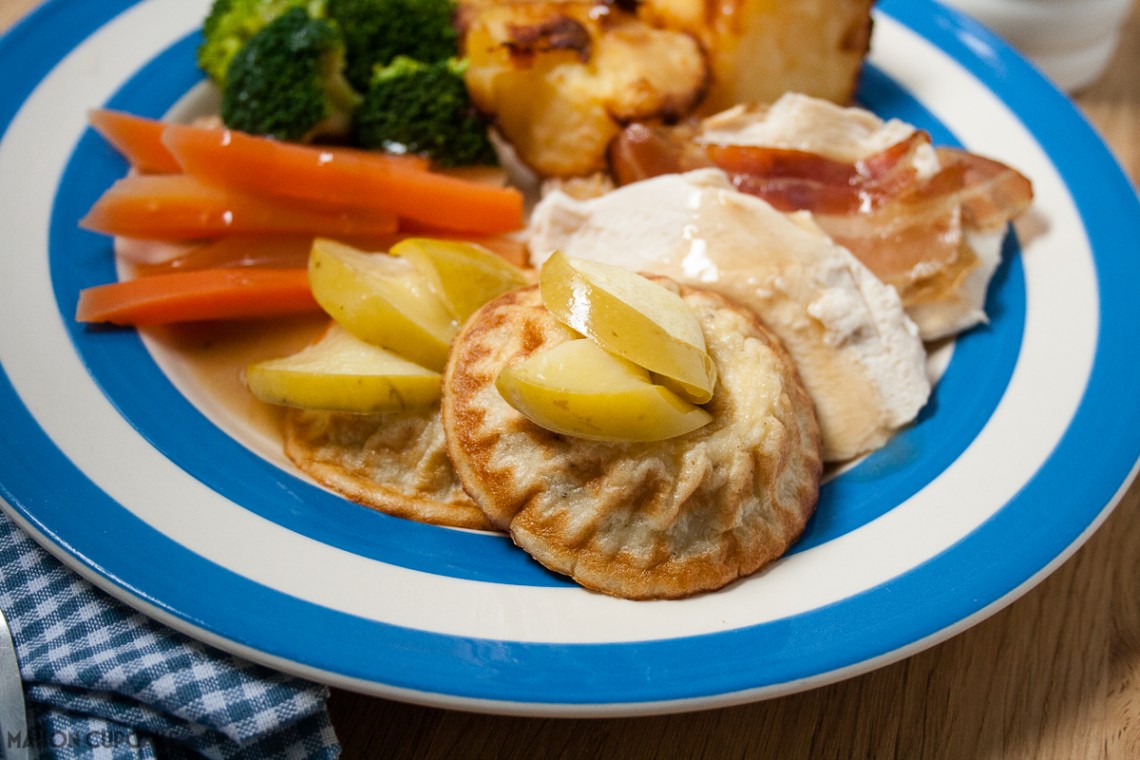 This apple and sage popovers recipe post was commissioned by Bramley Apples.