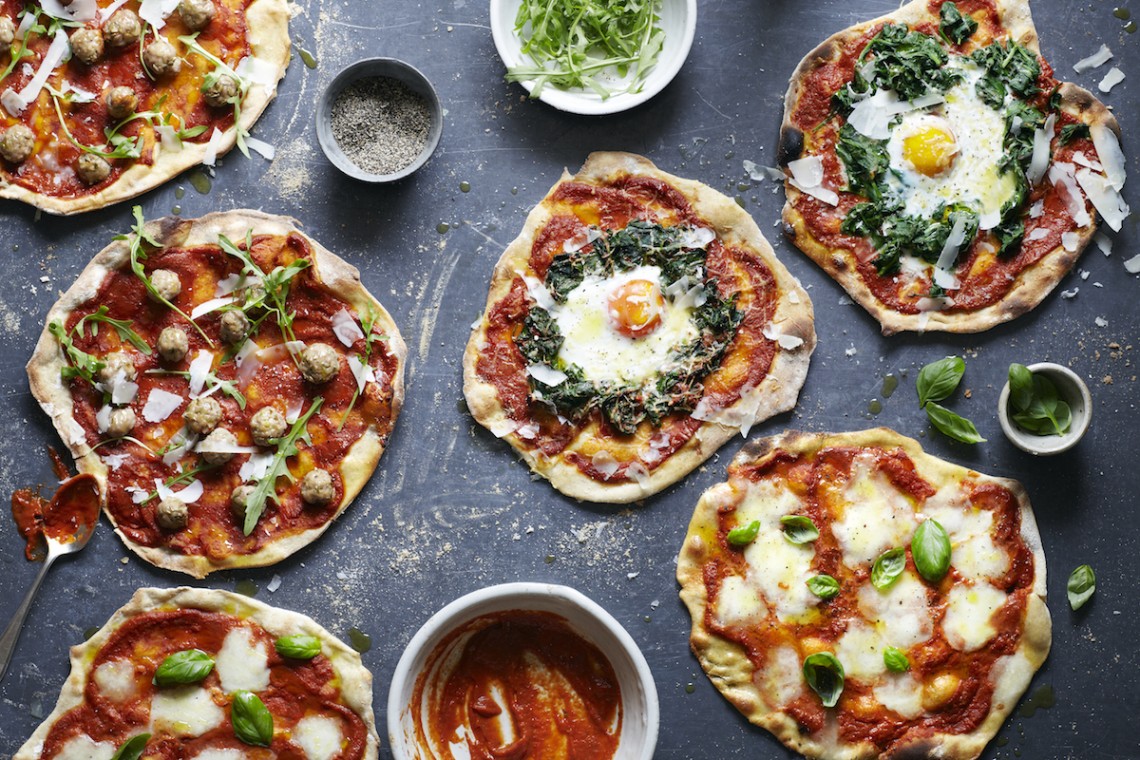 Today's guest recipe comes from Spelt by Roger Saul*. If you've not heard the name Roger Saul then you've very possibly heard of his company Sharpham Park which produces a range of spelt flours. They were first people to do so commercially in the UK bringing the benefits of spelt within easy reach of consumers through Sharpham Park flour. Spelt flour is now widely stocked by mainstream retailers such as Sainsburys, Waitrose and Ocado.
Pizza is a dish that could be off limits to people who have problems digesting white modern wheat products but this spelt pizza dough recipe may be better tolerated by people suffering wheat sensitivity. To bake your pizza base properly I recommend using a pizza tray with holes in it that lets the base crisp up. Mine is by Kitchencraft* although Lakeland do similar versions that are equally good.
I have cooked with spelt on various occasions – several published on this site. I have found it more flexible to work with than gluten free flours and not being coeliac, am able to enjoy spelt to bring wider variety to my family's diet than reliance on basic wheat products. I'm firmly in the belief that even if you do not suspect wheat intolerance or sensitivity to other ingredients or potential food allergens, that it is more beneficial to make your diet as varied as possible.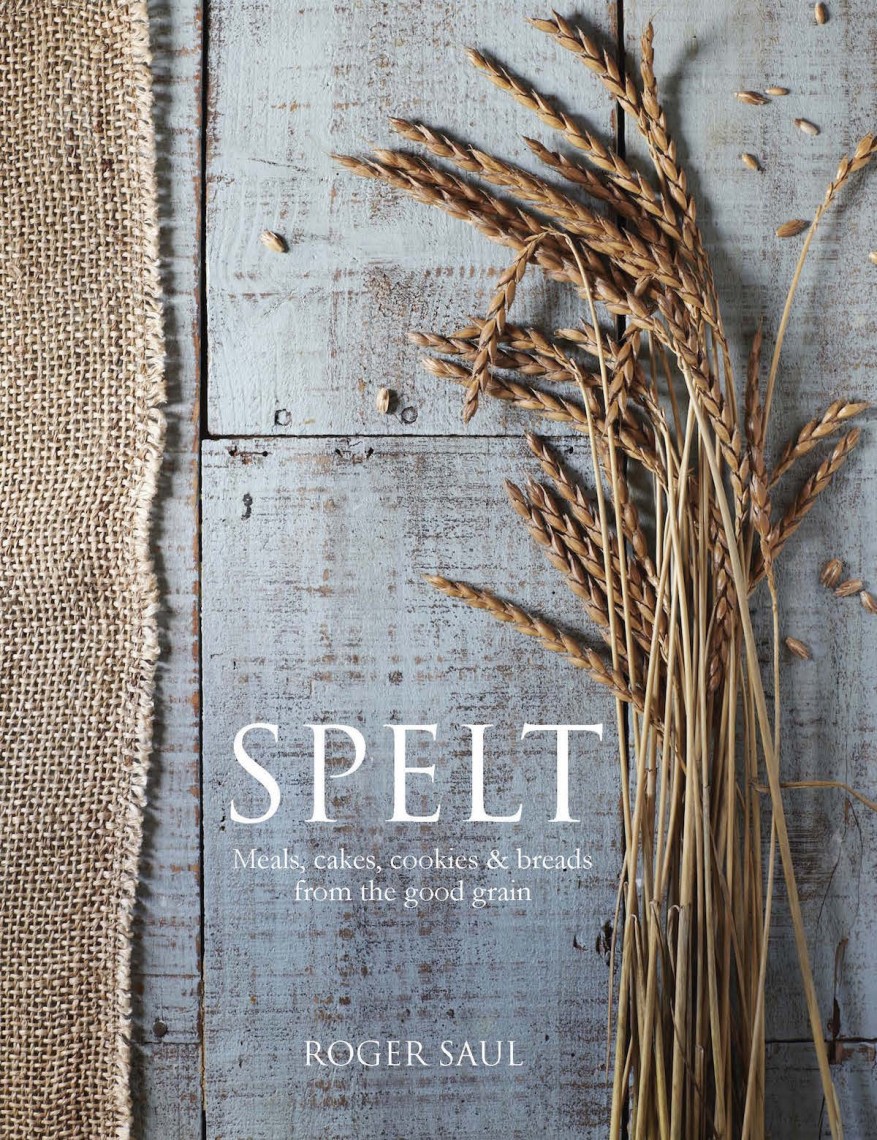 HISTORY AND NUTRITIONAL BENEFITS OF SPELT
Spelt is an ancient grain originally grown in Britain around 9000 years ago having arrived here from the Middle East. It was widely grown from 2000 years ago but fell from favour in medieval times. Apart from a short blip in the 19th century, Spelt had largely been ignored until recent years whilst higher yielding crops dominated.
But this was a pity. As well as having an appealing flavour and texture, spelt offers considerably more complex nutritional benefits to wheat.
Roger Saul has long championed the farming of British spelt at his farm Sharpham Park in Somerset. After hearing about the digestive properties of the grain he became the first commercial producer of spelt in the UK. Roger was no stranger to the business world having created and developed the British handbag brand Mulberry in the 1970s.
The Romans were fans of their "marching grain" with its slow energy release properties. More recently Sir Ranulph Fiennes had chosen it as fuel for his polar expeditions. Yet the molecular structure of spelt breaks down more easily than conventional wheat – making it easier to digest. Although it should be noted spelt still contains gluten and is not suitable for coeliac diets. Sharpham Park have published a detailed article on the nutritional benefits of spelt.
Roger's book, simply called Spelt, showcases the breadth of possibilities to use this grain in cooking. Recipes include "speltotto", salads and baking. Also featured are several dishes from foodie friends of Sharpham Park such as Mark Hix and Signe Johansen.
Spelt night with Roger Saul at River Cottage Canteen
If you'd like to learn more about spelt, Roger will be hosting a Spelt Night at the River Cottage Canteen in Bristol on May 19th. Guests will dine on 3 spelt based courses from River Cottage Canteen's menu whilst listening to Roger sharing his enthusiasm for spelt, its health properties and the work of Sharpham Park. There'll also be an opportunity to buy and have Roger sign your copy of Spelt.
On his spelt pizza dough recipe, Roger says, "My favourite pizza maker is Giuseppe Mascoli, who created Blacks club and the Franco Manca restaurant in London. He is a perfectionist and spent ages trying to get that really fine, crisp base using our spelt flour. He would always want the flour as refined as possible. 'Roger, give me double refined!' So if you are being really picky, sift your flour once more."
Have you tried baking with spelt?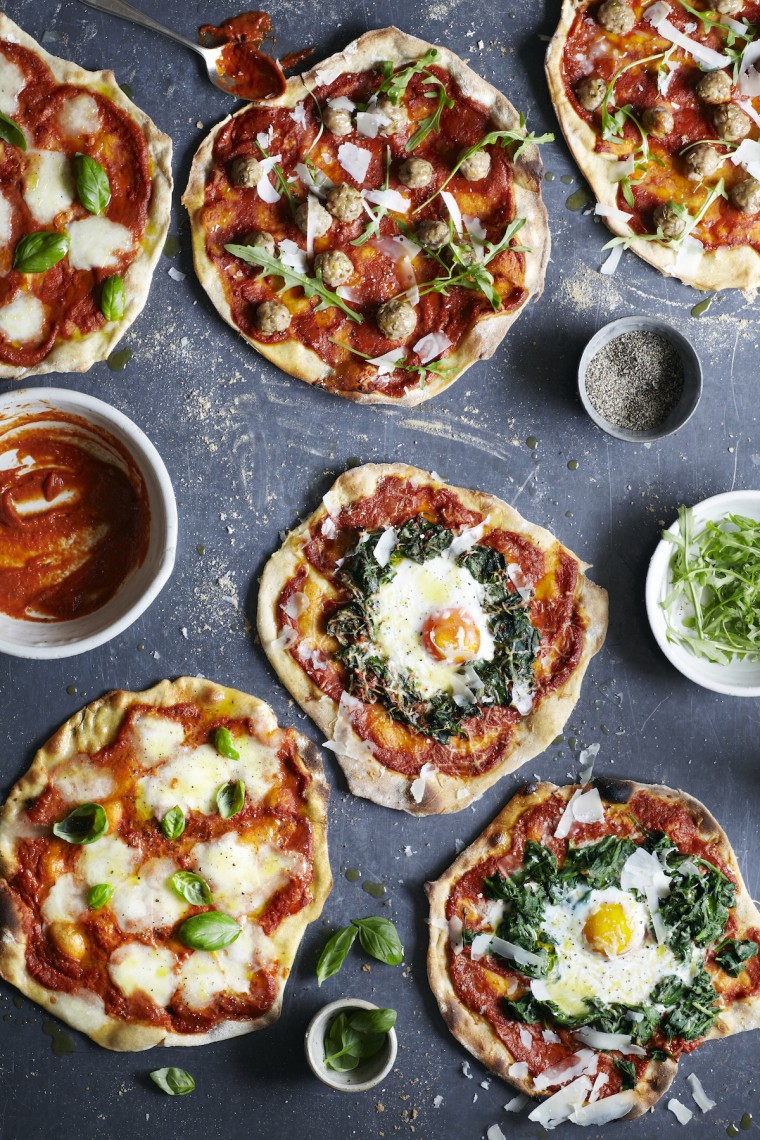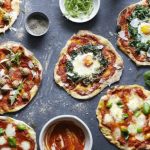 Print Recipe
Spelt pizza dough recipe
Makes dough for six 9 inch spelt pizzas.
Ingredients
60

ml/2fl oz/¼ cup extra virgin olive oil

plus extra for greasing

650

g/1lb 7oz/5¼ cups white spelt flour

plus extra for dusting

1

heaped tsp sea salt

15

g/½oz/2 tbsp fresh yeast

crumbled, or 7g/¼oz/2 tsp fast-action dried yeast

a pinch of sugar

½

tsp

dried oregano

optional
Instructions
Lightly oil a large bowl. Put the ingredients in another large bowl and make a well in the centre. Add 430ml/15¼fl oz/1¾ cups lukewarm water and mix together, using a wooden spoon, to a rough dough.

Turn the dough out onto a lightly floured work surface and knead for about 10 minutes, or until the dough is smooth and elastic and springs back when poked. Transfer the kneaded dough to the prepared bowl, cover with a clean, damp tea towel and leave to rise in a warm place for 45 minutes, or until it has doubled in size.

Turn the dough out onto a lightly floured work surface, knock the air out of the dough by punching it with your fist and knead gently once or twice. Shape the dough into 6 evenly sized dough balls, cover again and leave to prove for at least a further 10 minutes. In a perfect scenario, make the dough in the evening and let it rest overnight.

Preheat the oven to 250°C/500°F/Gas 9 and grease several large baking sheets. Roll out the dough pieces to 23cm/9in diameter circles, then put them on the prepared baking sheets. Add your toppings and bake as indicated in the following recipes.
Spelt pizza dough toppings
Tomato sauce
Ingredients
1 tbsp sunflower oil
3 garlic cloves, finely chopped
400g/14oz/1? cups tinned chopped tomatoes
500g/1lb 2oz tomato passata
1 bunch of basil leaves
½ tsp chilli flakes
¼ tsp caster sugar
salt and freshly ground black pepper
Directions
Heat the sunflower oil in a saucepan over a medium heat. Add the garlic and fry gently for 1 minute until soft but not browned. Stir in the tomatoes, passata, basil, chilli flakes and sugar. Cook for 5–8 minutes until the sauce starts to reduce a little.
Remove from the heat and blend with a hand-held blender until you have a really smooth sauce. Season with a little salt and pepper, then cook over a medium-high heat for a further 5–10 minutes, or until the sauce is quite thick but not solid. Season again, if necessary.
Tomato & Mozzarella Pizza
Ingredients
1 recipe quantity Tomato Sauce (see above)
200g/7oz mozzarella cheese, shredded into strips
a drizzle of olive oil, to serve
Directions
Spread the tomato sauce over the spelt pizza dough bases, then spread with the shredded mozzarella. Bake for about 10 minutes until cooked through and bubbling, then drizzle with a little olive oil before serving.
Toppings
Fiorentina Pizza
250g/9oz spinach leaves
a pinch of freshly grated nutmeg
100g/3½oz Tomato Sauce (see above)
6 eggs
50g/1¾oz Parmesan cheese, shaved into strips
sea salt and freshly ground black pepper
a drizzle of olive oil, to serve
Pork & Fennel Meatball pizza
1 recipe quantity Pork & Fennel Meatballs (see above)
1 recipe quantity Tomato Sauce (see opposite)
200g/7oz mozzarella cheese, shredded.
a few Parmesan shavings
sea salt and freshly ground black pepper
rocket leaves or herbs, to serve
Directions
Make the meatballs to the end of step 3 of the Pork & Fennel Meatballs recipe (below) so you have uncooked bite-sized meatballs.
Spread the pizza bases with tomato sauce, then top with the uncooked meatballs and sprinkle with the mozzarella. Season with salt and pepper. Bake for 8–10 minutes until puffed up, golden and the meatballs are cooked. Top with some Parmesan shavings and serve with a handful of rocket.
More spelt recipes
Try my other spelt recipes such as these pear and ginger spelt muffins and pumpkin spelt flour yogurt cake.
*Affiliate links used in this post.
Tickets to the River Cottage Canteen Spelt Night cost £28 including a 3 course set meal with further information available from: https://www.rivercottage.net/canteens/bristol/whats-on
Spelt pizza dough recipe reproduced with permission. Spelt by Roger Saul* is published by Watkins Publishing Ltd.