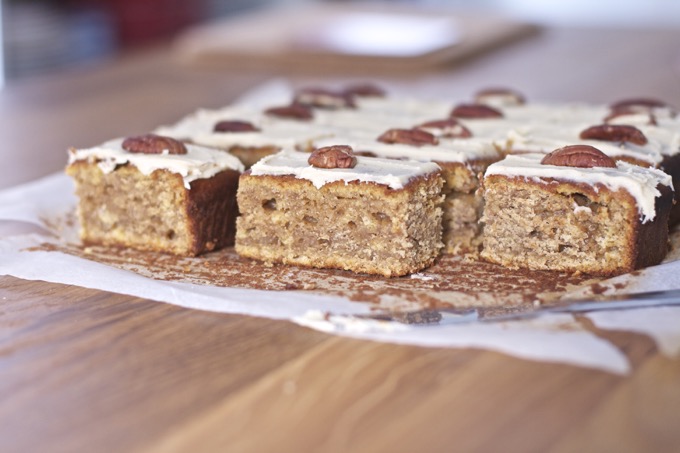 When I first moved to London, over half my life ago, I wasn't the only person excited by the bright lights of the capital.
It seems strange now but back in the early nineties, probably my mother had only been to London a couple of times herself and now she had an excuse to visit several times a year.
My university campus virtually buffeted the M25 in Cockfosters, I was barely in London. My university halls of residence offered students two addresses they might use; Cockfosters in Hertfordshire or Oakwood in the N14 London postcode. Naturally, keen to emphasise my long coveted status as a Londoner, I chose the latter.
I was over an hour from central London but I made the trip there most weekends. Twice in one day sometimes (in order to maximise the value of my one day paper travel card). To even get to the station required a trip on a campus shuttle bus around a mile and a half to Oakwood station. Students were discouraged from walking down the lonely country road unless in groups of three for personal safety reasons. Even a trip to Asda in Southgate for groceries required an expedition via the shuttle bus which ran every 20-30 minutes. Very few of us had access to a car.
My mother would visit around once a term and keen to show off my new home city I'd take her on the Piccadilly line to the West End. The carriages were still old fashioned with wooden floors and window frames – now on display in the London Transport Museum – and our genteel rattle into town feels closer to the 1950s than the present. Escalators were often still wooden. London Transport were still in the process of replacing them after the Kings Cross fire five years before.
We'd switch at Finsbury Park and get off at Oxford Street. My mother was incredibly impressed by the gigantic display of TV screens at the top of the escalators for Topshop and said it was "like New York".
After pounding the pavements of Oxford Street, through Soho and Piccadilly Circus we would wind our way to Leicester Square tube station and the last stop of the day was always this brilliant new sandwich shop called… wait for it… Pret a Manger. My mother always bought some Pret a Manger carrot cakes to take home with her to the Midlands. They were individually boxed rectangular cinnamon scented cakes spread with a thin layer of icing on top. There was always a paper lining on top of the icing printed with a red star. They probably still sell them now but I've not bought one for years.
So that's what I had in mind when I made these pumpkin cakes – they're not pumpkin but it's another orange vegetable so not far off. Because there's no butter the batter is easier to mix, it's really a muffin type batter of wet ingredients mixed together than the dry ingredients stirred into that. It's a variation on my earlier white chocolate and raspberry cake and chocolate cherry yogurt cakes.
They're very easy to make and would suit school bake sales nicely.
How long ago did you first visit London?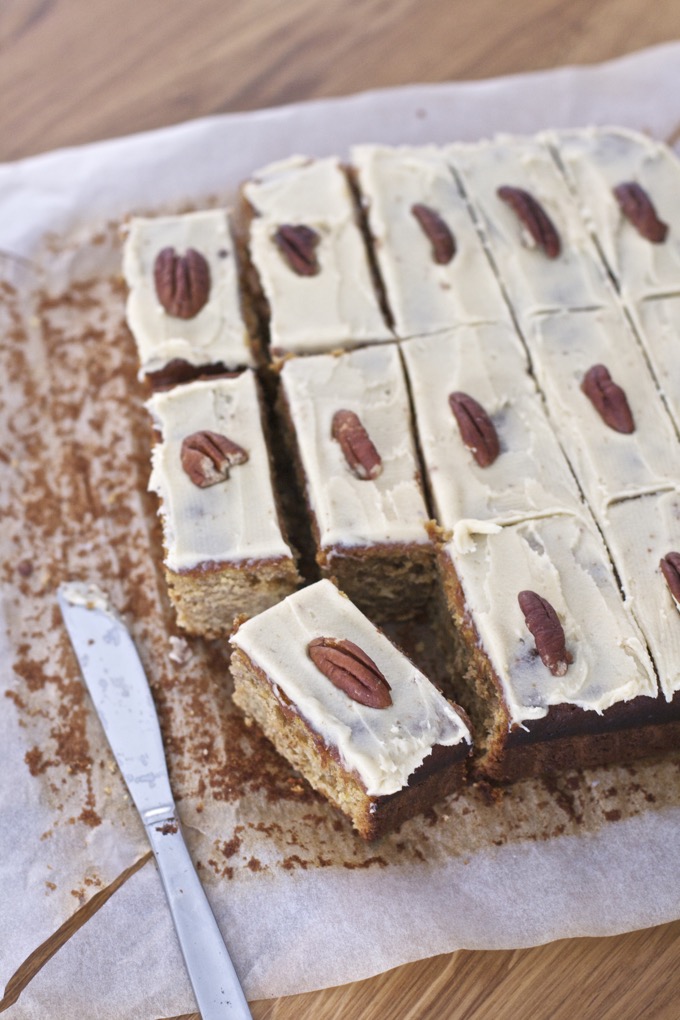 Easy pumpkin yogurt cake with spelt flour recipe
Ingredients
250g goats' milk yogurt
2 large eggs
250g soft brown sugar
90ml sunflower oil
100g pumpkin puree
250g spelt flour
2 tsp ground cinnamon
3 tsp baking powder
75g ground almonds or hazelnuts
For the topping:
Approx 1/3 quantity caramel buttercream from these sweet potato cupcakes
pecans for decoration
You will need a 24cm metal rectangular baking tin and parchment baking paper.
Directions:
1. Preheat the oven to 180c / Gas 4. Cut the parchment paper to fit the baking tin leaving the sides around 5-6cm high.
2. In a medium size mixing bowl lightly whisk together the goats' milk yogurt, eggs, pumpkin puree, soft brown sugar and oil.
3. Sieve in the spelt flour, ground cinnamon, baking powder and almonds (or hazelnuts) and fold in until just mixed.
4. Pour the mixture into the lined baking tin and coax towards the edges with a spatula.
5. Bake for around 35 minutes until the top is golden and a cocktail stick or wooden skewer inserted into the cake comes out clean. Remove from the oven and allow to cool in the tin for a few minutes before lifting by the paper and placing on a wire cooling rack to cool completely.
6. Spread the buttercream over the top and arrange pecans in rows. Cut into rectangles to serve. To keep the cake fresher longer, you can trace the lines in the buttercream but slice through completely at the point of serving. Individual bars need eating within an hour or two but the whole cake will keep in an airtight tin for several days.
To find out more about the goats' milk and spelt flour used in this recipe visit my December food reviews.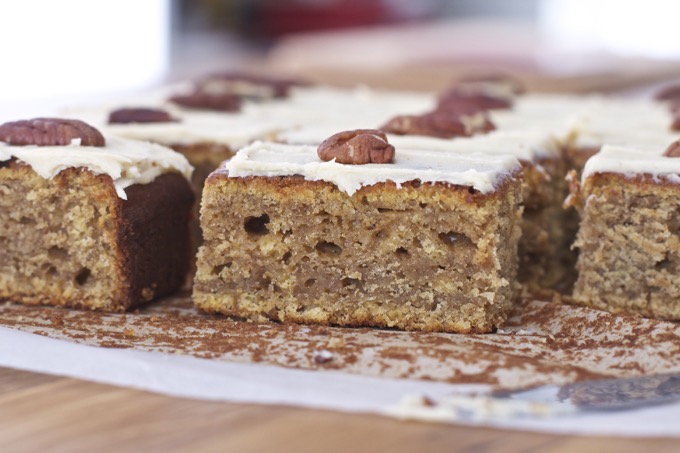 If you'd like this easy pumpkin yogurt cake with spelt flour recipe you might also like: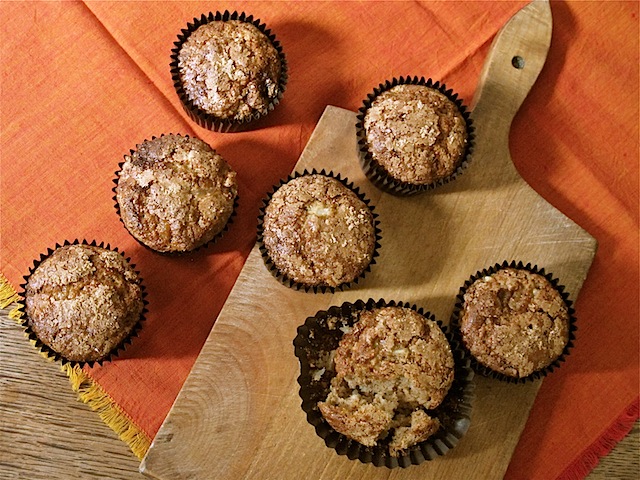 Spelt muffins with pear and ginger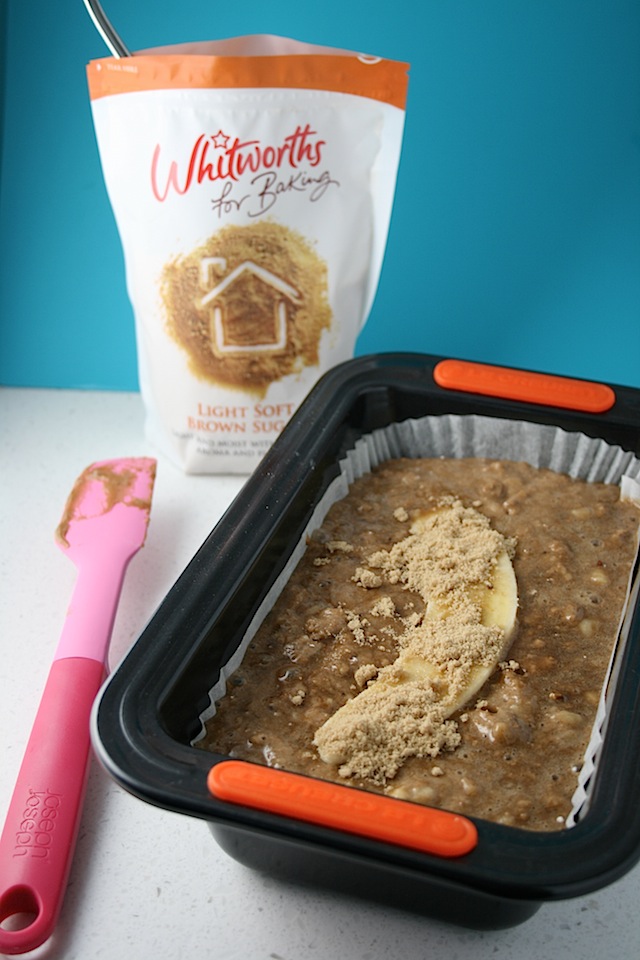 Or:
Spiced Apple Spelt Cake with Rooibos Franglais Kitchen
Apricot and Pumpkin Seed Rolls Botanical Baker
Malted Spelt Soda Bread Kavey Eats