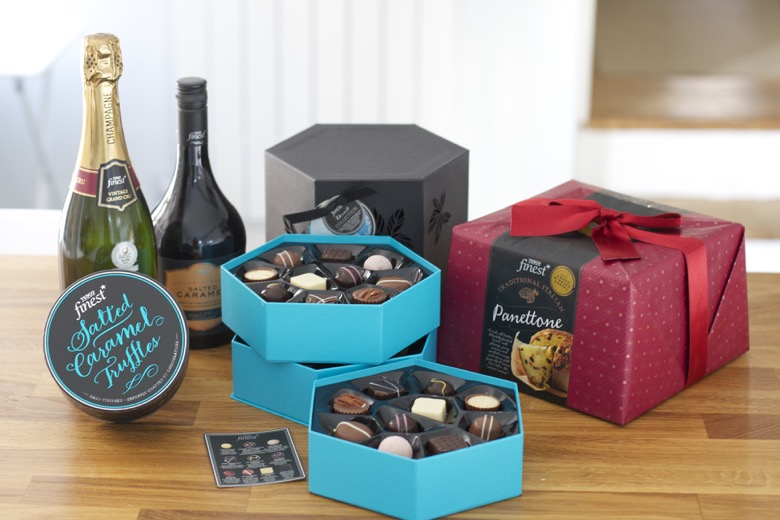 The last of this week's review posts – see also Wednesday's December Book Reviews and yesterday's December Kitchen Additions (homeware). Today it's December food reviews although some things are not strictly for Christmas.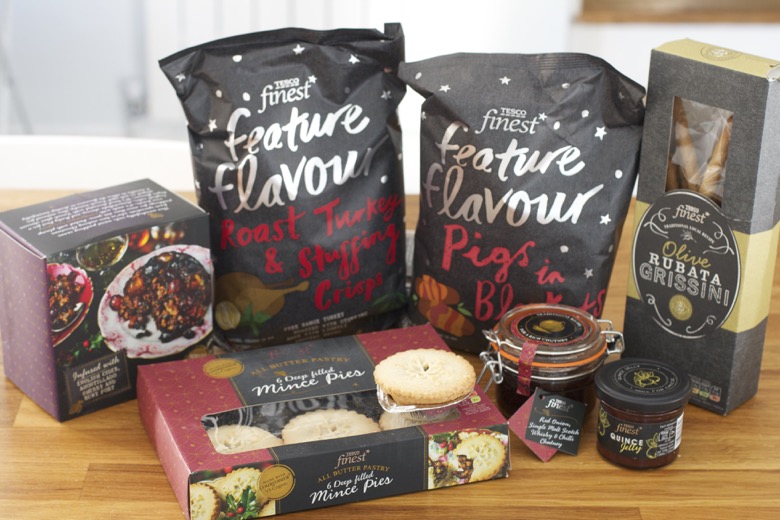 First up, Tesco finest Christmas range – Tesco truly spoiled several food bloggers this month with a bumper hamper of Christmas products as a forerunner to a Twitter party held last week. Show stopping item was the bright blue three tiered hexagonal chocolate box with a "dessert" themed selection of chocolates. My personal recommendations are the Finest mince pies, Pigs in Blankets Finest Crisps and a cream liqueur that tastes like Bailey's with salt caramel in it. Oof. In Tesco stores now, larger stores may carry a wider range.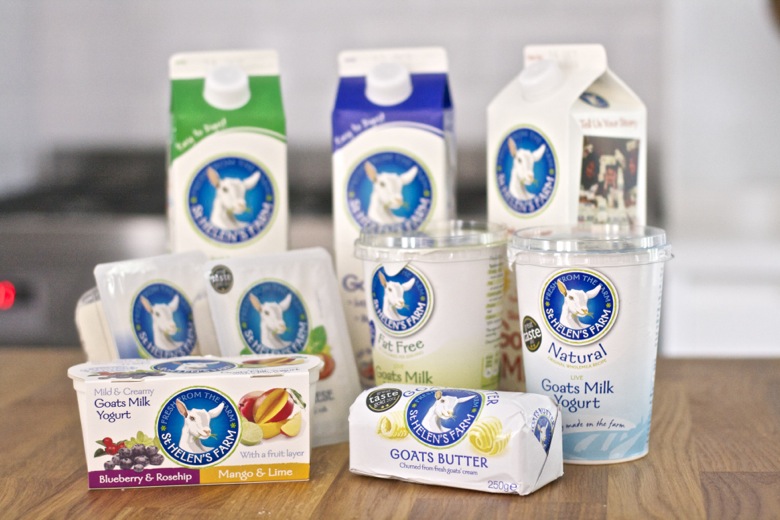 St Helen's don't just do goats' milk, they do a range of yogurts, cheeses and butter too. Goats' milk is sometimes better tolerated by people who are cows' milk intolerant.  If you've not tried goats' milk products before they're very distinctive with much more of a tang than cows' milk. My aunt used to say goats' cheese smelled like the billy goat and she wasn't far wrong although I find the flavour more pleasant myself. I have this pumpkin and yogurt cake with it. Available from Tesco and Waitrose and others. Lines carried by retailers may vary.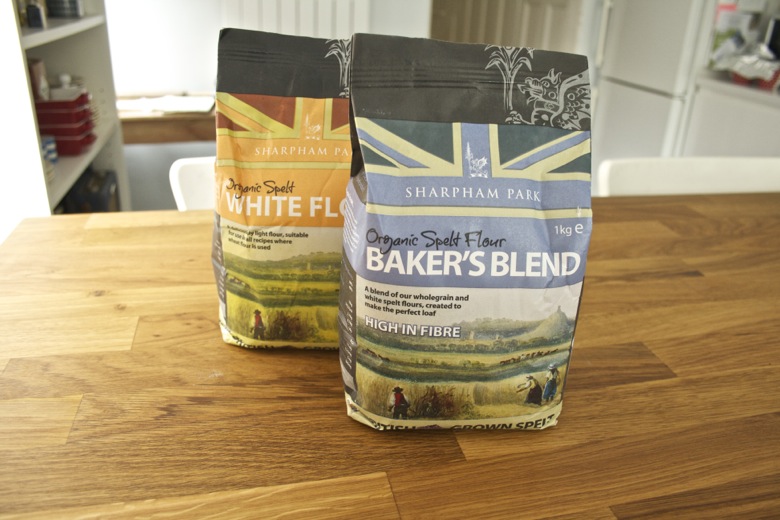 Sharpham Park Bakers' blend – also in the pumpkin and yogurt spelt flour cake recipe being published today Sharpham Park Bakers' Blend spelt flour. Spelt flour is derived from an ancient form of wheat which people intolerant of modern wheat can sometimes eat without problem. I personally haven't been diagnosed with wheat intolerance but have been limiting my consumption of it recently as it makes me feel tired. It is likely I will be increasingly be publishing only gluten free and spelt baking recipes in the new year. Available from Waitrose.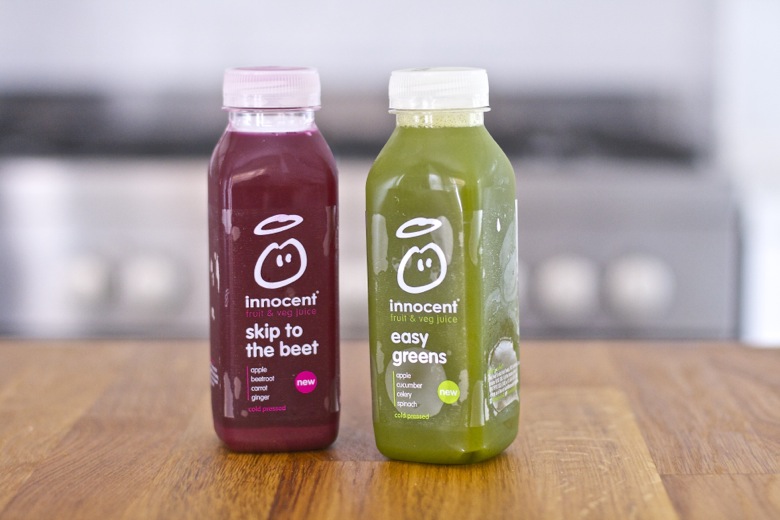 Innocent cold pressed juices would have been more suited to a new year detox round up but I'll include them here. Skip to the Beet is apple/beetroot/carrot/ginger and Easy Greens has apple/cucumber/celery/spinach. They've both got that chlorophyl-y taste you get when juicing your own veg but sweet enough to drink without feeling like punishment. Cold pressing means "sensitive" vegetables like cucumber, spinach and beetroot retain their colour, taste and texture. Available from Starbucks. 
Pomegranate and Apple Appletiser was launched in October during the all things pink Breast Cancer Awareness month but still on sale now. Since I'm cutting back on alcohol lately it has become my drink of choice when I see it in pubs. A less predictable non-alcoholic option for the driver in the party. Available from Tesco, Waitrose, Toby Carvery and others. 
Lindemans sent me a bottle each of red and white wines. Now you may already now that I'm strictly a pink or fizzy girl but this Bin 95 Sauvignon Blanc was highly drinkable even to a non white wine drinker such as myself. The Shiraz wasn't too heavy for a red nevertheless I employed it in this Crockpot beef stew. Available from Asda and others.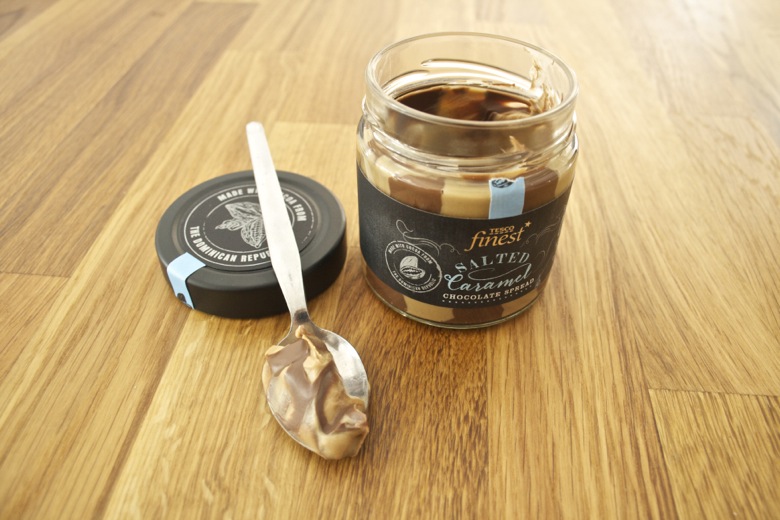 Tesco Finest salt caramel and chocolate spread is similar to Nutella but caramel flavoured. It's not quite salty enough to my mind but pleasant enough on toast (or pasted between two sponge cakes) nonetheless. You'll find it with the peanut butters and jams instore. The swirly effect is fun. Available from Tesco.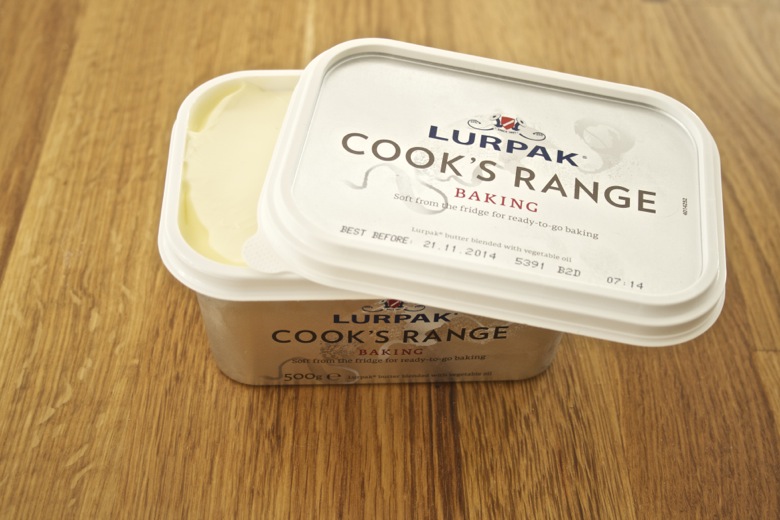 Lurpak Cook's Range baking A mix of rapeseed oil and butter, supposedly soft enough to mix into baking batters right away. I found it still too solid to work with immediately however the liquid version in a bottle was very soft upon squeezing. When I made these pumpkin mug cakes using this stuff I put the solid version in one batch and the liquid version in another and real butter in a third. My verdict is that it's a bit weird to work with at first but that after baking, there was no difference in taste or texture than using real butter. The nutritional info on their website doesn't give saturated fat content hence I can't tell you off hand whether it's any healthier than using butter alone. My instinct tells me that since rapeseed oil is lower in saturated fat and cholesterol than butter that these facts are worth investigating further. If I'm satisfied with what I find out you'll see more of this stuff used on here. Available from Waitrose and Tesco and others.
McCains frozen chips aren't a regular in my freezer since for some bizarre reason oven chips always give me hiccups. However in the interests of research I tried a range of their products with mixed feelings. The roasted garlic wedges and curly fries are tasty and more substantial than bog standard oven chips (which I always feel I could improve upon by baking my own wedges). However the microchips were a disappointment. They were – to coin Delia Smith's description of toast wrapped in a napkin – "wangy" and miserably tiny portions. You'd need to eat two boxes at once and even this wouldn't be especially greedy. The more impressive garlic wedges would make an effortless addition to your Christmas party buffet table but I'd recommend baking extra because a) they're very more-ish and b) they shrink a lot. Available from Tesco and Morrisons and others. Lines carried by different retailers may vary.
Which of these might you put in your basket?
With thanks to Tesco, St Helen's, Sharpham Park, Appletise, Innocent, McCain, Lurpak and Lindemans  for product samples.