Can it really be mid December already? I'm not sure where this year has gone but suffice to say I've been so busy with freelance projects and finally launching my redesigned site that it's as good a time as any for a sweep up of the various books, products and homewares that have crept into my kitchen recently.
First off, December book reviews and I'm happy to say that I've had the pleasure of meeting all but one of these lovely writers during 2014: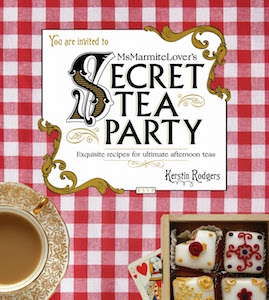 Kerstin Rogers Ms Marmite Lover's Secret Tea Party concentrates firmly on the afternoon delights of sandwiches and cake for your very own secret tea party. From setting the scene with home made cake stands and customised linen to brewing exactly the right tea (builders' or bubble – take your pick), Kerstin guides you through a selection of suitable jams and curds with scones to spread them on. Peppered with fantastical creations such as meringue swans and smorgastartta (that's an anagram of Tart's Orgasm in case you didn't know) to cheeky ARSE biscuits and "bum sandwiches" There are themed teas including one based on Marie Antoinette with chocolate baguettes and a pastel croquembouche worthy of a place in Sophia Copolla's film set.  This is a book is clearly a labour of love with the personality of the writer stamped all over it – and rightly so since she photographed the contents herself and styled it at home with mum and daughter. I might employ "bannocks" – a type of Shetland scone – as my new swear word after reading this.
Published by Square Peg, RRP £20, Download Secret Tea Party on Kindle now (currently £11.99).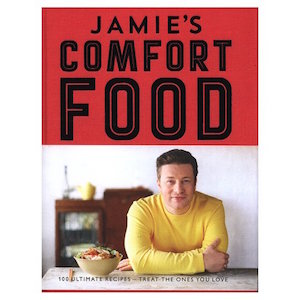 Jamie Oliver Jamie's Comfort Food – This comes after a couple of books based on very fast cooking (30 minute meals and 15 minute meals) and now Jamie takes things the other way with a compilation of dishes deserving you to labour over them with love. He's raided every cuisine's comfort food dish and whilst the order they're presented in seems quite choppy, there's dish after dish that will have you calling out "I've got to eat that." Interestingly, there's also a calorie/nutritional analysis of each dish at the back so you can assess whether you'll still be comfortable in your jeans after eating Jamie's Comfort Food.  I attended Jamie's book launch earlier this month and highly recommend the Thai massaman curry and chocolate krispie layer cake.
Published by Michael Joseph, RRP £30 but widely available for a tenner.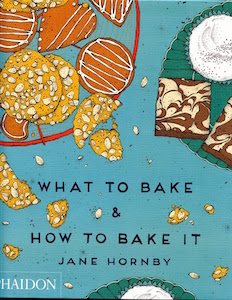 Jane Hornby What to Bake and How to Bake It – Some cookery books leave you wanting more photographs but this one is fully demonstrates step by step pictures for each recipe. The photos are uncluttered, it does feel at bit "painting by numbers" or medical textbook. The 50 recipes themselves are clearly laid out with paragraphs partnering each photo, the text is succinct whilst also having suggestions for alternative ingredients or method tips. The cover and illustrations are quirky but there's little sense of the writer behind the recipes. Overall the package, whilst beautifully executed, is somewhat clinical. Personally it's not for me but it would make a great gift for otherwise accomplished grown ups ignorant of baking wishing to master several recipes they can be proud of.
Published by Phaidon, RRP £19.95.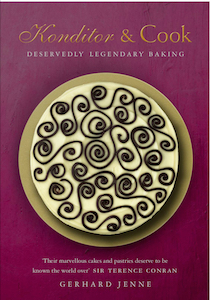 Gerhard Jenne Konditor & Cook Deservedly Legendary Baking – The spinach and parmesan muffins with cream cheese centres from the Chancery Lane branch of Konditor & Cook used to be my nemesis in my office based days. They called out to me as I walked past between Farringdon and Gray's Inn Fields. Now with several branches, founder Gerhard Jenne has finally published a book himself. Peggy Porschen previously worked at Konditor & Cook yet because Gerhard has never really done TV nor books before, it's a name with a light under a bushel. So I was very pleased to hear this book was coming out and I imagine they were swamped on Twitter by people saying "has it got this in it" "has it got that". The famous curly whirly cheesecake is on the cover and reassuringly inside along with "strawboffee pie", the to-die-for chocolate brownies and some whacky stuff like "spaghetti bolognaise" cupcakes and a chocolate cabbage. Sadly no fondant fancies (nor savoury muffins) but the mini daisy cakes look very similar. A taste of the cult bakery in your own kitchen.
Published by Ebury Press, RRP £20, Download Konditor & Cook: Deservedly Legendary Baking on Kindle now (currently £6.99)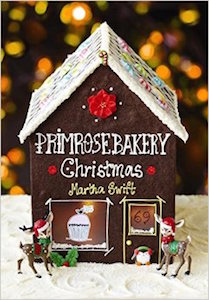 Martha Swift Primrose Bakery Christmas – Is the fourth Primrose Bakery book and the first one released since Martha Swift took over the reins of Primrose Bakery on her own. The cakes are festive in flavour with recipes featuring Toblerone, mullled wine and variations on favourites such as yule log and Linzer cookies. I fear however that potential reader may be put off by the emphasis on Christmas on the cover for there are bakes in here you would want to make all year round – in a way that's hard to imagine with other Christmas books. That's not to say it's not Christmassy but it's more a selection of interesting things you might buy in the Primrose Bakery during December rather than simply being a book of Christmas baking. If that makes sense. Pass me an egg nog cupcake, I'm certainly not complaining and it's probably my favourite book by Primrose Bakery so far if only for the sausage dog cookies. I wrote about when I met Martha Swift back in March read the post here.
Published by Square Peg, RRP £20 Download Primrose Bakery Christmas on Kindle now (currently £8.49).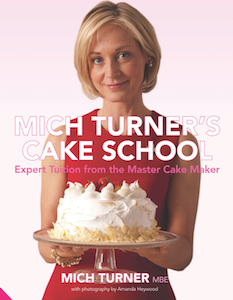 Mich Turner Mich Turner's Cake School – Is yet another masterpiece from Jacqui Small publishing house, coffee table size, glorious step by step pictures to hold your hand every moment you attempt to recreate one of Mich's majestic creations in your own kitchen. There is more emphasis on cake and icing recipes in this than her previous books but sugar crafters won't be disappointed by the selection of haute couture cake decorating on offer too. Buy this book and you no longer need to marry a footballer or a movie star to eat one. I made the sweet potato cake in cupcake form back in September but am still some way from perfecting that dead straight candy stripe to match up to the lady herself.
Published by Jacqui Small, RRP £30
With thanks to Phaidon, Square Peg, Jacqui Small, Ebury Press, Jamie Oliver (who throws an ace party).