This shop has been compensated by Collective Bias, Inc. and its advertiser. All opinions are mine alone.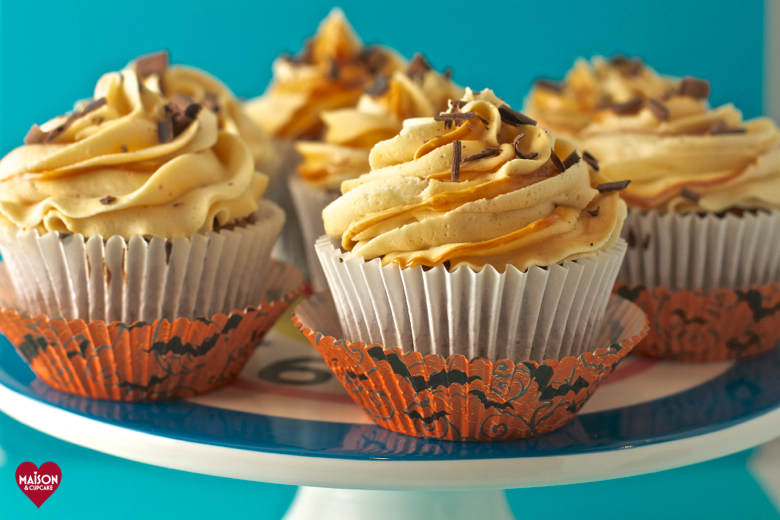 Are you an old fashioned push the trolley shopper or do you like to place your orders online? Have you tried a Click & Collect service yet?
Until recently I was unenamoured by online grocery shopping. I found it no quicker than visiting the shop and was given too many substitute items. You need to need to predict in advance things you'll have run out of and although you can edit that virtual basket until the night before, most likely I'll be watching telly and forget.
But recently I've seriously got into online grocery shopping. I have a routine booking orders on Thursday night for Monday mornings then on Sunday evening I (force myself off the sofa to) edit the basket. The system has worked beautifully but I actually miss visiting the store, having a coffee and a browse at the homewares (my nemesis).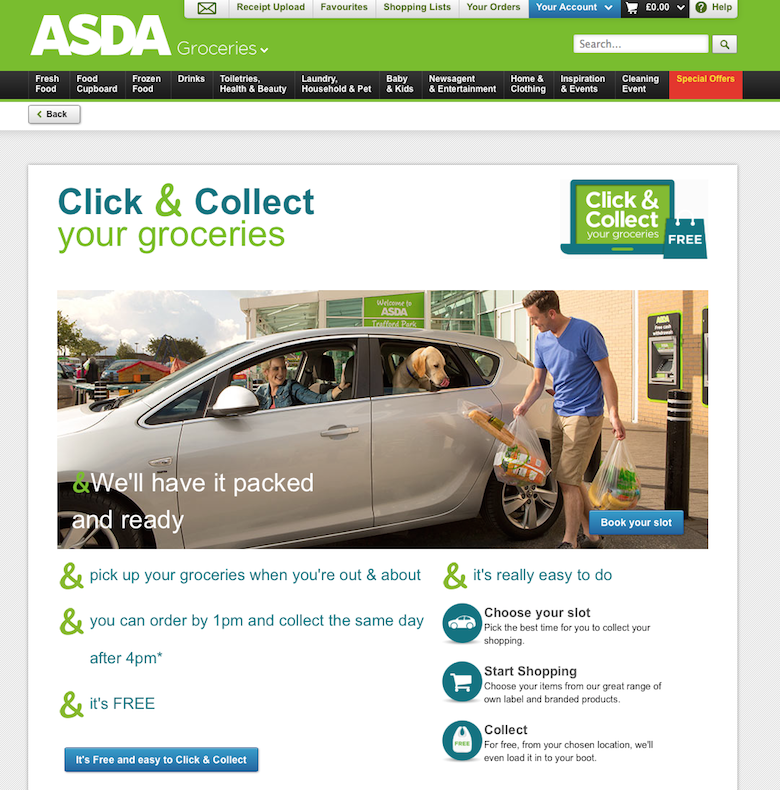 Thus Click & Collect should be right up my street. It promises a middle ground of convenience but you can still pop down aisle 13 for an impromptu bottle of Prosecco. I was invited to roadtest Asda's Same Day Click & Collect service which was available from my nearest large store in Leyton, East London. I placed an order by 1pm for 8-10pm that evening.
I arrived at around 9.15pm and headed to the Drive Through Click & Collect area. However from the driver seat, I strugged to scan my order's QR code decided to use the collection point inside instead. Inside and having both hands available, I scanned my QR code first time and a receipt said my number was displayed onscreen above. Kind of like Argos.
My shopping was brought out after just over ten minutes and after approving/rejecting various substitutions I was able to drive back home in time for the 10 o'clock news.
Observations about Asda Click & Collect
The online booking process is very straight forward.
Being able to book a 4pm collection right up until 1pm is marvellous for placing last minute orders. (I believe 1pm is the cut off point for same day orders after which you would be offered slots for subsequent days.)
The Drive Through and foyer Collection Points are conveniently located for people in a hurry. There is no need to enter the store at all.
The touchscreen for both the Drive Through and foyer Collection Points could do with a "ask for assistance" button as for a first time user, it could be a little bewildering. I was surprised noone came to offer assistance in the Drive Through area as I'd been sat there a couple of minutes.
The foyer Collection Point area is very stark and feels a bit lonely. It's carpeted but poorly lit. If nothing happens for several minutes it's unclear what you're meant to do as there's noone to ask and no means to contact anyone. A human touch would be better even if that meant going into the store and greeting someone at a desk. Possibly earlier in the day someone might have been there.
Checking substitute items would be much quicker if these were in separate coloured bags rather than mixed in with the whole order. Fresh and frozen items were not immediately identifiable as everything was in the same type of bag.
2 out of 3 substitutions were logical although not quite right for me personally. Refunds are issued after 3-5 working days which should in my opinion, be quicker.
Apart from substitutions, my order was fine and excellent value.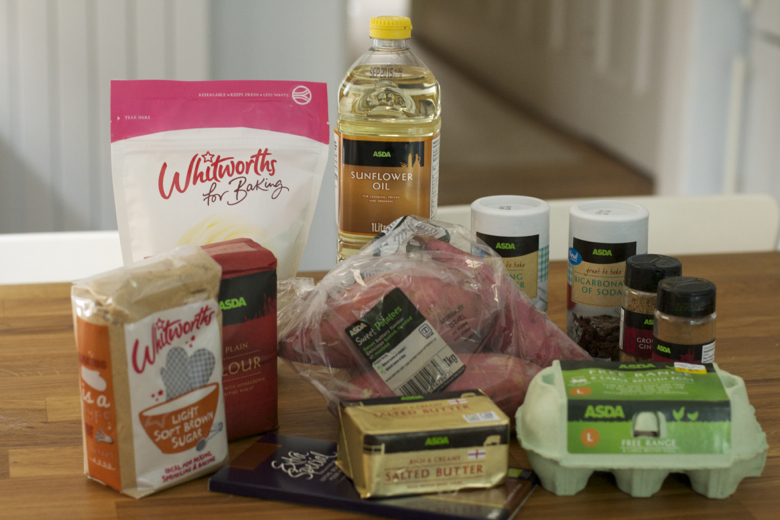 My order consisted of items of top up shopping and some ingredients to make these sweet potato cupcakes below.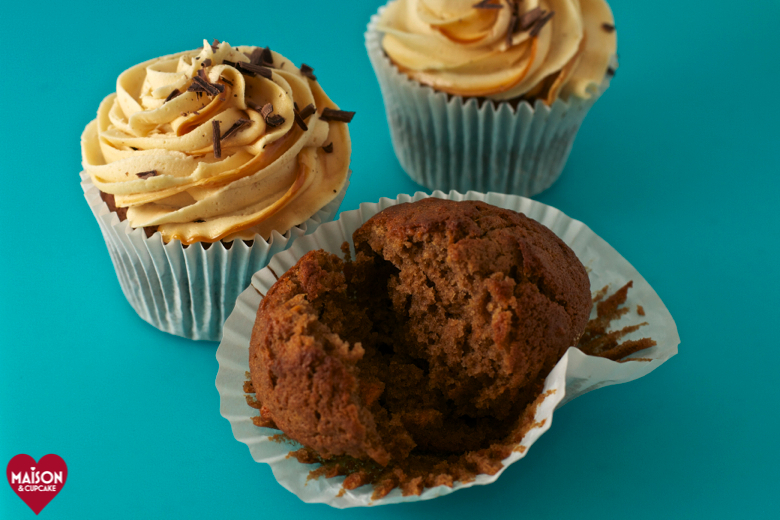 The recipe was a slight adaptation of the sweet potato cake in Mich's new book "Mich Turner's Cake School" published by Jacqui Small. The recipe in the book is for a large ring mould cake but I found it was enough for at least 18 muffin sized cupcakes. I also simplified the topping slightly by using a ready made Breton salt caramel sauce in a jar to flavour the buttercream rather than making my own toffee sauce.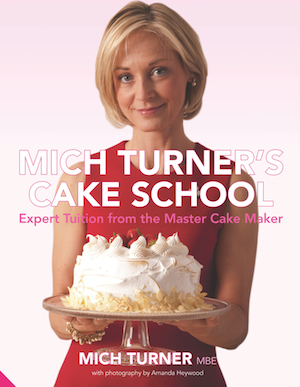 Mich Turner's Sweet Potato Cake
(some minor amendments on the original version are noted below)
Makes enough batter for 18+ large cupcakes or one 23cm (9inch) ring mould cake (sprayed with non-stick baking spray)
Oven temperature: 313f / 160c / gas 2-3.
To ice cupcakes with swirls as shown you will need a large disposable piping bag fitted with a large star nozzle.
Ingredients
850g (1lb 12oz) redskinned sweet potatoes
400g (14oz) light brown sugar
225ml (8fl oz) sunflower oil
4 large eggs
290g (10oz) plain flour
1 teaspoon baking powder
1 teaspoon bicarbonate of soda
½ teaspoon salt
4 teaspoons ground cinnamon
3 teaspoons ground ginger
1 teaspoon vanilla extract
for the buttercream:
250g softened butter
500g icing sugar, sifted
1 tbsp vanilla bean paste
4 tablespoons salt caramel sauce from a jar plus extra to streak inside the piping bag
(Mich's recipe refers to a separate recipe in the book for a toffee sauce)
75g (2¾oz) crystallized stem ginger, chopped (I replaced this with grated dark chocolate)
Directions
Place the potatoes in a baking dish and bake in the oven for 45–60 minutes, depending on their size, until tender (a knife should insert easily through the potato when it is cooked). Remove the potatoes from the oven and leave to cool before peeling and mashing the sweet potato flesh.
Place the sweet potato flesh in a large bowl and add the sugar and oil. Use an electric hand-held whisk to beat until smooth. Add the eggs a little at a time, beating well after each addition.
In a separate bowl, sift together the flour, raising agents, salt and spices. Stir into the wet ingredients and mix until just combined but no lumps remain. Stir in the vanilla.
For cupcakes:
Spoon the batter into 12 hole muffin tins lined with paper cases and bake for 20-25 minutes until springy on top and a skewer inserted into the centre of the cakes comes out clean. Allow the cakes to cool slightly in the tin for a few minutes then transfer to a wire rack to cool completely.
If making a large cake:
Transfer the cake batter to the prepared tin and bake for 60–65 minutes or until a skewer inserted in the centre comes out clean. Transfer the cake to a wire cooling rack. Run a small knife around the edge of the cake tin and leave to cool for 15 minutes before turning our and leaving to cool completely. Transfer the cooled cake to a serving plate or cake stand.
For the icing:
Stir 4 tablespoons of caramel sauce into the buttercream in a bowl. For cupcakes, streak another tablespoon of caramel sauce down the side of a large disposable piping bag and fill the bag two thirds full with the caramel buttercream. Pipe spiral swirls onto the cooled cupcakes and grate dark chocolate over the tops and serve. If making the large cake, spread the toffee buttercream over the top and sides of the cake with a palette knife. Decorate around the base of the cake with the crystallised ginger and drizzle the remaining toffee sauce over the cake.
Storage: Keep in an airtight container at room temperature and eat within 3 days.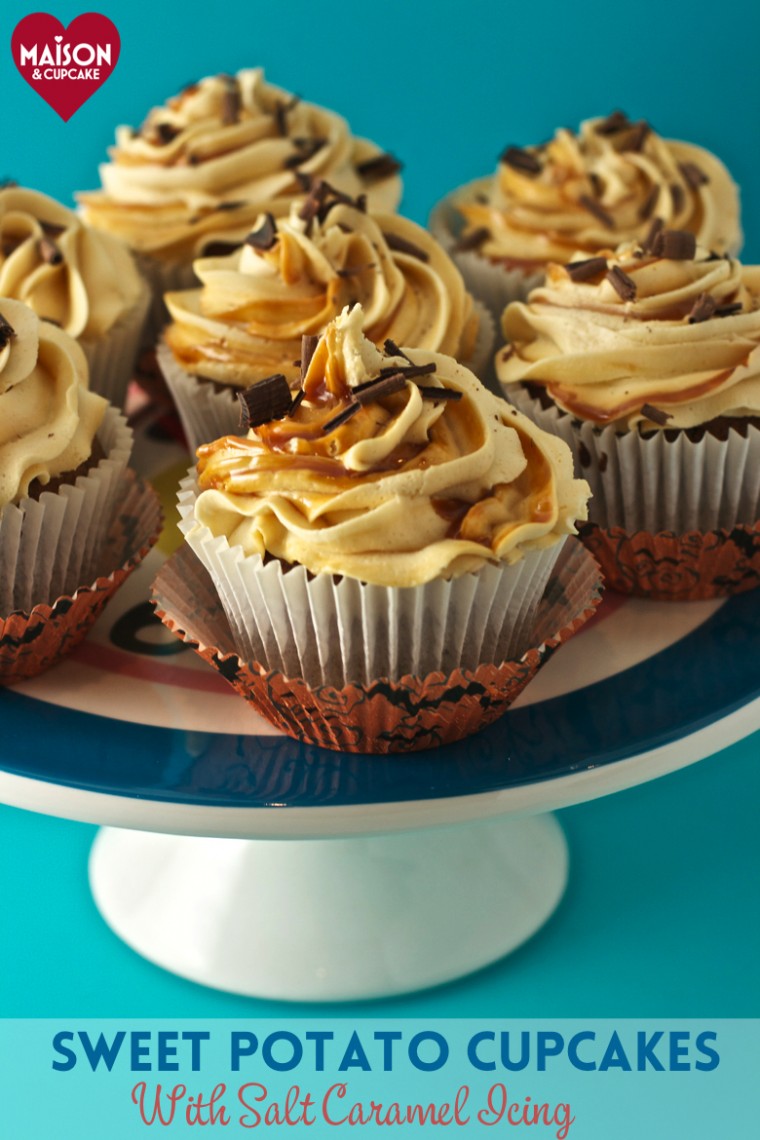 Recipe reproduced with permission from Jacqui Small / Quarto books. Mich Turner's Cake School is on sale now.