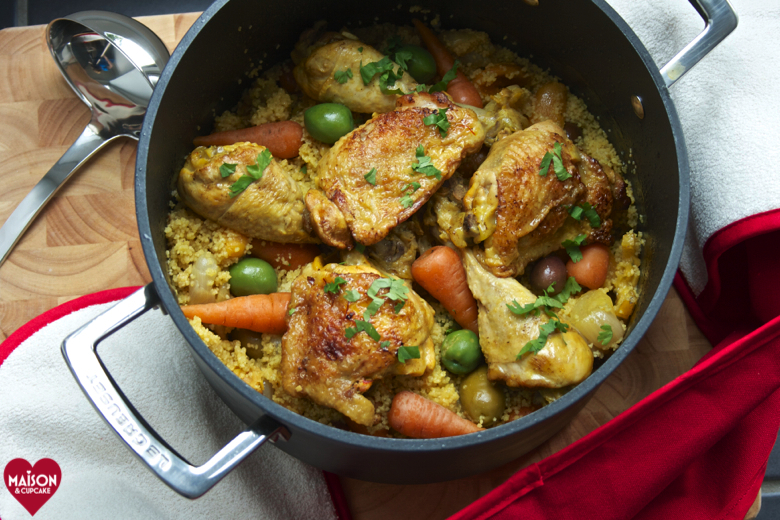 It was the cusp of the millenium when I lived barely half a mile from Nigella Lawson.
One of her early book launches was held at a swanky – for Shepherd's Bush – restaurant, the much missed Bush Bar & Grill on Goldhawk Road. I once held my birthday party in there sat on a table next to Jack Nicholson and Mick Jagger but that's a tantalising anecdote I'll leave for another time.
In her first Channel Four TV series, Nigella did pieces to camera in local foodie boltholes I knew well. "She buys food in the same places I do!" I gasped. The nut shop on Uxbridge Road, vegetables from Shepherd's Bush Market, meat from Lidgate's of Holland Park. Yet funnily enough I never saw her in Safeway – nor anywhere else for that matter. So there, the similarities ended.
Nigella's house was opposite a convenient-to-stalk-from bus stop (I didn't – well, not much) at the Ravenscourt Park end of Goldhawk Road. A haven for hungry friends who gathered to sample her latest kitchen production in an appreciative manner. Switch to our Edwardian mansion flat north of Uxbridge Road where it was like herding cats to get people around in the first place, never mind to cook and serve a dish they'd all like. My friends wanted to drink. A lot. On pavements outside Camden pubs in clouds of cigarette smoke. They didn't seem to sit down and eat meals much. Unless it was a curry after 11pm.
Meanwhile, nursing a bottle of warm beer, I dreamt about my fantasy life Nigella described so beautifully in her chapters simply titled "Dinner" and "Weekend Lunch." She wasn't a slave to the kitchen, it was food that virtually cooked itself leaving her to spend time with the hungry, non food faddy friends. There is no dinner party I would give where I couldn't just make a plate of crostini to eat as a first course she purred.
So here we are, nearly two decades later and I have come up with a dish that might be worthy of Nigella's mid week dining menus for meals at home with friends. Are you ready?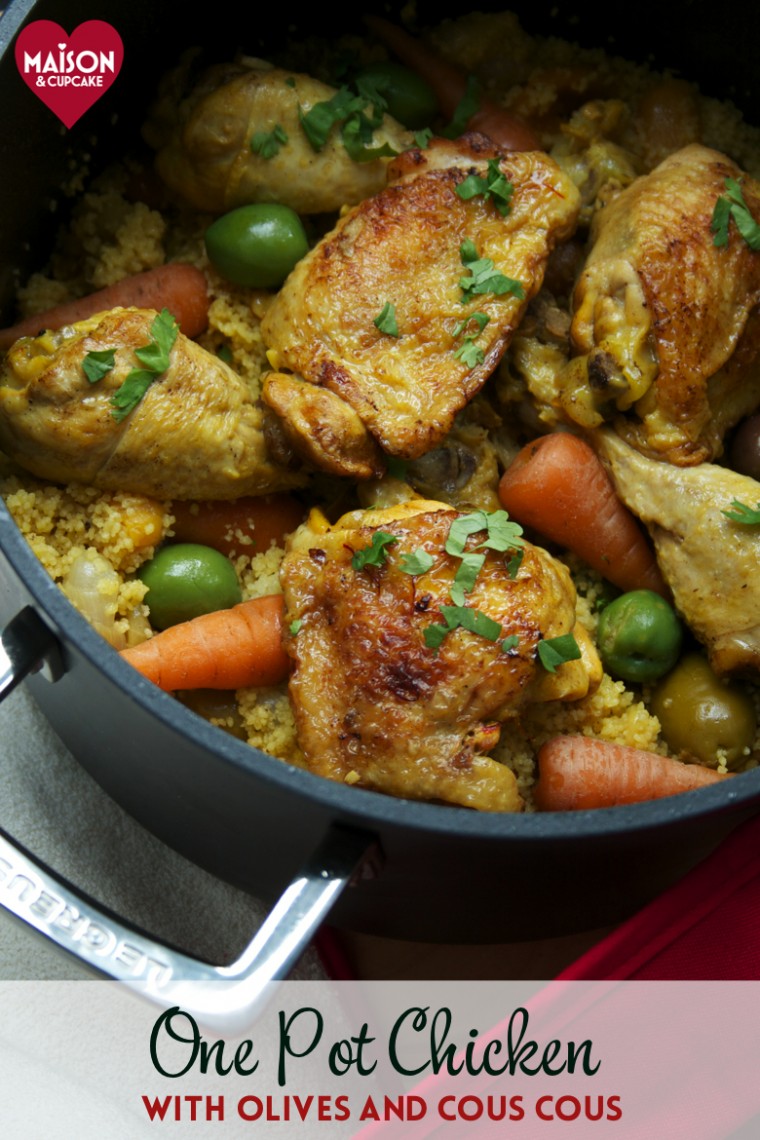 Easy one pot chicken casserole with cous cous and olives. It's not expensive, it's low effort.
It uses just one pan so barely any washing up. It's both family friendly and sophisticated enough for guests. It's quick enough to prepare midweek yet substantial enough for a weekend lunch. It only takes 15-20 minutes cooking time at the beginning then you can leave it in the oven 45 minutes whilst you snack on the crostini in the other room.
Then just 5 minutes fiddling before it's ready to serve. If you have leftovers they will freeze beautifully or whether served hot in the microwave or picnic style cold, travel well for the husband's packed lunch the day after. Possibly the most perfect dish ever.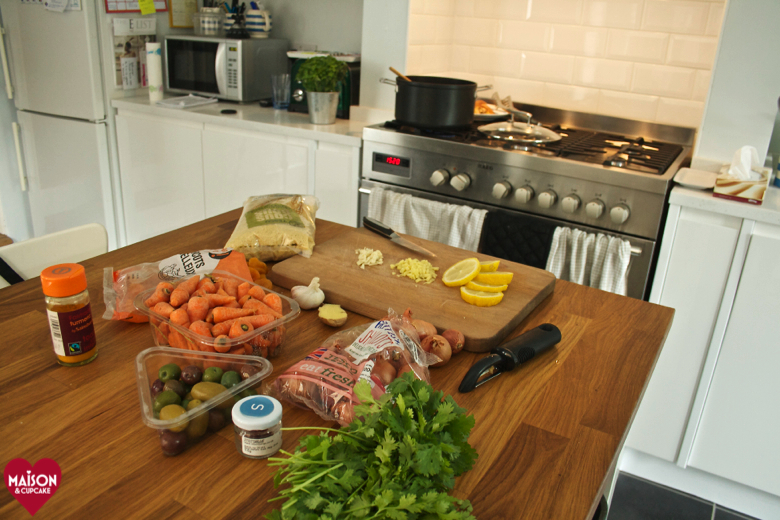 So what if I have, slightly, um modelled my kitchen on Nigella's original white kitchen in Nigella Bites. We have the white cupboards, the kitchen island to pose behind. I am lacking a pantry and saucepans dangling down from overhead but since mine are mostly Le Creuset this might require reinforcement of the ceiling joists. In the meantime I've managed a Greek basil plant in a silver pot.
And the end of my kitchen island is the ideal spot to prep ingredients going onto the cooker behind.
Here's what to do: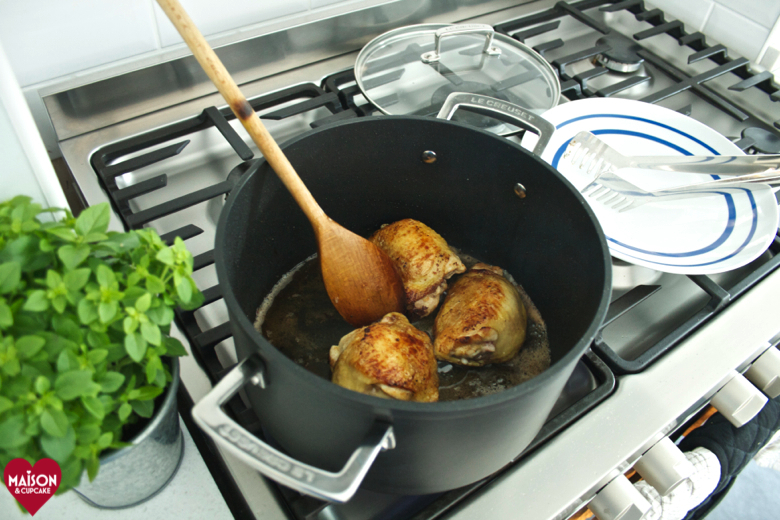 Preheat the oven to gas 5 / 190c. Meanwhile on a medium heat, melt 25g butter in a solid casserole dish and fry your chicken portions. After a couple of minutes add finely chopped garlic and ginger. This was the maiden voyage for this toughened non stick Le Creuset deep casserole and the chicken portions sizzled away browning beautifully without sticking.
Cook the chicken for 7-8 minutes on each side until the skin is nicely browned.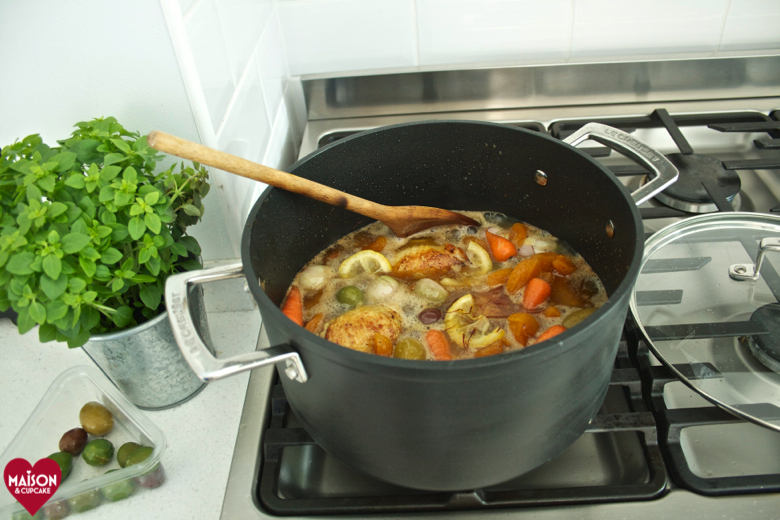 Prepare all the other ingredients as shown above; peeled shallots, chopped dried apricots, sliced unwaxed lemon, green olives, saffron, tumeric and whole Chanteney carrots. Pour over the chicken stock.
Place the lid over the casserole and put in the oven for 45 minutes.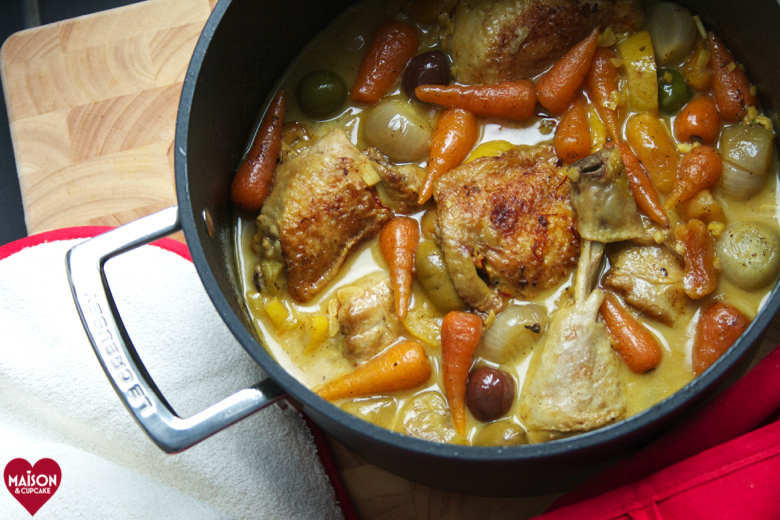 After 45 minutes the chicken should look like this.
I liked that this non stick Le Creuset casserole – unlike the cast iron versions – had a glass lid you could see through. And these Le Creuset oven gloves had hand pockets on both sides so you could quickly slip your hands in whichever way up they were.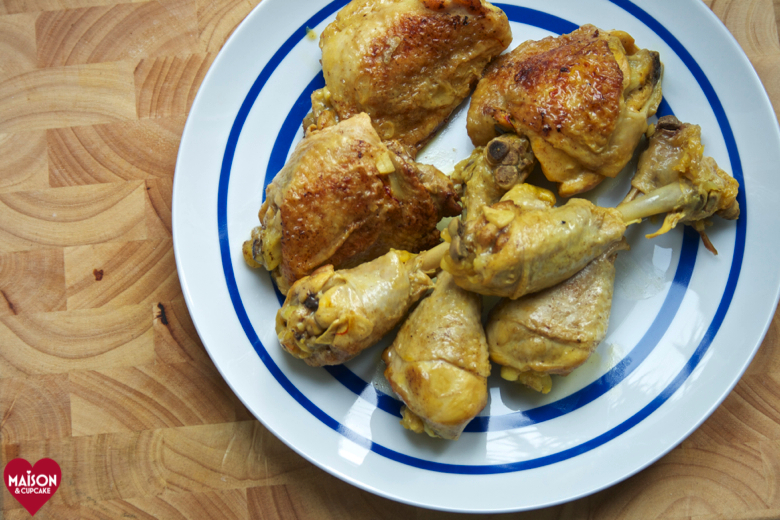 Use tongs to put set the cooked chicken portions aside on a plate for a moment.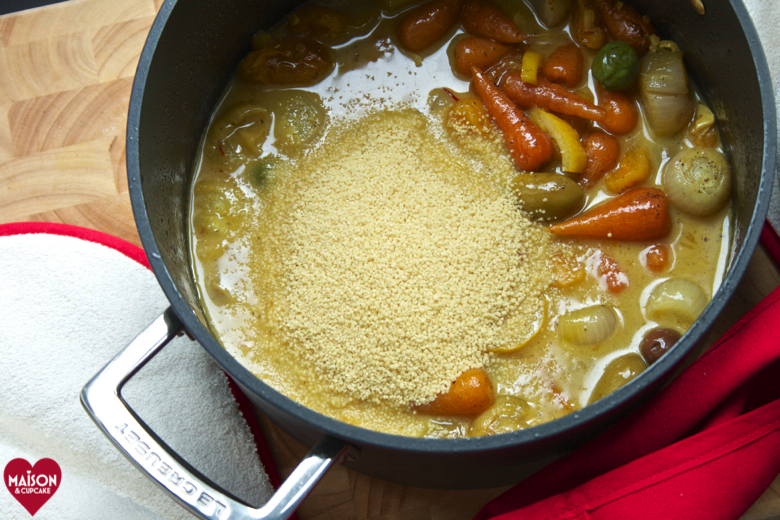 Push the cooked vegetables to one side leaving a pool of liquid to pour the cous cous into. Stir lightly, pop the chicken portions back on the top and quickly replace the lid to keep the heat in.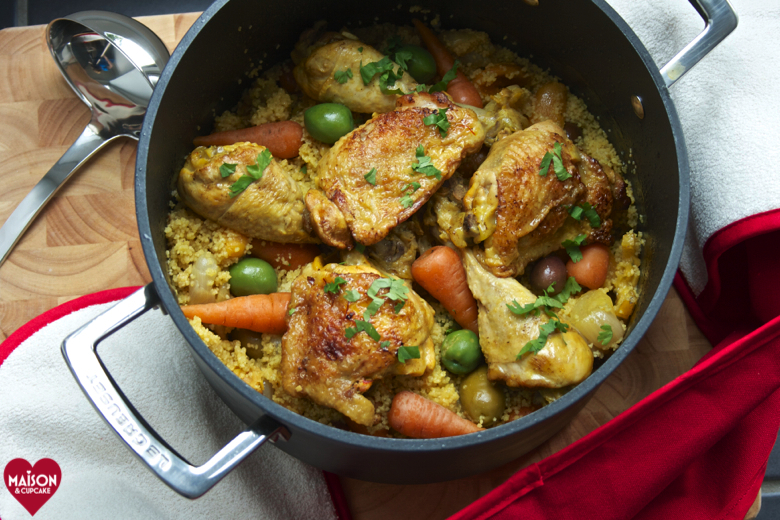 After several minutes, the cous cous will have absorbed all the extra liquid and your easy one pot chicken casserole with cous cous and olives is ready to serve.
You'll find the full recipe shown below.
This is the first of two recipes commissioned by Le Creuset as part of their Inspiring One Pot Cooking campaign. I have been very impressed by the non stick deep casserole, at 24cm it is a generous stock pot size and deeper than my other cast iron casseroles by them. I conditioned the interior with oil as described on the accompanying leaflet and the pot cleaned up perfectly in the dishwasher.
The Le Creuset non-stick deep casserole has an RRP of £130 making it a long term kitchen investment.  Last year I was in the market for a new set of saucepans and paraded my husband past this range in John Lewis. I argued with him that if I bought these I would never need to buy any saucepans ever again and was met with a response "You wouldn't like it if I wanted to buy a Ferrari."
So with the phrase "false economy" buzzing in my ears I bought a set of IKEA 365+ pans instead. They have been dreadful. They stain, you can't clean them, the handles are so fat they're awkward to pick up. Thus I am only too aware of the mantra "you get what you pay for" and the majestic Le Creuset pan is now being paraded in front of the husband with me saying, "You see!"
Come back next week when I will be publishing dessert!
Twitter Q & A with Great British Chefs and Le Creuset
Great British Chefs will be hosting a Twitter Q & A on Thursday 2nd October at 5pm for people to chat and ask questions about one pot cooking with Le Creuset. The two Twitter accounts to watch are @GBchefs and @LeCreusetUK and the hashtag to include in your tweets is #OnePotCooking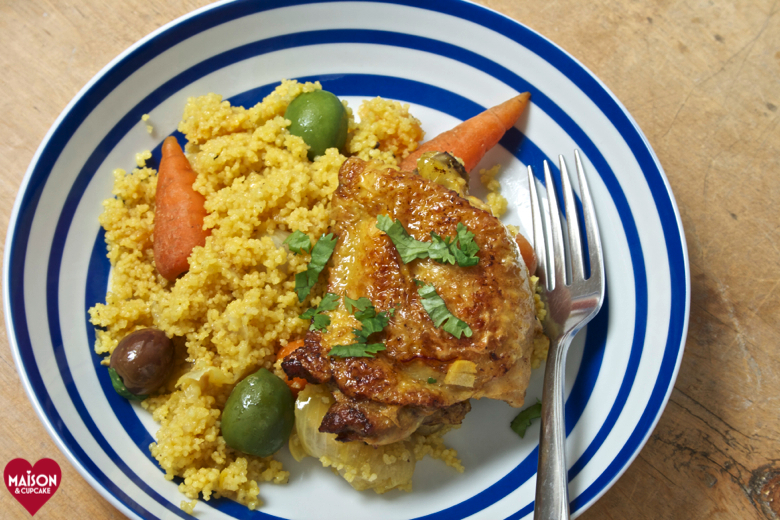 Easy one pot chicken casserole with cous cous and olives
Serves 5-6
Ingredients
25g butter
1 pack free range chicken thighs and drumsticks (approx 7-8 portions)
1 tbsp finely chopped fresh ginger
3 cloves finely sliced garlic
large pinch of saffron threads
15 soft dried apricots cut into strips
1 unwaxed lemon sliced in thick half moons with pips removed
1/2 tsp tumeric
15 green olives (I like the really bright ones)
300g shallots, peeled but left whole
200g Chantenay carrots left whole
600ml chicken stock
300g dried cous cous
1 tbsp chopped coriander
Directions:
1. Preheat the oven to 190c / gas 5. Meanwhile melt the butter over a medium heat in a deep non stick casserole. When melted, fry the chicken portions for 7-8 minutes on each side adding the finely chopped garlic and ginger at the same time.
2. When the chicken has had chance to brown on both sides, add also the saffron, apricot, lemon slices, tumeric, olives, shallots and carrots. Pour over the stock and place the casserole in the oven for 45 minutes.
3. Using oven gloves, remove the casserole from the oven and take off the lid. Using tongs pick out the cooked chicken portions and place aside on a plate. Push the cooked vegetables to one side and pour the dried cous cous into the well of liquid. Stir the cous cous in so it is all submerged, pop the chicken portions back on top then replace the lid immediately. Leave the casserole on a heatproof surface for five minutes for the cous cous to steam.
4. When the cous cous has absorbed, use a fork to break it up a little and serve onto plates with a scattering of chopped coriander.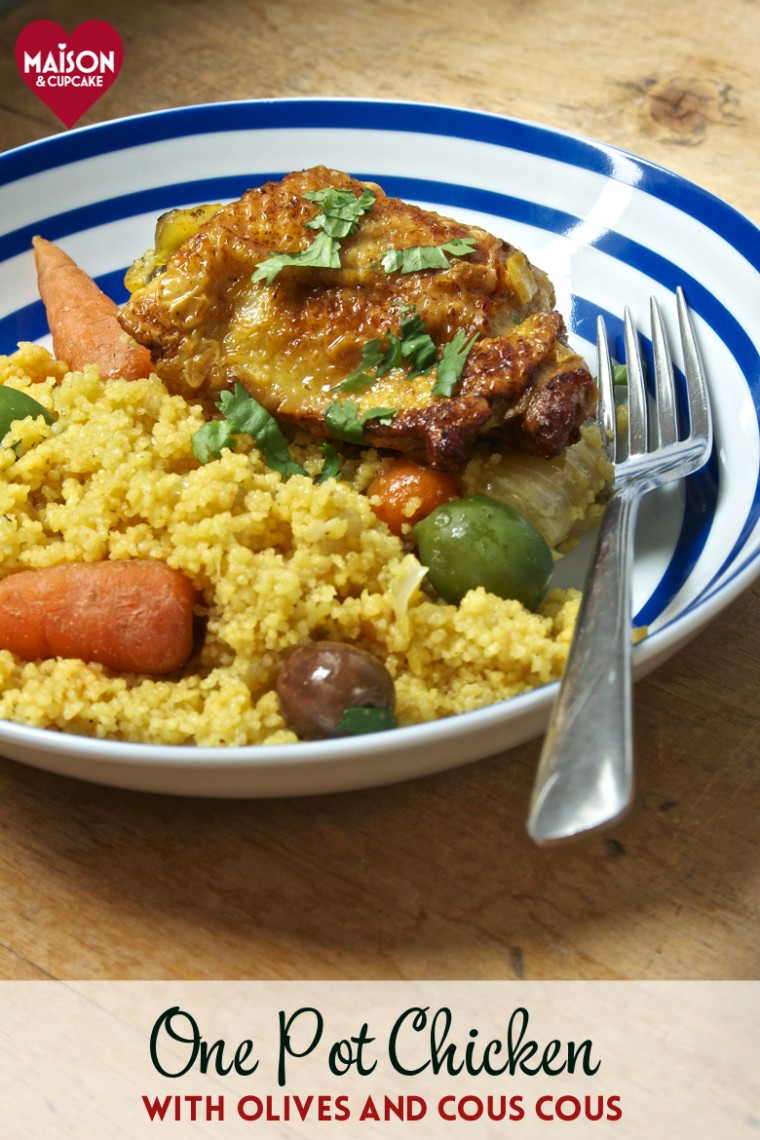 Post commissioned by Great British Chefs and Le Creuset.