The Stenstorp IKEA kitchen island has completely changed the way I use my kitchen.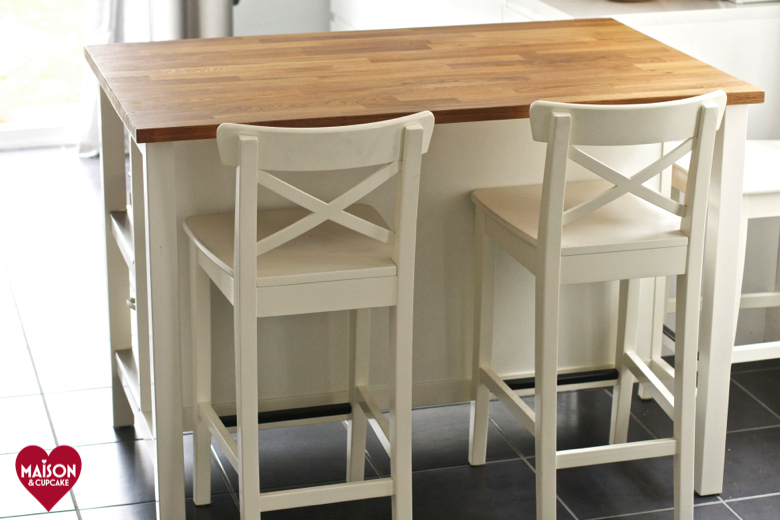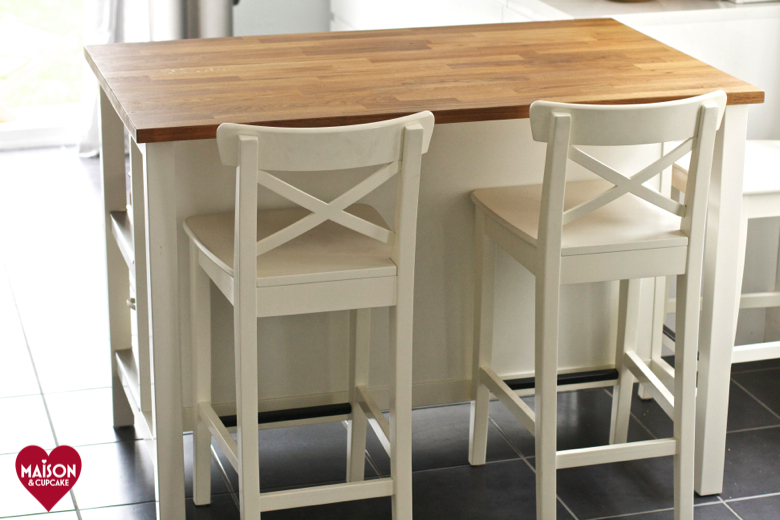 You know when you buy a new pair of shoes that you love but they hurt your feet when you walk?
That's kind of how I felt ever since we had our kitchen remodelled back in 2012. Everything felt far away from where you needed it, there seemed to be less work top space even though there was more. Stuck with locations for oven / sink / fridge, there was nothing to be done about the so-called triangle of optimum ergonomics.
Before:
All nice and airy but see that table – it just didn't feel right. It was the perfect location to work at but too low and chairs always seemed to be in the way. And in the corner, the wooden dresser bought as a wedding present and loved so much, didn't match at all and was blocking the old back door (that we didn't brick up incase one day we knocked the entire wall through).
Our traditional Victorian house isn't the smallest of its type but furniture never seems to fit quite how you'd want it. There's always something that sticks out, a door in a daft place or a maddening 2-3cm more than will fit in a space.
So after much buttering up of the husband (who is sick to death of my furniture dilemmas), we bought an IKEA kitchen island.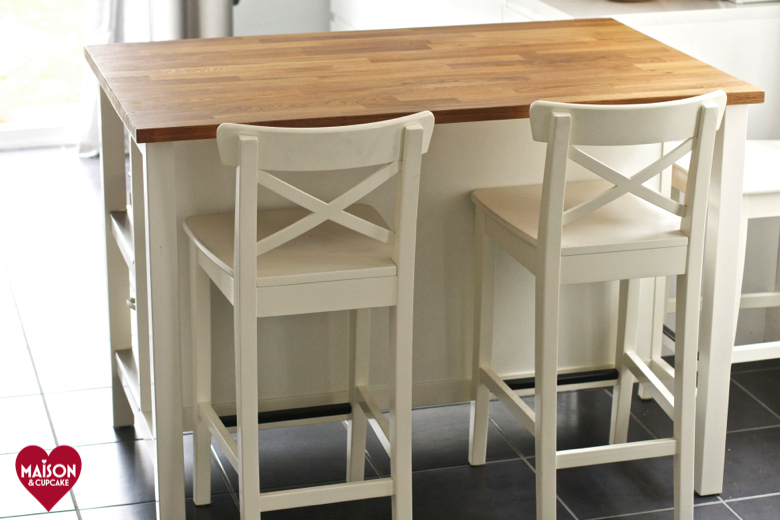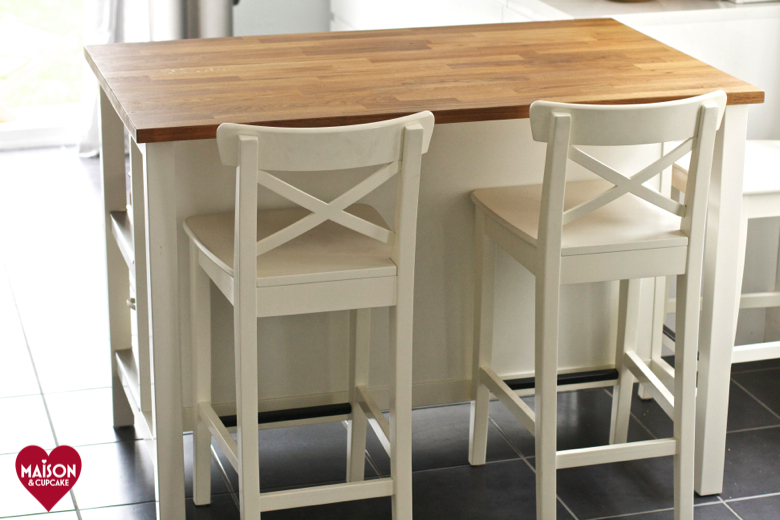 The Stenstorp IKEA kitchen island. I love it. The wooden top has brought the heart back to a kitchen that remodelled in white felt slightly too clinical.
This, the larger version of Stenstorp kitchen island costs £200. It's an extremely heavy and sturdy piece of furniture and requires two people to carry and assemble it. The warm wooden top is made from solid oak and had to be treated with wood oil. The instructions suggested to do this on alternate days for many weeks but we found 3 treatments over the course of 10 days to be adequate.
One side is for sitting at and the other has two metal shelves now filled with ovenware and casserole dishes that are easy to access whilst cooking (shown below).
We teamed our Stenstorp kitchen island with three white Ingolf IKEA barstools at £45 each. Our white Bjursta dining table and the vintage dresser were relocated to the dining room along with a child's version of the Ingolf chair visible in the "before" picture.
Instead of never having anywhere convenient to put anything down, it now feels like the kitchen island is right there where you need it and the perfect height to work at. It's great to cook comfortably whilst Ted sits on a stool doing his homework.
The compromise was that whoever sits at the end (usually Ted) has to perch with knees to one side of the middle panel. But my husband often eats after us during the week so this arrangement suits us fine for breakfasts. At weekends, or if we have guests, we eat at the big table instead.
If you like the Stenstorp kitchen island but haven't got enough space for it, they also do a Stenstorp kitchen trolley. This is smaller than the Stenstorp kitchen island and more of a cart or butchers block. The width is the same depth as this so you could position the small one side ways on.
After with Stenstorp IKEA kitchen island and BILLY bookcase:
A white IKEA Billy bookcase has swapped places with the vintage dresser and better still, it's narrow enough to fit between the side door and window. So we have much more light and an alternative door to open for a nice through breeze. I've not ruled out knocking this wall down one day but this will have to do for now. The deep bottom shelf of the Billy bookcase is perfect for housing large gadgets such as the breadmaker.
I love having open shelves to see my favourite things and for easy access to crockery and storecupboard ingredients. As someone who's not very tall, overhead cupboards have never been a great place for me to store glass bottles and jars!
If you like this post why not read about: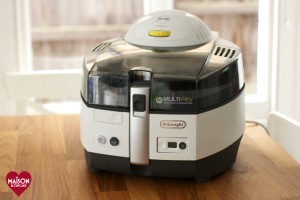 The Stenstorp IKEA kitchen island was a personal purchase.