In the summer we had a new kitchen fitted… You've seen a few glimpses already but I've been holding out for a sunny day to take pictures to show you properly!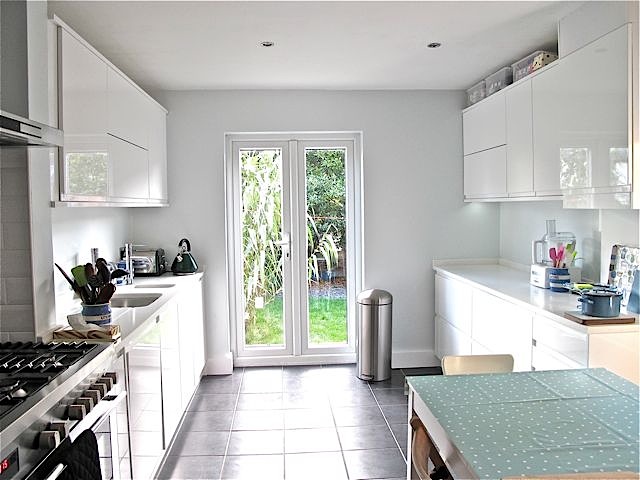 Whilst everyone else was hooked on the Olympics, I was crammed into my living room with most of the contents of my old and new kitchens.
I knew having a new kitchen installed would be an upheaval but it never occurred to me that you'd have to find space for the new appliances and flat packed cupboards at the same time as the old ones.
If you not familiar with how it looked before, compare with my old kitchen and my fantasies for a new one.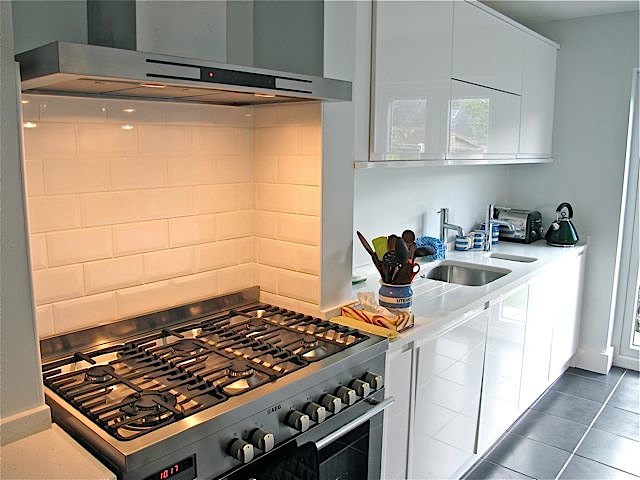 So this meant that as well as being up to the ceiling in boxes, cookery books, the table, a wooden bench and a Welsh dresser, we also had to find floor space for the new range cooker, washer dryer and dishwasher. Oh and about 20 other flat packed boxes of our new shiny white cupboards.
The old kitchen was dismantled at surprising speed. Aside from the new cupboards the big jobs to do were:
Knocking through to the garden and fitting double doors
Fixing a badly sinking floor by installing a replacement joist
Hollowing out the chimney breast for the range cooker and hood (above)
Actually by the end of the first week, new cupboards were starting to be assembled (albeit still in plastic wrapping) and the pile of boxes in the living room started to shrink. The whole process took around four weeks from start to finish.
Meanwhile I sold the old washer dryer and cooker with hood and hob on Ebay, drove backwards and forwards to Topps Tiles and survived mostly on a diet of vacuum packed microwave rice.
It was now school holidays and Ted went to play scheme for 3 weeks – in hindsight this was a very wise choice. Even if I felt a bit guilty initially since the last summer holidays had been swallowed up writing the book. Having a 5 year old out of the way was a relief. I needed to be on site most of the time to approve things and make various decisions so going out doing fun stuff with Ted was sadly not an option.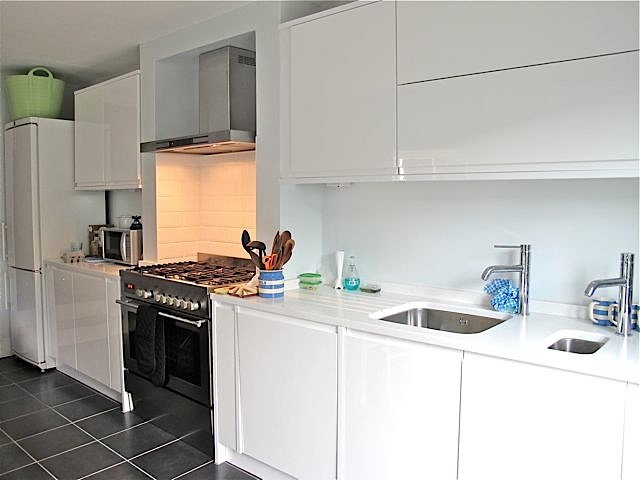 Most of the building work and installation went very smoothly. There were some hiccups about delivery and the firm's seeming inability to cope wherever any details had been changed since the initial quote.
But that's all by the by now and it's the final finish that counts. Apart from a couple of subjective niggles we're delighted with the results.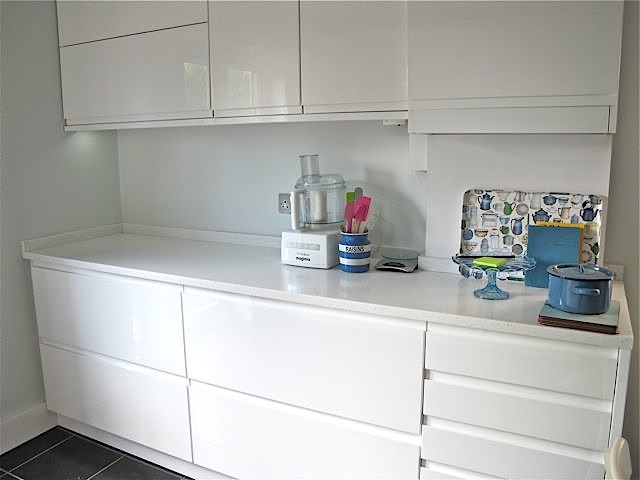 Things are, as you'll have noticed extremely minimal at the moment. That's partly deliberate. I like to have a wide section of free worktop for whenever I'm working on a project.
I am planning though to have a slim shelf fitted under each of the overhead cupboards – somewhere to stash some of my vintage kitchenalia and crockery and to add more of a personal touch.
You would not believe the amount of stuff that is still in the cellar.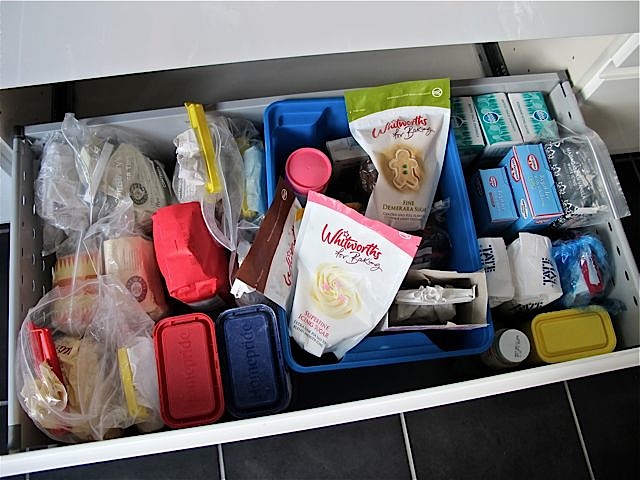 I love my big new drawers. They're supposed to be 'pan drawers' that can carry heavy weight casserole dishes and saucepans.
I'm using one of mine for my vast array of flours and sugar! It's great to open the drawer and look down on what you need rather than ferreting about.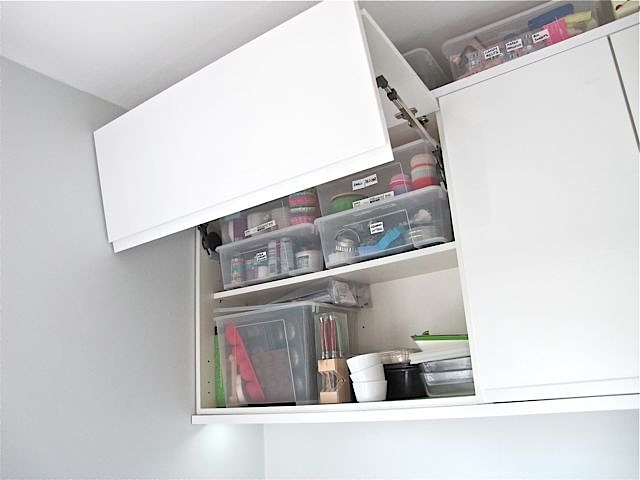 Up top we have some of these groovy lift up cupboards. Given that I'm not very tall I have carefully arranged stuff so that the top shelves only have light weight items in boxes that I can reach to get down. So unless I need some of the boxes on the very top, I no longer need to stand on chairs to get stuff.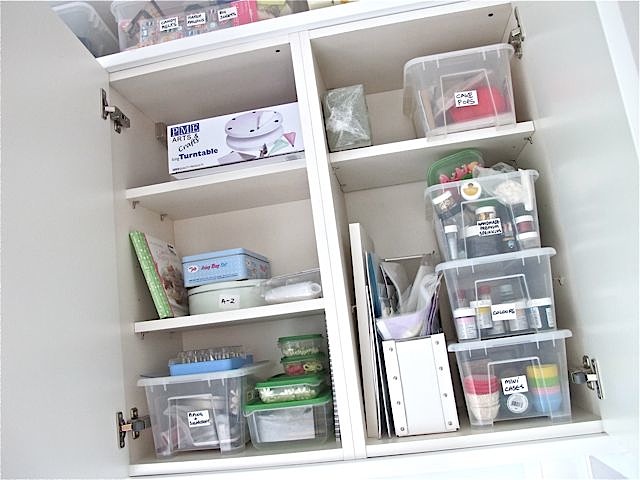 This is my new sugarcraft cupboard. I have kept all the things I use most often all together where they're easier to access.
My cookery books have been relocated to big new shelves in the dining room with a handful of essential ones left behind, *cough*, including mine.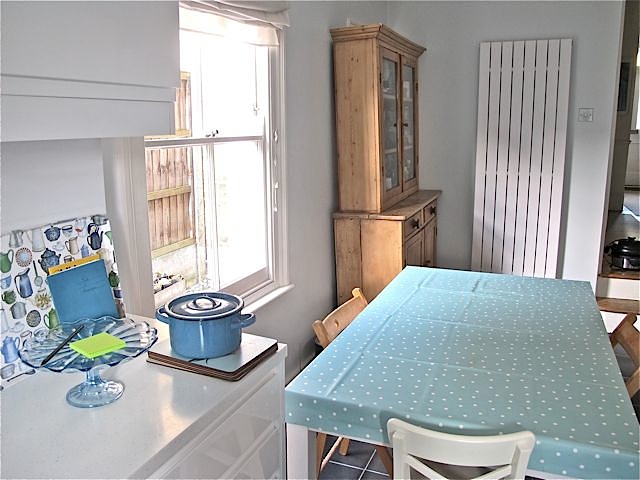 Looking the other direction you'll see the one thing (apart from the fridge) that remains from the old kitchen. The wooden dresser.
(Ooh do you like my new vertical radiator whilst we're here).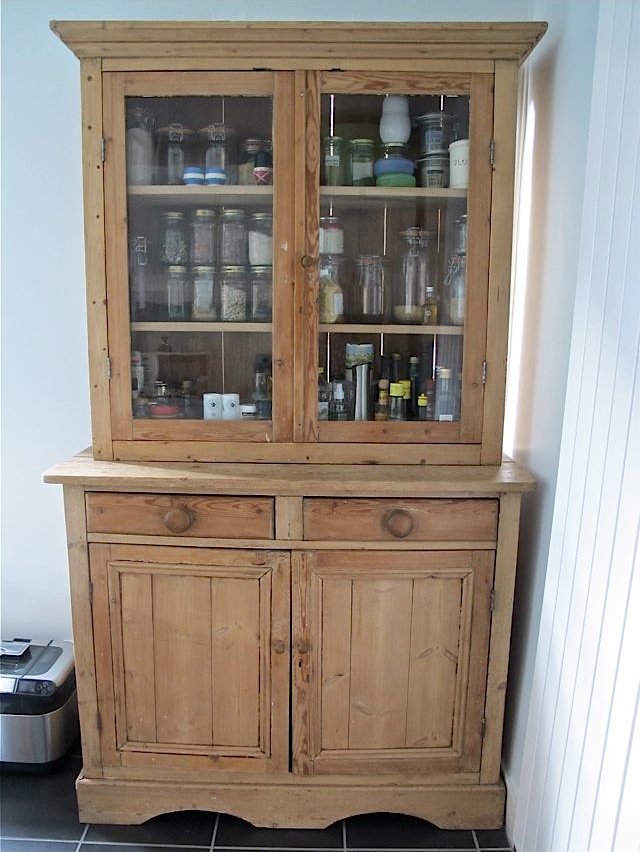 The wooden dresser has been a bone of contention between my husband and I. Originally we planned to relocate it permanently in an alcove in the living room.
But I couldn't live without it. We bought it with wedding present money so I have reason to be sentimental about it.
Although it looks like we have plenty of cupboards, actually there were no more than before – after all, a new dishwasher and range cooker are taking up more cupboard space and that's not even counting the space now occupied by double doors to outside.
So I insisted the wooden dresser came back and it's blocking up the old back door that we no longer really need but didn't brick up to save money. (And I have secret desires to knock the entire wall down one day anyway and build sideways but that's not happening for at least 2-3 years).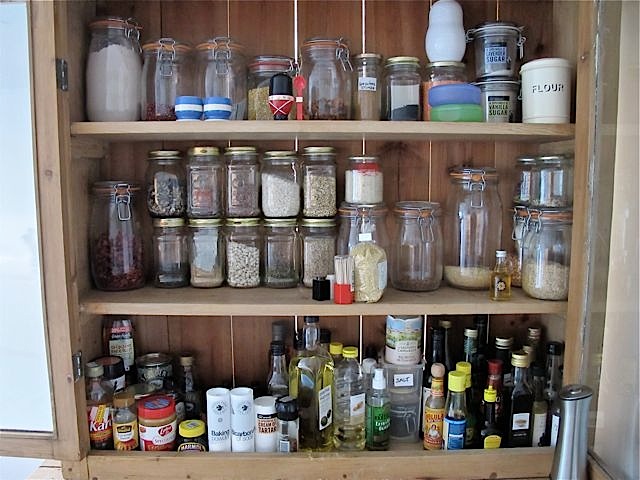 So I won. I have my beloved wooden dresser back where I'll find it most useful. I like to have all my bottles and jars to hand without crouching down.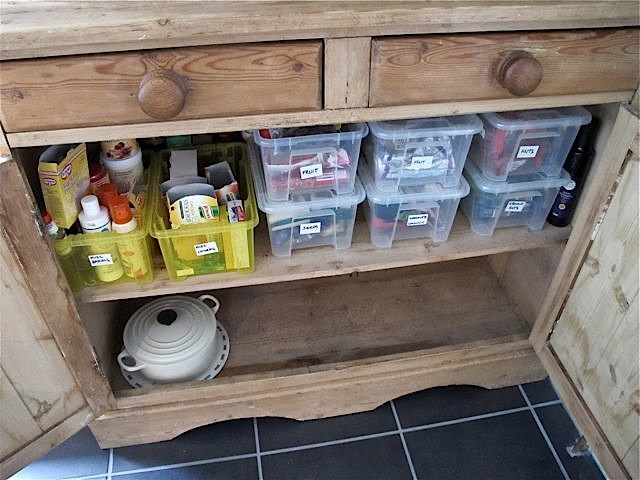 And underneath, there's a lot of space I use for more plastic boxes to organise my dried nuts, fruits, seeds and CHOCOLATE (very important that).
The shelf underneath used to be filled with the flours and sugars but now it's waiting to be filled with Le Creuset casseroles. The Le Creuset is still (apart from that one you can see) in the cellar. The cellar is a bit of a scary place right now. We had a clear out before the kitchen was done but somehow stuff down there just grows.
What's your favourite cupboard in your kitchen?
Thank you very much to Brabantia for my gifted shiny new celebratory bin. 
If you were wondering who I had the kitchen done by, it was Wickes at Edmonton. We picked them because they were able to do all the building work we needed before the kitchen could be fitted without using two companies. I also liked their kitchens a lot more than ones in Homebase or IKEA. Our kitchen refit was entirely self funded.